A customized print-friendly version of this recipe is available by clicking the "Print Recipe" button on this page.
Hot Bread Kitchen's Nan-e Barbari (Persian Flatbread)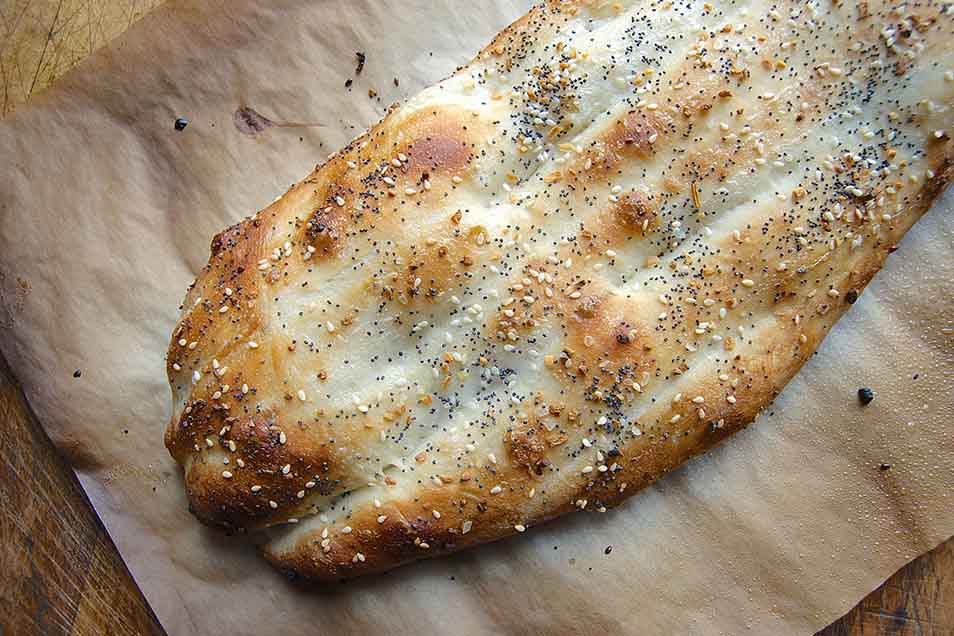 Hot Bread Kitchen, a New York City bakery focusing on multi-ethnic artisan breads and other baked goods, trains immigrant and low-income women in the craft of baking, empowering them with the skills to succeed in the city's top bakeries. This bread is one of their specialties. We've tweaked the recipe a tiny bit to make it home baker-friendly; you'll find the complete original recipe in The Hot Bread Kitchen Cookbook, available at Hot Bread's website.
Ingredients
Dough
1 2/3 to 1 3/4 cups lukewarm water*
2 1/4 teaspoons active dry yeast or instant yeast
4 cups + 3 tablespoons King Arthur Unbleached Bread Flour
2 teaspoons kosher salt or 1 1/2 teaspoons table salt
*Use the smaller amount of water in summer, or when it's humid; the larger amount during the winter, or in a dry climate.
Topping
1 teaspoon sesame seeds
1 teaspoon nigella (black onion) seeds*
*Substitute poppy seeds or the seeds of your choice if you can't find nigella seeds.
Instructions
To make the dough: Mix the water, yeast, flour, and salt until well combined. Knead the mixture — using your hands, a stand mixer, or your bread machine set on the dough cycle — until you've made a smooth, fairly soft dough. The dough should barely clean the inside of the bowl, if you're using a stand mixer, perhaps sticking just a bit at the bottom.

Put the dough in a lightly greased large bowl, cover the bowl, and let the dough rise until it's nearly doubled in size, about 1 hour.

Gently deflate the dough, and divide it into two pieces. Shape each piece into a rough log abut 9" long. Tent the logs with lightly greased plastic wrap, and allow them to rest for 30 minutes.

While the dough is resting, prepare the glaze. Combine the flour, sugar, oil, and water in a small saucepan, bring to a bare boil, and cook over medium heat, stirring constantly, until the mixture thickens and coats the spoon; this should take less than a minute. Remove the glaze from the heat, and set it aside.

Preheat the oven to 450°F. If you have a pizza stone, set it on the lowest rack or oven floor.

Working with one piece at a time, gently deflate the dough, and pat/flatten it into a 14" x 5" rectangle. Use your fingers (or the handle of a long wooden spoon) to press five lengthwise grooves into the dough. Press firmly, but don't cut through the bottom of the dough.

Spread half the glaze onto the dough, rubbing it all over. Sprinkle with half the seeds.

Slide the bread onto the stone and bake it for 15 to 18 minutes, until it's golden brown. If you're not using a stone, place the bread on a baking sheet and bake it on your oven's middle rack. Remove the bread, and cool it on a rack.

While the first loaf is baking, prepare the second loaf. Bake as directed.

Serve warm, or at room temperature; traditional accompaniments are olives, cucumbers, and feta cheese.

Store leftovers, well wrapped, for several days at room temperature; freeze for longer storage.
Tips from our bakers
What's with the flour/water glaze? This is an ancient solution solution to "steaming" your oven. The roomal (flour paste) applies moisture directly to the surface of the bread as it bakes, allowing it to rise fully and also giving the crust a satiny shine.
Want to make a delicious, thick-crust, chewy pizza? Prepare the dough up to the point where it's been shaped into two logs, and allowed to rest for 30 minutes. Shape each log into a 14" circle, or 15" x 10" oval. Top as desired. Bake in a preheated 500°F oven for 22 to 25 minutes, until the crust is golden brown and the toppings are bubbling.
Reviews
Home Run, KAF! Crispy chewy and soft on the inside. I had 3 logs of perfect dough. One I sprinkled with sesame seeds & Kosher Salt. The second with Poppyseeds & Kosher Salt. The third with half sunflower seeds & Kosher Salt and the other half with Weber Roasted Garlic & Herb seasoning. The glaze worked great. I nuked it for 45 seconds and spread it on with my fingers. 13-15 minutes was enough time for mine to bake on parchment paper on a baking pan. I made the creases with a spatula (the flat end instead of the handle). I'll spread cream cheese on these babies. I even had KAF Bread Flour in my refrigerator ready to go. I'll make these again. They are killer delicious! Best when hot out of the oven.
Love this recipe but I'm always left waking up so early to have in the morning. Has anybody had success or has the KAF tested making the dough the night before? Any tips to make that happen?

We haven't, Shagah, but you're welcome to give it a go! Shorten the first rise to just 30 minutes, deflate, cover with plastic, and stick it in the fridge until the next morning. It will slowly rise overnight so in the morning you can pull it out, shape it, and let it have its final rise before cooking. Annabelle@KAF
Easy to make and tasted great! I put garlic and parm on one of them. Everyone loved them. Will be making these again soon. Thank you for the recipe!!
Absolutely delicious and so easy to make. Just remember the dough is supposed to be soft and slightly sticky, that's what gives it the holes we all love. I followed the directions exactly and the only problem I had was making the lines with the wooden spoon and having them stay indented. I shaped the dough on lightly greased parchment paper then slid it off the counter, paper and all onto the back of a large sheet pan and slid it off the pan into the hot oven. Worked perfectly! Be sure to make the glaze, it's wonderful and insures the topping stays where it's supposed to. I used KAF everything bagel mix on one and sesame seeds, poppy seeds and very coarse salt on the other. My husband was in bread heaven.
Great recipe. Dough was a bit hard but this was remedied by wetting my hands as I kneaded. It developed into a beautiful soft pliant dough with a soft thin skin. Took a bit to raise, but then my kitchen is particularly cold. It's a trick getting it from the counter to the hot pizza stone. The dough holds together well and did not fall apart during the transfer. It did stretch making it too big for the pizza stone so there was some improvising involved :-) The lovely sizzle when the dough hit the hot stone told me it was going to be amazing. The bread turns out (at least mine did) with a perfect air pocket making me think this could be used like a pita bread. Was this chance, or is it supposed to be like that? It is also worth looking around for the Nigella Seed. The subtlety of that slightly licorice taste against the sesame is just right.

Hi Sarah, we're glad your bread puffed nicely and gave you the texture you were looking for in this bread. If you put a wet dough on a hot stone, it tends to puff in the fashion you experienced. We wouldn't count on this happening every time, but you're welcome to experiment. If you want to make a recipe that will reliably form pockets that are perfect for filling with other ingredients, consider using our Golden Pita Bread recipe. Happy baking! Kye@KAF
The bread turned out AMAZING! It was so delicious. Only issue is that if you do a 14'x5' rectangle you cant do more than 3 creases when the recipe calls for 5. Also 14'x5' is too small--it would be too thick in my opinion. I had to go a little taller and wider.
Great recipe! Baked it with 397gr of water given it's bitterly cold and dry right now (as recommended). The dough turned out to be extremely sticky and difficult to handle. Nevertheless, the final product was delicious and evoked memories of the old country.
This was wonderful! I didn't have nigella, so I used zaatar. Highly recommend
While the bread is delicious, the dough is extremely sticky. I was thinking I screwed the recipe up the first time, so the second time I attempted the recipe it came out just as sticky. My daughter was not happy when I said I probably won't be making it again. In the comments on the blog, I read that someone used 610 g of flour. Should I be adding more flour? I'm pretty new to bread baking.

This dough should be slightly sticky when it's made properly; about 510 grams of King Arthur Bread Flour should be a good place to start. If you're using another kind of brand of flour, then you'll likely need to use notably more flour because it will be lower in protein and not quite as strong. Feel free to adjust the dough as it's necessary, remembering that a stickier dough tends to produce a softer, tender crumb. We hope your daughter gets her way! Kye@KAF
Thank you so much for this great recipe! the best Barbari that I baked so far!