A customized print-friendly version of this recipe is available by clicking the "Print Recipe" button on this page.
Hot Buttered Soft Pretzels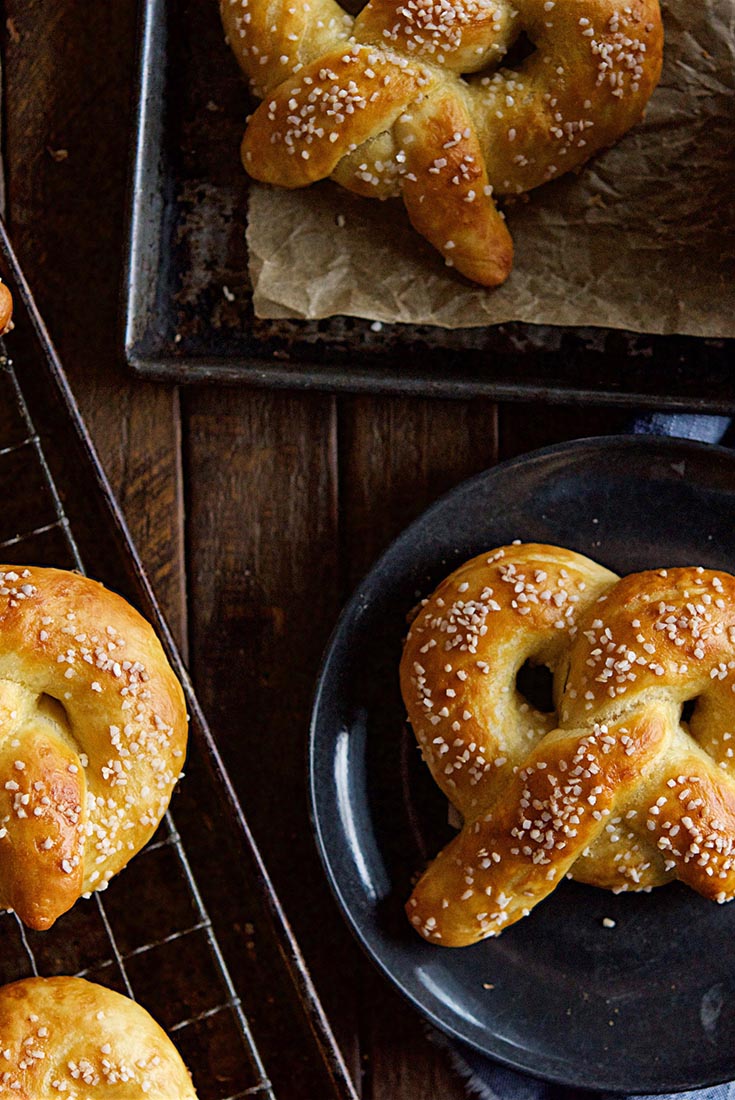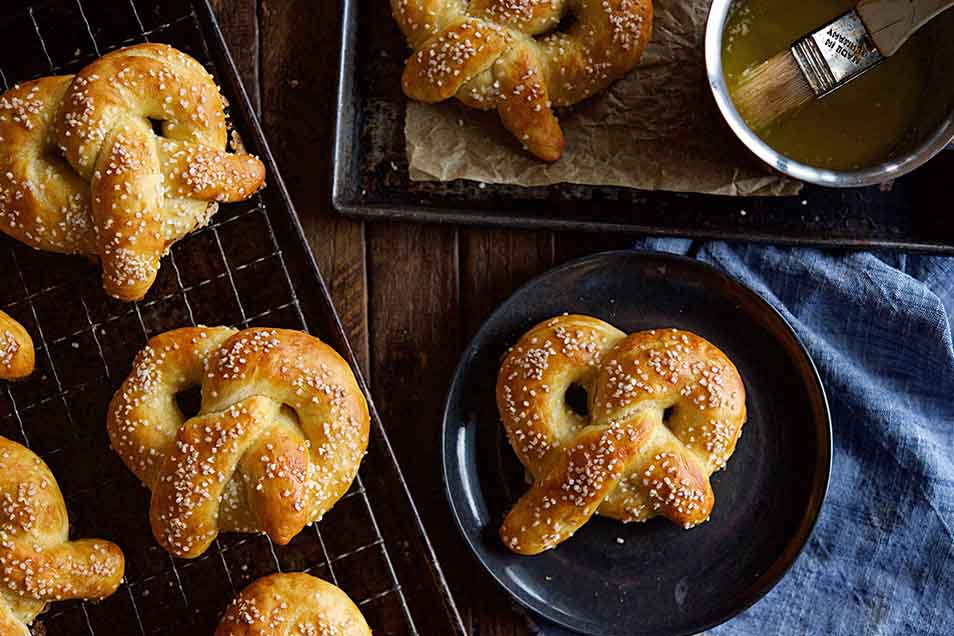 Pretzels are available crisp and hard from your grocery or, if you're lucky and in the right place, soft and chewy from street vendors. Our recipe is for the soft, chewy kind. The melted butter brushed over the crust is a bonus street vendors don't offer!

Want to make smaller, appetizer-size pretzels? See our instructions for pretzel bites in "tips," below.
Ingredients
Dough
2 1/2 cups King Arthur Unbleached All-Purpose Flour
1 teaspoon salt
1 teaspoon sugar
2 1/4 teaspoons instant yeast
7/8 to 1 cup warm water*
*Use the greater amount in the winter, the lesser amount in the summer, and somewhere in between in the spring and fall. Your goal is a soft dough.
Topping
1 cup boiling water
2 tablespoons baking soda
coarse, kosher or pretzel salt, optional
3 tablespoons unsalted butter, melted
Instructions
To make dough by hand, or with a mixer: Place all of the dough ingredients into a bowl, and beat until well-combined. Knead the dough, by hand or machine, for about 5 minutes, until it's soft, smooth, and quite slack. Flour the dough and place it in a bag, and allow it to rest for 30 minutes.

To make dough with a bread machine: Place all of the dough ingredients into the pan of your bread machine, program the machine for dough or manual, and press Start. Allow the dough to proceed through its kneading cycle (no need to let it rise), then cancel the machine, flour the dough, and give it a rest in a plastic bag, as instructed above.

To make dough with a food processor: Place the flour, salt, sugar and yeast in the work bowl of a food processor equipped with the steel blade. Process for 5 seconds. Add the water, and process for 7 to 10 seconds, until the dough starts to clear the sides of the bowl. Process a further 45 seconds. Place a handful of flour in a bowl, scoop the slack dough into the bowl, and shape the dough into a ball, coating it with the flour. Transfer the dough to a plastic bag, close the bag loosely, leaving room for the dough to expand, and let it rest at room temperature for 30 minutes.

While the dough is resting, prepare the topping: Combine the boiling water and baking soda, stirring until the soda is totally (or almost totally) dissolved. Set the mixture aside to cool to lukewarm (or cooler).

Preheat your oven to 475°F. Prepare a baking sheet by spraying it with vegetable oil spray, or lining it with parchment paper. If you're not using King Arthur Flour's brand, grease the parchment with vegetable oil spray to make double-sure the pretzels won't stick.

Transfer the dough to a lightly greased work surface, and divide it into eight equal pieces (about 70g, or 2 1/2 ounces, each).

Allow the pieces to rest, uncovered, for 5 minutes. Pour the baking soda/water into a 9" square pan.

Roll each piece of dough into a long, thin rope (about 28" to 30" long), and twist each rope into a pretzel. Working with 4 pretzels at a time, place them in the pan with the baking soda/water, spooning the water over their tops; leave them in the water for 2 minutes before placing them on the baking sheet. This baking soda "bath" will give the pretzels a nice, golden-brown color.

Transfer the pretzels to the prepared baking sheet. Sprinkle them lightly with coarse, kosher, or pretzel salt, if desired. Allow them to rest, uncovered, for 10 minutes.

Bake the pretzels for 8 to 9 minutes, or until they're golden brown.

Remove the pretzels from the oven, and brush them thoroughly with the melted butter. Keep brushing the butter on until you've used it all up; it may seem like a lot, but that's what gives these pretzels their ethereal taste. Eat the pretzels warm, or reheat them in an oven or microwave.

Yield: 8 large pretzels.
Nutrition Information
Serving Size

1 pretzel (75g)

Servings Per Batch

8
Amount Per Serving:
Calories

180

Calories from Fat

40

Total Fat

5g

Saturated Fat

3g

Trans Fat

0g

Cholesterol

10mg
Sodium

290mg

Total Carbohydrate

30g

Dietary Fiber

1g

Sugars

1g

Protein

5g
* The nutrition information provided for this recipe is determined by the ESHA Genesis R&D software program. Substituting any ingredients may change the posted nutrition information.
Tips from our bakers
To make savory pretzel bites: Roll the six pieces of dough into 10" ropes. Cut each rope crosswise into 6 to 10 equal pieces. Dip the pieces into the baking soda solution, place on a greased or parchment-lined baking sheet, and top with pretzel salt or sea salt. Bake in a 400°F oven for 12 to 15 minutes, until golden brown. Remove from the oven, and roll the bites in melted butter; about 6 tablespoons should do it.
To make sweet pretzel bites: Roll the six pieces of dough into 10" ropes. Cut each rope crosswise into 6 to 10 equal pieces. Dip the pieces into the baking soda solution, place on a greased or parchment-lined baking sheet, and top with pearl sugar, if desired. Bake in a 400°F oven for 12 to 15 minutes, until golden brown. Remove them from the oven; if they haven't been topped with pearl sugar, roll the bites in melted butter (about 6 tablespoons should do it). Then shake in a paper bag with 6 tablespoons cinnamon-sugar.
Reviews
We adore these pretzels and make them frequently. I have a question though. I want to make a large amount of these pretzels for a game tomorrow. Can I make the dough in advance?

Hi Christa, you can mix the dough the night before you're hoping to bake and let it rise in the refrigerator overnight. The next day, take the dough out of the fridge and shape it while it's still cold. Let the shaped pretzels rest at room temperature for about an hour until topping and baking (instead of just 5 minutes). The pretzels should feel warm and look slightly puffy before you start step 8. Then bake the pretzels as directed and enjoy! Kye@KAF
Try it with the "Everything but the Bagel" seasoning from Trader Joes - sublime!!!!
My daughter loves the pepperoni pretzels from a mall pretzel chain so I decided to recreate using this recipe. I just sprinkled a little mozzarella and placed pepperoni on top before baking. Omitted the salt topping but otherwise followed the recipe. I made them into 12 smaller pretzels for more of a side or snack size. Absolutely amazing. Frozen and reheated perfectly too.
Yum! Yum! Yum! I've been wanting to make these for awhile and decided today to try them. They are really easy and buttery and I didn't add that much salt to the topping. The only changes I made (after reading some comments) were that I lightly sprayed the parchment and I used salted butter. I made some 23 inches and others 28. Baked for 8.5 minutes. I did have a bit of a time trying to fit all of them on the same pan, so one did get a little bit squished. I also could only fit 1 or 2 at a time in the baking soda solution. They turned out much better than I thought. THANK YOU!
So easy even a terrible baker like me can do it! :-) Very delicious, my family loved them.
Made a 2 recipes of these fantastic pretzels. I made 2 recipes so that my 3 boys would have some to snack on. They are absolutely devine warm out of the oven. I let them cool completely and put the extras into a plastic ziploc bag. They heat great in the toaster oven! My question is, what is the best way to store them? In the ziploc they do collect some moisture which doesn't bother me but wonder if there is a better way to store the leftovers.

If you have leftover pretzels, try wrapping them in aluminum foil at room temperature before reheating. This should help keep them from getting soggy (which can happen if you wrap in plastic wrap). If you're going to store the pretzels for more than a day or two, put them in the fridge to keep them fresh. Reheating the pretzels before serving is recommended. Enjoy! Kye@KAF
It was so easy and it was all we could do to get them buttered before grabbing plates. My husband can't wait to make them again. He did manage to leave me some for later. I didn't roll them out as long so they actually look like pretzel buns. Later we'll slice one and see how it does for a sandwich. Really enjoying the recipes we find here & doubt i'll use any other brand...
Cannot get mine to brown

Could we help, Frank? Try increasing the amount of sugar that's added to the dough to 1 tablespoon, and also consider using 2 tablespoons of brown sugar along with the baking soda in the water bath. The flavor of the pretzels shouldn't change too much, but you should notice the sugars caramelize and bring a deeper color to the crust. Lastly, try turning up your oven temperature by 25°F and extending the bake time by 3 to 5 minutes if necessary. A pretzel that's well-baked is a pretzel with good color. Happy baking! Kye@KAF
I have tried many pretzel recipes and this is by far the easiest AND the most delicious. I was a little apprehensive about the amount of butter on top but, the recipe is correct in saying "just do it" these are PHENOMENAL! I've made them 4 times and they have been consistently awesome, if any make it to the next day, they even taste good with zero warming needed.
These pretzels are reliably delicious. The recipe is very easy and quick to make. I use my stand mixer for the mixing and kneading and get perfect results. On the rare occasion that we have leftovers, we pop them in the toaster oven and they're still excellent. You can easily make fewer/larger or more/smaller pretzels to adapt to your needs. I even made a double batch for my kid's birthday treat at school. It was a bit unwieldy, but it worked and was a hit.