A customized print-friendly version of this recipe is available by clicking the "Print Recipe" button on this page.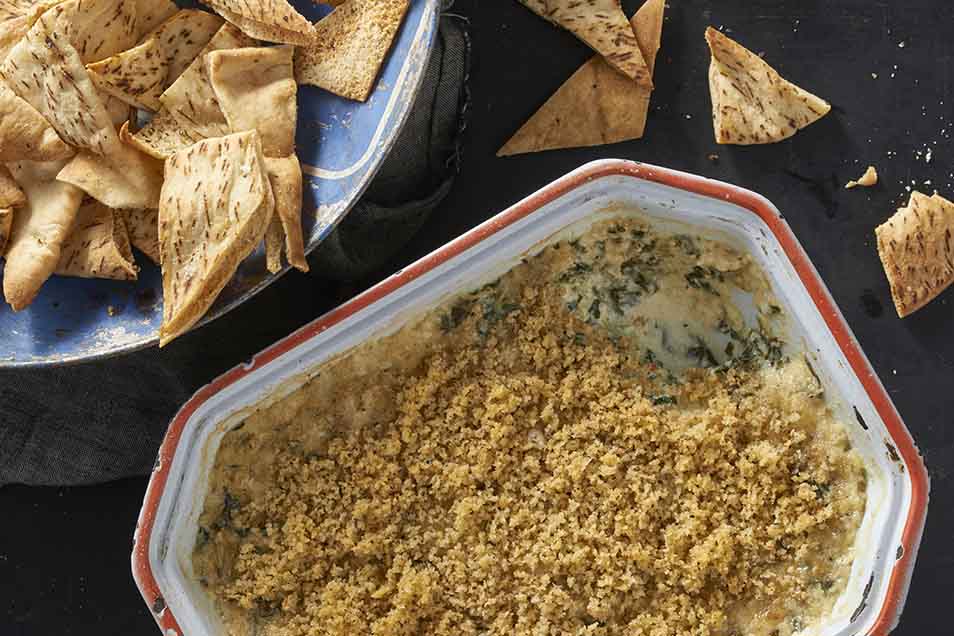 Everyone wants to be the owner of the empty dish at the potluck — it means your offering was silently voted best in show. Hot spinach dip served with pita chips is a gold medal-winning combo!
Ingredients
one package (10 ounces) frozen chopped spinach, thawed and drained or 10-12 cups fresh spinach, cooked and drained
1 cup mayonnaise
1 cup grated Parmesan cheese
1 cup shredded mozzarella cheese
1/2 cup sour cream
1/4 teaspoon (heaping) seasoned salt (or garlic salt)
1/4 teaspoon (heaping) ground black pepper
dash of hot sauce (or pinch of cayenne pepper)
panko or bread crumbs, for topping
Instructions
Preheat the oven to 350°F.

Combine all of the ingredients in a medium sized bowl.

Place the dip in a lightly greased small (1 1/2-cup) ovenproof dish.

Sprinkle with panko or bread crumbs, and bake in a preheated 350°F oven for 30 minutes, until bubbly.

Serve the dip warm with pita wedges, tortilla chips, or as a spread for sliced French bread.

Store the leftover dip, covered, in the fridge for up to 5 days.
Reviews
Very tasty! I served it with Pepperidge Farm Butterfly crackers in a pretty basket. I followed the directions to the letter but next time I'll experiment with different types of cheese. I prepared the dip the night before, placed it into an oval casserole dish (nice presentation) and covered it with plastic wrap. Couldn't be simpler. Also, to keep it warm during "appetizer time" I placed it on top of a hot plate. There was some leftover so I heated it up the next day and it was better than ever! A keeper, for sure.
Very tasty. Used both low-fat sour cream and low-fat mayonnaise, which worked fine.
Thanks for experimenting with the low-fat option and sharing that it worked just fine. JoAnn@KAF
This was such a delicious dip! I made it to use up a bunch of ingredients in the fridge before the power went out. I actually didn't have any grated parmesean, but had a nice grated 6 Italian cheese mix and I used that for the mozzarella and parmesan called for in the recipe. I also used fresh spinach (cleaning out the fridge), but it was quick to cook down and drain before adding the other ingredients. Earlier in the day I made homemade sourdough bread from another King Arthur Flour recipe and both were devoured at our party. This recipe is a definite winner!!
I have a question: Can I leave out the mayo and sub for something else to lower the calories?
Sorry, we don't have any info for you on these changes. You'll need to experiment. Frank @ KAF.
This dip was great! Next time I will double the recipe as it went fast! I wish there was a way to lighten it up a bit, I used both light mayo and sourcream. Other then that I have finally found "The" spinach dip after trying numerous recipes for it. Thanks!
I have made this countless times now for many different dinner parties. Every time it is a hit! I actually use fresh spinach as I like to use fresh ingredients when I can. Everyone keeps asking me for the recipe ha ha I don't think they believe me when I say it is on your website. So many people are afraid to try new recipes. Everyone one of KAF's that I have tried has come out great!!
This was the first time I made this dip. It was very easy to make and so good. I would recommend this for anyone. I served it with Panetini oven baked Italian toast, Garlic Parmesan flavored. After the dip was sitting on the table and cooled, it was still delicious cold.