A customized print-friendly version of this recipe is available by clicking the "Print Recipe" button on this page.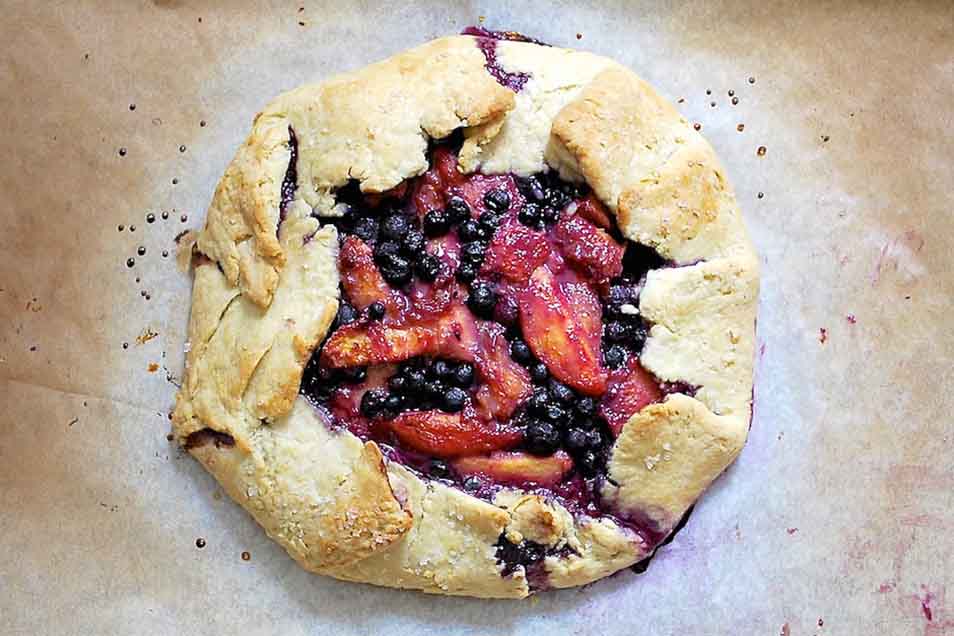 There's nothing humble about the ingredients — delicious peaches and berries — but the simple shaping method for the crust keeps this pie from taking on airs!
Ingredients
Crust
1 3/4 cups Pastry Flour Blend or 1 2/3 cups King Arthur Unbleached All-Purpose Flour
1/4 teaspoon salt
1/2 teaspoon baking powder
1 tablespoon dried buttermilk powder (optional)
1/4 cup vegetable shortening
1/4 cup (4 tablespoons) butter
1 large egg
1 to 2 tablespoons water
Filling
1 1/2 cups fresh or frozen berries (raspberries, blueberries, blackberries, etc.)
2 to 3 peaches, peeled and sliced (12 ounces before peeling)
2/3 cup sugar
1/4 cup Pie Filling Enhancer or King Arthur Unbleached All-Purpose Flour
Instructions
To make the crust: Whisk together the dry ingredients, and cut in the vegetable shortening and butter.

Whisk the egg and water together, then sprinkle over the flour mixture.

Knead together, adding a bit of extra water to make the dough cohesive, if necessary.

Form the dough into a disk, wrap it well, and refrigerate for 30 minutes.

To make the filling: Toss the berries and peaches with the sugar and enhancer or flour. If the berries are frozen, don't thaw them. If they're dry (like blueberries), run them under water first; this makes it easier to combine them thoroughly with the sugar/thickener mixture.

To assemble the pie: Roll the crust into a 13" to 14" round, and transfer it to a pizza pan or baking sheet.

Mound the sugared fruit in the center of the crust, leaving about a 3 1/2" margin of bare crust all the way around.

Fold the crust up over the fruit, pinching or pleating as you go, leaving 5" or so of fruit exposed in the center.

Spritz the crust with water and sprinkle with sparkling white sugar, if desired.

Bake the pie in a preheated 425°F oven for about 35 minutes, or until the filling is bubbling and the edges of the crust are brown.

Remove it from the oven, and cool for 15 to 30 minutes before cutting into wedges.

Store, covered, in the refrigerator for 3 days.
Tips from our bakers
There are many different thickening options available for fruit pies, from flour to cornstarch to Instant ClearJel and more. For an easy guide to thickener substitutions, see our Pie Filling Thickeners Guide.
Reviews
Tried this recipe for the first time yesterday. It was absolutely fantastic! Everyone loved it! Simple, quick and a huge success......can't wait to make it again! !
Finally -- a pie crust that even I can make. I do a lot of baking, but for some reason, pie crusts have been eluding me. I make good breads, cookies, cakes, tarts -- but pies? Not until yesterday. I made this pie, faithfully followed the directions for the crust, and filled it as instructed but with a mixture of fresh raspberries, fresh pitted cherries, and fresh apricots. For the first time, I got the flaky crust I have been aiming for all my life. And it's easy (as pie?) to put together! Thank you so much KAF. PS. Last night scored a knock out: served the pie warm with a dollop of vanilla ice-cream.
I like this pie crust much more than other traditional crusts and its easy to work with. A number of crust snobs have even processed how much they like it!
Very easy, fast and beyond "Yummy"!
I am the world's worst pie crust maker, but this crust was amazingly easy to make. Baked this in a parchment-lined pizza pan, and was able to lift it out and onto a plate easily. Filling was apples and frozen cranberries, and it was wonderful. I am so used to having the juices run everywhere, and this held together. There was a bit of leakage onto the pan, but that was due to my inadequate sealing. Definitely a recipe to play with. I want to try frozen cherries, ground almonds and a bit of almond extract. Check your Twitter feed for my photographs.
so good we ate it for supper
I have made this type of rustic pie before but it never turned out this well. The crust was flakey,easy to work with and flavorful. I used peaches, plums and mixed in some dried cherries to absorb some of the juice. It baked up beautifully and was so good! This is a definite keeper of a recipe.
This pie was delicious - especially the crust. The only thing I didn't like is that the filling was too runny, although that's probably my fault. I used frozen blueberries and raspberries and I suspect they were too juicy for the amount of thickener. I made it in a deep dish pie plate and used more berries than called for. I could have used more crust, too, so I'll increase that the next time I make it or else put it in a different pie pan. Perfect amount of sweetness. I'll definitely make it again!
Hadn't made this in years, & pulled it out for Thanksgiving dinner. Forgot how delicious it was. Pie crust was the best success I've ever had: perfect, actually. I used all of the King Arthur recommended ingredients except the Quick shine, and the results were spectacular. Substituted pears for the peaches (wanted to do figs, but couldn't find) with raspberries. Wouldn't change a thing..