A customized print-friendly version of this recipe is available by clicking the "Print Recipe" button on this page.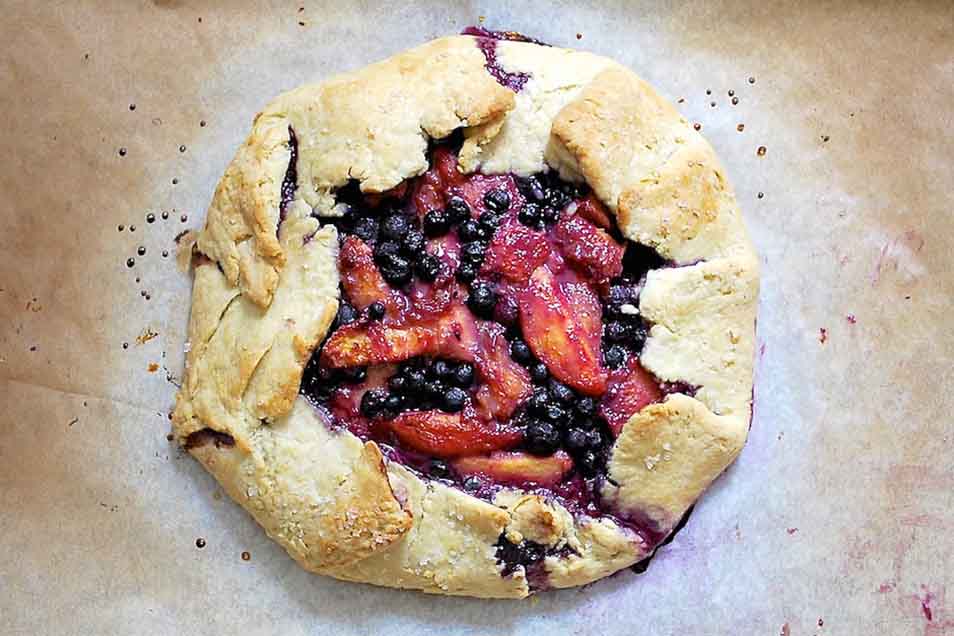 There's nothing humble about the ingredients — delicious peaches and berries — but the simple shaping method for the crust keeps this pie from taking on airs!
Ingredients
Crust
1 3/4 cups Pastry Flour Blend or 1 2/3 cups King Arthur Unbleached All-Purpose Flour
1/4 teaspoon salt
1/2 teaspoon baking powder
1 tablespoon dried buttermilk powder (optional)
1/4 cup vegetable shortening
1/4 cup (4 tablespoons) butter
1 large egg
1 to 2 tablespoons water
Filling
1 1/2 cups fresh or frozen berries (raspberries, blueberries, blackberries, etc.)
2 to 3 peaches, peeled and sliced (12 ounces before peeling)
2/3 cup sugar
1/4 cup Pie Filling Enhancer or King Arthur Unbleached All-Purpose Flour
Instructions
To make the crust: Whisk together the dry ingredients, and cut in the vegetable shortening and butter.

Whisk the egg and water together, then sprinkle over the flour mixture.

Knead together, adding a bit of extra water to make the dough cohesive, if necessary.

Form the dough into a disk, wrap it well, and refrigerate for 30 minutes.

To make the filling: Toss the berries and peaches with the sugar and enhancer or flour. If the berries are frozen, don't thaw them. If they're dry (like blueberries), run them under water first; this makes it easier to combine them thoroughly with the sugar/thickener mixture.

To assemble the pie: Roll the crust into a 13" to 14" round, and transfer it to a pizza pan or baking sheet.

Mound the sugared fruit in the center of the crust, leaving about a 3 1/2" margin of bare crust all the way around.

Fold the crust up over the fruit, pinching or pleating as you go, leaving 5" or so of fruit exposed in the center.

Spritz the crust with water and sprinkle with sparkling white sugar, if desired.

Bake the pie in a preheated 425°F oven for about 35 minutes, or until the filling is bubbling and the edges of the crust are brown.

Remove it from the oven, and cool for 15 to 30 minutes before cutting into wedges.

Store, covered, in the refrigerator for 3 days.
Tips from our bakers
There are many different thickening options available for fruit pies, from flour to cornstarch to Instant ClearJel and more. For an easy guide to thickener substitutions, see our Pie Filling Thickeners Guide.