A customized print-friendly version of this recipe is available by clicking the "Print Recipe" button on this page.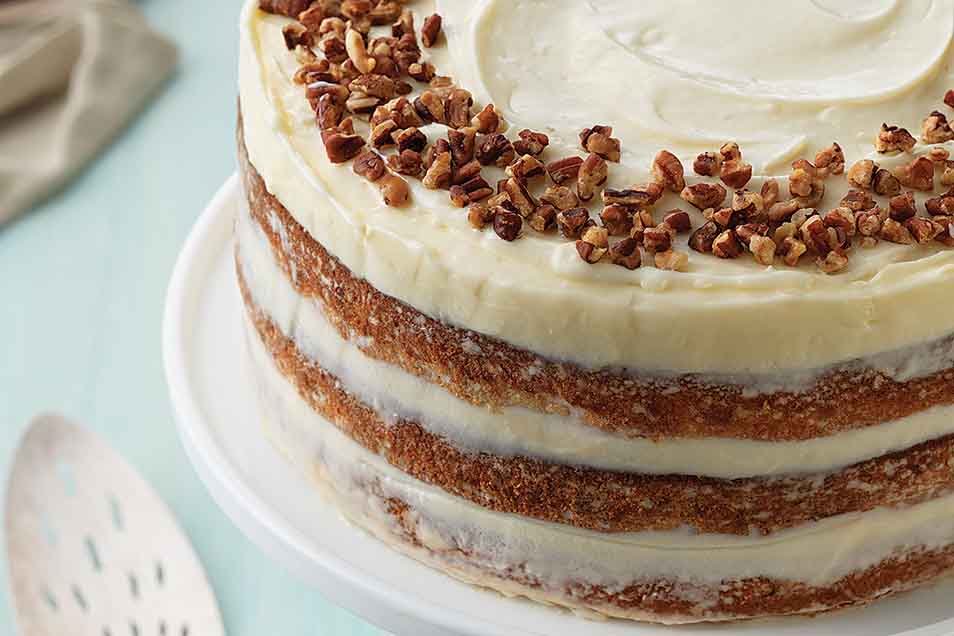 Who knows where the name of this cake comes from? Whatever its origins, this lovely dessert has been a staple at least since the '70s, when a recipe for it was printed in an edition of Southern Living Magazine. We've changed it to use self-rising flour, and (optional) rum-soaked pineapple pieces and coconut flakes.

We wavered about the coconut and extra pineapple, not knowing if they were traditional; but when a casual Twitter survey came up almost evenly divided between those who think coconut is necessary and those who think it's a sad mistake, we decided to go ahead and offer them as an option. We have confidence that our bakers, traditional and less traditional, will be pleased with whichever version of the cake they make.

We also don't usually call for a particular brand of canned fruit, but the cake was markedly better with Dole pineapple. Even though crushed, the pieces were bigger, stayed intact, and had more pineapple flavor.
Ingredients
Cake
1 1/2 cups dried pineapple, in 1/4" dice, optional
1/4 cup rum or pineapple juice, optional; for soaking dried pineapple
1 1/2 cups diced pecans, divided
4 large eggs
3/4 cup vegetable oil
1 3/4 cups granulated sugar
2 teaspoons vanilla extract
3 cups mashed ripe bananas, about 4 to 5 medium-large bananas
3 1/2 cups King Arthur Unbleached Self-Rising Flour
2 teaspoons ground cinnamon
1/8 teaspoon ground allspice or ground cloves
20-ounce can crushed pineapple, drained; reserve some of the juice for the frosting
1 1/2 cups sweetened shredded coconut, optional
Frosting
1/2 cup (8 tablespoons) unsalted butter, at room temperature
2 cups (two 8-ounce packages) cream cheese, at room temperature
pinch of salt
3 cups confectioners' sugar, sifted
1/4 teaspoon xanthan gum; optional, helps to thicken the frosting
2 teaspoons to 2 tablespoons pineapple juice, enough to make frosting spreadable
Instructions
If you're using dried pineapple, soak it in 1/4 cup rum or pineapple juice for a few hours. Or place it in a microwave-safe dish, toss with the rum or juice, cover the dish, microwave for a minute or so, and then leave covered to cool and absorb the liquid while assembling the remaining ingredients.

Preheat the oven to 350°F. Sprinkle the chopped pecans on a baking sheet, and toast for about 5 to 7 minutes, until lightly browned. Remove from the oven to cool. Set aside about 1/2 cup nuts to decorate the cake. Grease and flour three 9" round pans for the cake.

To make the cake: Beat the eggs and oil in a large mixing bowl until foamy, about 2 minutes at medium-high speed. Add the sugar, vanilla, and mashed bananas.

In a separate bowl, whisk together the flour and spices. Add these dry ingredients to the wet ingredients, stirring to make a smooth batter.

Stir in the drained pineapple and 1 cup of the toasted pecans.

Add the coconut and dried pineapple (with any remaining rum), if you're using them. Spoon the batter into the prepared pans, spreading it to the edges.

Bake the cakes for 32 to 38 minutes, until they're golden brown, and a cake tester inserted into the center of one comes out clean.

Remove the cakes from the oven, run a thin spatula around the edges of the pans, cool for 15 minutes, then turn out onto a cooling rack. Cool completely before frosting.

To make the frosting: Combine the butter, cream cheese, and salt in a medium-sized bowl, and beat together until light and fluffy.

If you're using the xanthan gum, sift it with the confectioners' sugar.

Add the sugar/xanthan gum gradually, beating well.

Beat in the pineapple juice a little at a time, until the frosting is the correct consistency for spreading. Use only a teaspoon or so if you're not using the xanthan gum; up to 2 tablespoons, if you are. Remember, it will firm a bit more when chilled.

Place one cake layer on a serving plate. Use a heaping 1/2 cup frosting between each layer; frost the top and sides with the remainder. Sprinkle with toasted nuts, and refrigerate until ready to serve. Refrigerate any leftovers.

Yield: one layer cake, 12 to 16 servings.
Nutrition Information
Serving Size

1 piece (217g)

Servings Per Batch

16 pieces
Amount Per Serving:
Calories

640

Calories from Fat

310

Total Fat

35g

Saturated Fat

11g

Trans Fat

0.5g

Cholesterol

95mg
Sodium

420mg

Total Carbohydrate

80g

Dietary Fiber

3g

Sugars

55g

Protein

7g
* The nutrition information provided for this recipe is determined by the ESHA Genesis R&D software program. Substituting any ingredients may change the posted nutrition information.
Reviews
Made this Awesome cake for Christmas Eve. The icing recipe needed 1.5 times to coat the sides well. It was enormous and elegant! Thank you for the recipe
Excellent Hummingbird Cake recipe. I made this cake twice today. The first time I made it I couldn't figure out why it didn't rise, and then I realized the recipe calls for "self rising" flour. I had to make the cake again with added baking powder and salt. I believe this mistake was likely made by several of the other reviewers who have left comments. But, once i got it right, it came out quite well. This is not a light or buttery birthday type cake. As others have mentioned, it is meant to be slightly more dense and more of the consistency of a carrot cake. I frosted the entire cake (sides and all) with the amount of icing in the recipe. I then placed a circle of whole pecans around the rim, and on the sides of the cake I pressed in roasted chopped pecans mixed with gold and red colored sugar. I took it to a holiday party, and it was a hit. Thank you KAF!
Rich cake. The add-ins are the star, not the cake. I made one substitution - I couldn't find dried pineapple without sugar, so I substituted dried apricots. I thought I had xanthan gum, I didn't. In summer, if I make this in Phoenix would have to have. Oh and used tip about potato flakes instead of potato water. I thought pretty easy recipe. No special techniques. The cakes were nicely flat. The icing is just mixing things together. I do wonder if I did something wrong with nuts. Weighed them to start, measured the cup for batter. Ended up with nuts covering the entire top - almost more than I needed/wanted. People at gathering were very impressed, one of my most impressive cakes so far.
Great cake. Very moist and loaded with flavor. I did not use the dried pineapple or xanthum gum, but otherwise followed the directions as written. This one is definitely going in my keeper file. Thanks KAF!
This recipe works perfectly well with unbleached AP flour and 3 teaspoons baking powder. The higher gluten kinda holds up the fruit. I did not add candied pineapple and I used allspice instead of cinnamon. Will make again.
This makes a dense, moist cake full of tropical flavors and spices. Just beware - this makes a pretty large cake. I think this recipe could be used to make two medium size 8" cakes. I baked mine in my 9" KAF cake pans - I love these pans - very heavy, bake evenly, easy to clean and very straight sides (makes icing much easier) - the only thing I did differently from the recipe is I baked mine a bit longer at 325. The recipe seems like a banana-based carrot cake and I read a tip on baking carrot cakes that the slower baking prevents the center 'rise and collapse' syndrome - this worked great with this recipe - the layers rose evenly and stayed that way when they cooled. I did not use the xanthan gum in the frosting but might try it next time as it could have used the extra body.
This was the first Hummingbird Cake I have had. It was very dense, like many other reviewers have stated, but very good. I did not use xantham gum or the self rising flour either since I didn't have any. This is very similar to the Carrot Cake recipe in the KAF Whole Grain Baking (which I highly recommend!) and I am curious how this would turn out with whole wheat flour instead of self rising flour. I guess I'll have to try it and see!
This was my first Hummingbird Cake and it was very good. My co-worker keeps asking me to make it again after I shared a piece with her. My bananas were so ripe they were brown -- this really helps the flavor though the color of the cake was a gray-beige and maybe not as "pretty" as some cakes. I did not care though because it tasted amazing.
I had never heard of hummingbird cake until I came across this recipe and decided to try it. I did not use the dried pineapple, coconut, rum, or xanthan gum, and I substituted regular flour for self-rising flour, plus whatever the internet told me I needed to add to compensate for its not being self-rising. I thought the cake was fabulous! My co-workers did too, and I owe someone the recipe (but, darn it, I forget who). It's a dense, moist cake with fruity notes, pecan crunch, and oh-so-yummy cream cheese based frosting.
I cut the recipe 1/2 just to try it. I thought it was good but I would crush the pineapple more. I want to make this cake for a group in a 9x13 sheet pan instead of layers. Would I have to change any of the ingredients? Rosemary
No recipe changes necessary, Rosemary. A recipe for cake baked in two 9" pans or three 8" pans will fit in a 9 X 13 pan. Bake at 350' for 35 - 40 minutes. Happy Baking! Irene@KAF