A customized print-friendly version of this recipe is available by clicking the "Print Recipe" button on this page.
In Search Of The Perfect Rustic Loaf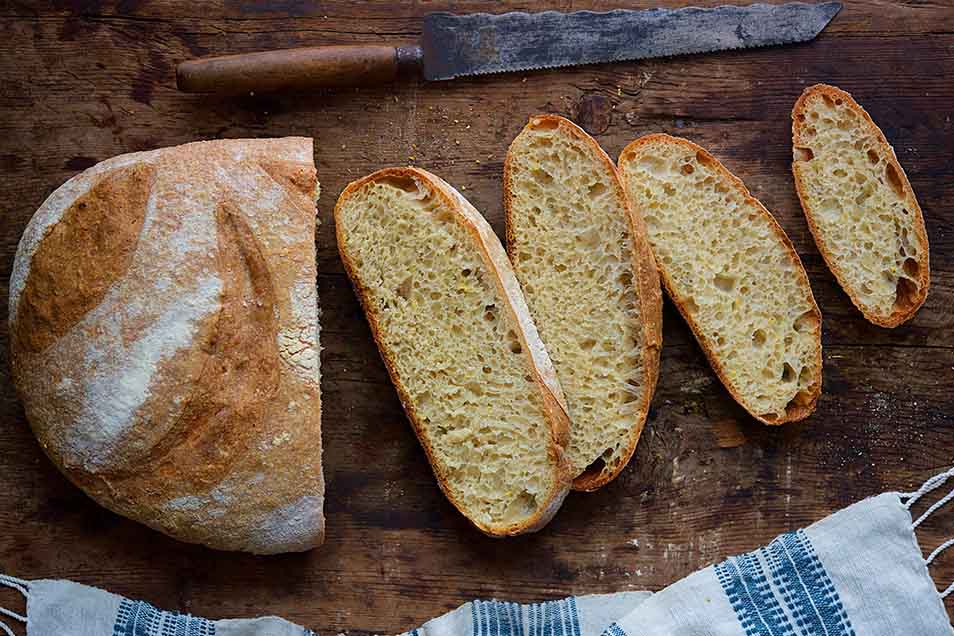 We've all had it at least once. It has a crisp crust, a chewy interior, large, irregular holes and a slight tang. When toasted, it soaks up butter like nobody's business. In short, it's leavened perfection.

French bakers Lionel and Max Poilane have mastered this bread. The rustic bread has become upper crust, but its roots are peasant. Its many names reflect this: rustic bread, farm bread, country bread, pain de campagne and hearty country loaf. Although it requires time, this bread thrives on long periods of "neglect", making it ideal for busy farm (and city) kitchens.

But can this bread be made in the bread machine? We weren't sure until good friend and freelance food writer Marcy Goldman, sent us a recipe she'd developed for her bread machine. After following her formula and tasting her delicious rustic loaf, we concluded that this bread can indeed be made with the help of a bread machine.

Watching friend and local restaurateur Rebecca Cunningham turn out her near-perfect, Poilane-inspired loaves by hand made us even more eager to take up the challenge of making a bread machine version. So, with thanks to Marcy, and after experimenting with different proportions of liquid to flour, as well as alternate rising and baking methods (which you'll find detailed in the notes at the end), here's a loaf the Poilane family would be proud of.
Ingredients
The Sponge (begin the night before)
Instructions
To make the sponge: Place all of the sponge ingredients in the bucket of your bread machine. Program the machine for dough or manual, press start, and let the machine run until everything is thoroughly combined. Close the lid, cancel the machine, and let the sponge rest at room temperature overnight, or for 8 to 12 hours.

The next day, add all of the dough ingredients to the sponge in the bucket. Program your machine for dough or manual, and press start. As the dough begins to mix it should form first a soft mass, then eventually a ball that's soft, but not overly sticky. Adjust with additional flour or water as necessary.

When the cycle is complete, remove the dough from the machine. Cover it and let it rest for 30 minutes. If you want to leave the dough all day, place it in a lightly greased bowl, cover the bowl, and refrigerate it.

When you're ready to work with it, deflate the dough gently and form it into a round ball, Place the ball, seam side-down, on a cornmeal-dusted baking sheet.

Cover the dough lightly. Let it rise a second time until it's puffy and about 30% to 40% larger, about 1 hour (or longer, if the dough has been refrigerated). Don't let it rise too much, since it rises some more in the oven and, if it's over-proofed initially, it'll collapse as it bakes.

Preheat the oven to 475°F. Make several 1/4" to 1/2" slashes or crosshatches in top of the loaf. Using a clean plant mister, spritz the loaf with water. Spray some water into the oven, and place the bread on the lowest rack.

Spritz the oven walls every few minutes for the first 15 minutes of baking. Lower the heat to 425°F (this reduction in heat mimics the "falling oven" used by brick-oven bakers, and will give your bread an incredible crust), and continue to bake until well-browned, about 35 minutes. The interior temperature of the bread should register at least 190°F on a digital thermometer.

Remove the bread from the oven, and cool it on a rack before slicing. Store, cut side down, on a counter (do not cover). Yes, this really works; your bread will remain fresh but not soggy for several days. (See "tips," below).
Nutrition Information
Serving Size

1 slice (47g)

Servings Per Batch

24
Amount Per Serving:
Calories

87

Calories from Fat

Total Fat

.2g

Saturated Fat

Trans Fat

Cholesterol
Sodium

267mg

Total Carbohydrate

18g

Dietary Fiber

1g

Sugars

1g

Protein

3g
* The nutrition information provided for this recipe is determined by the ESHA Genesis R&D software program. Substituting any ingredients may change the posted nutrition information.
Tips from our bakers
For an even chewier bread with larger, more irregular holes, try increasing the amount of water in the dough's second stage by 1/4 to 1/2 cup. Add 1/4 cup initially, then take a look at the dough while it's in its second kneading cycle. Your goal is to create a dough that's very wet and slack, but will still hold its shape when formed into a free-form loaf. Add additional water if it looks as though the dough can absorb it and still remain firm enough to be workable.
This bread is an ideal candidate for a linen-lined banneton, which will hold and shape it as it rises and, because of the moisture-drawing qualities of the linen, help produce a chewy crust.
Try putting your risen loaf into the oven without slashing it first; it'll develop its own natural split, producing a more rustic-looking loaf.
For a thick, brown, chewy bottom crust, try baking the bread in the oven in a preheated cast iron skillet, or on a baking stone.
For a crisper crust, allow the loaf to cool in the oven. When the bread is done, turn off the oven and crack the door open a couple of inches, leaving the loaf inside.
Store crusty hearth loaves uncovered, but with their cut side down on the counter. This is one of the best tips we've come across in some time. Though this doesn't work on baguettes, rolls, or other small loaves, it works beautifully on big boules or free-form loaves. The moisture in the bread's interior gradually migrates to the surface, but since the cut side is covered, it can't escape there; instead, it must navigate its way through the thick crust, a much slower process. This keeps the bread's interior soft, and the crust hard and crunchy.
Reviews
I have been baking this bread at least once a week for over 5 years. I am so glad that the recipe has finally been converted to weights, which I prefer, vs. volumes. It is definitely my favorite bread recipe. I have tinkered with it here and there, but always come back to the original, which is fail proof. I use coarse pumpernickel, as in the original recipe, instead of the whole wheat flour. Sometimes I make two loaves instead of one big one, but think making the one loaf is better. I always bake on a baking stone. It freezes very well so when I bake two loaves I usually freeze one. My family and friends and relatives love to eat and/or receive this bread.
I'm terrible at baking. I can cook - but I can't bake. I made this for a Christmas Eve dinner party and everyone raved. I followed the directions exactly although I did split it into two round loaves and baked at about 25 minutes per KAF directions in previous reviews. Personally I wasn't impressed with the rise I got but it was probably because I had to refrigerate the dough for a few hours and only had about 75 min to let it rise. BUT - that said, it was crusty and chewy and a perfect pair for a cioppino. Thank you KAF for a great recipe I will surely use over and over.
This is a fool proof recipe, guys. Whatever you do, you cannot not get a beautiful loaf of moist bread full of flavor. In the beginning I have a mistake, I did not put not any yeast. After twelve hours I have looked at my sponge in the bread maker, and wondered why does it look so dull and not rising at all. Duh! I looked at the recipe again, and realized what I have done. I proceeded with the rest and managed to make another mistake, adding almost two teaspoons of yeast. The dough raised beautifully. I did not have enough time to bake it right away, so I wrapped the bowl and left it in the refrigerator. It did rise twice its size. After all I have managed to form a round loaf, make slashes on top, and baked it until it turned nice brown color. All that water spraying does create a nice crust. The only thing is that my loaf was more saltier than I usually prefer, but I might have made another mistake, who knows :) My husband is not a big fan of a moist bread, but he is keeps eating it. It is perfect with cheese and salami! Great recipe, and I cannot thank you all enough for all these wonderful recipes!
This recipe was fabulous until you modofied it for a bread maker. Now it is a big waste of effort and ingredients. I used to make the dough using the old recipe in my breadmamer all the time and it was perfect. Please brink back the recipe I had bookmarked!

Hi Cam. Please feel free to omit the bread machine from this recipe. It isn't a necessary tool, it's just helpful as it does a beautiful job of kneading dough and creates a covered and pleasant environment for the starter. You can mix the starter by hand in a large bowl and cover it with plastic wrap overnight, and then knead your dough in a stand mixer on speed 2 for 5-7 minutes. Thanks for keeping this recipe bookmarked! Annabelle@KAF
I've made this bread at least three times a week for the last two months and it's perfect. My husband bought me a 50# of Sir Lancelot and now it's even better! It's a very forgiving dough. I make the sponge in the morning; mix up the dough after dinner; form it early in the morning; and bake it midmorning. A few hours in either direction may mean I have a less beautiful loaf, but they call come out tasting great. It's very slack though, with may be different for some people. Oh, I don't use my mixer or bread maker; and I don't even knead it much. It still comes out with beautiful crumb, crunchy crust, and a great taste. One time I even forgot to turn the oven down (baking at 475 rather than 425). I caught my mistake 25 minutes into the cooking time and pulled the loaves. They were 200* inside and beautifully browned and crunchy outside.
I tried this recipe a few weeks ago and we enjoyed the loaf. I was a bit frustrated the recipe seems to leave a bit too much to interpretation and is written for a bread machine (which I do not use). I decided it was time to make the loaf again and I was disappointed with the vagueness and abiguity of the recipe as it is posted. Read through your recipe from the perspective of a relatively novice home baker and I think you will agree the recipe needs some additional detail.

Bill, we'd be happy to help clarify any points of ambiguity and/or direct you to another recipe on our site that might better fit what you're looking for. You're right that this one is written for a bread machine, but most of our others are not, which may also make them easier to follow. Please give our friendly Baker's Hotline a call at 855-371-BAKE so we can offer some suggestions for a more satisfying next bake. Mollie@KAF
I'm so confused about bread flour! I buy all your flours but neither hubby or I particularly like the taste of bread flour. I usually just use all purpose, which works fine in a bread machine. The first time I made this, I used bread flour for the sponge, but only .5 cups for the dough and the remaining 3 cups I used all purpose. The dough spread out like a pancake so I baked it in a 13X17 pan, but was the most delicious bread I've ever made! Next time, I used 1.5 cups bread flour and 2 cups all purpose for the dough, and it made a better boule, but it didn't have a good crust or the wonderful holes, and it tasted like your basic sandwich bread, not an artisan rustic bread. If I used all bread flour, I don't see how it could possibly match your description of "a crisp crust, a chewy interior, large, irregular holes and a slight tang". What am I not getting? Thanks!

Nancy, if you prefer using all-purpose flour, you're more than welcome to do so, but consider holding back the last 1/4 cup of water as it's not as absorbent as bread flour. Additionally, it's important to use King Arthur All-Purpose Flour rather than another brand, as ours has a higher protein content than others. High protein translates to a dough with more support and strength to rise upwards rather than out. Lastly, consider using the recipe called No-Knead Crusty White Bread if you haven't already tried it. It uses all-purpose flour and has the crisp crust and open crumb you're looking for. Kye@KAF
It really is a perfect loaf. The crumb is somewhat creamy, moist and cool. Crust golden brown, crispy and thin. The freshly cooled loaf slices easily into thin, even slices, perfect for sandwiches. Thank you for another fantastic and easy recipe.
Beautiful crust and great taste. I was a bit disappointed with the crumb, it was on the dense side, still quite edible, just not perfect. I thought the dough seemed kind of heavy when I finished machine mixing it, but went with it because I have not made this recipe before. The recipe gives directions for a bread machine and simply indicates you knead it through a cycle. I was using a Kitchenaid professional mixer. I ran it for four minutes at the lowest speed. I baked the loaf on a stone. I will definitely try it again and perhaps knead it less and proof it for a shorter time. I am guessing I did not get good gluten development. Maybe it was overmixed or overproofed. Consumers of the bread thought it was delicious but did agree with me when I pointed out the slightly dense crumb and explained what I was going for with this bread. I have found that most people just love freshly baked bread and sometimes aren't the best critics!
Made this with the stand mixer and using a little sourdough (somewhat recently fed) in the starter to replace some of the water and flour, and cut back on the yeast a bit, then the rest as directed. I left it in the fridge for a couple of days before shaping and baking and couldn't believe how good it tastes. It looked great too, a deep golden brown. I think this was my best loaf yet. Thank you!