A customized print-friendly version of this recipe is available by clicking the "Print Recipe" button on this page.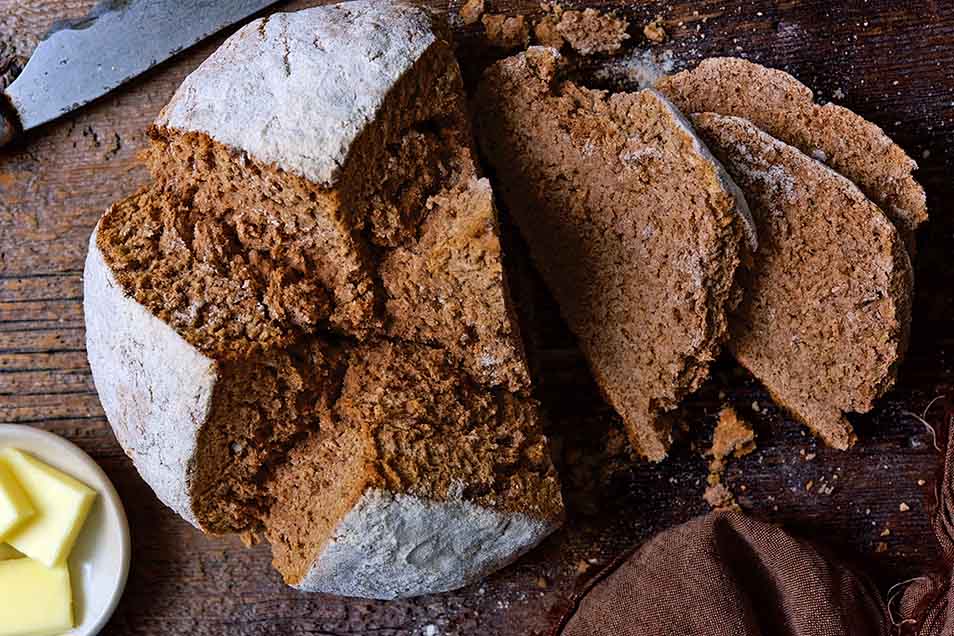 A slightly sweet, craggy, "everyday" loaf, with inspiration from customer Fred B. Dugan. Serve this brown bread with sweet butter — and a dollop of marmalade, if desired. Whole wheat pastry flour will make a moist loaf with fine crumb; Irish-Style Flour, a more traditional open-textured, drier loaf.
Ingredients
4 cups King Arthur whole wheat pastry flour or Irish-Style Flour
2 to 3 tablespoons sugar
1 teaspoon salt
1 teaspoon baking soda
2 teaspoons baking powder
1 1/2 cups buttermilk
2 tablespoons vegetable oil or melted butter
Instructions
Preheat the oven to 400°F. Lightly grease a baking sheet, or line it with parchment.

In a large bowl, stir together the flour, sugar, salt, baking soda and baking powder.

Make a well in the dry ingredients and pour in the buttermilk and the oil or butter. Stir together until blended — some lumps will remain.

Turn the dough out onto a floured board and knead about 10 times, or until it all holds together.

Form the dough into a large ball and place it on the prepared baking sheet. Cut a deep cross in the top.

Bake the bread for approximately 40 minutes, or until it tests done (a cake tester or toothpick inserted into the center will come out clean).

Remove the bread from the oven, and cool it on a rack. Enjoy warm or at room temperature. Store, well-wrapped, for a couple of days at room temperature; freeze for longer storage.
Reviews
This is the second time I've baked this bread and the second failure. Now I've made Irish Soda Bread before but not with the Irish Style Flour. My loaves this time were heavy, solid and dense. This loaf could be dangerous. There is no softness or give to it. I used a scale to weigh the ingredients. There was 1/3 cup of the buttermilk/butter liquid left; it would have been too liquid a dough to use it all. I had to take it out of the oven after 30 minutes, it was done.

Sheila, we're sorry this bread didn't turn out the way you'd hoped! While this is definitely a denser bread, it shouldn't have been inedible or dangerous! We have a hunch that reducing the buttermilk by such a significant amount left you with too little liquid as well as acid to activate your baking soda fully. We'd love to chat with you to help your next loaf turn out beautifully. If you call our Baker's Hotline at 855-371-BAKE (2253), we can work through the steps together and figure out how to make this recipe work for you. Happy baking! Kat@KAF
Question: I went to Ireland in the fall and loved heir brown bread. I made it using KAF recipe and it was great! I understand that they make it using Guinness beer. I'd like to try that. What would you recommend?

Hi Sharon! Feel free to experiment using Guinness in place of some or all of the buttermilk and seeing how you like it. The less buttermilk, the less tender the finished loaf will be. Annabelle@KAF
Having just returned from a trip to Ireland and fallen in love with the brown bread served at all the B&B's there, I was anxious to try baking a loaf myself! Naturally turning to KAF for guidance, I baked this recipe this morning. It came out great! Flavor, crumb, crust--all perfect. My one question is about the color. It is lighter than that of the loaves we enjoyed in Ireland, where it was deep brown in color. I'm thinking of trying brown sugar or molasses next time I back it--which will be soon!
Well, my picky 14 yr old boy came back for seconds of this, so I'm calling it a Win! I did the 2 c whole wheat/2 c unbleached white flour combo. Adjustments I'll make next time: I'll do 3T of sugar instead of 2, and I'll use dark brown sugar. Also, since I added 1/4 c of steel cut oats and the 2T of cornstarch other reviewers suggested, I'm going to up my buttermilk to 2 c next time, because my bread was a tad dry. My batter wasn't nearly as wet as others here have said it should be. I do think that 1/4 c of steel cut oats was pretty much just right! It gave the bread the texture of the ones I had in Ireland, but has eluded me in my attempts so far. I'm so glad the secret was revealed to me. Thanks, KAF! :)
I made it exactly as written and used melted butter and KAF whole wheat flour. I weighed my ingredients and the bake time was exactly right for me. This bread is delicious and tastes very much like the bread we had when visiting Ireland. I can't stop eating it. I highly recommend!
Followed the recipe exactly and it came out great. I was nervous because it was a very wet dough and challenging to knead. I kept having to add flour in order to keep it off my hands and in an intact ball, but it came out beautifully and my son is begging for another loaf.
Can this recipe be made with chopped apples added?

Of course, Lee! Do your best to dry the pieces off a bit before adding them at the end of mixing. Happy baking! Annabelle@KAF
I made this using the Irish Style flour and it came out great. It is not as dark as in the photo, but had a wonderful crust.
If you want a REALLY great tasting whole wheat bread...this is it. At last....I've got a keeper recipe for this. I used regular whole wheat flour and regular flour. I baked in a pan lined with parchment for 10 minutes and then baked another 30 minutes on a pizza stone. 450 degrees. Was FANTASTIC! LOVE KAF.
This recipe does not have enough liquid, judging by my experience. The dough was much too dry and difficult to work, and never really hung together. I have a similar recipe (same amount of flour - whole wheat and all-purpose, which means one less product to keep in stock) that calls for 1-1/2 to 2 cups buttermilk, and 2 cups is what works. I will try this one again using the larger amount of buttermilk.

Hi Nancy, we're wondering if you measured your flour by weight with a scale or by scooping it directly from the bag of flour. Using the latter technique often compacts it into the cup and results in a heavy cup and a dry dough. In order to ensure you're using the right amount of flour, we recommend taking a look at our Measuring Standards guide (look for the next to the ingredients header, above). We hope that helps improve your next bake. Kye@KAF