A customized print-friendly version of this recipe is available by clicking the "Print Recipe" button on this page.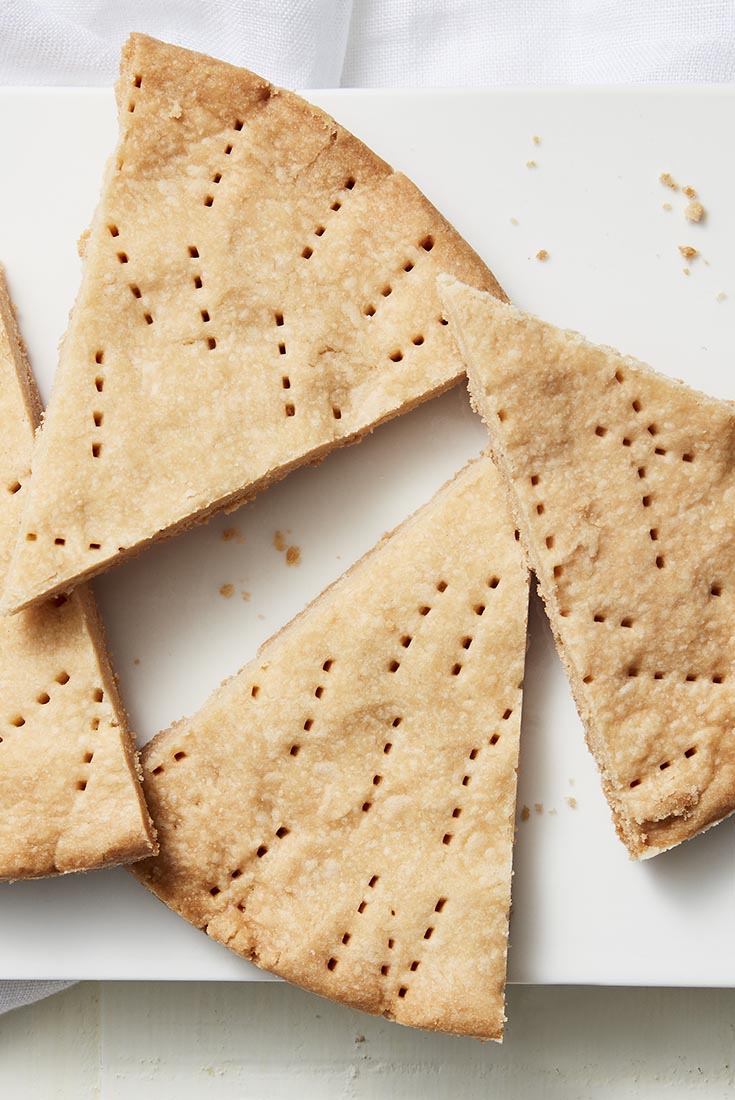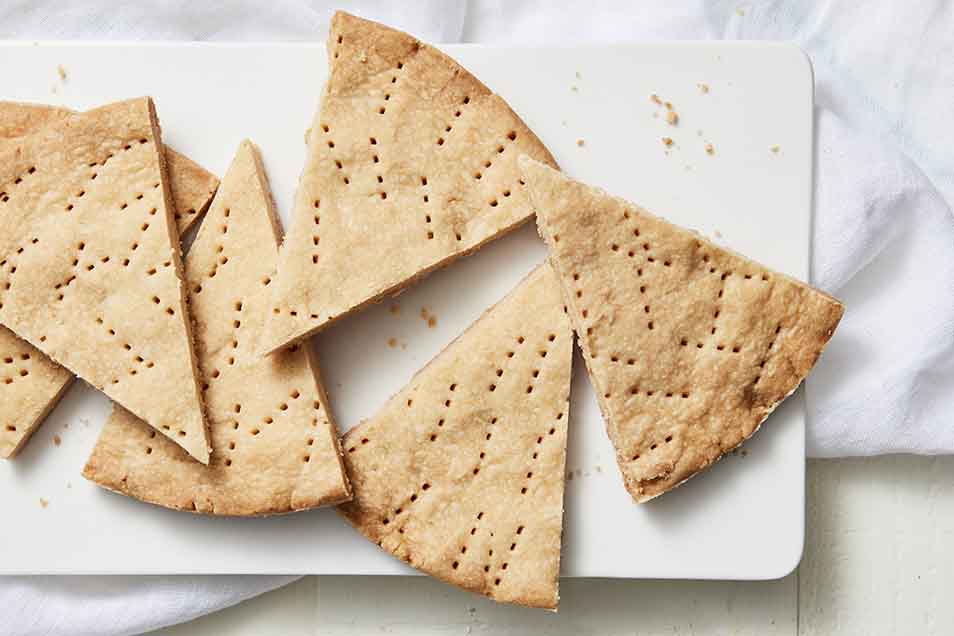 Buttery shortbread flavored with Irish whiskey — what could be better?
Ingredients
1 cup (2 sticks) soft butter
1/2 cup firmly packed brown sugar
1/2 teaspoon salt
2 teaspoons Irish whiskey (optional; use 1 teaspoon vanilla if desired)
2 cups King Arthur Unbleached All-Purpose Flour
1/2 cup white rice flour
Instructions
Preheat the oven to 325°F. Prepare your shortbread mold according to the manufacturer's directions by very lightly greasing and flouring the mold. Or lightly grease two 8" round cake pans.

Beat the butter until smooth.

Beat in the sugar, salt, and whiskey or vanilla until fluffy.

Mix in the flour and rice flour.

Divide the dough in half; each half will weigh about 11 ounces. Wrap and chill for 1 hour.

Press half the dough into the shortbread mold (or half into each of the 8" cake pans).

Prick the dough all over with a fork to prevent it from puffing.

Bake until the shortbread is golden, 32 to 38 minutes. Check at 18 minutes; if shortbread's puffing up; use a flat spatula to press the dough down into the mold. Continue to bake until golden.

Remove from the oven, cool for 15 minutes, then loosen the edges of the shortbread with a table knife before turning the mold over onto a flat surface.

Tap the bottom of the mold several times until the shortbread comes out.

Cut each round into 8 wedges using a serrated knife.

Store shortbread, well wrapped, for up to a week; freeze for longer storage.
Tips from our bakers
For alcohol-free shortbread, omit the whiskey and add 1/8 to 1/4 teaspoon of our Irish Cream Flavor to the dough.
Reviews
This cookie tasted buttery and was very easy to unmold. With only 2 teaspoons of Irish Whiskey, my husband and I couldn't taste it at all. No matter. Chilling the dough seemed to be a waste of time, but I'll experiment more.
Super happy about outcome. Used irish clover stoneware. Used brown rice flr instead of white, used homemade brown sugar, used artisan flr instead of ap and vodka and vanilla plus instead of whiskey (none on hand but still wanted dough plyability from the alcohol). Needed 40 min to cook and i pressed down at 18 min even though not very puffy because i wanted to ensure pattern printed well. Buttery and crisp. I prepared stoneware with butter and nut flour and even though 2nd time i used pan, shortbread came out easily. Delicious. Thanks!
I'm very pleased to report that this recipe turned out beautifully, using your GF Measure For Measure flour. Even my wheat-eating hubby loved it. :)
This is an excellent shortbread. I will make this again!
This dough was very "short" indeed - too sandy to divide and wrap. I just chilled it in the mixing bowl for an hour and pressed the crumbs into two prepared shortbread molds. It was too crumbly to prick with a fork so I did the pricking at the 18 minute checkpoint. The result was perfect - not too sweet, very subtle Irish cream flavor, lovely texture, easy to unmold and cut. I'm VERY glad this made two pans. I gave one to a friend and kept one to enjoy!
Personally I like this taste, but it gets mixed reviews from those who try it. I made it just as the recipe is using Jamison and then I made it using Irish Mist in place of the Irish whiskey. It's easy and using my celtic shortbread mold I get two pretty pans of shortbread. One to keep and one to give away.
I finally made a shortbread that did not crumble when I tried to get it out of the mold! Must have been the combination of pan prep and rice flour. Shortbread is MDH's favorite - while he liked this flavor, he's a purist and asked me to omit the whiskey and irish cream flavor next time. I thought they were yummy but more importantly, I finally had a shortbread cookie in one piece!