A customized print-friendly version of this recipe is available by clicking the "Print Recipe" button on this page.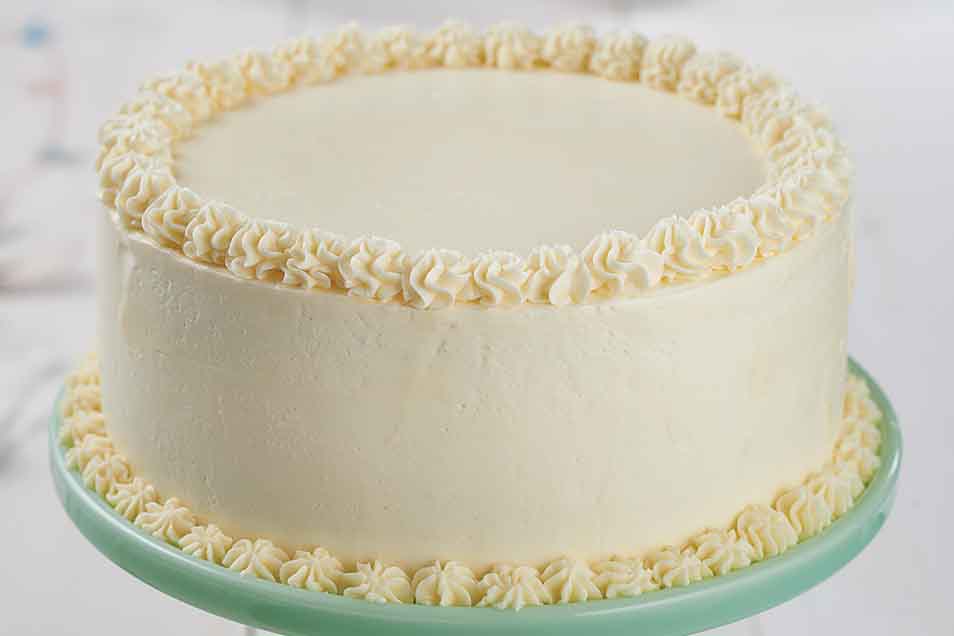 This is the frosting that you'll find on many wedding cakes. Its silky texture is unparalleled, it pipes like a dream, and can be flavored and colored in as many ways as you can imagine. While it takes a little time to make, it freezes quite well. It's great to have on hand for unexpected occasions.
Ingredients
Sugar Syrup
1/2 cup water
1 1/4 cups sugar
Frosting
3 cups (6 sticks) unsalted butter
1/2 to 3/4 cup vegetable shortening (optional)
1 teaspoon to 2 tablespoons flavoring (see baker's hints)
Instructions
For the syrup: Combine the sugar and water in a small, nonstick (preferable, if you have one) saucepan. Bring to a boil over medium heat, stirring occasionally until the sugar dissolves. Cook, without stirring, until the syrup reaches at least 240°F. It can go as high as 248 to 250°F. Just be sure it's within those temperatures before you take it off the stove.

For the meringue: While the syrup is cooking, combine the meringue powder, water, and salt in the bowl of your mixer. Beat at high speed with the whisk attachment until the mixture first looks foamy, then turns white, and you begin to see tracks in the bowl. At this point, slowly sprinkle in the sugar with the mixer running. Increase the speed to high and beat until the mixture is stiff.

When the syrups gets above 240°F (110°C) and before it gets above 250°F (121°C), remove it from the heat and with the mixer running at low speed, pour it down the side of the mixing bowl(not on the whisk or beaters if you can avoid it; that will send the syrup flying and start spinning sugar threads instead of incorporating it). Once the syrup is all in, leave the mixer running until the mixture cools to 80°F. You can help this process along by wrapping an ice pack around the mixing bowl.

Once the meringue is cool, add the butter, a few pieces at a time, with the mixer running at medium to medium-high speed. The meringue will deflate a bit, and may begin to look curdled. Don't lose heart! This ugly "adolescent" stage is normal. Just keep the mixer running and adding the butter.

Soon the frosting will begin to bring itself together around the whisk, then in the rest of the bowl. Once most of the butter is in, add vanilla or your choice of flavorings. If you're using the frosting for decorations, add the vegetable shortening in chunks at this point.

Use the buttercream within 4 hours, or refrigerate until needed.
Nutrition Information
Serving Size

1/4 cup, 44g

Servings Per Batch

30
Amount Per Serving:
Calories

213

Calories from Fat

162

Total Fat

18g

Saturated Fat

12g

Trans Fat

1g

Cholesterol

49mg
Sodium

36mg

Total Carbohydrate

12g

Dietary Fiber

0g

Sugars

12g

Protein

1g
* The nutrition information provided for this recipe is determined by the ESHA Genesis R&D software program. Substituting any ingredients may change the posted nutrition information.
Tips from our bakers
If you want to use fresh egg whites instead of meringue powder, you'll need 8 large whites, at room temperature, combined with 1 teaspoon cream of tartar. If you're using pasteurized egg whites from a carton, use 1 cup liquid whites (or 1 ounce for each egg white). The cream of tartar is critical and may need to be increased to 1 1/2 teaspoons in order to create a stable meringue.
Before you start, make sure you have a digital or candy thermometer that will read up to 300°F for the and a small (nonstick, if you have it) saucepan for the sugar syrup.
While it's possible to do this with a hand mixer, it's strongly recommended that a stand mixer be used. You'll need your hands free to pour the syrup and add the butter.
Vegetable shortening: If you plan to make piped roses, or if the cake you're frosting is going to spend any length of time in a warm place, adding a bit of vegetable shortening to the recipe will help any piping or decorations hold their shape better; the shortening has a higher melting point than butter, and helps the frosting to stay more stable in warm conditions.
Storage: Buttercream will keep up to 1 week in the refrigerator (longer than that, and you may see some mold start to form). It freezes beautifully. To use from frozen, defrost in the refrigerator overnight, then let it come to room temperature before using. If you see any weeping or separation, toss the frosting in the mixer and whip it briefly to bring it back together.
If you're coloring the frosting, be sure to use gel or paste colors, not liquid ones; they'll cause the frosting to break.
If you're not going to use the frosting right away, consider dividing it into several smaller containers before refrigerating or freezing it. The smaller amounts will take less time to come to room temperature, and you'll be able to work with the frosting sooner.
See our blog for more ideas on flavoring and working with buttercream.
For a tangy passion fruit version, whip 1/3 cup of passion fruit purée or concentrate into the finished buttercream.
Reviews
Seems promising but I'm going to need to try a second time - I tried doing less than the full recipe (7 cups is a lot!) and it never really came together. Should the butter be room temperature? I never seemed to get the "butter soup" stage some talked about, I just went straight to a butter cottage cheese. On the bright side if you beat and beat and it never magically comes together you can just add powdered sugar and make a conventional butter cream out of the ugly looking butter mess you created :)

We like your creativity in making the best out of a not-so-great situation, Zoe! You definitely want your butter to be room temperature here. We recommend entering "Italian buttercream frosting" into the search bar to read our blog article on it which shares tips and tricks, along with helpful visuals. Sometimes if the butter is too cold you can soften it in the mixer by holding a hair dryer up to the mixing bowl, but starting with room temperature will give you the easiest time. Annabelle@KAF
Used this on the Irish cream cupcakes recipe. Fantastic taste and silky texture. I did have concern about using all meringue as other reviewers stated they did not like the taste. I went with half egg whites and half meringue powder/water mixture, as I read in the blog that this worked well. I'm glad I did this. The taste was fantastic. Enjoyed the "step by step" tutorial, helpful for amateurs like myself.
This was good, not great. I usually use buttercream frostings. I had difficulty getting the sugar syrup right and when I added it to the frosting it ran down the side of the bowl and I found hard chunks of it stuck to the bottom of the bowl. The meringue powder left a nasty taste and a gritty texture. I use the famous cake decorating brand found in craft stores, I'll look for another brand the next time. I will try this again because it has a nice fluffy texture.

Hi there! We're gald to hear that you enjoyed the texture of this buttercream, but are sorry that you had some troubles making it. We'd suggest checking out the blog article linked to this recipe, Italian Buttercream Frosting: How to make this blissful buttercream, for some helpful visual tips. Our friendly Baker's Hotline is always happy to help as well! We hope this helps and happy baking! Morgan@KAF
Same experience as previous reviewer - the frosting tasted a little off, and I'm pretty sure it was the meringue powder (at least a couple of years old, not really sure . . .) I tasted this at the meringue stage and it had a slight metallic taste to it. I don't know what meringue powder is supposed to taste like, so I kept going. The finished frosting was beautiful - light and shiny - but still had the metallic taste. Not overpowering, but not as good as I think it should have been. I don't know if all meringue powder has this taste, or if mine was getting a bit too old. I would definitely try again, either with newer powder or with fresh egg whites. The only other complaint was that I refrigerated some of the frosting, and when I tried to whip it up again the next day it became a weepy wet mess. I brought it to room temperature and mixed with electric beaters - it went back to the curdled looking stage and never recovered. I ultimately threw it out. Too bad, as I made a full recipe just to frost a 2-layer 8" cake and I had lots of frosting left over. For a small cake such as this I'd recommend making 2/3 of the recipe, or maybe even half.
Made this evening. Excellent texture and very easy to put together. I usually make it with fresh egg whites, but used meringue powder as stated in recipe. There was a bit of a funny, almost sour taste and I'm not sure where that came from. Will double check my expiration date on the meringue powder and the butter was fresh. So.....?
This is the most delicious IMBC that I've had. It's also the easiest to make.
I made this today, exactly as written. It came together exactly as written too - including that "curdly" stage. But oh my, it is so wonderful. Silky smooth, piped like a dream, and tastes great.
OMG! I really thought I was going to screw this one up. When the recipe called for 1/2 cup of meringue, I knew I was in for a lot of icing. Went ahead and followed the recipe to a "T", and it turned out good! It was smooth. Now I just need to bake a cake with it.
I love using Italian buttercream for my cakes. So tasty and pretty. And it doesn't crust over like American buttercream so there's no rush to put on sprinkles. I usually use the meringue powder because it adds a bit of sweetness but mostly because it's easy. I'll use egg whites if I don't have powder but I'll only use four egg whites. And I can usually get my frosting to take shape with 4-5 sticks of butter instead of six.
I'm certain I did something wrong. I followed the recipe closely, used room-temperature butter but yet still wasn't prepared for how much the mixture curdled. It was butter soup, then it became butter cottage cheese before finally coming together into a frosting-like substance. It wasn't, however, frosting but rather a sweetened butter. It didn't frost well and, as it sat, became a solid, unpalatable layer of grease on the cake. I really wish I knew what I did wrong because I dislike traditional American buttercream.

Hi EM, thanks for sharing your experience using this recipe with us. We put our heads together, and it sounds like perhaps the mixture wasn't mixed for long enough after the butter cottage cheese stage. Once it starts coming together in the middle of the bowl, it'll look like frosting. You need to keep mixing past this stage in order to aerate the entire batch of frosting. You need to re-establish the emulsion before the mixture can start taking on air; you were doing that when you progressed through the stages you described. It just sounds like you stopped a bit too soon. Next time try whipping it for about 1-2 minutes longer at minimum; you can't take it too far so you can extend this time if necessary to get a light, fluffy mixture. Kye@KAF