A customized print-friendly version of this recipe is available by clicking the "Print Recipe" button on this page.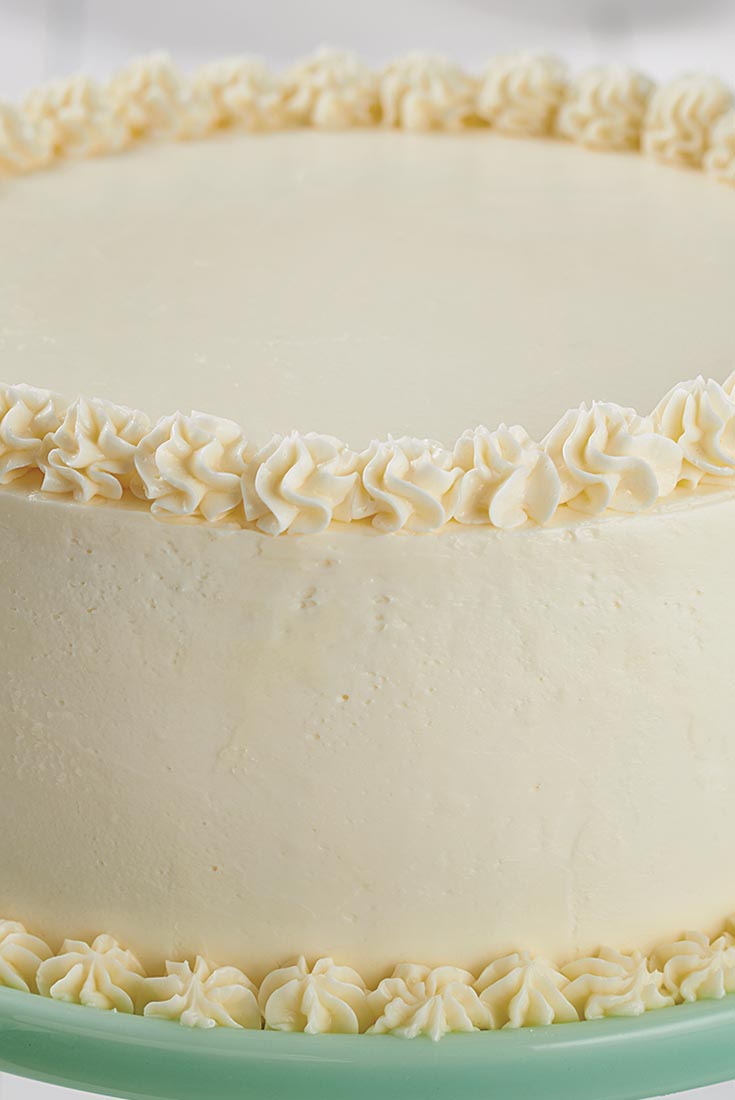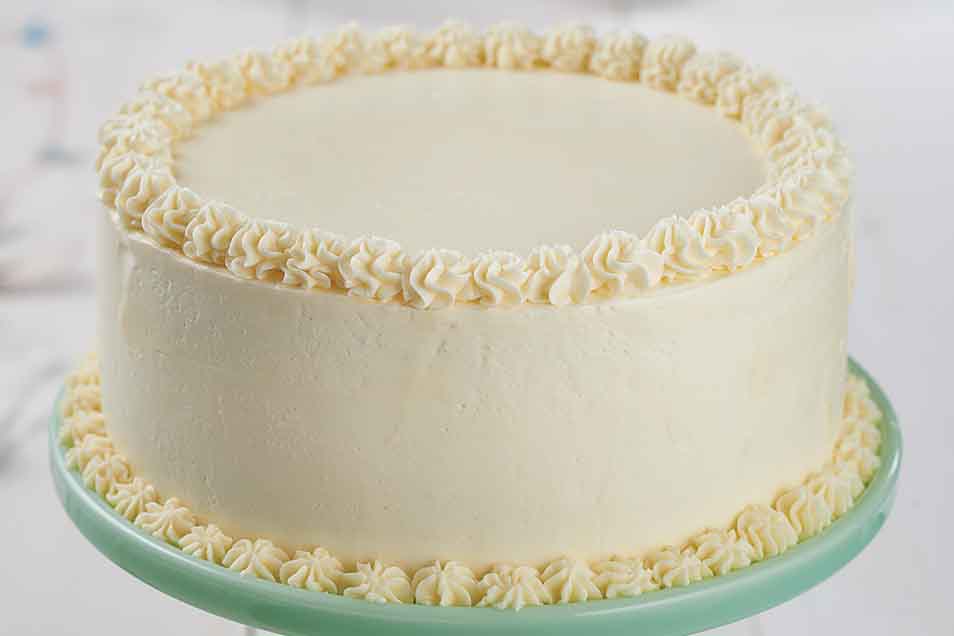 This is the frosting that you'll find on many wedding cakes. Its silky texture is unparalleled, it pipes like a dream, and can be flavored and colored in as many ways as you can imagine. While it takes a little time to make, it freezes quite well. It's great to have on hand for unexpected occasions.
Ingredients
Sugar Syrup
1/2 cup water
1 1/4 cups sugar
Frosting
3 cups (6 sticks) unsalted butter
1/2 to 3/4 cup vegetable shortening (optional)
1 teaspoon to 2 tablespoons flavoring (see baker's hints)
Instructions
For the syrup: Combine the sugar and water in a small, nonstick (preferable, if you have one) saucepan. Bring to a boil over medium heat, stirring occasionally until the sugar dissolves. Cook, without stirring, until the syrup reaches at least 240°F. It can go as high as 248 to 250°F. Just be sure it's within those temperatures before you take it off the stove.

For the meringue: While the syrup is cooking, combine the meringue powder, water, and salt in the bowl of your mixer. Beat at high speed with the whisk attachment until the mixture first looks foamy, then turns white, and you begin to see tracks in the bowl. At this point, slowly sprinkle in the sugar with the mixer running. Increase the speed to high and beat until the mixture is stiff.

When the syrups gets above 240°F (110°C) and before it gets above 250°F (121°C), remove it from the heat and with the mixer running at low speed, pour it down the side of the mixing bowl(not on the whisk or beaters if you can avoid it; that will send the syrup flying and start spinning sugar threads instead of incorporating it). Once the syrup is all in, leave the mixer running until the mixture cools to 80°F. You can help this process along by wrapping an ice pack around the mixing bowl.

Once the meringue is cool, add the butter, a few pieces at a time, with the mixer running at medium to medium-high speed. The meringue will deflate a bit, and may begin to look curdled. Don't lose heart! This ugly "adolescent" stage is normal. Just keep the mixer running and adding the butter.

Soon the frosting will begin to bring itself together around the whisk, then in the rest of the bowl. Once most of the butter is in, add vanilla or your choice of flavorings. If you're using the frosting for decorations, add the vegetable shortening in chunks at this point.

Use the buttercream within 4 hours, or refrigerate until needed.
Nutrition Information
Serving Size

1/4 cup, 44g

Servings Per Batch

30
Amount Per Serving:
Calories

213

Calories from Fat

162

Total Fat

18g

Saturated Fat

12g

Trans Fat

1g

Cholesterol

49mg
Sodium

36mg

Total Carbohydrate

12g

Dietary Fiber

0g

Sugars

12g

Protein

1g
* The nutrition information provided for this recipe is determined by the ESHA Genesis R&D software program. Substituting any ingredients may change the posted nutrition information.
Tips from our bakers
If you want to use fresh egg whites instead of meringue powder, you'll need 8 large whites, at room temperature, combined with 1 teaspoon cream of tartar. If you're using pasteurized egg whites from a carton, the cream of tartar is critical and may need to be increased to 1 1/2 teaspoons in order to create a stable meringue.
Before you start, make sure you have a digital or candy thermometer that will read up to 300°F for the and a small (nonstick, if you have it) saucepan for the sugar syrup.
While it's possible to do this with a hand mixer, it's strongly recommended that a stand mixer be used. You'll need your hands free to pour the syrup and add the butter.
Vegetable shortening: If you plan to make piped roses, or if the cake you're frosting is going to spend any length of time in a warm place, adding a bit of vegetable shortening to the recipe will help any piping or decorations hold their shape better; the shortening has a higher melting point than butter, and helps the frosting to stay more stable in warm conditions.
Storage: Buttercream will keep up to 1 week in the refrigerator (longer than that, and you may see some mold start to form). It freezes beautifully. To use from frozen, defrost in the refrigerator overnight, then let it come to room temperature before using. If you see any weeping or separation, toss the frosting in the mixer and whip it briefly to bring it back together.
If you're coloring the frosting, be sure to use gel or paste colors, not liquid ones; they'll cause the frosting to break.
If you're not going to use the frosting right away, consider dividing it into several smaller containers before refrigerating or freezing it. The smaller amounts will take less time to come to room temperature, and you'll be able to work with the frosting sooner.
See our Flourish Blog for more ideas on flavoring and working with buttercream.
For a tangy passion fruit version, whip in 1/3 cup of passion fruit puree or concentrate to the finished buttercream.
Reviews
I used brand new meringue powder and it came out *extremely* tangy and flavorless. How disappointing. The texture was decent. With some taste testers with me, I ended up adding 1lb 2oz powdered sugar, and a total of 5 tsp of vanilla to get to something resembling the flavor of frosting. It was still softer than I prefer to pipe with, but served the purpose. With the additions, it was edible enough.

We're sorry to hear this recipe didn't produce the frosting you were looking for, Anne. It may be of benefit to try the fresh egg white method (described in the Tips section) if the tangy flavor was especially pungent to your taste buds. We'd also love the chance to talk through the recipe with you, so we encourage you to reach out to our friendly Baker's Hotline staff to help troubleshoot at 855-371-BAKE (2253). Kindly, Annabelle@KAF
This frosting is awful. It took over an hour to make it due to having to reduce the temperature after adding the syrup. It separates after refrigerating it and becomes a curdled mess. It was a total waste of over a pound of butter. It has an odd taste due to the meringue powder. Now I get to make buttercream frosting to use instead of this mess.

We're truly sorry to hear about the frustrating experience you had when making this frosting. Buttercream of any kind, including Italian Buttercream, can split or separate for number of reasons. Ideally, the frosting becomes a stable emulsion of fat (the butter), water, and an emulsifier (like eggs). If these ingredients aren't incorporated properly, aren't the right temperature, or if the ratio of these ingredients is out of balance, then the fat can separate from the liquids and cause a greasy mess. Usually all it takes to remedy this is adding a few tablespoons of shortening and continuing to beat at a low speed until smooth. Xanthan gum and melted chocolate are also effective emulsifiers that can help bring your frosting back together. Lastly, if the temperature isn't quite right (either too hot or too cold), you'll want to make the necessary adjustment to help bring the frosting to room temperature. We hope that helps make your next buttercream-making experience much sweet and smooth as the frosting itself. Kye@KAF
I used eight egg whites instead of meringue powder. It is great loved it soft easy to spread and delicious !
I've made this recipe a number of times and it is fantastic! When I've made it in the past I've used it that day. However, when I made it this week I decided to make it a day ahead to save myself some time the following day. I put it in the refrigerator overnight and brought it up to room temperature so I could frost the cake. Then came the disaster! As it came to room temp, the whole thing started to separate. I called the baker's hotline and was told you can't refrigerate this icing, you can only freeze it! YIKES! I wish I had known that before I made it! Thought I'd pass this along in case someone else was thinking of putting their icing in the frig!

Terry, we're truly sorry to hear about the trouble you had when making this recipe, and we apologize for any confusion regarding the proper storage of this frosting. We've had success keeping Italian Buttercream in the fridge for up to seven days, so it's possible that there were other factors that caused the frosting to split. One of our test kitchen bakers who we affectionately refer to as the Buttercream Queen offered this insight: "Re-whipping this frosting would have fixed it, and if it was reluctant to come back together, a couple of tablespoons of shortening would have been the magic bullet. The reason buttercream can separate like that is if there's too much liquid flavoring (say 1/4 cup of orange juice or fresh berries that can weep from being near the sugar in the frosting)." We hope this helps make your future frosting-making experiences more successful. Kye@KAF
I've made this recipe now several times in the last 18 months and it always comes together, no matter how soupy or curdled it looks! However, I definitely agree it just doesn't taste the same with meringue powder. I've tried two different brands and I get a somewhat flavorless frosting. Like whipped cream with no sugar or flavoring. I've tried balancing with pinches of salt, mixing in powdered sugar and adding what seems like way too much extract. Doesn't help. My solution this weekend after already making a flavorless batch was to mix in some dark chocolate ganache frosting I had made to fill my cake with. Equal parts melted dark chocolate and heavy whipping cream, cool, then beat until fluffy. It sweetened and stabilized it beautifully. Love this recipe! But from now on will use fresh egg whites instead of meringue powder.
I've made this IMBC many times and it has graced the surfaces of many cakes and cupcakes-including my own wedding cake and others. It is simple to make and use. It is always wise to take the temp of your butter if you're concerned. I look for 68 degrees...basically, my butter and hi ratio shortening need to be the same temp/texture. I use a large ice pack on my Kitchen Aid mixer bowl to help speed up the cooling time after adding the syrup. Use only fresh ingredients and crack eggs when they're cold since they separate easily. I have made this with different brands of meringue powder and the distinct tang is ALWAYS there. I switched to egg whites when purchasing different brands wasn't cost effective. The only time I would suggest meringue powder is when a person is allergic or sensitive to eggs. If that's not an issue, crack away. The buttercream freezes well but take the advice of bakers and KAF: use small containers so your hard work thaws and comes to temp sooner than a big container.
I made this frosting using the meringue powder. I have to admit, I was somewhat intimidated by all the steps, but once I got everything assembled ahead of time it was actually kind of fun to make. I had no trouble at all with it "breaking", and the texture is like silk on the tongue. But like many reviewers, I too got that meringue powder "tang", which I do not like. I used a fresh, heretofore unopened jar of meringue powder which I purchased from the KAF website, so that should not have been a problem, but it was, even though I used two teaspoons of Mexican vanilla and one-eighth tsp. Fiori di Sicilia to flavor it. Next time I'll go with fresh egg whites, though what I'll do with eight egg yolks is a mystery.

Sounds like your taste buds are primed for the fresh egg white version of this frosting, Monica. If you give it a try, you can make a delicious homemade pastry cream or even Creme Brulee with the leftover yolks. Double yum! Kye@KAF
I have been looking for an Italian buttercream recipe that was using cooked sugar syrup and this is it. In her blog Susan recommended using up to 12 ounces of chocolate for a chocolate buttercream. I accidentally used 14 ounces of Guittard chocolate and it was absolutely fabulous. I put the chocolate in a barely warm oven for four hours and it melted and was just the right temperature to add to the completed butter cream. I only used half of the butter. Figuring the total fat content with the chocolate would be about the same. I will make this again!!!
The recipe looked a bit labor intensive, but it wasn't difficult. One does need to read the entire recipe before proceeding to be sure you understand the steps. Getting the meringue down to 80 degrees after adding the sugar syrup was somewhat challenging, but I got there. I wish I'd used egg whites instead of meringue powder because the icing has a tang that I'm not crazy about. I'll be using this with a cupcake recipe that calls for the buttercream to be further flavored so I'm hopeful when I've finished the tang is gone. I wasn't planning to add shortening because I'm using this for cupcakes (not "decorating") but before I added it, I had a curdled, soupy mess on my hands. Once I added the shortening and increased my mixing speed....VOILA - buttercream icing. If the cupcakes are a hit tomorrow with this icing, I'll give another go. PS I also wish I'd read all these reviews before I got started. Great info here!!
Omit the water but not the salt and sugar. Try it again soon! Elisabeth@KAF I wish I had read the comments because I added the water still. It still came together though so if anyone else adds the water still, it will still work just keep mixing. I didn't like the flavor or texture when it is first made it (felt like i was just eating butter) but after I put my cupcakes in the fridge the frosting is amazing.