A customized print-friendly version of this recipe is available by clicking the "Print Recipe" button on this page.
Italian Easter Cheese Bread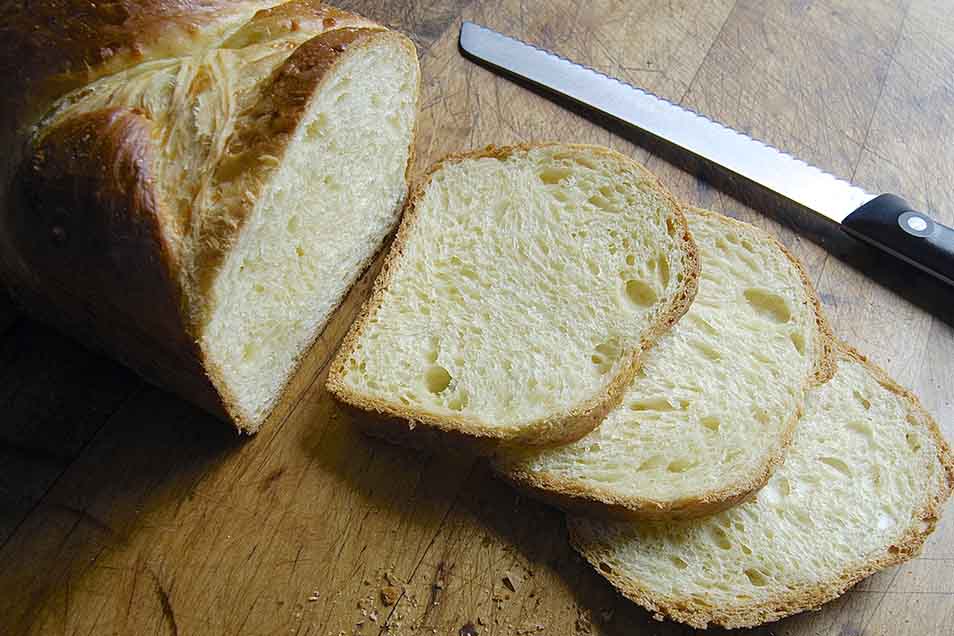 Crescia al Formaggio, Italian Easter cheese bread, is still mostly unknown in this country, and that's a pity. This light-textured, golden egg bread, loaded with Parmesan cheese, perfumes the kitchen with its wonderful savory aroma as it bakes. A nice change from the usual Easter sweet breads, it goes wonderfully well with the Easter ham — both at dinner, and later, when you're making ham sandwiches.

Be aware that this isn't a soft, moist loaf. It's very light, crusty, and quite dry inside. We suggest serving it in thin slices; toasted and buttered; or made into grilled sandwiches (grilled ham and cheese, anyone?)
Ingredients
Dough
2 1/2 cups King Arthur Unbleached All-Purpose Flour
1 1/4 teaspoons instant yeast
3 large eggs, at room temperature
1 large egg yolk, white reserved
1/4 cup lukewarm water
1/4 cup (4 tablespoons) softened butter
1 teaspoon salt
1 teaspoon ground pepper (black if you don't mind the specks, white if you do)
1 1/4 cups freshly grated Parmesan, Romano, or Asiago cheese, or a combination
Glaze
reserved egg white (from above)
2 teaspoons cold water
Instructions
Combine all of the dough ingredients except the cheese in the bowl of an electric mixer, and beat on medium speed for 10 minutes, until the dough becomes shiny and satiny. It'll be very sticky; stop the mixer to scrape the sides and bottom of the bowl a couple of times during the mixing process.

Add the cheese, and beat until well combined.

Scrape the dough into a lightly greased bowl, cover the bowl, and set it aside to rest/rise for 1 hour; it won't do much. Gently deflate the dough, turn it over, return it to the bowl, and allow it to rest/rise for an additional hour; again, it may not seem to rise much — that's OK.

Oil or flour your hands. To make a traditional round loaf, form the dough into a ball, and place it in a greased pandoro (star) or panettone pan; a large souffle dish; or another round, deep pan. The pan should be about 6" to 7" wide, and 3" to 4" deep.

To make a pretty loaf, divide the dough into three pieces; roll each piece into a 12" log; and braid the logs. Nestle the braid into a lightly greased 9" x 5" loaf pan.

Cover the loaf lightly, and allow it to rise for 2 hours (or longer, depending on the warmth of your kitchen); the dough should have become noticeably puffy, though it won't have doubled in size.

To bake the bread: Put your oven rack in a lower position, just below the middle, and preheat the oven to 425°F.

Whisk the reserved egg white with the water and brush the top of the loaf.

Place the bread in the oven and bake it for 15 minutes.

Reduce the oven temperature to 350°F, tent the bread lightly with aluminum foil, and bake for an additional 30 to 35 minutes, until it's a deep, golden brown and an instant-read thermometer inserted into the center registers 190°F. The braided loaf will require less time than the round loaf.

Remove the bread from the oven, and let it cool in the pan for 5 minutes. Use a knife to loosen the edges, if necessary, and turn the loaf out onto a rack to cool completely before slicing.

Store airtight, at room temperature, for several days. Freeze, tightly wrapped, for longer storage.

Yield: 1 loaf.
Tips from our bakers
Want to make the dough in a bread machine? Place all of the dough ingredients into the pan of your machine, program the machine for manual or dough, and press Start. Check the dough about 10 minutes before the end of the final kneading cycle, and adjust its consistency as necessary with additional flour or water; it should be shiny and elastic. Allow the machine to complete its cycle, then shape and bake as directed at right.
Reviews
In my family we had a recipe that we had been using that I wasn't particularly happy with (it made a pale, dense bread), so I decided to try something new for a change. This bread came out magnificent, it surpassed all expectations. The flavor is extraordinary and it is surprisingly light and airy (if you give it enough time to rise). Will be making again!
Love this recipe! I've been making it for quite a while now, and it's always a hit. It makes delicious sandwiches (my favorite is a grilled cheese with sharp white cheddar, smoked bacon, and caramelized onions), and the BEST croutons for Caesar salad. May I duccessfully double the recipe?

Lonnie, as a general rule of thumb, most yeast bread recipes can be easily doubled, including this recipe. You can simply multiply most ingredients, using anywhere from 1-2x the amount of yeast called for in the original recipe. The amount of yeast used can vary depending on your preference, with more yeast leading to a faster rise but less flavor development, and less yeast leading to more flavor development but a longer rise. Choose whatever works for your schedule and flavor preferences. Happy baking! Kye@KAF
This is an excellent recipe for cheese bread. I have to admit not as good as my Mothers but it will do.I used out Regal bread maker to mix the dough. easy!
This comes out just like my grandparent's! if you haven't had this before, it's a dry, crusty bread, and packed with flavor.
This bread is delicious. I used Locatelli cheese and it tasted just like the bread I ate as a child.
This bread is fabulous! I followed the recipe exactly; no adjustments even though we live above 5000'. I made a braided loaf. This bread is so flavorful that we don't bother to butter it. If you like Asiago, this is the recipe for you!
This recipe's a keeper. What a lovely loaf it makes! Absolutely worth the extra time involved. I usually make all my dough in the bread machine but when I re-read the recipe and realized how quick it would be to use the mixer, I just threw everything as instructed in the Kitchenaid with the dough hook. It didn't seem quite "satiny" or elastic enough, so I added a little over a tablespoon of extra liquid and it came together perfectly. (Humidity was extremely low that day.) My dough actually doubled with each rise using the proof setting on my oven. I made the braided loaf in a stoneware bread pan because I knew my hubby would probably want part of it for sandwiches. It turned out beautifully. Nice texture and great flavor. I will definitely make this recipe again.
This bread was awesome for Easter dinner. I was surprised at how the pepper integrated in the bread, giving it a bit of a zing. This was great, and my company loved it. I baked it in the round on a baking stone. Thank you!
Oh my gosh. My new favorite bread. I love Parmesan cheese to begin with, but the crust on this bread is just perfectly crunchy and delicious. Well worth the time it takes to rise. I made the braided loaf in a metal bread pan. It looked as good as it tasted.
This bread turned out looking beautiful. Couldn't wait to taste it, but I was very disappointed with the taste. I wish it tasted as good as it looked.

Sorry to hear the bread didn't deliver on the flavor front, Bob. We'd love to help you make your bread taste just as good as it looks, so we encourage you to give our friendly bakers on the hotline a call at 855-371-BAKE(2253). We can hear more about what elements of taste were lacking and the best ways to remedy this. Kye@KAF