A customized print-friendly version of this recipe is available by clicking the "Print Recipe" button on this page.
Italian Supermarket Bread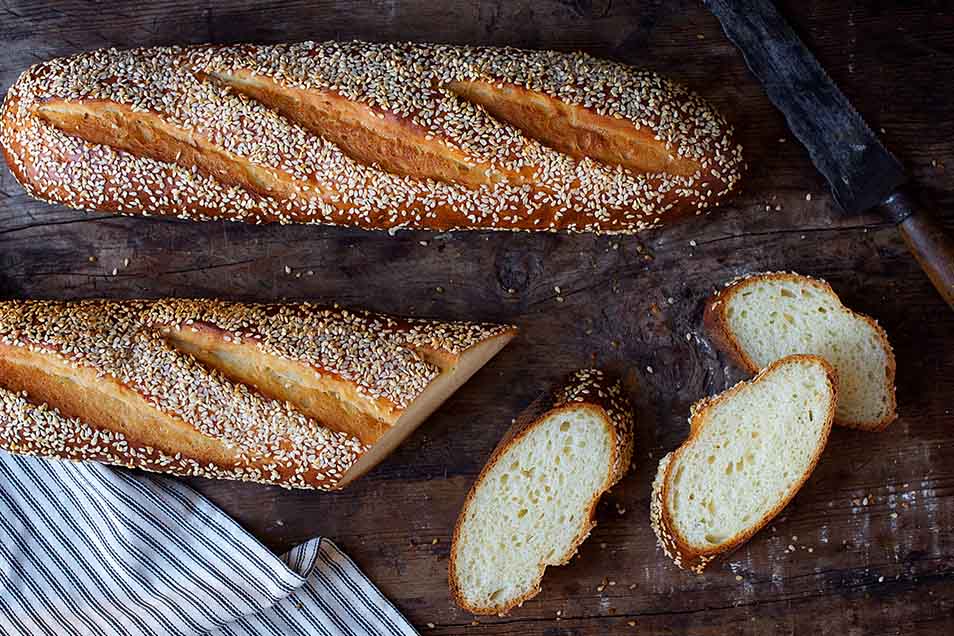 You know that yummy Italian bread you get in the supermarket? The fat, golden, sesame-seed-sprinkled loaf? Yes, you CAN make it at home. Here's how.
Ingredients
Dough
2 tablespoons potato flour, or 1/4 cup dried potato flakes
1/4 cup Baker's Special Dry Milk or nonfat dry milk
2 teaspoons salt
2 teaspoons sugar
2 teaspoons instant yeast
1 1/3 cups lukewarm water
3 tablespoons olive oil
Topping
1 egg white beaten with 1 tablespoon water; or substitute Quick Shine
sesame seeds
Instructions
In a large bowl, stir together all of the dough ingredients till cohesive. Knead the dough for 5 to 8 minutes, until it's smooth and supple, adding more water or flour as needed.

Cover the dough and allow it to rise for 1 hour, or until it's doubled in bulk.

Transfer the dough to a lightly greased work surface and divide it into two pieces. Shape each piece into a smooth 16" log. Place the logs into the two wells of a lightly greased Italian bread pan, cover, and let the loaves rise until very puffy, about 1 hour.

Brush the loaves with the egg wash (or spray them with Quick Shine), then sprinkle heavily with sesame seeds. Slash the loaves diagonally, making 3 slashes in each, and immediately put them in the oven. Bake in a preheated 400°F oven for about 25 minutes, until the loaves are golden brown. For the crispiest crust, turn off the oven, prop the door open, and allow the bread to cool in the oven
Nutrition Information
Serving Size

1 slice (41g)

Servings Per Batch

24
Amount Per Serving:
Calories

100

Calories from Fat

20

Total Fat

2g

Saturated Fat

0g

Trans Fat

0g

Cholesterol

0mg
Sodium

200mg

Total Carbohydrate

17g

Dietary Fiber

1g

Sugars

1g

Protein

3g
* The nutrition information provided for this recipe is determined by the ESHA Genesis R&D software program. Substituting any ingredients may change the posted nutrition information.
Tips from our bakers
Tips for using your Italian bread pan: Before using for the first time, wash your new pan in hot, soapy water; rinse and dry. To clean after use, place the cooled pan in the dishwasher, or wash by hand using a non-abrasive pad in hot, soapy water. Rinse and dry completely. Scouring with metal pads, steel wool or abrasive cleaners will damage the pan's surface. This pan will gradually darken with use over time. This is normal, and will enhance the quality of the products you bake in it.
To bake the loaves without a pan, shape, and place them on a lightly greased or parchment-lined baking sheet, leaving enough room between them for expansion. Continue with the recipe as directed.
Reviews
Wonderful recipe. Have made it many times. But, the result each time is a flatter bread than the picture. If I buy Italian bread, it's always rounder on the top. So, how do I get the bread to be taller? I'm using all the ingredients in the recipe including KA APF.

Hi there, Carl! We're glad to hear that you enjoy this recipe but are sorry that your loaves aren't quite as tall as you'd like. We might suggest trying to shape them a little tighter to encourage them to rise upwards rather than spreading out a bit. Also if you aren't already using it, our Italian Loaf Pan can help to keep the shape of your loaves. We hope this helps and happy baking! Morgan@KAF
I made this bread yesterday baking in my Italian bread pan. It came out perfectly. Taste and texture just as we like it. My question is, could this be baked in my long covered baker? If so, would I make any changes?

We're glad you love this recipe, Alma! Our blog article "Your long covered baker: Tips and techniques for your new favorite pan" has a lot of info for you, but in short you can make this recipe as one loaf in your pan. Let it rise in it in a parchment paper sling so you'll be able to easily lift the loaf out when it's done, and take the lid off for the final 15 minutes of bake time. It'll be done when the interior temperature reaches 190°F to 195°F. Happy baking! Annabelle@KAF
One of my favorite recipes! Always turns out well.
Two quick questions: 1. Should you use iodized table salt or Kosher salt? 2. With instant yeast, is it better to add it in after mixing the other dry ingredients with water so that the salt does not inhibit the growth? I was told salt will only hurt yeast when dissolved in water.

Hi Art! All our recipes use table salt (unless otherwise specified), but if you prefer or only keep kosher salt on hand go right ahead and use that, it'll work out just fine.
While salt can inhibit yeast growth, it only becomes an issue when the two are mixed together directly and left for some time. A good mixing method is to put the water in the bowl first, then your yeast, then flour, then remaining ingredients on top. This way there's no concern about the two causing trouble. Happy baking! Morgan@KAF
We went hiking in Sicily and had this bread every Day for picnic lunch. I learned to make it home from this recipe. It was just the same great bread! Now I'm wondering : can I just add some olive and have it be olive bread?

You bet, Marilyn! Throw in a cup or so of chopped olives at the end of the mixing stage. Happy baking! Annabelle@KAF
This bread is great!! I made it twice already. With that said, I have a question. I want to make this again n I always have a shortage of olive oil as we use it on almost everything. Can I use vegetable oil or any other kind in place of olive oil? Again this bread is awesome!!

Use whichever oil you have on hand, Josie! Olive oil is offered just because it lends flavor, but isn't necessary. Annabelle@KAF
I live in NC, a year now. Moved from NYC. Here I can not find italian bread like NY supermarkets have. I have tried 2 other bread recipes. It just fell short of something. The picture of this bread looked awesome so I took my chance. I have to say there is no regrets here. It looked just like NY bread. And it tasted amazing, actually came out crispy. Made it twice now and it dissappears withing 30 minutes. This is my go to bread from now on. Great recipe. Can't wait to try it with ham n cheese. Thank you for feeding my craving for itali an bread!!
I used to bake this often and never had an issue until tonight. We moved to a warm humid climate and the dough in my yeast recipes seem to fall now before I put them in the oven. Not sure if I need to shorten the rise time, but it's the second time this has happened to me and I hate to ruin a good recipe.

We're jealous of you, Tracy, baking in the beautiful Virgin Islands! The good news is that the change you'll need to make to your baking is only a small adjustment: Try reducing the final rise time by about 15-20% to account for the warm, humid weather. It will also help ensure good results if you use a strong flour with a high protein content (like King Arthur Flour). If this flour is available to you, we encourage you to give it a try. We think you'll be impressed by the strength it delivers to your loaves. Kye@KAF
I have made this a couple of times and it always turns out great. I do not use the sesame seeds because I didn't have any. I just sprinkled some corn meal down and used that. I egg wash and bake. Then 3 min later, i egg wash again or brush with water. I do that again3 min later for a third time and i get a very nice crust texture.