A customized print-friendly version of this recipe is available by clicking the "Print Recipe" button on this page.
Jeffrey's Sourdough Rye Bread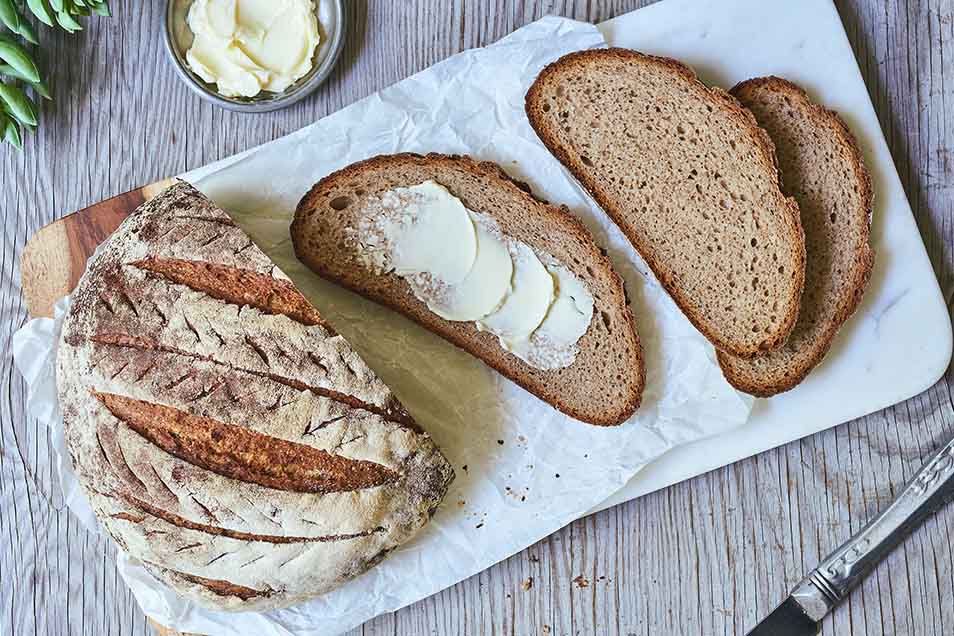 The technique for this recipe is inspired by Jeffrey Hamelman's book Bread: A Baker's Book of Techniques and Recipes. We love the bread for its full sourdough flavor and keeping quality. Because of the high percentage of rye in this recipe, we suggest you familiarize yourself with this particular grain before getting your hands into the dough; it can be a little finicky if you're unprepared. Additionally, you'll need a stand mixer for this recipe in order to mix the dough as effectively and thoroughly as it needs to be mixed.
Instructions
To make the starter: Mix all of the ingredients together in the bowl of an electric mixer. Cover and let sit for 14 to 16 hours at room temperature.

To make the dough: Add the remaining ingredients to the bowl. Using the dough hook, mix and knead for 3 minutes on first speed, and about 2 minutes on second speed; the dough will be shaggy, and won't look kneaded.

Cover the dough and let it rest for 30 to 45 minutes; it won't rise significantly.

Gently deflate the dough, shape it into a ball, and place it into a stoneware bread-baking bowl, or onto a parchment-lined or lightly greased baking sheet.

Cover the loaf and let it rise for 50 to 60 minutes in a warm place.

Preheat the oven to 450°F.

Uncover the loaf, and slash a cross onto the top, to allow for expansion.

Bake the bread for 15 minutes, then lower the oven temperature to 425°F, and continue baking for 20 to 30 minutes, until the loaf's surface is golden brown.

Remove the bread from the oven and, after 5 minutes, transfer it to a rack to cool completely. The baked bread should rest for 24 hours before slicing, for best quality.

Store bread at room temperature, loosely wrapped, for up to 5 days or so; freeze for longer storage.

Yield: 1 loaf.
Reviews
Why have the sourdough starter and the yeast? I thought the starter was in place of yeast?

Great question, Jo. The yeast ensures that you get a rise out of the dough, even if the starter is added when it's not at it's ripest. It also allows the dough to rise more quickly. You're welcome to leave yeast out of the recipe, and expect longer rising times. Happy baking! Annabelle@KAF
Lovely light bakery rye. Used full day for starter, then added one tablespoon of your deli rye enhanser and caraway seeds. Made round loaf in buttered bowl. Crisp crust with soft center.
As a Rye bread novice I had to tweak this recipe twice before I figured out the technique. But now that I have, this is by far my favorite bread I've ever baked! You've gotta try it! A few tweaks I made: 1: be sure your starter is well-fed. Really helps the rise. 2: let the initial starter ferment for more like 16-18 hours.. Adds great flavor! For the final dough, I cut the rye by about 1/4 cup and made up the difference with a bit more bread flour-- much better rise! Finally, perhaps most important: watch hydration of final dough. As a novice, I bake by volume and by feel. In my kitchen, the final dough was a bit dry, as was the bread, when I followed the proportions precisely. I found that adding extra water to the dough to the point that it was almost tacky made for a tender and delicious loaf once baked. It is an amazing recipe and I can't wait to bake it again!
I followed this recipe to the letter excppt for two things. One, I didn't notice the toggle to use weight instead of volume so I used volume. Second I didn't have a stand mixer so I kneaded by hand. The dough as well as the starter was so dry it was difficult to knead. I baked it in a preheated Dutch oven covered during the high temperature phase on an oiled parchment and removed the cover during the low temperature phase. The bread was tasty but too dense for my taste. I will try it again when I have access to a stand mixer and use weight measurements this time.

We're glad to hear you're going to try making this recipe again by weight, as this can make a significant difference in the texture of the dough. When measuring by volume, the flour often gets compacted in the cup and too much gets added. We hope your next loaf turns out perfectly! Kye@KAF
Hi First try using this recipe turned out to be a disaster. Don't know if the starter measurements are right but I found that I had to add more water to get it to mix. Seemed too dry to be a starter. The loaf turned out very flat. Will try again

Sorry this wasn't what you expected the first time around. Be careful to weigh ingredients, as too much flour can make a loaf dense and dry. We're thrilled you're trying again, feel free to call us at 855-371-2253 if you have any baking questions. Bryanna@KAF
Very rye, very sourdough... Perfect! Definitely wait 24 hours before serving; the rest enhances both the flavor and the crumb.
Great recipe. It provides the taste, crust, and crumb that I grew up on in New Jersey. Directions are clear enough even for an inexperienced bread baker like me to succeed. Minor comment: I use the recipe as printed in the KAF catalogue for July, 2014. On your website, a phrase has been added to this recipe describing it as "whole grain". Is the "KAF medium rye flour" called for in the recipe really "whole grain"?
Georg, you are correct that the medium rye is not completely whole grain. I will pass on your comments. Barb@KAF
I purchased the round, uncovered bread baking bowl and used it for the first time to make this bread. I followed the directions, rising and baking the loaf in the bread making bowl, but it stuck securely to the bottom of the pan after baking. I could not get it out in one piece. I am an experienced bread baker and have several other clay bakers that I routinely use. I usually pre-heat the bakers and carefully add the dough to the hot pan, and it never sticks. Once, I did let a no-knead bread rise in the baker, but I greased the baker first. (It did not stick.) In spite of my baking problems, I liked the flavor of this rye bread, but I doubt I'll try it again. I added caraway seeds - what is rye bread without caraway? Personally, I think that for a rye bread, the sourdough flavor will not come through the strong flavor of rye and (in my case) caraway seeds.
I'm sorry that this bread stuck in your new bread baking bowl. We do recommend that you oil the bowl before each use and sprinkle a coarse grain on the bottom (such as cornmeal, rice flour, or semolina) to prevent sticking. You may want to sprinkle generously the first few times you use the bowl. Barb@KAF
My sourdough starter is about two months old. It smells and tastes very sour. I made this recipe twice with the same results. There was no sourdough taste. It taste like a rye bread. I used KA Medium Rye Flour and KA Unbleached Bread Flour. The second time I made it I used a cup (yes a cup) of fed sourdough starter for the sponge. I followed the recipe exactly the first time and except for the huge increase in volume of starter I followed the directions again. The bread looks great and taste like a nice rye bread but no sourdough taste. So it must be my starter? The only question I did have is if the bread is supposed to be covered during the baking or not.
If a more tangy flavor is what you are after try doing longer cooler rises. The second rise could take place in the frig and overnight. Do not allow the second rise to take place in the bread baking bowl or similar vessel due to risk of thermal shock. Line a pot or a bowl of like size with a large piece of parchment. Cover and rise in the frig. While the oven is preheating, gently lift the dough that is cradled in the parchment and place into a baking bowl or crock. Follow the recipe as written. You have the option of covering or not covering. If you cover, remove the lid during the last 10-15 minutes so the loaf can brown. Enjoy! Elisabeth@KAF
I think this bread has lots of taste. It took awhile to make as I had to wake up the starter and go from there. I used KA Perfect Rye flour and my family thought it was delicious. The recipe in your catalog said nothing about how to store during the 24 hours you wait before eating it. Mine looks like the picture. It isn't a huge loaf, but it's not a lot of flour either. I'll make it again.