A customized print-friendly version of this recipe is available by clicking the "Print Recipe" button on this page.
Jeffrey's Sourdough Rye Bread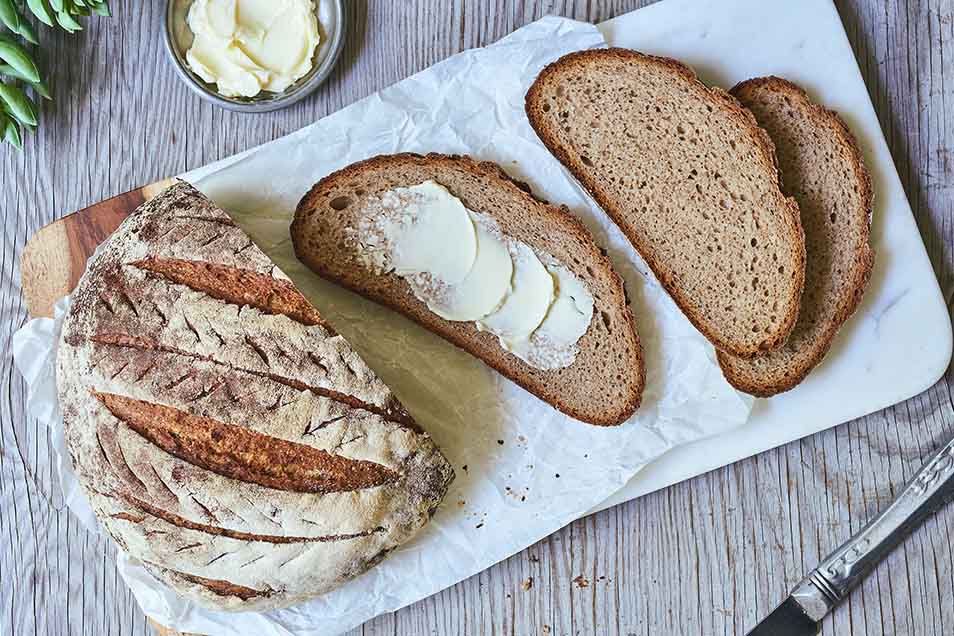 The technique for this recipe is inspired by Jeffrey Hamelman's book Bread: A Baker's Book of Techniques and Recipes. We love the bread for its full sourdough flavor and keeping quality. Because of the high percentage of rye in this recipe, we suggest you familiarize yourself with this particular grain before getting your hands into the dough; it can be a little finicky if you're unprepared. Additionally, you'll need a stand mixer for this recipe in order to mix the dough as effectively and thoroughly as it needs to be mixed.
Instructions
To make the starter: Mix all of the ingredients together in the bowl of an electric mixer. Cover and let sit for 14 to 16 hours at room temperature.

To make the dough: Add the remaining ingredients to the bowl. Using the dough hook, mix and knead for 3 minutes on first speed, and about 2 minutes on second speed; the dough will be shaggy, and won't look kneaded.

Cover the dough and let it rest for 30 to 45 minutes; it won't rise significantly.

Gently deflate the dough, shape it into a ball, and place it into a stoneware bread-baking bowl, or onto a parchment-lined or lightly greased baking sheet.

Cover the loaf and let it rise for 50 to 60 minutes in a warm place.

Preheat the oven to 450°F.

Uncover the loaf, and slash a cross onto the top, to allow for expansion.

Bake the bread for 15 minutes, then lower the oven temperature to 425°F, and continue baking for 20 to 30 minutes, until the loaf's surface is golden brown.

Remove the bread from the oven and, after 5 minutes, transfer it to a rack to cool completely. The baked bread should rest for 24 hours before slicing, for best quality.

Store bread at room temperature, loosely wrapped, for up to 5 days or so; freeze for longer storage.

Yield: 1 loaf.