A customized print-friendly version of this recipe is available by clicking the "Print Recipe" button on this page.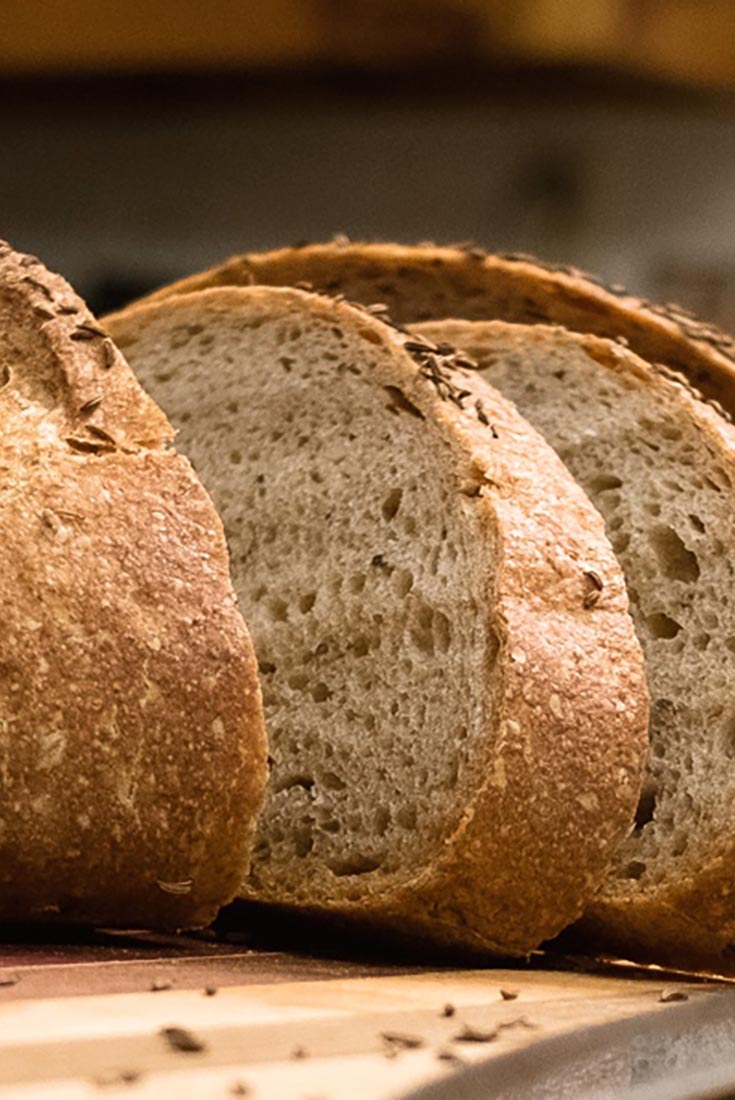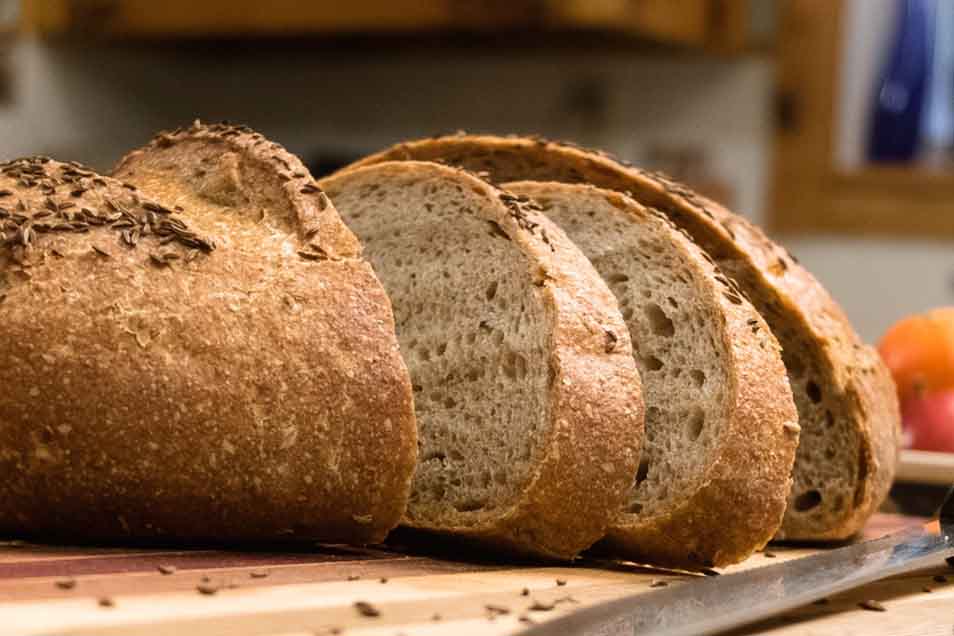 Looking for a Jewish Rye bread recipe made the traditional way, with a rye sour and old bread soaker? This Jewish Rye delivers tangy rye flavor and a moist, chewy crumb. It's the perfect foundation for the thickest, juiciest deli sandwich you can assemble.

Please read this recipe all the way through before starting; it's good to understand right up front the time commitment, and there are several useful tips at the end. Also, your successful execution of this recipe will be greatly enhanced if you read and reference its accompanying blog post, How to Make Jewish Rye Bread, along the way. The post includes numerous helpful photos illustrating preparation techniques.
Ingredients
Rye sour
1 rounded tablespoon ripe (fed) sourdough starter
2 1/4 cups organic pumpernickel flour
7/8 cup room-temperature water (70°F)
Old bread soaker
1 large slice rye bread or other old/stale bread, cubed (1 heaping cup)
1/3 cup cool water
Dough
3 1/2 cups King Arthur Organic All-Purpose Flour or King Arthur Unbleached All-Purpose Flour
all of the rye sour from above, minus one rounded tablespoon*
1 cup + 1 tablespoon water (80°F)
1/3 cup old bread soaker from above, at room temperature
1 tablespoon caraway seeds (optional)
1/2 teaspoon ground caraway seeds (optional)
2 teaspoons salt
1 teaspoon instant yeast
*The remaining rounded tablespoon of rye sour can either be discarded or used to start Rye Sourdough Starter.
Instructions
To make the rye sour: Mix the ingredients until all the flour is fully moistened; the mixture will be very stiff. Place the sour in a nonreactive container, sprinkle with a light coating of pumpernickel flour, cover, and let rest for 13 to 16 hours, preferably at a temperature of 70°F.

To make the old bread soaker: Cut the bread into 1" cubes and place them in a lidded container. Add the cool water, shaking the container to fully moisten the bread. Store the mixture overnight in the refrigerator. Next day, squeeze out the excess water and stir the bread until it breaks down and becomes the consistency of stiff oatmeal. Measure out 1/3 cup (3 ounces, 85g), and bring to room temperature (or warm briefly in the microwave). The remainder can be stored in the refrigerator for up to a week.

To make the dough: Place all of the dough ingredients in a mixing bowl. For best (and easiest) mixing and kneading, use a stand mixer; see manual kneading directions in "tips," below. Using the dough hook, mix on lowest speed for 3 minutes, then speed 2 for 3 minutes. Ideal dough temperature after mixing is 78°F.

Place the dough in an oiled bowl and cover. Allow the dough to rise in a warm spot (78°F) for 1 hour.

Deflate the dough; for best technique, see our video, how to deflate risen dough. Cover the dough and allow it to rest for 10 minutes on a floured surface, folded side up.

Preheat the oven and a baking stone (if you have one) for 1 hour at 460°F. For added steam, preheat a cast iron frying pan on the shelf below the stone for the same amount of time.

Shape the loaf into a bâtard, or football shape, taking care not to rip the surface of the dough. Use flour on your hands and the table to help prevent sticking. Pinch the bottom seam closed, if necessary.

Place the loaf on a lightly greased piece of parchment paper; sprinkle the parchment with coarse cornmeal, if desired, before adding the loaf. Cover and let rise for 40 to 45 minutes in a warm spot (78°F).

Spray or brush the top of the loaf with room-temperature water and sprinkle with caraway seeds, if desired. Score the loaf with 5 horizontal cuts across the top of the loaf, holding the blade perpendicular to the surface of the loaf. The cuts should slightly diminish in length as they approach the tips of the loaf.

Carefully place the parchment onto a peel (or the bottom on a baking sheet), and slide parchment and loaf onto the hot stone, partially covering the loaf with a stainless steel bowl (see "tips," below), to trap the rising steam. If you're not baking on a stone, simply transfer the parchment and loaf to a baking sheet, and place in the oven — cover partially with a stainless steel bowl.

Pour 1/2 cup boiling water into the frying pan and shut the oven door; this will create the steam necessary for a chewy, shiny crust. Bake the bread for 10 minutes, then remove the bowl.

Reduce the oven temperature to 430°F, and bake for 30 to 35 more minutes, checking often for color. The finished loaf should be a deep golden brown when done; its internal temperature should be at least 205°F.

Spray or brush the loaf with water again after removing it from the oven. Cool the bread on a rack overnight before slicing.
Tips from our bakers
This is difficult dough to knead by hand because it's very sticky. If you're up for the challenge, stir all the ingredients together in a bowl until the mixture forms a shaggy mass. Turn the dough out onto an unfloured work surface. Using a bowl scraper to help, knead by hand for 10 minutes, or until the dough is relatively smooth. Scrape the kneading surface frequently to help prevent sticking; the dough will continue to be sticky throughout the process. Wetting your hands, rather than adding more flour, will help prevent sticking without making the dough too dry.
For best steam, cover the loaf with a large metal bowl, with the front of the bowl hanging over the front of the baking sheet or stone so the steam from the frying pan below can vent into the bowl. When you're ready to remove the bowl, use a butter knife to lift it, then grip and remove.
Once you've baked this loaf, be sure to save a large slice in the freezer to make old bread soaker the next time you want to bake this recipe.
Reviews
I am addicted to rye bread but was not satisfied with rye available for purchase. So about 45 years ago I developed a receipt that has a thick crust, dense crumb and sour. My recipe is very close to your recipe. Irwin Mortman's rye bread Ingredients 1 cup starter * 11/2 cup warm water (95-110 degrees) 4 oz rye flour 22 oz bread flour (1 or 2 oz additional may be required) 1/4 cup caraway seeds 2 tbs. yeast (instant yeast) 1 tbs. plus 1 tsp. Salt, I use sea salt, not iodized 1/2 cup altus ** 6 oz. dough from previous batch corn starch solution *** 1. Mix all dry ingredients 2. Add to mixing bowl, dough, altus, starter and water. 3. Add dry ingredients 4. Using dough hook knead until smooth and stiff, add flour as required. I knead until the dough is all on the hook. About 15-20 minutes 5. Place dough in bowl, cover and allow to rest 2 hours 6. Punch down, shape into two rounds, cover with bowls and allow to rest 1.5 hours. Best if each piece is weighed. Remember to save 6 oz. of dough for next batch, allow to rise with rounds then place this dough in a tight container, add 2 tbsp. warm water over and store in refrigerator. 7. Knead the dough rounds about 12 times and shape into loaves, cover and allow to rise until about double in size, about 45 minutes 8. Brush corn starch solution and score breads 9. Place in preheated 450F oven, make steam, bake for 16 minutes 10. After 16 minutes reduce heat to 375F and bake for 15 minutes 11. Remove from oven and immediately brush corn starch solution on breads, cool on rack * starter Water to rye flour ratio 1.6 For example, 5 oz. rye flour to 8 oz water mix together well place in jar and seal, make sure the jar is big enough because this stuff will grow. allow to sit for three days refrigerate one day after using starter feed starter with 1.6 rato allow to sit overnight after each feeding ** altus is made from rye bread, remove the crust, place bread in jar, cover with water, seal and store in refrigerator. To measure 1/2 cup of altus squeeze excess water from altus to obtain a 1/2 cup. I would like to Email photos, but how? *** corn starch solution 1 tbs. Corn starch dissolved in 2 tbs cold water combine with 1/2 cup boiling water.

Thanks for sharing your rye bread recipe, Irwin! We'd love to see a photo of your bread. You can email us and attach a photo at customercare[at]kingarthurflour[dot]com. Barb@KAF
Totally delicious. Seriously like the rye bread from the Jewish bakery out in Long Island growing up. Question: if I wanted to spread this out, would it be OK to do either the first or second rise overnight in the fridge and, if so, any advice on how best to do that?

Hi there, we're so glad to hear you enjoyed this recipe! We don't recommend extending the rise times in this recipe because rye flour ferments more quickly than wheat flour and a longer rise may cause the structure of the dough to deteriorate. Barb@KAF
Followed your advice here. After three tries, a perfect loaf. The secrets? Weigh everything. Score deeply. Baking stone. Parchment. Brush generously with water before and after. A lot of steam, but be careful not to scald yourself. Practice deflating and shaping (good KAF videos on this). I don't have a large enough steel bowl to cover the loaf. I imagine is would make an even better crust if I had. Even so, this looks store bought.

Hi Daniel, we're so glad to hear you were able to perfect your loaf, and appreciate your willingness to share your tips for success! Diligence always pays off when it comes to baking. Congratulations! Barb@KAF
Oh, my yes! This is the one I've been looking for! My first try came out with a lovely crunchy/chewy crust and a moist, somewhat dense crumb with absolutely fabulous flavor; it has that slightly sour rye tang and fairly intense rye character that I wanted. I opted for only the whole caraway seeds and that was plenty for us. I followed the recipe exactly except that I was a little more generous with my sourdough starter; about 1/3 of a cup and this did not adversely effect the outcome. The only problem is that mine split at the bottom as a previous reviewer mentioned.

Hi Patricia, we're so glad to hear that you and your family enjoyed this recipe! As far as the splitting goes, if you felt the dough was on the stiff side, this could have contributed to the splitting during baking that you describe. Be sure to either weigh your ingredients or use the fluff/sprinkle/level technique that we recommend for measuring flour by volume. If the dough still feels on the stiff side, try adding an extra tablespoon or two of water during the mixing and kneading process. Barb@KAF
Wonderful! Delicious! Chewy! Wonderful crust! Oddly, my loaf split along the bottom edge on both sides, as if the top lifted up and away from the bottom. I used a regular baking sheet and lightly floured parchment. Wondering, did I not score deeply enough? Other than that, a perfect loaf!

Hi Daniel, it does sound like your loaf may have needed to be scored a little deeper. Spraying your loaf with water before baking and adding steam during the initial part of the bake will also help prevent the loaf from splitting in the way you describe. Barb@KAF
I have made this recipe a few times now. Following the baking directions yielded a burnt crust. I now seem to have solved the problem by reducing the temperature further than recommended (to 350) as the bead approached started browning. This increases the needed attention, however. Also I recommend adding a couple of tablespoons of KA Rye Bread Improver- the rise and flavor improvements were noticeable.

Thanks for adding your own tips for success! Barb@KAF
I just made the Jewish Rye yesterday, and I couldn't be happier with it. It's EXACTLY what I was looking for--the classic Jewish rye from my childhood (1960s and 70s, Central New Jersey--the brand we bought in hunks by the pound was Pechter's, baked in Newark), but updated for more nutrition and a bit more substance. I can't explain why this makes me so happy, except that I have been trying off again on again for years, and although caraway (and Nigella--seeds from Penzeys!)-seeded bread is not my own personal favorite bread, it IS the favorite for my husband and brother. This is the one. The next one I bake will be overnighted to my brother in Texas. Would like to know if it can be doubled successfully. (Nu, so why not?)

We're glad this was a hit, Elizabeth! You can double everything no problem. Happy baking! Annabelle@KAF
I got an early Christmas present of a Brod and Taylor proofer. I've made this recipe before and was very happy with the results. So, to test out the B&T I made a Detmolder starter and used it for this recipe substituting it for the preferment. I reduced the instant yeast to 1/2 teaspoon. Other than that, I followed the recipe exactly. Someone commented below they wanted a little more sour flavor. I think they would enjoy this version. The resulting bread had wonderful flavor and just the right amout of sour (for me at least).
I've been baking this recipe for about a year now and it is my absolute favorite. When I was growing up, we used to get "sissel" bread from a local Polish bakery. They closed up years ago and I have been looking for this bread ever since. I have found a few bakeries that make a rye, but only one was close. Chumura's bakery in Ludlow MA makes a fantastic seeded rye that is just about right, but they are 2 hours from my home. I found this recipe last Thanksgiving and made it for the holidays. Everyone was blown away at how I had been able to duplicate the sissel bread from our youth. Great recipe, great website!
I am on a quest for the BEST Jewish Rye I can find for my husband. He grew up in Philly and none of the recipes I've tried are the perfect loaf. This one he loves, but it's still not quite sour enough. Any suggestions? Pickle juice? Make a rye sourdough starter?

Hi Terri, we're so glad to hear your husband loves this rye bread recipe! Developing a dedicated Rye Sourdough Starter, as described in our recipe, may well give you more sour flavor. And you could certainly try adding some pickle juice to the dough part of the recipe in place of half of the water called for. When doing so, you may want to reduce the salt amount by 1/4 teaspoon (so use 1 3/4 teaspoons salt instead of 2 teaspoons). Barb@KAF