A customized print-friendly version of this recipe is available by clicking the "Print Recipe" button on this page.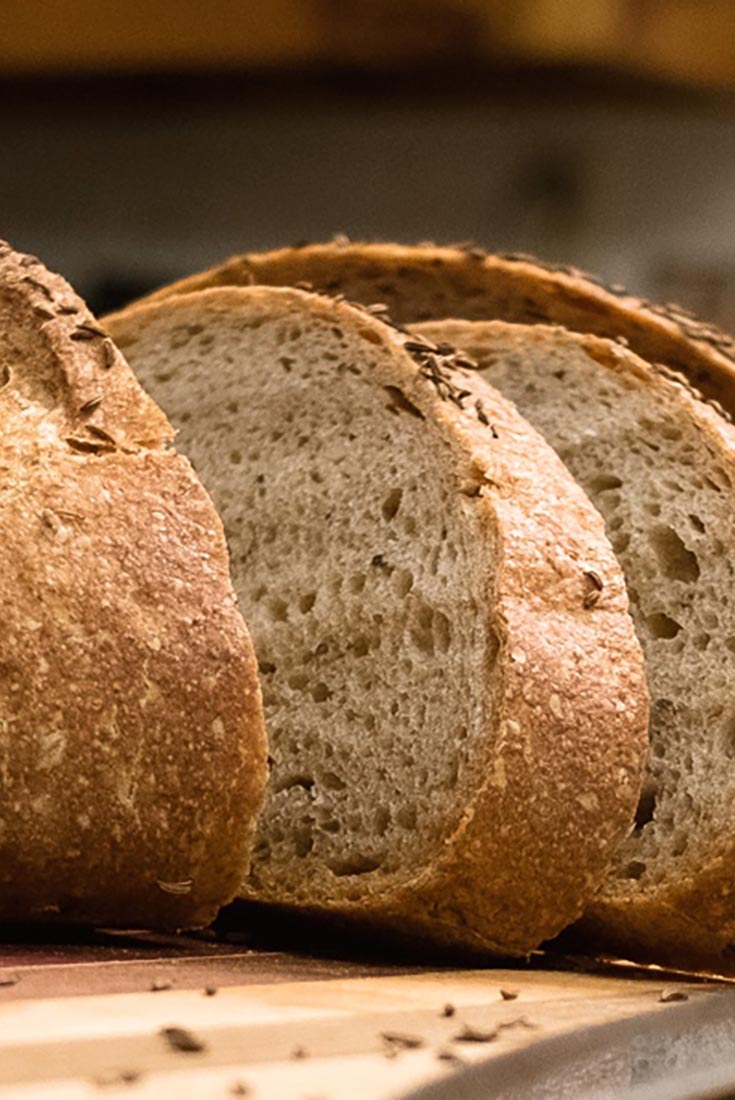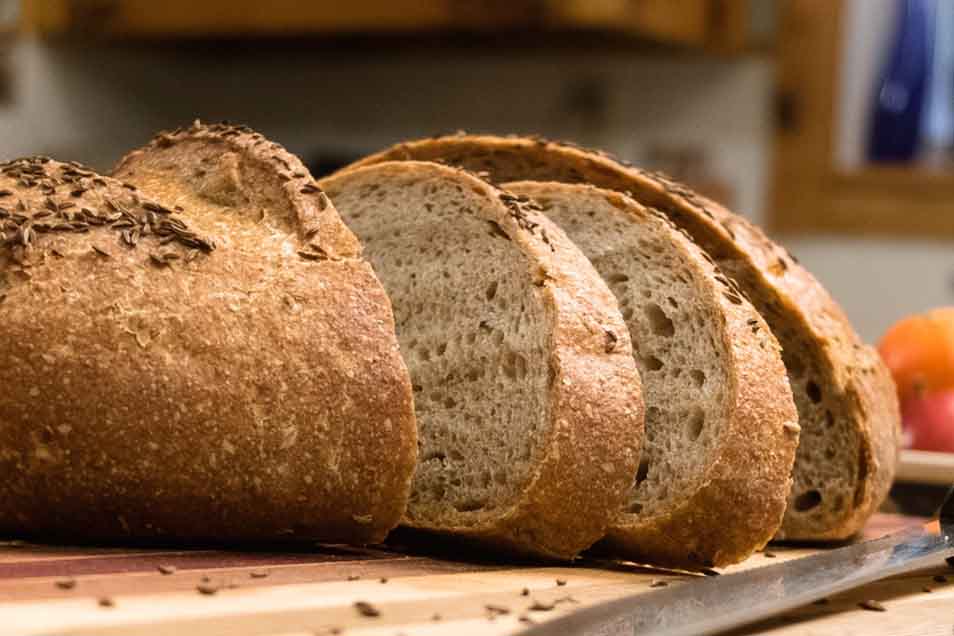 Looking for a Jewish Rye bread recipe made the traditional way, with a rye sour and old bread soaker? This Jewish Rye delivers tangy rye flavor and a moist, chewy crumb. It's the perfect foundation for the thickest, juiciest deli sandwich you can assemble.

Please read this recipe all the way through before starting; it's good to understand right up front the time commitment, and there are several useful tips at the end. Also, your successful execution of this recipe will be greatly enhanced if you read and reference its accompanying blog post, How to Make Jewish Rye Bread, along the way. The post includes numerous helpful photos illustrating preparation techniques.
Ingredients
Rye sour
1 rounded tablespoon fed ("ripe") sourdough starter
2 1/4 cups organic pumpernickel flour
7/8 cup room-temperature water (70°F)
Old bread soaker
1 large slice rye bread or other old/stale bread, cubed (1 heaping cup)
1/3 cup cool water
Dough
3 1/2 cups King Arthur Organic All-Purpose Flour or King Arthur Unbleached All-Purpose Flour
all of the rye sour from above, minus one rounded tablespoon*
1 cup + 1 tablespoon water (80°F)
1/3 cup old bread soaker from above, at room temperature
1 tablespoon caraway seeds (optional)
1/2 teaspoon ground caraway seeds (optional)
2 teaspoons salt
1 teaspoon instant yeast
*The remaining rounded tablespoon of rye sour can either be discarded or used to start Rye Sourdough Starter.
Instructions
To make the rye sour: Mix the ingredients until all the flour is fully moistened; the mixture will be very stiff. Place the sour in a nonreactive container, sprinkle with a light coating of pumpernickel flour, cover, and let rest for 13 to 16 hours, preferably at a temperature of 70°F.

To make the old bread soaker: Cut the bread into 1" cubes and place them in a lidded container. Add the cool water, shaking the container to fully moisten the bread. Store the mixture overnight in the refrigerator. Next day, squeeze out the excess water and stir the bread until it breaks down and becomes the consistency of stiff oatmeal. Measure out 1/3 cup (3 ounces, 85g), and bring to room temperature (or warm briefly in the microwave). The remainder can be stored in the refrigerator for up to a week.

To make the dough: Place all of the dough ingredients in a mixing bowl. For best (and easiest) mixing and kneading, use a stand mixer; see manual kneading directions in "tips," below. Using the dough hook, mix on lowest speed for 3 minutes, then speed 2 for 3 minutes. Ideal dough temperature after mixing is 78°F.

Place the dough in an oiled bowl and cover. Allow the dough to rise in a warm spot (78°F) for 1 hour.

Deflate the dough; for best technique, see our video, how to deflate risen dough. Cover the dough and allow it to rest for 10 minutes on a floured surface, folded side up.

Preheat the oven and a baking stone (if you have one) for 1 hour at 460°F. For added steam, preheat a cast iron frying pan on the shelf below the stone for the same amount of time.

Shape the loaf into a bâtard, or football shape, taking care not to rip the surface of the dough. Use flour on your hands and the table to help prevent sticking. Pinch the bottom seam closed, if necessary.

Place the loaf on a lightly greased piece of parchment paper; sprinkle the parchment with coarse cornmeal, if desired, before adding the loaf. Cover and let rise for 40 to 45 minutes in a warm spot (78°F).

Spray or brush the top of the loaf with room-temperature water and sprinkle with caraway seeds, if desired. Score the loaf with 5 horizontal cuts across the top of the loaf, holding the blade perpendicular to the surface of the loaf. The cuts should slightly diminish in length as they approach the tips of the loaf.

Carefully place the parchment onto a peel (or the bottom on a baking sheet), and slide parchment and loaf onto the hot stone, partially covering the loaf with a stainless steel bowl (see "tips," below), to trap the rising steam. If you're not baking on a stone, simply transfer the parchment and loaf to a baking sheet, and place in the oven — cover partially with a stainless steel bowl.

Pour 1/2 cup boiling water into the frying pan and shut the oven door; this will create the steam necessary for a chewy, shiny crust. Bake the bread for 10 minutes, then remove the bowl.

Reduce the oven temperature to 430°F, and bake for 30 to 35 more minutes, checking often for color. The finished loaf should be a deep golden brown when done; its internal temperature should be at least 205°F.

Spray or brush the loaf with water again after removing it from the oven. Cool the bread on a rack overnight before slicing.
Tips from our bakers
This is difficult dough to knead by hand because it's very sticky. If you're up for the challenge, stir all the ingredients together in a bowl until the mixture forms a shaggy mass. Turn the dough out onto an unfloured work surface. Using a bowl scraper to help, knead by hand for 10 minutes, or until the dough is relatively smooth. Scrape the kneading surface frequently to help prevent sticking; the dough will continue to be sticky throughout the process. Wetting your hands, rather than adding more flour, will help prevent sticking without making the dough too dry.
For best steam, cover the loaf with a large metal bowl, with the front of the bowl hanging over the front of the baking sheet or stone so the steam from the frying pan below can vent into the bowl. When you're ready to remove the bowl, use a butter knife to lift it, then grip and remove.
Once you've baked this loaf, be sure to save a large slice in the freezer to make old bread soaker the next time you want to bake this recipe.
Reviews
I got an early Christmas present of a Brod and Taylor proofer. I've made this recipe before and was very happy with the results. So, to test out the B&T I made a Detmolder starter and used it for this recipe substituting it for the preferment. I reduced the instant yeast to 1/2 teaspoon. Other than that, I followed the recipe exactly. Someone commented below they wanted a little more sour flavor. I think they would enjoy this version. The resulting bread had wonderful flavor and just the right amout of sour (for me at least).
I've been baking this recipe for about a year now and it is my absolute favorite. When I was growing up, we used to get "sissel" bread from a local Polish bakery. They closed up years ago and I have been looking for this bread ever since. I have found a few bakeries that make a rye, but only one was close. Chumura's bakery in Ludlow MA makes a fantastic seeded rye that is just about right, but they are 2 hours from my home. I found this recipe last Thanksgiving and made it for the holidays. Everyone was blown away at how I had been able to duplicate the sissel bread from our youth. Great recipe, great website!
I am on a quest for the BEST Jewish Rye I can find for my husband. He grew up in Philly and none of the recipes I've tried are the perfect loaf. This one he loves, but it's still not quite sour enough. Any suggestions? Pickle juice? Make a rye sourdough starter?

Hi Terri, we're so glad to hear your husband loves this rye bread recipe! Developing a dedicated Rye Sourdough Starter, as described in our recipe, may well give you more sour flavor. And you could certainly try adding some pickle juice to the dough part of the recipe in place of half of the water called for. When doing so, you may want to reduce the salt amount by 1/4 teaspoon (so use 1 3/4 teaspoons salt instead of 2 teaspoons). Barb@KAF
I'll preface by saying I've never had a Jewish rye bread. I live in a predominantly Dutch area in west MI and most people have lost their rye teeth. I grew up on store bought white bread so no childhood nostalgia with this either. I found it a bit dry mixing so spritzed it with water until it came together for this reason my intial mix was 5 minutes and my second speed was 2. I found the dough a joy to work with it had great elasticity and less sticky than the full rye sours I'm used to. I shaped the loaf and proofed it room temp in my batard brotform for 1.5 hours bulk (cold house) 10 minutes preshaping and 45 final. The resulting loaf rose about 5 inches in my Dutch oven. If I were to make it again I'd add a little more caraway and some cooler time. There is nothing wrong with this bread but there are other ryes I like better.
Absolutely wonderful. Thank you for this amazing recipe! Easier and less expensive to make then Polish white rye breads, but has the same deep complex flavor, moist chewy crumb and strong delicious crust. It tastes like home!
I have sour dough starter in my refrigerator so it was easy to make the rye sour. I pretty much followed the recipe exactly but it seemed like the starter was too dry - so I added a little extra water- it was still very dry after that but it rose beautifully. Since the starter was dry I didn't add all of the unbleached bread flour at once, which was a good thing since I needed to use about a 1/2 cup less than the recipe called for to get a slightly sticky dough. It tastes wonderful! Thanks for a great recipe.
I am a relatively inexperienced baker and have attempted this recipe a few times. Each time it comes out tasting great. However, I have a heck of a time working with the dough. The dough is still so wet after the first rise that I find it nearly impossible to shape as half of it is sticks to my hands. Should I be kneading it after the first rise so that it is workable into a shape? I use the weight measurements for all of the ingredients and the outcome is the same ever time. Any advice?

Hi Eve, rye flour does tend to make for a sticky dough, but it sounds like your dough may be a little stickier than it should be. Kneading more after the first rise won't be helpful, as this is likely to cause damage to the developing gluten structure and may make the loaf more likely to rip open during baking. If you happened to substitute a different type of rye flour, this can change how much liquid is absorbed and could be causing the issue you're experiencing. I would recommend adding a bit more all-purpose flour when mixing the dough, or substituting bread flour for the all-purpose flour. Also, it's fine to use flour on your hands and on your work surface when shaping your loaf. Just be sure to leave a spot clear of flour on the table to help you seal the bottom of the loaf. We'd love to help you troubleshoot this or any recipe on the Baker's Hotline--just give us a call at 855-371-2253(BAKE). Barb@KAF
I've made this recipe 3 times now with beautifully consistent results. The taste and texture are amazing. Thank you for taking the time to perfect this wonderful bread and thanks for sharing it!
Delicious. Anyone try doing this using only sourdough without the extra 1 tsp yeast?

I haven't tried this without the added yeast, but if you'd like to give this a try I would recommend shooting for a slightly warmer dough temperature (80 degrees) with a bulk rise of 45 minutes and a shaped rise of 60-70 minutes. It's important not to extend the rising time too long because this may cause the dough to over-ferment. Barb@KAF
Thee best Jewish Rye Bread I have EVER made!!!!! I made it my mission as an empty nester to become a better bread baker! After trying many different rye bread recipes and still not finding "Thee one" I stumbled upon this one and it sounded so interesting and different I had to try it. I followed the recipe exactly and the only addition I made was to add King Arthur's Deli Rye Flavor. I baked the loaf on a stone with the metal bowl. The loaf came out just like the picture! Yes, I was proud of myself! My husband loved it too! I made corned beef and cabbage for dinner but honestly we could have just eaten bread! It sliced beautifully and the crumb was tender and soooo delicious! The bread actually was "bendy" and didn't fall apart with loads of slices of corned beef and brown mustard. Thank you for such a detailed recipe. This bread will be at the top of my list as an all time favorite!!!!