A customized print-friendly version of this recipe is available by clicking the "Print Recipe" button on this page.
Joy's Brown Butter Chocolate Chip Cookies with Pecans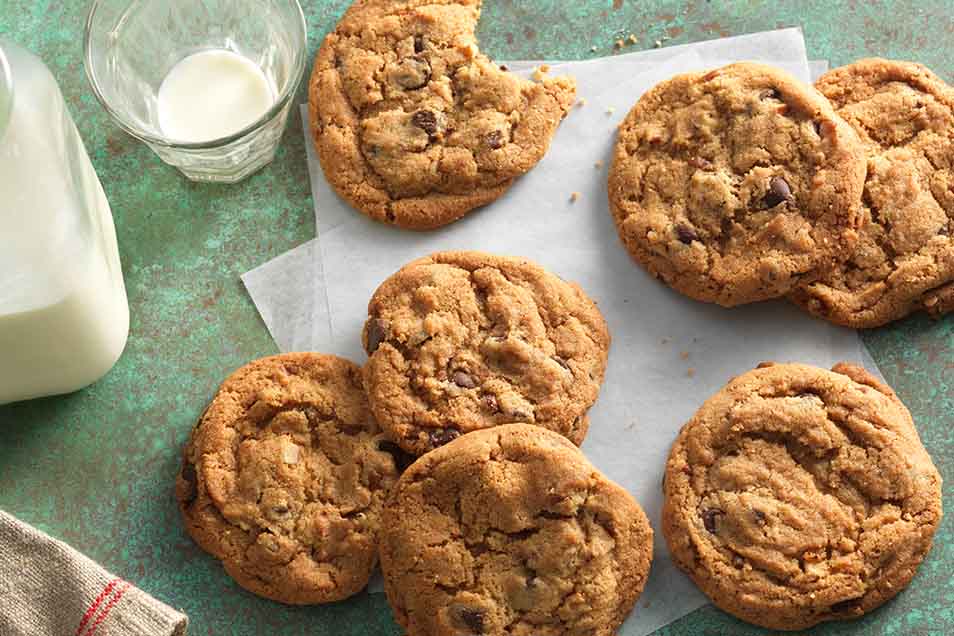 Blogger/author Joy Wilson (Joy the Baker) shared this recipe with us, and it quickly became a favorite of many here at King Arthur Flour. Crunchy edges surrounding a moist, "bendable" center give this cookie wonderful texture. And the addition of aromatic brown butter, plus a sprinkle of sea salt, take their flavor out of this world. Thanks, Joy!
Ingredients
1 cup (16 tablespoons) unsalted butter, softened to room temperature
1 cup light brown sugar, packed
2 teaspoons vanilla extract
1 teaspoon molasses
1/2 cup granulated sugar
1 large egg
1 large egg yolk
2 1/4 cups King Arthur Unbleached All-Purpose Flour
1 teaspoon salt
1 teaspoon baking soda
1/2 cup coarsely chopped pecans
coarse sea salt, to sprinkle on top
Instructions
Lightly grease (or line with parchment) two baking sheets.

Place half the butter (8 tablespoons) in a medium skillet. Melt the butter over medium heat, swirling it in the pan occasionally. It'll foam and froth as it cooks, and start to crackle and pop. Once the crackling stops, keep a close eye on the melted butter, continuing to swirl the pan at intervals. The butter will become fragrant, and brown bits will form in the bottom. Once the bits are amber brown (about 2 1/2 to 3 minutes or so after the sizzling stops), remove the butter from the burner and pour it into a small bowl, bits and all. Allow it to cool for 20 minutes.

Beat the remaining 1/2 cup butter with the brown sugar for 3 to 5 minutes, until the mixture is very smooth.

Beat in the vanilla and molasses.

Pour the cooled brown butter into the bowl, along with the granulated sugar. Beat for 2 minutes, until smooth; the mixture will lighten in color and become fluffy.

Add the egg and egg yolk, and beat for another minute.

Add the flour, salt, and baking soda, beating on low speed just until everything is incorporated.

Use a spatula to fold in the chocolate chips and pecans.

Scoop the dough onto a piece of parchment paper, waxed paper, or plastic wrap. Flatten it slightly into a thick disk, and refrigerate for at least 30 minutes. About 15 minutes before you're ready to begin baking, preheat your oven to 350°F, with the racks in the center/upper third.

Scoop the dough in 2 tablespoon-sized balls onto the prepared baking sheets. Each will weigh about 1 ounce (28g). Leave about 2" between the cookies; they'll spread as they bake.

Sprinkle the cookies with sea salt, to taste — as much or as little as you like.

Bake the cookies for 12 to 15 minutes, until they're golden brown. Remove them from the oven, and allow them to rest on the baking sheet for at least 5 minutes before moving them.

Serve warm; or cool completely, and store airtight at room temperature for several days. For longer storage, wrap well and freeze.

Yield: about 24 large (3") cookies.
Nutrition Information
Serving Size

1 cookie (47g)

Servings Per Batch

24
Amount Per Serving:
Calories

220

Calories from Fat

110

Total Fat

12g

Saturated Fat

7g

Trans Fat

0g

Cholesterol

35mg
Sodium

170mg

Total Carbohydrate

25g

Dietary Fiber

1g

Sugars

16g

Protein

2g
* The nutrition information provided for this recipe is determined by the ESHA Genesis R&D software program. Substituting any ingredients may change the posted nutrition information.
Reviews
These cookies are amazing! I followed the recipe exactly. They are worth the extra effort
Yummy. Followed recipe as written. Turned out great. Great flavor cookie. I usually make KAF's " Bake sale oatmeal cc cookie" but these had a better flavor. The salt on top was nice. I used a scoop then rolled into balls, flattened a little a sprinkled a little salt then pressed down gently. Baked for 11 minutes. Pretty as the picture. Will make again.
So excited to say my second attempt to make these cookies was a success! I bought a scale and used it to measure the correct amount of flour. The only change I made was leaving the molasses out. Didn't have any. Chilled doughy for 45 minutes and baked for 14 min. They look and taste amazing! The sea salt adds a special something! Wish I could send a picture.
I've tested a few hundred chocolate chip cookie recipes and this is one of the best if you like a thin, rich, chewy, buttery, sugary sweet chocolate chip cookie. They're crisp on the outside edges with a toffee-like chew inside. I subbed Skor bits for the nuts, and coarsely chopped dark chocolate for the chocolate chips, but those were the only changes I made to the recipe and wouldn't have altered the texture. My cookies look very similar to the ones pictured here, but are slightly darker. They look almost identical to the ones pictured on Joy's blog. I chilled the dough overnight and had to let it sit at room temperature for about 30 minutes to let it soften before scooping. My cookies are larger than the ones pictured (I used a #20 scoop). A full recipe yielded 18 cookies. They baked for 14 minutes and were firm around the edges but quite underdone looking in the cracks on top when I took them out of the oven. They firm as they cool. Great cookies!
As many chocolate chip cookies as I've made, this is not one I'd repeat, although my small changes were at fault. The only 2 changes I made were that I didn't have molasses, and substituted pure maple syrup, and, after a recent move to Florida, have started always baking with dark brown sugar instead of light, as that seems to help them stay fresh a little longer in the very high summer humidity. While the finished cookies were OK, it took me a few taste samples to realize they were just too sweet .... something I don't think I've ever said about a chocolate chip cookie! Because dark brown sugar already has more molasses than light brown, maybe I should have left the extra sweetener (molasses or maple syrup) out altogether? There are enough wonderful chocolate chip cookies on this site already that I'll probably go back to one of them. (Surprisingly, the raw dough was amazing ... if you're the type that stops there, this is yummy!)

Hi Lisa. We're sorry to hear that your cookies were just a little too sweet for your tastes, and think you're onto something about the liquid sweetener making a difference. Even though molasses is quite sweet, it also has a bitter flavor as well which tends to tone down the sweetness of whatever you're baking. If you ever decide to try this recipe again when you have molasses on hand, we've found you can reduce the sugar in most cookie recipes by 10% without any big negative effects on the finished product. Lowering the sugar a bit and including the molasses with its bitter notes may do the trick to suit your taste. Kindly, Annabelle@KAF
After reading all the rave reviews on this recipe, I decided to try it, following the recipe to the letter. My oven bakes true at 350, but since I like my cookies really soft and chewy, and don't want to chance them getting crispy at ALL, I took them out at 11 minutes, with still no hint of color on the edges. I let them come to room temperature before I tested one (true story, that's my preference), eagerly anticipating the much storied and lauded browned butter flavor (after licking the spoon that stirred the browned butter, YUM!!) Butterscotch-y and caramel-y. Watch your browning butter like a hawk, as it can quickly go too far, and burn. While I do taste the browned butter in the background of these cookies, I thought they had a bit of an oily mouthfeel, and I could plainly taste the baking soda "note" which was disappointing. It's a good chocolate chip cookie, but not great, to me. Has a couple of extra steps, but worth a try if you're looking for something a bit different for your discriminating taste buds, because YOU will be able to discern the browned butter and toasted pecan flavors, while the rest of your family and friends may not notice those little nuances, unless your food critic tendencies have begun to rub off on them .... ;) If you really love nuts in your CCCs, I would suggest doubling the pecans as they seem to be a bit scattered and random at just 1/2 cup, and don't skip the sprinkle of salt on top! All my coworkers noticed the extra hint of saltiness, and loved it.
These are wonderful cookies. The brown butter flavor is amazing. The salt on top is a nice touch. One question. The cookies get a bit hard in a couple of days. Is there something we can change in the ingredient ratios to make the cookies a bit more soft?

Messing with ratios in cookies can be tricky, JFT, and it often yields disappointing results. One thing that you might try is to replace a couple tablespoons of the flour in the recipe with potato flour. Potato flour does an incredible job of retaining moisture and keeping things fresh longer. We hope this helps! Annabelle@KAF
These were excellent. Soft, great texture and look, easy batter to whip up. These were also very flavorful--more so than regular chocolate chip cookies. Watch your butter as it browns quickly.
This recipe has to be one of my favorites. The Office Staff loved them not to mention my family and friends whom I often bake for. They baked up perfect on my new Curtis Stone cookie sheets, no pan prep with these. Cookies slide right off.