A customized print-friendly version of this recipe is available by clicking the "Print Recipe" button on this page.
Key Lime Pie With A Pretzel Crust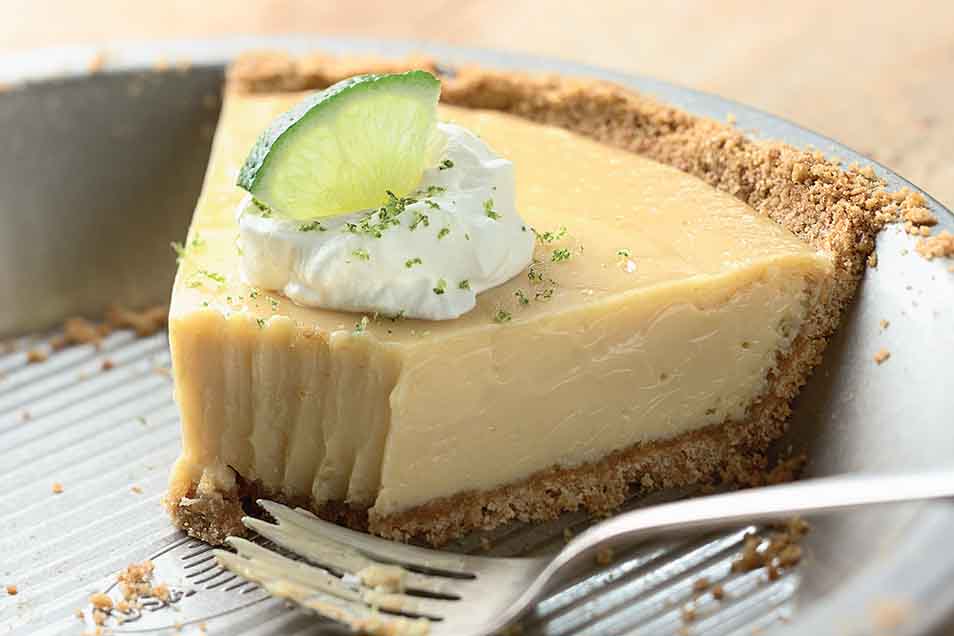 A pretzel crust adds a new twist to this classic pie. Using our Floribbean Key lime juice saves time — no tiny Key limes to squeeze!
Ingredients
Crust
1 cup + 2 tablespoons very finely ground salted pretzel crumbs
3 tablespoons sugar
7 tablespoons butter, melted
Filling
4 large egg yolks
two 14-ounce cans sweetened condensed milk
3/4 cup Key lime juice
3 tablespoons Persian lime juice (the juice of 1 medium lime), optional
zest of 1 lime (about 2 teaspoons), optional
Instructions
Preheat the oven to 350°F. Lightly grease a 9" pie pan with non-stick baking spray.

Crush the pretzels until very fine; processing in a food processor for about 30 seconds works well.

Add the sugar and melted butter, mixing to combine; you can do this right in the food processor. Press the mixture into the bottom and up the sides of the prepared pan.

Bake for 8 to 10 minutes; the crust won?t change color much, but will firm up. Remove from the oven and make the filling.

Whisk together the egg yolks and condensed milk.

Add the lime juice (and zest, if you're using it). The mixture will thicken almost immediately.

Pour into the crust and smooth with a spatula.

Bake the pie for 28 to 32 minutes, until the filling is set, with a small spot in the middle still soft-looking. Cool for several hours (or overnight) before serving.

To serve, top with slightly sweetened whipped cream and a garnish of crumbled pretzels.

Yield: one 9" pie, 8 servings.
Tips from our bakers
We like the addition of fresh lime zest, but hate to have a leftover skinned lime. If you skin a lime for its zest, just go ahead and add its juice, as well. The filling will be a bit tangier.
Reviews
I've made this before so I knew it was a great recipe, but this time I substituted gluten-free pretzels for regular pretzels. Happy to report no difference whatsoever - still the same excellent flavor and consistency!
Wonderful texture and flavor combination with classic key lime zing.
I baked this into a 9X9 square pan and cut them into 1" squares for a girls night. I reduced the bake time on the filing by about 3-4 minutes. I also added a few drops of food coloring to make a more appealing color. These went over well, but I wasn't wild about the pretzel crust myself. Next time I think I'll stick to a graham cracker crust. These turned out great, just wasn't my personal favorite.
Sorry, I didn't like this crust. It didn't have any "depth" to its flavor. I was hoping the bland/saltiness of the pretzels would be a good foil to the sweetness of the filling but it wasn't so.
Love, love, love the Key Lime tang and the crust is a nice compliment. It's kind of like the salt around a Margarita glass.
Wow! Perfection in a pie plate! Thank you!
Pretzel crust was interesting and the filling was good, although very rich - too rich for me. I made the mistake of adding green color, and it turned it into an avocado color, which was not appetizing. My son loved the pie anyway.
the filling was good, but the crust was so terrible that the filling was scraped out and the crust thrown out!
Easy and delicious. I took it for company party and got raves.
Loved the flavor and texture of the filling. Perfect mixture of tart, sweet, and creamy. Firm enough to hold up to cutting. Not sold on the pretzel crust. Maybe I didn't process the pretzels fine enough, but I think I'd probably go with a graham cracker crust next time.