A customized print-friendly version of this recipe is available by clicking the "Print Recipe" button on this page.
King Arthur Flour's Lemon Bread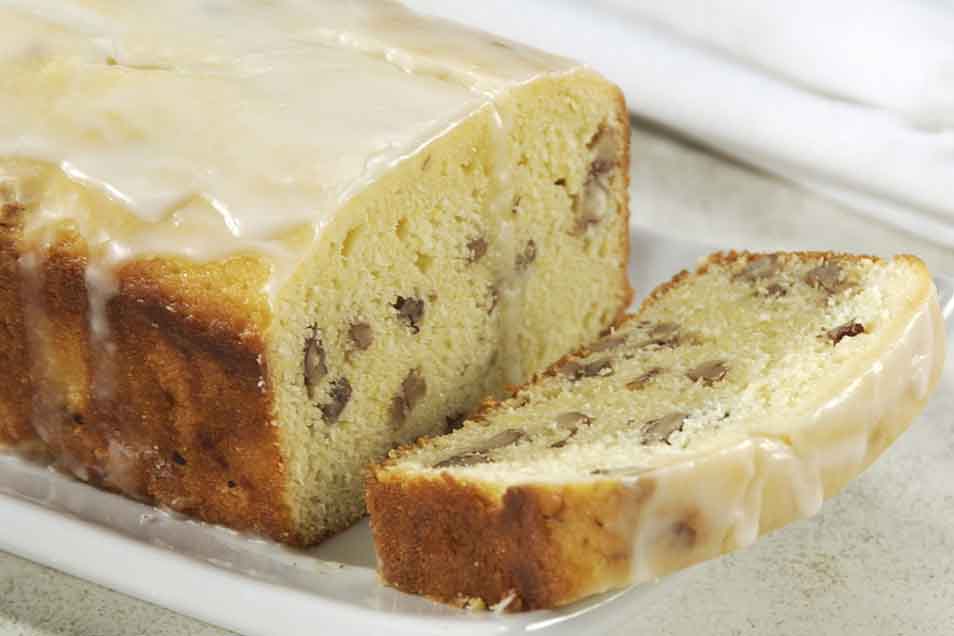 This bread is moist and tender, and filled with sunny lemon flavor throughout. The lemony glaze not only tastes good, but helps the bread keep a bit longer on the counter, assuming you can resist its charms for that long!
Ingredients
Batter
1 cup sugar
1/3 cup (5 tablespoons + 1 teaspoon) butter, melted
1 teaspoon lemon or orange extract
1/4 cup fresh lemon juice
2 large eggs
1 1/2 cups King Arthur Unbleached All-Purpose Flour
1 teaspoon baking powder
1 teaspoon salt
1/2 cup milk
grated rind of 1 large lemon (or use 1/2 teaspoon lemon oil)
1/2 cup chopped pecans (optional)
Topping
1 1/2 cups glazing sugar or confectioners' sugar
1/4 cup fresh lemon juice
Instructions
Preheat the oven to 350°F. Lightly grease an 8 1/2" x 4 1/2" loaf pan.

To make the batter: Combine sugar, butter, extract and juice.

Beat in eggs, one at a time, until smooth.

In a separate bowl, mix flour, baking powder and salt.

Stir in the wet ingredients alternately with the milk.

Add the lemon rind (or oil) and pecans (if using).

Pour batter into your loaf pan.

Bake in a preheated 350°F oven for about 1 hour, or until a toothpick comes out clean.

To make the topping: Dissolve sugar in lemon juice over low heat.

Pierce top of hot loaf in several places with a sharp knife.

Pour topping over crust.

Let loaf cool in pan for 1 hour.

Remove from pan, wrap in foil and let sit for 24 hours for flavors to mature.
Reviews
Perfect! Left out the pecans and measured by weight. The flavor sparkles.
This is a very forgiving recipe, as I made a few substitutions without ruining the result. Based on the "cake flour" blog, I tried substituting KA Self-Rising Flour (plus 1.5 tsp of the SRF and 0.5 tsp salt) for the AP flour, baking powder and 1 tsp salt in the recipe. I also substituted 0.25 C Truvia baking blend for 0.5 C of the sugar in the recipe. I followed the rest of the ingredients and instructions as written. I used an 8.5" x 4.25" metal pan and the resulting bread/cake was 2.75" tall. I know that using sugar substitutes will often cause baked goods to be flatter than when using all sugar, but I was hoping that the SRF would make up for that and produce a taller cake. However, the taste and texture were great, not rubbery for me. Mine got brown around the edges of the pan at 55 minutes, so watch the last few minutes of baking, as it might not require the full 60 minutes. I also poked holes at a rate of 1 per square inch of surface area, and all the glaze soaked in. The crown sank a little as the cake cooled, so it became flat on top. I would definitely bake it again, but am interested to see if the Pro's at KA would do a blog on optimizing recipes when using sugar substitutes, as those of us who love to bake don't like the effect on our waistline!

Hi Chrissy, thanks for sharing your baking experience with us. While we don't do a lot of baking with sugar substitutes in the test kitchen, we have begun to explore some of the options available to bakers. We recently included Truvia Baking Blend in some of our test baking when making pies with reduced sugar, and we hope to do more in the future. We've shared your request for a more comprehensive resource about baking with sugar substitutes with the right team to consider. Kye@KAF
This cake was delicious! I substituted the rice flour mix from the (King Arthur) gluten-free scone recipe and it still turned out great. My non-gluten-free friends were shocked when I told them. And my husband was so sad when I left the rest of the cake at our friends' house.
This one's a keeper. I hesistated about the pecans because I generally like a LOT of lemon flavor, but tossed them in at the last minute and they really added a nice contrast. The only thing I changed was that I used both lemon oil and lemon zest. Very moist, but with a beautiful crumb. Make the glaze too! I'm also going to try this with Meyer Lemons when they finish ripening on my tree.
This lemon loaf had okay flavor but the texture is heavy and rubbery. Also the surface of the loaf didn't brown at all and looks wierdly pale although the loaf is done. Don't waste your time with this recipe, there are plenty of good ones out there.
Sorry to hear of your difficulty. Sounds like the filings may have been on the heavy side (?). I am concerned about the not browning. An egg washed loaf will brown. Please call us for troubleshooting assistance, 800-827-6836. Frank @ KAF