A customized print-friendly version of this recipe is available by clicking the "Print Recipe" button on this page.
King Arthur's Almond Galette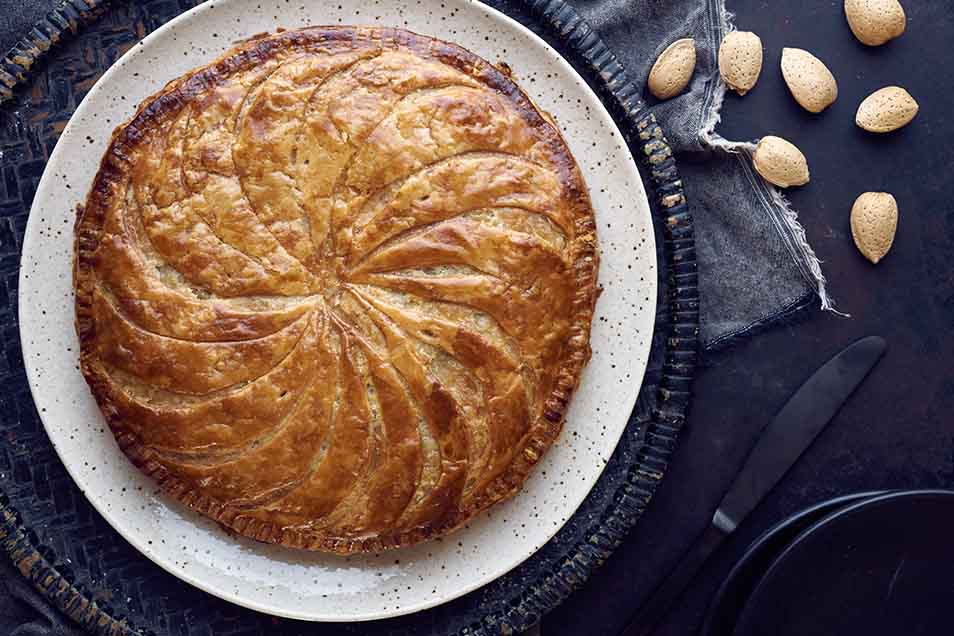 In France, almond galette (known as Galette des Rois) is typically served on January 6: Epiphany, the Feast of the Kings. An ultra-buttery, remarkably flaky pastry crust stuffed with almond filling, this is quite possibly the easiest "fancy" dessert you'll ever make.
Ingredients
Filling
2/3 cup almond paste*
6 tablespoons unsalted butter
1/2 cup sugar
1/2 teaspoon salt
2 large egg yolks
1 teaspoon vanilla extract
1/2 cup almond flour or very finely ground whole almonds
*If you've purchased a 7-ounce tube or block of almond paste, feel free to use the entire amount.
Glaze
1 large egg yolk
1 teaspoon cold water
Instructions
To make the crust: Weigh your flour; you'll find its weight by toggling to "ounces" at the top of the ingredient section above. Or measure it by gently spooning it into a cup, then sweeping off any excess. Whisk together the flour, salt, and baking powder. Cut the cold butter into pats, and work it into the flour mixture until it's unevenly crumbly, with larger bits of butter remaining intact.

Stir in the sour cream. The dough will be craggy but cohesive. Turn the dough out onto a well-floured surface and bring it together, if necessary, with a few quick kneads.

Pat the dough into a rough square. Roll it into a rough 8" x 10" rectangle. Make sure the underside is sufficiently dusted with flour that you can move it around easily.

Starting with one of the shorter (8") ends, fold the dough in thirds like a business letter. Flip it over (so the open flap is on the bottom), and turn it 90°. Roll the dough into an 8" x 10" rectangle again. Fold it in thirds again.

Wrap the dough in plastic, and place it in the refrigerator to chill for at least 30 minutes (or overnight).

When you're ready to proceed, start preheating the oven to 400°F. Lightly grease a baking sheet, or line it with parchment.

Divide the pastry in half. Roll one half into a 10" square.

Using a 10"-round template (e.g., a dinner plate), cut a 10" circle. Set the circle onto the prepared baking sheet.

To make the filling: Beat the almond paste, butter, sugar, and salt until thoroughly combined.

Add the egg yolks and vanilla, and beat until well incorporated.

Mix in the flours.

Roll the other piece of pastry into an 11" square. Cut an 11" circle.

To assemble the galette: Spread the filling over the smaller circle, leaving a 1" rim around the edge of the pastry.

To make the glaze: Mix the egg yolk and water together. Brush some glaze over the uncovered edge of the pastry.

Center the larger round of dough over the filled bottom crust, and smooth it over the filling. Using a fork, press and crimp the edge of the galette to seal.

Decorate the galette by using the back of a knife to trace a pattern on the surface; you'll just barely cut into the surface without cutting all the way through. Poke a vent hole in the center, and four additional small slits at other random spots, hiding the slits in the pattern you've drawn. 

Brush an even coat of the glaze over the surface of the galette then bake it for 30 to 35 minutes, or until it's golden. Don't be afraid to let it become deeply browned; this slight caramelization gives the butter in the crust wonderful flavor. Remove the galette from the oven, and cool it slightly right on the baking sheet.

Serve galette warm or at room temperature. Store any leftovers at room temperature for several days; freeze for longer storage.
Nutrition Information
Serving Size

86g

Servings Per Batch

12 servings
Amount Per Serving:
Calories

410

Calories from Fat

270

Total Fat

30g

Saturated Fat

15g

Trans Fat

1g

Cholesterol

105mg
Sodium

180mg

Total Carbohydrate

30g

Dietary Fiber

2g

Sugars

14g

Protein

6g
* The nutrition information provided for this recipe is determined by the ESHA Genesis R&D software program. Substituting any ingredients may change the posted nutrition information.
Tips from our bakers
Baking gluten-free? For great results, substitute King Arthur Gluten-Free Measure for Measure Flour for the all-purpose flour in both crust and filling; use 2 tablespoons water in the dough for the crust, adding it at the same time as the sour cream. You may find the crust cracks a bit as you fold it, but it will roll out just fine.
Reviews
I loved this recipe, but then I like almond paste. The best part is that MY finished product looked like the picture!
I've made this twice, with great results. My question: what else can I use this dough for? It's delicious and easy. Any suggestions for what other fillings I can use? I was thinking a thin layer of the almond filling and fresh figs.

Debbie, the crust recipe for this galette makes a fantastic puff pastry, which is like a blank canvas in the baking world. You can use it to make any kinds of sweet or savory appetizers or desserts. Hand pies, jam and brie pastry bites, flaky cheese twists, fruit turnovers, or any kind of small bite topped with delicious toppings are all fantastic choices. Happy baking! Kye@KAF
I am not a baker and I managed to make this recipe without a single problem.. looked and tasted like the real deal from a French patisserie shop!
I know I just reviewed this a few days ago, but I wanted to share with you that I made this recipe again this afternoon. However I made only half a recipe from which I was able get five 5-inch mini galettes which I will distribute among my daughter and adult grandchildren tomorrow. I did drizzle some melted 70% chocolate over them as they were cooling after taking them from the oven and covered the hole in the center with half a candied cherry dipped in the melted chocolate so that it would stick. Then I dusted the whole galette with powder sugar. These galettes are very sweet and rich, and one mini-galette is enough for two generous servings. I photographed the galettes and I wish I could send off the picture, but I don't know how to do this. If you are interested in seeing the picture, tell me how to attach it, and I will send it to you. As I wrote previously, this recipe is a bit of to-do, I don't recommend it for a beginner in baking, but frankly anyone who is tempted and knows how to read, should be able make this. If you like marzipan, this is the recipe for YOU! We like marzipan. Thank you KAF.

We're glad this recipe was such a success you gave it another bake, Dorothy. As for your note about sharing photos, our website doesn't allow that feature at this time. However, if you'd like to sharing your baking creations with your fellow King Arthur Flour bakers, please feel free to do so on our Facebook page at facebook[dot]com/kingarthurflour Happy baking! Kye@KAF
I made this galette three days ago, and it was fabulous. I give it only four stars because it is a bit tricky to put together, what with the rolling, folding, and refrigeration of the dough before baking. I wasn't fast enough with the final assembly, which compromised the quality of the crust. In addition I found the filling a bit too generous. I tried to form the left over filling into small balls and bake them, but they burned. With the given recipe, I made two eight inch galettes, and one six inch galette. After baking, I drizzled some melted bitter-sweet chocolate over the galette, and then when the chocolate hardened sifted confectioner's sugar over the galettes. They looked and tasted spectacular, but next time I will put a dollop of melted chocolate over the center hole, and cover it was a candied cherry -- just for the sake of even more drama. I am into presentation, presentation, presentation!
It took me somewhat longer than I thought it would to make this almond galette today, but it was well worth it. I think I rolled the dough a little too thin as I have a bunch left over to make something else like "twisty britches". Mine did puff up but not as much as the one in your pictures, but it did puff up and is incredibly flaky. It wouldn't have been any more flaky if I had purchased the puff pastry. We didn't find the filling too sweet or over powering at all and i will certainly make t again. Not too often though as the quantity of butter is more than I am used to baking with. I will have to keep an eye on my husband as he will eat a larger piece than he should for breakfast. I did use the egg wash and didn't find that t caused the galette to brown to quickly. I did use your step by step photos for my first time with this recipe and I too added some almond extract as we love strong almond flavor.
The puff pastry is stupendous! And simple! I feel ridiculously accomplished. I am one of those people who think the expression "as easy as pie" is a cruel taunt. This was so much easier than pie crust. Delicious and flaky. Yes, the almond filling is a bit overwhelming. Let's just call it decadent. Small quibble, I almost don't mention after all this success: the recipe doesn't say to put the rest of the glaze on top of the Galette. I found on the blog to do that and looked at the well-burnished item in the picture. An accomplished baker would know to do that. For us nervous, recipe-bound bakers, could that direction be added? Thank you, King Arthur. You make baking fun, because I know it will turn out well.

Thanks for reaching out and sharing your baking success with us, Charlotte. We agree that a step should be added about brushing the galette with the rest of the egg wash before baking, so we've asked our Recipe Team to make that adjustment. Happy baking! Kye@KAF
Thank you for a wonderful recipe for the pastry. The step by step process with excellent photos made my first time making very successful. I also appreciate the comments others made to your blog, or to review. As Suzanne explained in a blog response, about egg glaze inhibiting the pouf, I used the egg wash inside to seal the top to bottom, but did not glaze the outside of the unbaked shape and the pastry rose in really pleasing flaky stacks...so that was a good suggestion! I agree with woodrose's comments about too much filling. I formed my circles of pastry to the suggested size and prepared the filling according to the recipe, but found the amount overwhelmed the delicate pastry. I like Maya's suggestion to add almond extract along with the vanilla. I will try that next time, along with less salt. The filling is good yet very, very rich and the pastry was dominated by it. Five stars for the pastry! Three stars for the filling. Many thanks for the recipe and this forum.
Love the dough and the scraps with a little brushed on butter and some cinnamon/sugar. But way too much filling to where it is way too sweet. We had to scoop out 1/2-2/3rds of the filling. Next time I will cut the filling recipe in half as it is way too much and we love almond paste. But love the dough recipe.

We're glad your enjoyed the taste and texture of the dough, fellow baker. We're surprised to hear you had trouble with the filling, and we're wondering if perhaps the almond paste was already sweetened (like marzipan). Check your almond paste ingredients and if it contains sugar, you'll want to reduce it to just a few tablespoons. Also, be sure you're rolling the dough out to a full 10" circle. The dough should be able to encase the entire amount of filling when it's rolled to this size, but feel free to adjust the yield of the filling to better meet your preferences. Kye@KAF