A customized print-friendly version of this recipe is available by clicking the "Print Recipe" button on this page.
King Arthur's Carrot Cake Cupcakes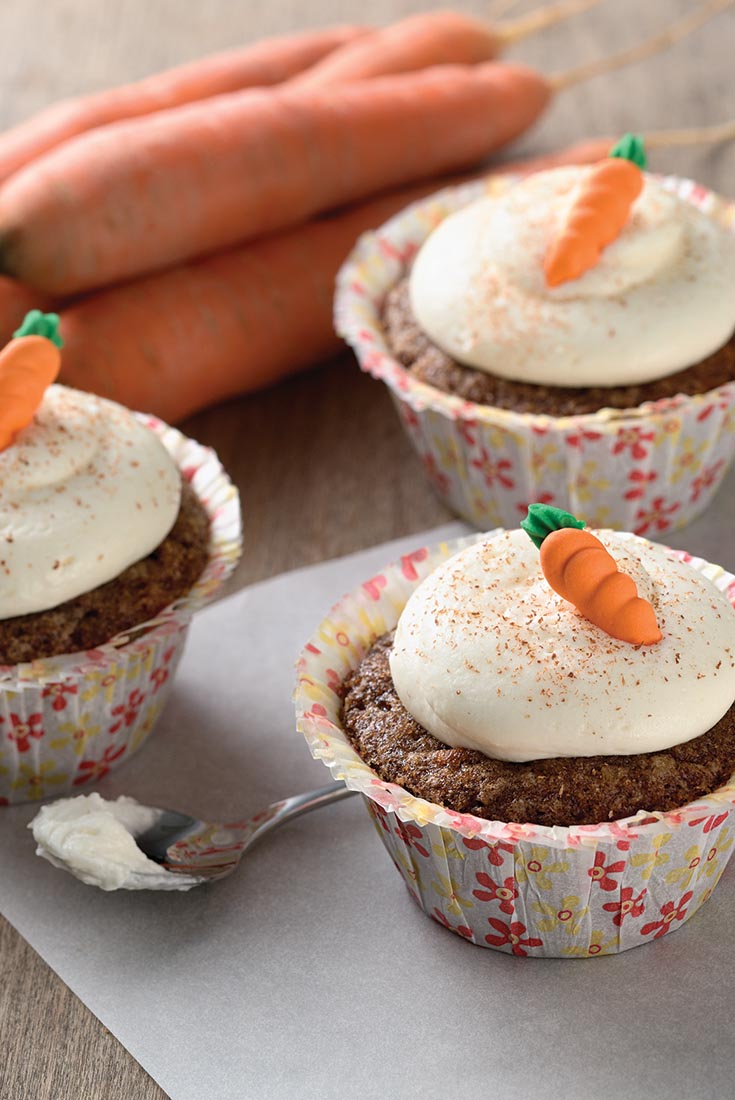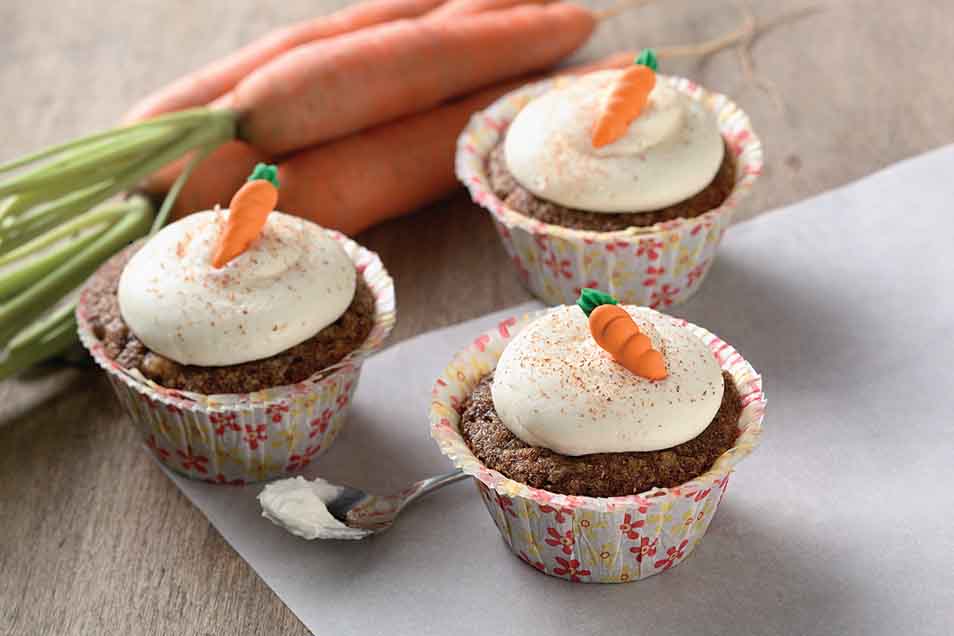 Always a favorite, this dark, moist carrot cake appears regularly at King Arthur birthday parties, often as cupcakes.
Ingredients
Cupcakes
1 1/2 cups vegetable oil
2 cups granulated sugar
1 teaspoon salt
4 large eggs
1 tablespoon ground cinnamon
1/2 teaspoon ground ginger
1/4 teaspoon ground cloves
2 teaspoons baking soda
3 cups finely grated carrots
1 1/2 cups chopped pecans or walnuts
Frosting
1/2 cup (8 tablespoons) unsalted butter, at room temperature
8-ounce package cream cheese, at room temperature
1/4 teaspoon salt
2 teaspoons vanilla extract OR 1/2 teaspoon Fiori di Sicilia
2 1/2 to 3 1/2 cups glazing sugar or confectioners' sugar
milk or cream to adjust consistency of frosting, if necessary
Instructions
Preheat the oven to 350°F. Lightly grease two standard muffin pans or cupcake pans. Or line with papers, and grease the papers.

To make the cupcakes: Beat together the oil, sugar, salt, eggs, and spices.

Mix the flour with the baking soda, and stir in.

Add the carrots and nuts, and mix until just blended. Pour into the prepared pans.

Bake the cupcakes for 21 to 24 minutes, or until a toothpick inserted into the center of one of the middle cupcakes comes out clean. Remove the cakes from the oven, and after about 10 minutes transfer them to a rack to cool. Allow them to cool completely before frosting.

To make the frosting: Beat the butter and cream cheese together until smooth.

Beat in the salt and vanilla, then the sugar. Add a teaspoon of milk or cream if the frosting is too stiff to spread; add additional sugar if it's too thin.

Frost the cupcakes, using a piping bag and tip for an elegant presentation.

Yield: 24 cupcakes.
Reviews
Since we are a family of three I split the recipe in half. I used the food processor to shred the carrots then removed the shredding blade added the regular blade to cut them up even smaller. Then I added 1/2 cup of shredded coconut, the eggs, oil, sugar, spices and vanilla and processed. I removed the blade and incorporated the dry ingredients by hand. This way I used only one bowl! The cupcakes are so good. Moist, great crumb, great flavor. And the cream cheese icing... yum! This will be in my top 5 cake recipes!
I made these cupcakes for my husband's boss who was celebrating his 60th birthday. Carrot Cake is his favorite. Everyone raved about them including one person who claimed to not like carrot cake. The boss pronounced them "perfection achieved". If you knew how hard this man is to please you would know what a high compliment to the recipe this is. This is truly a great recipe!
These carrot cake cupcakes are perfect! I was really surprised by how moist the cupcake was. I cut the amount of walnuts in half and added 3/4 of a cup of both golden and regular California raisins. In the future, I will probably add a little sweetened coconut too (since I only used 1 cup of sugar instead of the 1 1/2 cups). Can I add anything other than additional powdered sugar to make the icing thicker and, as a result, easier to pipe? Gelatin powder? Thanks!

Interesting idea, Derek! We haven't tried it with gelatin, but do think that a teaspoon or two (depending on how thick you want it) of Instant ClearJel would work nicely without needing additional sugar. You would just mix the ClearJel with the powdered sugar before creaming your butter and creamcheese. Instant ClearJel would both aid in thickening as well as stabilizing your frosting. Another option is to hold back a tablespoon or two of the butter in the recipe so that it's on the thicker side from the beginning. Then, you can drizzle in milk as needed to make it easily pipeable. We hope this helps! Annabelle@KAF
I was thinking of making these this weekend for Easter. What is sprinkled on top of the cupcakes in the picture?

It appears to be some orange and pink colored sugar. Thank goodness for zooming in! Annabelle@KAF
I made these yesterday, and I'm very pleased with the result. The cupcakes were moist and very flavorful; I made the cream cheese frosting as well, but they are perfectly delicious without it.
This recipe was fantastic! The only thing I did differently was to add 1/2 cup of golden raisins. I made them as mini cupcakes, too. It yielded a little over 5 dozen and 14 min @ 350 was the perfect bake time in my oven. The frosting was also yummy. I piped it on for a nice, polished finish.
Fantastic! We loved them. I used coconut oil in this recipe.Definately a keeper will be making this again! There is another recipe of King Arthur's I've made several times that my husband and mother-in-law freaked out over, it's the date nut bread/loaf recipe. If you like date nut bread try this recipe, I'm sure you will not be disappointed! Thanks King Arthur!
Finding myself with an abundance of carrots, I decided I would bake carrot cupcakes for my son's preschool snack. I was out of veggie oil, but checked in with Byanna via the chat service (which I LOVE), to help me assess which options I had on hand would be best for substitutions; Olive oil, butter, or unsweetened applesauce. She recommended butter, melted and cooled, and we decided that a combo of 1 cup butter and 1/2 cup applesauce would be tasty. Plus, with the carrots and applesauce, we surmised that it was practically health food;) I am happy to report that it indeed provided delicious and successful results! My son reported that all but one child, who didn't like the icing, enjoyed the cupcakes(there's always one). I made a few other alterations to suit my audience. I replaced the nuts with about a cup of golden raisins and shredded sweetened coconut, which I pulsed together in the food processor to break it up a bit. Since that added quite a bit of sweetness(as did the applesauce), I reduced the overall sugar to about 1 1/4 cups, and used a combo of white and dark brown. I also used the food processor for the carrots, first grating, then pulsed a few times to break it down into really nice fine bits. Processing everything in this was really was key in making all those chunky add-in's uniform and small, especially for the kiddos who have a...."delicate palette," and might not appreciate all the texture. Totally worth busting out the extra appliance. I reduced the overall icing volume, using 6 tbsp butter, and 6 oz cream cheese, and just added the sugar until it looked right, not needing any milk. It was the perfect amount of icing for 24 cupcakes with no leftover, although if you were piping a big mound make the full batch. I used Fiori Di Sicilia to flavor the icing, which was delicious, but I used the full 1/2 tsp and probably should have reduced that as well since it was a tad bit strong. Someone else described the flavor as "creamsicle," which is exactly right and goes great with the spices and flavor of this cake! I have made the sheet cake version before using nuts(pecans since I keep a big bag in the freezer from the wholesale club), instead of my substitutions here, and personally prefer that. Fortunately, there are only 12 children in the preschool class, and so we get to enjoy the other 12 cupcakes! I already had one for breakfast;)
These fabulous cupcakes were a huge hit with friends and family! The recipe makes 5 dozen mini cupcakes when I used my new KAF mini muffin pans. I made a few small alterations after reading the many reviews for the related KAF Carrot Cake recipe: I reduced the oil to 1 cup, reduced the pecans to 1 cup and added 1/2 cup each of shredded, unsweetened coconut and Zante currants. Raisins would work just as well, but I was going for petite sizes. Piping on the icing makes a real difference in the look of the finished product, as does the addition of a tiny sugar carrot or other decoration. Thanks to all who review and post alterations to the great recipes on the KAF site!