A customized print-friendly version of this recipe is available by clicking the "Print Recipe" button on this page.
King Arthur's Classic White Sandwich Bread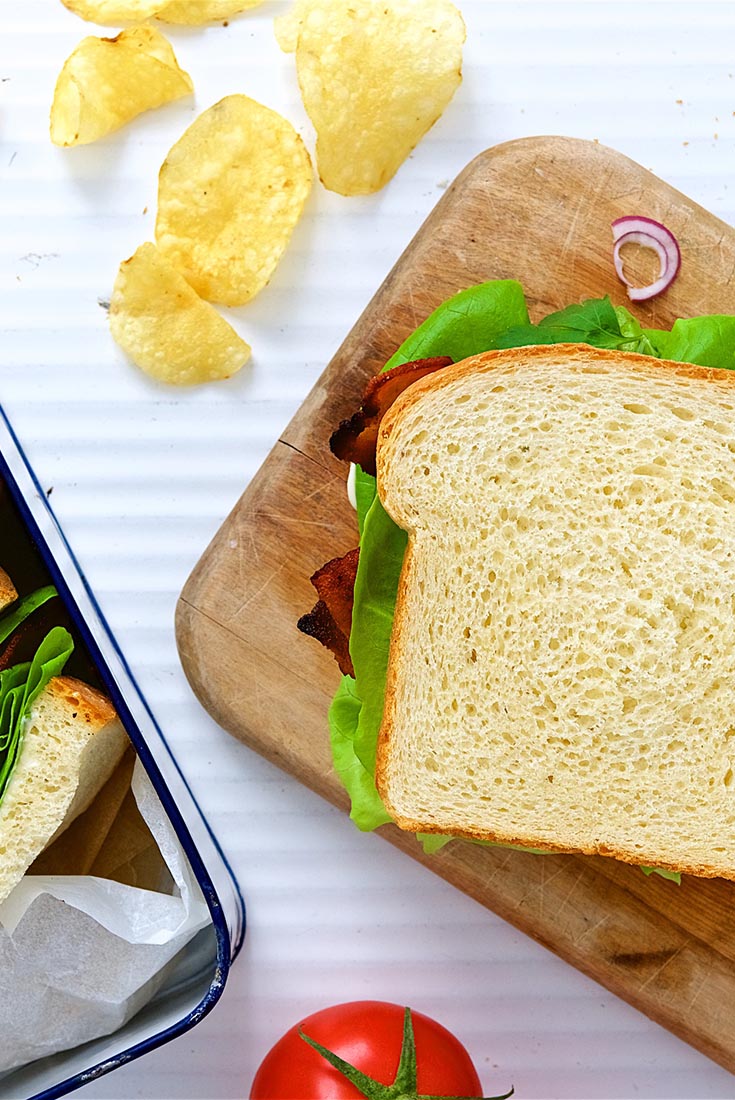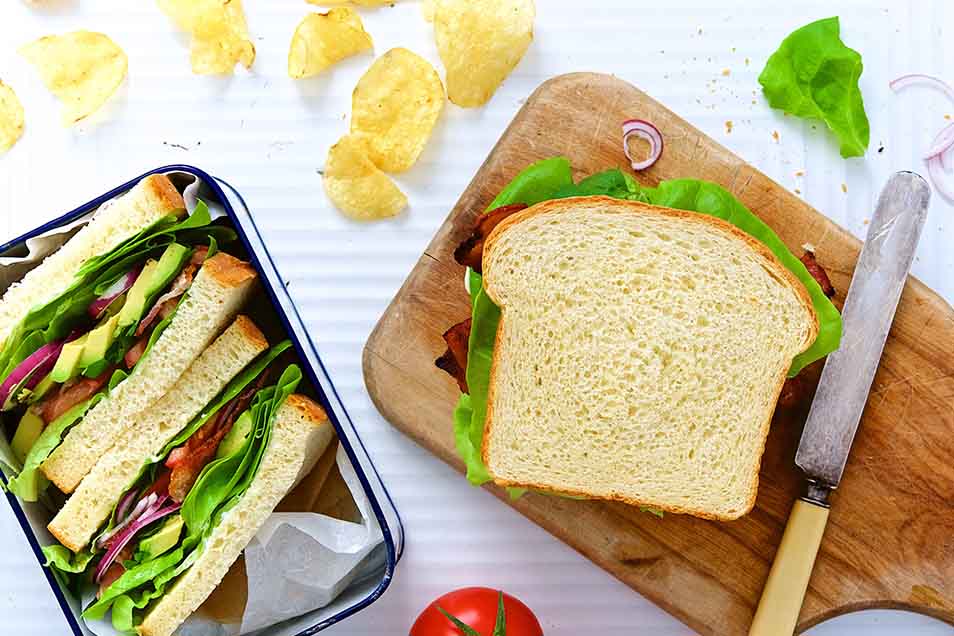 This signature white sandwich loaf, an updated version of King Arthur's popular Walter Sands Basic White Bread, is the "go-to" bread for breakfast toast, brown-bag PB & Js, or a grilled-cheese-and-soup supper for many of us here at King Arthur Flour. Just like King Arthur Flour itself, this bread is classic, reliable, and your best friend in the kitchen.

And who was Walter Sands? The Sands family became associated with King Arthur Flour in 1820, 30 years after the company's founding. Walter headed up the company from 1943 to 1968, when his son, Frank, took over as president. Frank led an effort that made King Arthur a national brand by the turn of the 21st century; several years ago he and his wife, Brinna, sold the company to us, the employee-owners.

Frank and Brinna are still the inspiration behind King Arthur's long-time quest: to serve our community, do the right thing, and provide Americans with the best flour in the world. We honor their legacy with this bread.
Ingredients
1 cup + 2 tablespoons to 1 1/2 cups lukewarm water*
1 heaping tablespoon honey
2 1/4 teaspoons instant yeast
1 3/4 teaspoons salt
2 tablespoons soft butter
1/3 cup Baker's Special Dry Milk or 1/2 cup nonfat dry milk granules
*Use the lesser amount in summer or humid climates; the greater amount in winter or drier climates.
Instructions
Mix all of the ingredients in the order listed, and mix and knead — by hand, or using a stand mixer — to make a smooth dough. It won't be particularly soft nor stiff; it should be smooth and feel bouncy and elastic under your hands.

Place the dough in a lightly greased bowl, or large (8-cup) measuring cup. Cover it, and let it rise for 60 to 90 minutes, till it's become quite puffy, though not necessarily doubled in size.

Gently deflate the dough, and shape it into a fat 9" log. Place it in a lightly greased 9" x 5" or 10" x 5" loaf pan.

Cover the pan, and let the dough rise for 60 to 90 minutes, till it's crowned 1" to 1 1/2" over the rim of the pan. Towards the end of the rising time, preheat the oven to 350°F.

Bake the bread for 20 minutes. Tent it lightly with aluminum foil, and bake for an additional 15 to 20 minutes, till it's golden brown. An instant-read thermometer inserted into the center will read 195°F to 200°F.

Remove the bread from the oven, and turn it out onto a rack to cool. When completely cool, wrap in plastic, and store at room temperature.

Yield: 1 large loaf, about 18 servings.
Nutrition Information
Serving Size

1 slice

Servings Per Batch

18
Amount Per Serving:
Calories

120

Calories from Fat

15

Total Fat

1.5g

Saturated Fat

1g

Trans Fat

0g

Cholesterol

5mg
Sodium

240mg

Total Carbohydrate

22g

Dietary Fiber

1g

Sugars

3g

Protein

4g
* The nutrition information provided for this recipe is determined by the ESHA Genesis R&D software program. Substituting any ingredients may change the posted nutrition information.
Tips from our bakers
We call for a fairly wide range of water here due to two variables: how bakers measure their flour, and climate/season. Flour is drier and will absorb more liquid in winter, and/or in a dry climate; in summer or in a humid climate, it's moister and will absorb less. So generally speaking, you'll use more liquid in your bread in winter, less in summer. In addition, some bakers measure their flour by dipping the cup into the bag or canister, tapping the flour to pack it down, and leveling it off. The way we measure flour here at King Arthur Flour is to stir/aerate the flour, sprinkle it gently into the measuring cup, and level it off. If you're of the scoop/tap/level school, which measures a "heavier" cup of flour, you'll need to use more liquid. At any rate, for this recipe, start with a smaller amount of water and move up, if necessary; it's easier to add water than to take it out! Your goal is a dough that starts out a bit sticky, but as you knead becomes soft (but not sticky) and smooth, not "gnarly."
Want to make this bread using a bread machine? See our Walter Sands' Favorite Bread — Bread Machine Version.
Reviews
I made it yesterday and I was so excited to have a great result but unfortunately, it turns not that good. It does not smell yeasty which is great but on the other side it doesn't taste good, and the texture quite dry.

We'd love the chance to talk through the recipe with you, so we encourage you to reach out to our free and friendly Baker's Hotline staff to help troubleshoot at 855-371-BAKE (2253). Kindly, Annabelle@KAF
I had some trouble with this recipe. I followed it using grams as the measurement. The only change I made was to substitute the dry milk powder with a half cup of milk instead of water as recommended in one of the comments below. The dough was super sticky after the first rise and rose extremely fast on the second rise. I just pulled it out of the over and it's flat (in fact, sunken in the middle) and one side has blobbed over the edge of the pan. What went wrong?

Thanks for sharing your baking experience with us, Liz. It sounds like you may have used a flour that was low in protein, which is a common cause of soft, slack dough. If you did, in fact, use King Arthur All-Purpose Flour and still experienced these results, then it might be that there was simply too much liquid added to the dough. We'd recommend starting with the lower amount of liquid given in the range (1 cup + 2 tablespoon or 303 grams), and making up half of that with milk if you're omitting the dry milk powder. If the dough feels stiff, you can add additional water by the tablespoon full until it feels soft and tender, just slightly tacky to the touch.

Also be sure to watch the second rise closely. You'll want to bake your loaf as soon as it crests the edge of the pan by 1" in the very center (and no more). Otherwise, you loaf might over-proof and deflate in the oven. We hope these tips help you achieve a perfect loaf next time. Kye@KAF
This is the perfect basic bread recipe! I make this over and over again (2-3 times per week) for our daily bread. KAF, I have a question - are you able to post how to convert this recipe to be used in a 1 lb. loaf pan instead of the larger pan (i.e. using 3 cups of flour)?

Nicole, if you'd like to bake a smaller loaf, you can reduce all of the ingredients in this recipe by 25%. This is easier done if you convert the ingredients to weight, which you can do by clicking on either "ounces" or "grams" below the ingredients header. You'll want to use a 8 1/2" by 4 1/2" loaf pan, and expect a slightly shorter loaf in comparison to the full-sized version. Happy baking! Kye@KAF
Don't have powdered milk in the house, what can I substitute. Liquid milk to replace some of the water?

No problem! Replace 1/2 cup of your water with room temperature milk and you'll be all set. Happy baking! Annabelle@KAF
Always turns out delicious. No more store bought bread.
I love this recipe. I made if for a special throwback recipe my sister is making for a shower coming up in early April. One of those loaf bread sandwich slices with the various salad between horizontal layers (chicken salad, egg salad, etc. Three layers) Iced with cream cheese and decorated on top. It was a popular luncheon dish during the '50s and '60s. She wanted them smaller than a regular sized loaf so I weighed everything and divided the dough in half by weight and filled two 8x4' pans. They came out beautifully and the perfect size for what she needs. Thanks, King Arthur. P.S. I also made the Sesame Semolina Lunettas for Easter weekend. So delicious. I can't wait to make a few more breads I have my eye on.
What does honey do in this recipe? Does it contribute to texture? Is it acceptable if I replace honey with granulated white sugar?

The honey adds flavor, helps with browning, and also helps the loaf stay fresh for longer. Using granulated white sugar will impart many of these same qualities with a slightly different taste. You're welcome to replace the honey with regular sugar if you like. Happy baking! Kye@KAF
What better way to spend a day home from work due to a Nor'easter? Baking bread! Wow, this was a winner! Every step of the way, this bread proved picture perfect. I must admit that my breads usually look like I need a lot more practice! But with this bread, I looked like a pro and it was easy-peasy. I followed the directions to a T. I did not need all of the 12 ounces of water-I used about 10. It shaped into a lovely smooth round and rose beautifully. When I flipped it onto my silpat, it easily shaped into a rectangle that I could roll and place in my KAF 5x10 loaf pan. I baked it the 20 minutes, then tented it for 15 more. 200 degrees and golden! Thank you KAF for helping me be successful! Oh, and it was as delicious as it was beautiful! I highly recommend this bread. It is truly a classic white sandwich bread.
I made this recipe twice. I used 50/50 KAF AP and bread flour and powdered non-fat milk from my local store. The first loaf didn't last a day, so I made another the following morning. Simple, beautiful result that slices easily, thick or thin. I agree with another reviewer, don't let it rise too high above the tin - mine rose quite a bit within the first few minutes of placing it in the oven.
I'm fairly new to bread baking, so I tried this recipe because several of the reviewers said it was easy. I agree. I followed the recipe exactly as written, and it turned out great. My entire family thinks I'm a pro. This recipe made me look really good. The crust was golden brown and the crumb had a great texture. You can taste that little hint of honey. Thanks for a great recipe.