A customized print-friendly version of this recipe is available by clicking the "Print Recipe" button on this page.
King Arthur's Classic White Sandwich Bread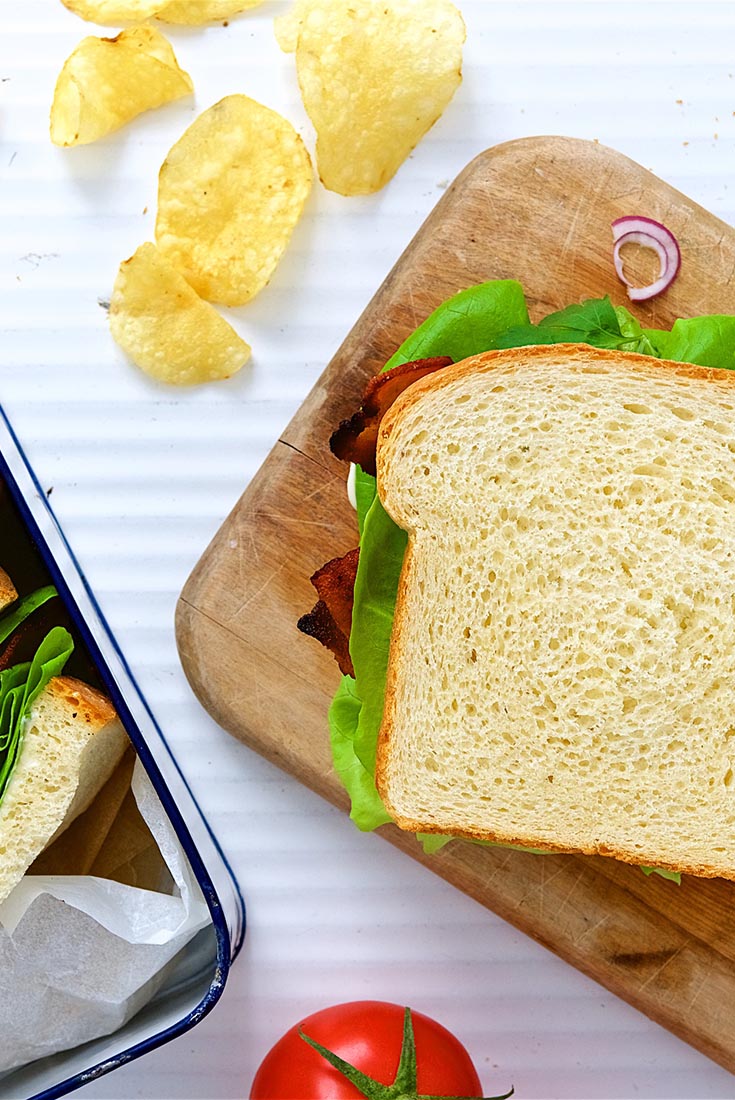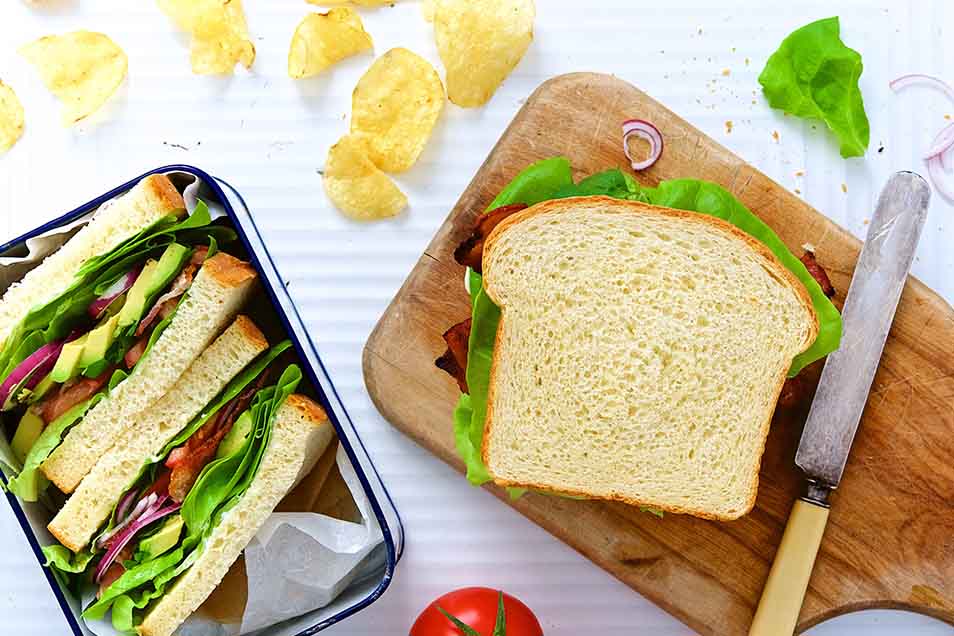 This signature white sandwich loaf, an updated version of King Arthur's popular Walter Sands Basic White Bread, is the "go-to" bread for breakfast toast, brown-bag PB & Js, or a grilled-cheese-and-soup supper for many of us here at King Arthur Flour. Just like King Arthur Flour itself, this bread is classic, reliable, and your best friend in the kitchen.

And who was Walter Sands? The Sands family became associated with King Arthur Flour in 1820, 30 years after the company's founding. Walter headed up the company from 1943 to 1968, when his son, Frank, took over as president. Frank led an effort that made King Arthur a national brand by the turn of the 21st century; several years ago he and his wife, Brinna, sold the company to us, the employee-owners.

Frank and Brinna are still the inspiration behind King Arthur's long-time quest: to serve our community, do the right thing, and provide Americans with the best flour in the world. We honor their legacy with this bread.
Ingredients
1 cup + 2 tablespoons to 1 1/2 cups lukewarm water*
1 heaping tablespoon honey
2 1/4 teaspoons instant yeast
1 3/4 teaspoons salt
2 tablespoons soft butter
1/3 cup Baker's Special Dry Milk or 1/2 cup nonfat dry milk granules
*Use the lesser amount in summer or humid climates; the greater amount in winter or drier climates.
Instructions
Mix all of the ingredients in the order listed, and mix and knead — by hand, or using a stand mixer — to make a smooth dough. It won't be particularly soft nor stiff; it should be smooth and feel bouncy and elastic under your hands.

Place the dough in a lightly greased bowl, or large (8-cup) measuring cup. Cover it, and let it rise for 60 to 90 minutes, till it's become quite puffy, though not necessarily doubled in size.

Gently deflate the dough, and shape it into a fat 9" log. Place it in a lightly greased 9" x 5" or 10" x 5" loaf pan.

Cover the pan, and let the dough rise for 60 to 90 minutes, till it's crowned 1" to 1 1/2" over the rim of the pan. Towards the end of the rising time, preheat the oven to 350°F.

Bake the bread for 20 minutes. Tent it lightly with aluminum foil, and bake for an additional 15 to 20 minutes, till it's golden brown. An instant-read thermometer inserted into the center will read 195°F to 200°F.

Remove the bread from the oven, and turn it out onto a rack to cool. When completely cool, wrap in plastic, and store at room temperature.

Yield: 1 large loaf, about 18 servings.
Nutrition Information
Serving Size

1 slice

Servings Per Batch

18
Amount Per Serving:
Calories

120

Calories from Fat

15

Total Fat

1.5g

Saturated Fat

1g

Trans Fat

0g

Cholesterol

5mg
Sodium

240mg

Total Carbohydrate

22g

Dietary Fiber

1g

Sugars

3g

Protein

4g
* The nutrition information provided for this recipe is determined by the ESHA Genesis R&D software program. Substituting any ingredients may change the posted nutrition information.
Tips from our bakers
We call for a fairly wide range of water here due to two variables: how bakers measure their flour, and climate/season. Flour is drier and will absorb more liquid in winter, and/or in a dry climate; in summer or in a humid climate, it's moister and will absorb less. So generally speaking, you'll use more liquid in your bread in winter, less in summer. In addition, some bakers measure their flour by dipping the cup into the bag or canister, tapping the flour to pack it down, and leveling it off. The way we measure flour here at King Arthur Flour is to stir/aerate the flour, sprinkle it gently into the measuring cup, and level it off. If you're of the scoop/tap/level school, which measures a "heavier" cup of flour, you'll need to use more liquid. At any rate, for this recipe, start with a smaller amount of water and move up, if necessary; it's easier to add water than to take it out! Your goal is a dough that starts out a bit sticky, but as you knead becomes soft (but not sticky) and smooth, not "gnarly."
Want to make this bread using a bread machine? See our Walter Sands' Favorite Bread — Bread Machine Version.
Reviews
Wow, I've never been that great at bread but this made me look pretty stellar in front of the husband. I also added egg wash when baking to make it shiny and kept a pan with water at the bottom of the oven to keep the crust softer which we prefer for sandwhich bread. Best. Recipe, ever.
Good sandwich bread recipe. It was easy to make. I used bread flour instead of AP flour and substituted regular milk for the non fat dry milk. I followed the Bakers Hotline suggestions for these substitutions by adding additional 2 teaspoon of water for every cup of bread flour since bread flour will mix drier. For the non fat dry milk substitution, I used 1/2 cup of luke warm milk in place of 1/2 cup of water. The bread turned out great. I froze the extra slices and had some a week later. After toasting the slices, the crust was still crunchy and the bread fluffy. It had a good flavor too.
I baked the bread.It tasted good except the bottom half an inch did not rise as much as the rest of the bread.But it tasted good. May be I should have let it rise for a little more time in the PAN. But I have a question can I use oil instead of butter.

You can certainly use oil in place of the butter — just add it with the liquid ingredients and do a 1:1 swap by volume. Happy baking! Annabelle@KAF
I recently started baking bread and I wish I started with this recipe. This was ridiculously easy and delicious. The crumb was fluffy, soft, but not too soft, and just barely sweet. I did not have a regular loaf pan but was able to chat online with the Baker's Hotline and used my 13 inch pullman pan without the lid. The recipe and times were spot on. This will be a new staple in the kitchen because of the ease. It was basically a recipe where you dump it into the kitchenaid and let her go. I used the metric measurements as my scale weighs ounces with decimals to the tenth. Summer weather so I used the minimum amount of water. 60 mins for each rise because my kitchen was sitting around 73f. Wow, I can't wait to have my breakfast toast!
I like this recipe. I used a bread machine, 1.5 lb and medium crust setting with honey and the dry milk recommended and it made a great sandwich loaf. Even after a couple of days it's fine though better toasted then. Nice flavor.
Replying to a reply. I made this recipe again the next night, with a couple adjustments. I used fresh out of the vacuum-pack Instant Yeast, and I used the full recommended complement (1 1/2 cups) of water. The differences were palpable and immediately obvious. On adding the yeast to the ingredients, a huge whiff of funk rose up. And then, upon mixing, the dough had that magical silky texture I've come to recognize as the sweet spot. At the end of the first rise, I had twice the volume as my first attempt, and at the end of the second rise (in the loaf pan), the dough was bursting from its loaf-panny constraints. I used a higher temperature (365, compensating for what I think is a cool oven) and voila: a loaf with gorgeous color, and nearly twice the size of my initial attempt, with a sensational crumb - airy, but solid. This is, as you say, the PERFECT sandwich bread. And my first try will make wonderful bread crumbs. My two main mistakes (I'm sure I made others): I think I was probably using old Active Yeast, and the dough wasn't moist enough. The recipe is spot-on. Thank you.
Made this, turned out really really really good. excellent sandwich bread recipe, thank you!!
First, I love the King Arthur site and all the recipes I have tried so far. I've had much success following them to the letter. This one - Classic White Sandwich Bread - was not a complete success out of the gate, but still produced a useful, edible loaf. I have a couple theories and would appreciate some feedback. 1) The dough was a not terribly smooth. I used the lower limit of water recommended, since it is summer. But, given that my house is well-air-conditioned, I think I could have gone with the upper limit. I was looking for that silkiness you get in a dough where you just say, "oh yeah!" but it never got there. 2) I think my 2nd rise never really made it. The baked loaf's sides never got above the rim of the pan (it was the recommended size) so it never got that typical shape where the top bulges out where it escapes from the pan. I wonder if my yeast might be too old, if the dough had risen a little more, the loaf might not have turned out so dense. Thank you.

We think your guess is correct that the air conditioning had en effect on the dough. With the cooler temperatures, it will take longer for it to rise, and you may not need to decrease the liquid as much. Having the lower amount of water would also slow down rising if the dough seemed like it needed a bit more moisture. We're sure the flavor was just lovely though! With a little extra water and a longer rise (and a double check on your yeast freshness), the next loaf should have the texture and loft you're looking for. Annabelle@KAF
I am SO amazed with myself! I actually baked a really good loaf of bread! Although I bake a lot of cookies I have always been reluctant to make anything requiring yeast. My sporadic attempts at bread baking in the past have resulted in bread that's edible. Period. I decided to try this recipe and achieved excellent results. I weighed ingredients, followed the instructions and produced a very good loaf of bread. However, I did have difficulty getting the bread to release from the pan. Perhaps I didn't grease the pan sufficiently. I decided next time to place a greased strip of parchment paper on the bottom and up the ends of the greased pan. Along with the great taste what I really like about this bread is that it's sturdy enough to cut slices that are thinner than packaged or bakery-sliced bread. Highly recommend this recipe.
First time making sandwich and SUCCESS! It did rise faster than I expected so overproofed on the second rise. But it knocked it back down and reshaped it without further issues. Great taste and made terrific tomato sandwiches with the beefsteak tomatoes I had from Saturday's farmers market. Definitely won't be the last time I make this bread!