A customized print-friendly version of this recipe is available by clicking the "Print Recipe" button on this page.
King Arthur's Classic White Sandwich Bread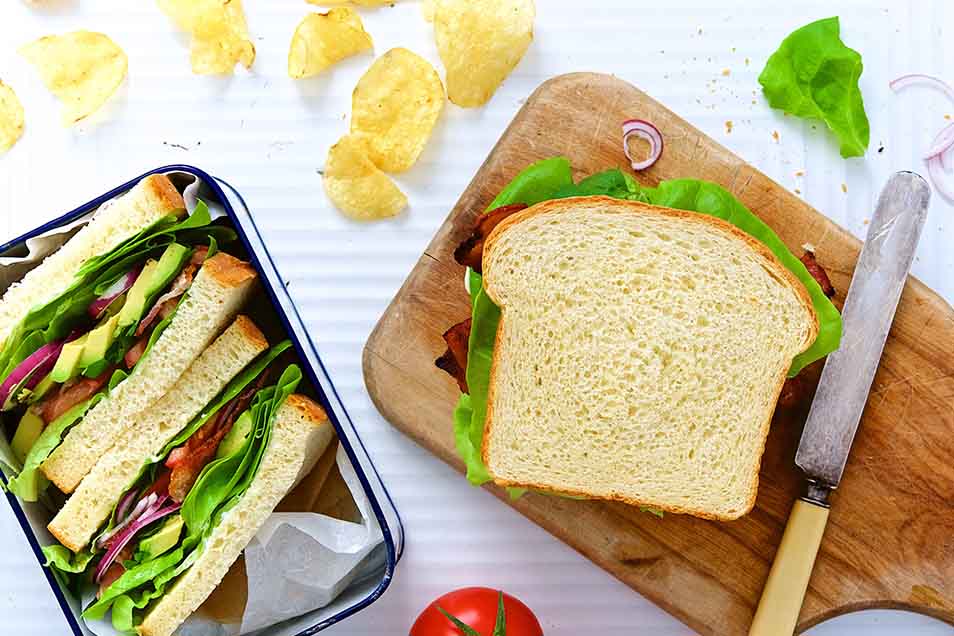 This signature white sandwich loaf, an updated version of King Arthur's popular Walter Sands Basic White Bread, is the "go-to" bread for breakfast toast, brown-bag PB & Js, or a grilled-cheese-and-soup supper for many of us here at King Arthur Flour. Just like King Arthur Flour itself, this bread is classic, reliable, and your best friend in the kitchen.

And who was Walter Sands? The Sands family became associated with King Arthur Flour in 1820, 30 years after the company's founding. Walter headed up the company from 1943 to 1968, when his son, Frank, took over as president. Frank led an effort that made King Arthur a national brand by the turn of the 21st century; several years ago he and his wife, Brinna, sold the company to us, the employee-owners.

Frank and Brinna are still the inspiration behind King Arthur's long-time quest: to serve our community, do the right thing, and provide Americans with the best flour in the world. We honor their legacy with this bread.
Ingredients
1 cup + 2 tablespoons to 1 1/2 cups lukewarm water*
1 heaping tablespoon honey
2 1/4 teaspoons instant yeast
1 3/4 teaspoons salt
2 tablespoons soft butter
1/3 cup Baker's Special Dry Milk or 1/2 cup nonfat dry milk granules
*Use the lesser amount in summer or humid climates; the greater amount in winter or drier climates.
Instructions
Mix all of the ingredients in the order listed, and mix and knead — by hand, or using a stand mixer — to make a smooth dough. It won't be particularly soft nor stiff; it should be smooth and feel bouncy and elastic under your hands.

Place the dough in a lightly greased bowl, or large (8-cup) measuring cup. Cover it, and let it rise for 60 to 90 minutes, till it's become quite puffy, though not necessarily doubled in size.

Gently deflate the dough, and shape it into a fat 9" log. Place it in a lightly greased 9" x 5" or 10" x 5" loaf pan.

Cover the pan, and let the dough rise for 60 to 90 minutes, till it's crowned 1" to 1 1/2" over the rim of the pan. Towards the end of the rising time, preheat the oven to 350°F.

Bake the bread for 20 minutes. Tent it lightly with aluminum foil, and bake for an additional 15 to 20 minutes, till it's golden brown. An instant-read thermometer inserted into the center will read 195°F to 200°F.

Remove the bread from the oven, and turn it out onto a rack to cool. When completely cool, wrap in plastic, and store at room temperature.

Yield: 1 large loaf, about 18 servings.
Nutrition Information
Serving Size

1 slice

Servings Per Batch

18
Amount Per Serving:
Calories

120

Calories from Fat

15

Total Fat

1.5g

Saturated Fat

1g

Trans Fat

0g

Cholesterol

5mg
Sodium

240mg

Total Carbohydrate

22g

Dietary Fiber

1g

Sugars

3g

Protein

4g
* The nutrition information provided for this recipe is determined by the ESHA Genesis R&D software program. Substituting any ingredients may change the posted nutrition information.
Tips from our bakers
We call for a fairly wide range of water here due to two variables: how bakers measure their flour, and climate/season. Flour is drier and will absorb more liquid in winter, and/or in a dry climate; in summer or in a humid climate, it's moister and will absorb less. So generally speaking, you'll use more liquid in your bread in winter, less in summer. In addition, some bakers measure their flour by dipping the cup into the bag or canister, tapping the flour to pack it down, and leveling it off. The way we measure flour here at King Arthur Flour is to stir/aerate the flour, sprinkle it gently into the measuring cup, and level it off. If you're of the scoop/tap/level school, which measures a "heavier" cup of flour, you'll need to use more liquid. At any rate, for this recipe, start with a smaller amount of water and move up, if necessary; it's easier to add water than to take it out! Your goal is a dough that starts out a bit sticky, but as you knead becomes soft (but not sticky) and smooth, not "gnarly."
Want to make this bread using a bread machine? See our Walter Sands' Favorite Bread — Bread Machine Version.
Reviews
This makes a great loaf of sandwich bread, really firm and large. I think this will be our new staple. I suggest the following changes, though: - Do a third rise overnight in the fridge, and then cook for 35 minutes in a preheated oven - Substitute out a cup of white flour for wheat (more would probably be fine) - I used Crisco instead of butter and replaced half the butter with molasses - Double everything (except for the yeast) and bake in 8.5" x 4.5" pans I did the third rise by mistake: I forgot about it during the second rise until just before bed, and so I punched it down and re-rolled it out and put in the fridge overnight. In the morning it was perfect, but needed more cooking time.
I have only liquid milk and active dry yeast on hand. What adjustments to the recipe should I make?

Hi Leslie! You can replace 1/2 cup of the water with regular milk to replace the dry milk, and active dry yeast and instant yeast are interchangeable so you won't have to make any changes. Happy baking! Annabelle@KAF
Easy recipe with a great outcome. I would highly recommended this recipe especially if you haven't made bread before.
I've been working on perfecting my technique with this recipe, and yesterday's loaf was a winner! Soft, airy - great texture, and perfect for sandwiches. Truly delicious -- can't wait to take it to work on Monday! I used the full amount of water, kneaded by hand until the dough is really smooth. On the second rising (in the loaf pan), the loaf was ready in under 60 minutes -- so I would recommend checking at the 45 minute mark to avoid over-proofing.
I've been baking this recipe for at least three years now. I was an absolute beginner when I first tried it. I would run from the kitchen to the PC in the den and check the blog for reassurance and right from the get-go I have had nothing but success with this bread. Recently, I started using part KAF White Whole Wheat in addition to the AP and was very happy with the results. This month I discovered Sprouted Wheat and used the Easy Rustic Bread recipe but although I loved the flavor, I wasn't thrilled with my loaf. Last night I made the Classic with 1/4 of the flour being Sprouted Wheat and I have a beautiful loaf that tastes terrific!
Baked it yesterday awesome crumb .it's a fool proof recipe to be kept in everyone's baking diaries forever.
Thanks for the amazing recipe. I baked this bread today and tastes great. I replaced the water in the recipe with whole milk as i did not use dry milk powder. Bread turned out very good but it is not as soft as the store bought bread. The crust is dry and bread itself is little dense. Is there anything i could do to improve these ?

Hi there, Prathusha! One of the most common reasons why bread turns out dry and a little on the dense side is because too much flour is used. To ensure you're using the right amount, we recommend checking out the "Recipe Success Guide," link next to the ingredients header above. You'll see that either measuring your flour by weight using a scale, or fluffing and sprinkling the flour into your measuring cup are the best ways to ensure your recipe turns out perfectly. Kindly, Morgan@KAF
Baked this tonight! It looked beautiful, but the finished product wasn't what I had anticipated. It was extremely dense and heavy. Some potential areas I could have gone wrong- I sped up the proofing process by proofing it in a warmed oven. It rose quickly, but did it rise too fast? Should I have just done the counter method? Secondly, the dough was a touch sticky and as much as I tried to get it smooth, it kept sticking and was pretty "doughy". Any suggestions? Finally, I definitely used bleached flour vs unbleached, only because that's what I had on hand. Would that ultimately be what ruined it? Looking forward to trying it again, as I'm dying to find that perfect sandwich bread!

Klara, that's an excellent question! Using a different flour definitely would definitely have an impact. Since our all-purpose flour has a higher protein content than most, it absorbs more liquid. This, in turn, means that a lower-protein flour will result in a sticky dough. The same difference in protein content will impact the dough's strength and its ability to hold a rise. We think that using the flour that this recipe is designed for will really make the difference. Happy baking! Kat@KAF
The taste of the bread is really great. I've made many artesian loaves before but this is delicate and soft. Makes for great sandwiches. But I've run into a problem - it is almost *too* delicate. When putting on a spread or mayo, the bread will become soggy by the time it's said and done. What can I do to prevent this? Is this indicating too much water (I used the max recommended due to winter)? I am considering cutting the AP with some whole grain to give it more density but I really enjoy the rise this recipe gives.

Hi Nick! Whole grains might actually make the bread more crumbly and likely to break apart, but using Bread Flour for half of the flour should make it stronger. It will absorb more liquid so you may find you need to add a few extra teaspoons of water to achieve a soft, smooth, tacky dough. Happy experimenting! Annabelle@KAF
Makes a nice big, fast rising, fine crumb loaf with great flavor. My husband loved it. He ate four pieces of toast for dinner! Hilarious! Will make this again. ..and again.