A customized print-friendly version of this recipe is available by clicking the "Print Recipe" button on this page.
"Kitchen Sink" Carrot Cake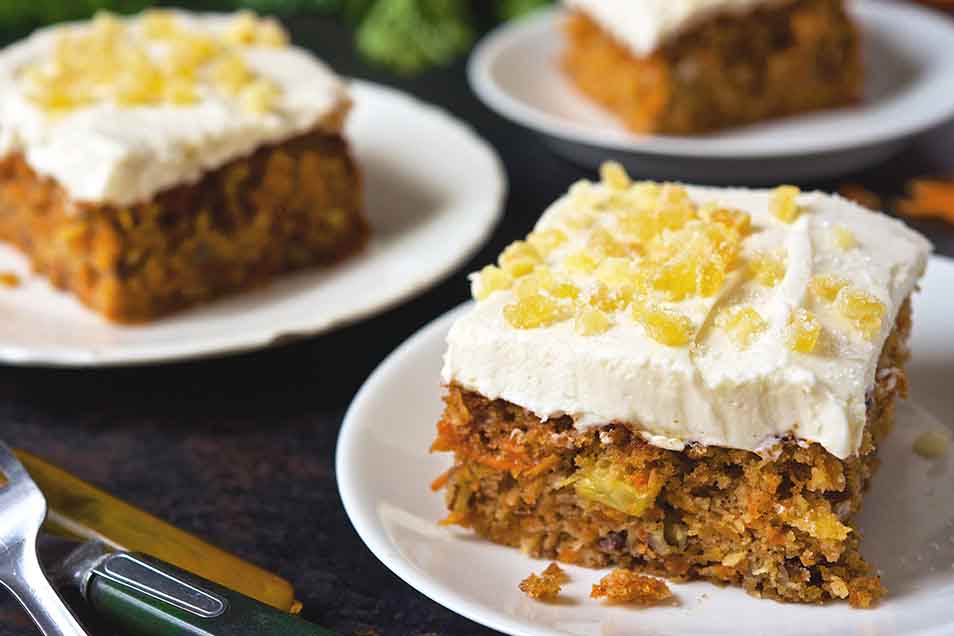 Kitchen sink carrot cake? That's right; as in "everything but the..." While purists may argue over exactly what, beside carrots, is "allowed" in carrot cake, we throw all caution to the winds with this version. Pineapple, nuts, and coconut are all welcome here.
Ingredients
Cake
4 large eggs
1 cup granulated sugar
3/4 cup brown sugar
2 teaspoons vanilla extract
3/4 cup (12 tablespoons) melted butter
3/4 cup vegetable oil
1 1/2 teaspoons baking powder
1 teaspoon baking soda
1 1/2 teaspoons salt
2 teaspoons cinnamon
1/2 teaspoon nutmeg
1/8 teaspoon allspice
3 1/2 cups finely grated carrots
1 cup diced pecans or walnuts, toasted if desired
1 cup shredded unsweetened coconut (preferred) or sweetened coconut
1/2 cup diced dried pineapple*
*Substitute one 8-ounce can crushed pineapple, drained and squeezed dry, if preferred
Frosting
3/8 cup (6 tablespoons) butter, room temperature
1 cup cream cheese, softened
1 teaspoon vanilla extract
1/8 teaspoon salt
3 1/2 cups confectioners' sugar, sifted
2 tablespoons milk, or enough to make frosting spreadable
Instructions
Preheat the oven to 350°F. Lightly grease a 9" x 13" pan.

Combine the eggs, sugars, and vanilla in a large mixing bowl until smooth.

Mix the melted butter with the oil. With the beater running, add the oil mixture in a stream, beating until smooth.

In a separate bowl, whisk together the flour, leaveners, salt, and spices. Add these dry ingredients to the wet ingredients, stirring to make a smooth batter.

Stir in the carrots, nuts, coconut, and pineapple.

Spoon the batter into the pan, spreading it to the edges.

Bake the cake for 40 to 50 minutes, until the cake is golden brown, and a cake tester inserted into the center comes out clean.

Remove the cake from the oven, and cool in the pan.

To make the frosting: combine the butter, cream cheese, vanilla, and salt in a medium-sized bowl, and beat together until light and fluffy.

Add the sugar gradually, beating well.

Add the milk a little at a time, until the frosting is a spreadable consistency.

Spread frosting over the cake. Garnish with minced crystallized ginger, if desired.
Reviews
I read other reviews and then made the frosting with just 1 1/2 cups of powdered sugar. I didn't add any milk and used vanilla bean paste in addition to vanilla extract. The flavor is good (one cup of sugar wasn't enough sweet for me) so I'm stopping here. I'm sure there's less frosting this way but I normally use less anyway, so the cake flavor comes through. Baked half as cupcakes and half in a round cake pan; both baked up just fine.
I like to taste the tartness of cream cheese in carrot cake icing, so I cut the amount of powdered sugar in half (to 1-3/4 c.). I might use a smidge less next time, as it was still a bit sweet for me. This is really a matter of taste, but I thought I'd mention it for anyone who prefers a tangy icing. Yummy cake!
I just made a test recipe of the Kitchen Sink Carrot Cake. It is fabulous. As I am making a two layer half "sheet" cake for a large group, I did the recipe 1-1/2 times for each layer in a pan 11-1/2" by 17". We couldn't wait for it to cool to try it. Yum. I used fresh pineapple, finely chopped and well drained and squeezed. The dry pineapple would be good too. I may cut down on the sugar a bit as it is very sweet, but sugar contributes to the texture. Definitely a keeper!
Most amazing carrot cake recipe ever! I've tried a lot of them, which were too oily, dry or just lacked taste, but this one is the winner. I think replacing half the oil with melted butter gives the cake SO much more taste. I used sunflower oil and organic carrots for extra oomph. I also added a bit of ground ginger to replace the allspice and reduced the cinnamon by half a teaspoon. The combo of ground cinnamon, ginger and nutmeg is GOLD! I had to omit the nuts due to the bday person having nut allergies, but for the rest of the guests I stuck some salted roasted pecans on the side of the cake. It was a tad sweet, will reduce sugars by 1/4 cup next time. Thanks King Arthur!
The carrots were getting a wee past their prime in that drawer in the fridge. That partial package of cream cheese had to go, as well. This was a delicious casket in which to bury them both! I made one half of the recipe, put it in an 8x8 pan, and it was fully baked in 30 minutes.
This is the most absolutely amazing carrot cake I've ever had. I've been making this for 20 years. Everyone loves it.
Tasted great but I made for a 10 inch pan..used your recipe scale formula with floiur being 100% ..scaled recipe..flour I needed was 342 grams...scaled everything up.from this measurement. . Used 2 teaspoons baking powder....and 1 teaspoon baking soda.. again great taste bit after cake out of oven for few Munites center did so k a little. . Also did 2 quantity 6 inch rounds and those did not sink at all.. should I decrease the soda and powder leaving for the wider 10 inch and if so how.much do you advise? Also once I scaled up, the oIL and butter just seemed like tremendous amounts.

Charlesetta, a cake with too much leavening will often rise and fall in the oven, while one that falls after baking is more often a sign of under-baking. Cakes bake from the outside in, so a larger cake will generally take longer to bake. Next time try leaving the cake in until the edges are pulling slightly away from the sides, the top feels springy, and a toothpick stuck in the center comes out clean. This should help ensure a more complete bake and a cake that better holds its shape. Mollie@KAF
This is a fantastic, crowd-pleasing carrot cake recipe. I've made this twice. The 2nd time, I cut back on the sugar in the frosting, and went easy on the sugar in the cake. The taste/texture was the same in the cake. The frosting was more to my liking with less sugar. Thank you, King Arthur Flour for such a delicious recipe.
Loved the recipe. Always looking for the great carrot cake. This is the one ! Only one question. Can I reduced the sugar in the cake like to half of the amount? Or the quality of the cake will be affected ? For my taste is a little too sweet .

Dvorah, we've done some reduced sugar testing in cakes on our blog and found that in blended cakes like these, the texture tends to hold up well, even when the sugar is reduced by 50%. The cake will be notably less sweet if you use half the amount of sugar, so you might consider making a less drastic change (reduce by 25%) to start. I hope this helps! Kye@KAF
I can't stop baking this cake !! Made in several times in a month !! Comes out perfect each time and gotten many compliments. Thanks KA for another delicious recipe!!