A customized print-friendly version of this recipe is available by clicking the "Print Recipe" button on this page.
Lemon Blueberry Cornmeal Cakes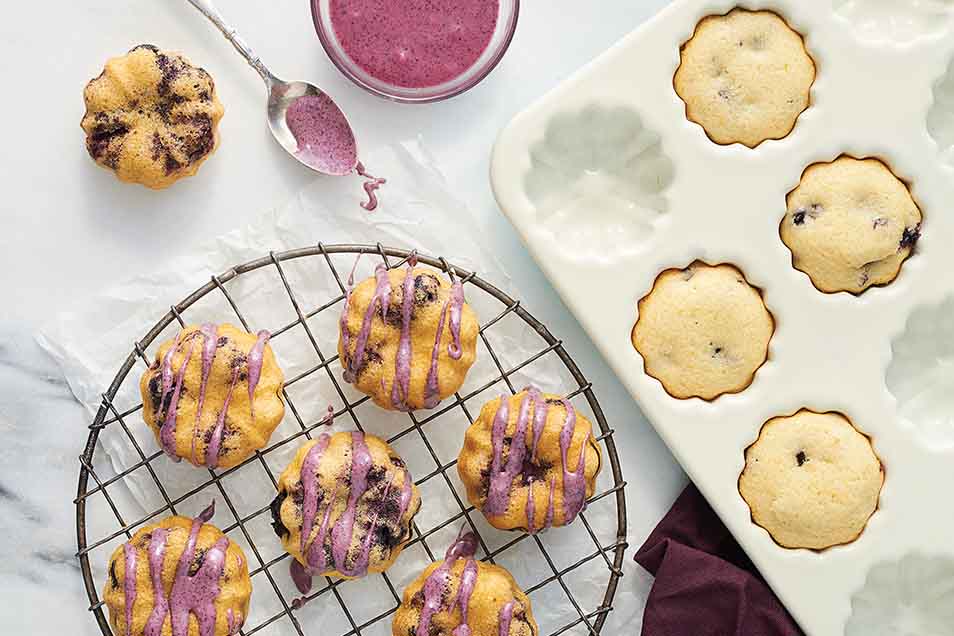 These cakes are quick and easy to prepare. Yet the zesty lemon flavor combined with the sweet, subtle flavor of blueberry and the crunchiness of cornmeal make them sophisticated enough for your most elegant summer gatherings.
Ingredients
Cake
1 1/4 cups King Arthur Unbleached All-Purpose Flour
1/4 cup cornmeal
1/2 cup sugar
2 teaspoons baking powder
1/4 teaspoon salt
1/2 cup buttermilk or nonfat plain (not Greek) yogurt
2 large eggs
1/2 teaspoon lemon extract, optional; for enhanced lemon flavor
1 tablespoon lemon juice
1 teaspoon grated lemon rind (zest) or 1/8 teaspoon lemon oil
1/2 cup vegetable oil
1 cup blueberries, rinsed and dried
Glaze
1/2 to 3/4 cup confectioners' sugar
2 teaspoons lemon juice fruit powder, optional*
1 tablespoon milk or lemon juice*
*see tip below
Instructions
Preheat the oven to 350°F. Lightly grease eight 5- to 6-ounce porcelain ramekins or bakers.

To make the cake: Combine the dry ingredients in a large bowl.

Whisk together the remaining ingredients, except the blueberries, then stir them into the dry mixture until just combined.

Fold in the blueberries.

Scoop 1/3 cup batter into each baker.

Bake the cakes for 24 to 26 minutes, until the centers are firm to the touch.

Remove from the oven, and transfer to a rack to cool.

To make the glaze: Combine the sugar, lemon powder (if using), and milk or lemon juice, stirring until smooth and adding more sugar if necessary to achieve a smooth, drizzle-able glaze.

Drizzle the glaze onto the cooled cakes, and garnish with extra blueberries, if desired.

Yield: 8 small cakes.
Tips from our bakers
Prefer to make one quick bread-type cake to share? Scoop the batter into a greased 8 1/2" x 4 1/2" loaf pan and bake for 40 to 45 minutes, until a cake tester inserted in the center comes out clean. Cool on a rack for 10 minutes then turn out of the pan to cool completely. Glaze and serve.
Don't have our lemon juice fruit powder? You can replace the powder and the milk with 2 to 3 teaspoons fresh lemon juice.
Reviews
I used a jumbo muffin pan (6 muffin tin), and these turned out perfect. I also didn't have the full cup of blueberries, so I topped it off with diced strawberries. These are delicious little cakes, that aren't that sweet at all. Quite a complex flavor, and truly delightful. The perfect accompaniment to brunch!
My oldest son said it's the best cake ever. It's very moist and tender with great flavor combo. Cornmeal is a great addition for the texture. Baked in a loaf pan for 45 min. It was done but maybe could have used extra 2 min in the oven. The blueberries I used were huge and the cake did not have enough structure to support them (I tossed the blueberries in a bit of flour before mixing them in). I will be using smaller blueberries or add a little extra flour next time. Used only lemon juice instead of lemon powder + milk for glaze, and it turned out great. I will be doubling the recipe and baking 2 loaves next time since it does not make enough for my family of big eaters.
Made loaf. Weighed ingredients. 40 min spot on. Made glaze with meyers lemon syrup and powdered sugar. Thx kaf!
I made this as cupcakes by doubling the recipe for 24 exactly. Very moist and light, more the texture of a fluffy cornbread or muffin than a traditional bakery cupcake. I would use lemon extract in the batter next time, even with the zest and juice was a little light for my taste. I used frozen, thawed blueberries with no issues. Baked for ~15 min with great results, very easy and fast recipe for a party!
This recipe sounded good to me, my family wasn't so sure. Well, that first bite told the tale, I won! Nothing like the blueberry/lemon combo. It's a keeper. : )
My husband loves this cake very much. He doesn't like the granular texture of cornmeal, so I used corn flour to replace cornmeal. I'm a huge fan of whole grain. Of course, I used 25% of whole wheat flour for AP flour as usual. It turned out excellent! Thanks for the recipe:)