A customized print-friendly version of this recipe is available by clicking the "Print Recipe" button on this page.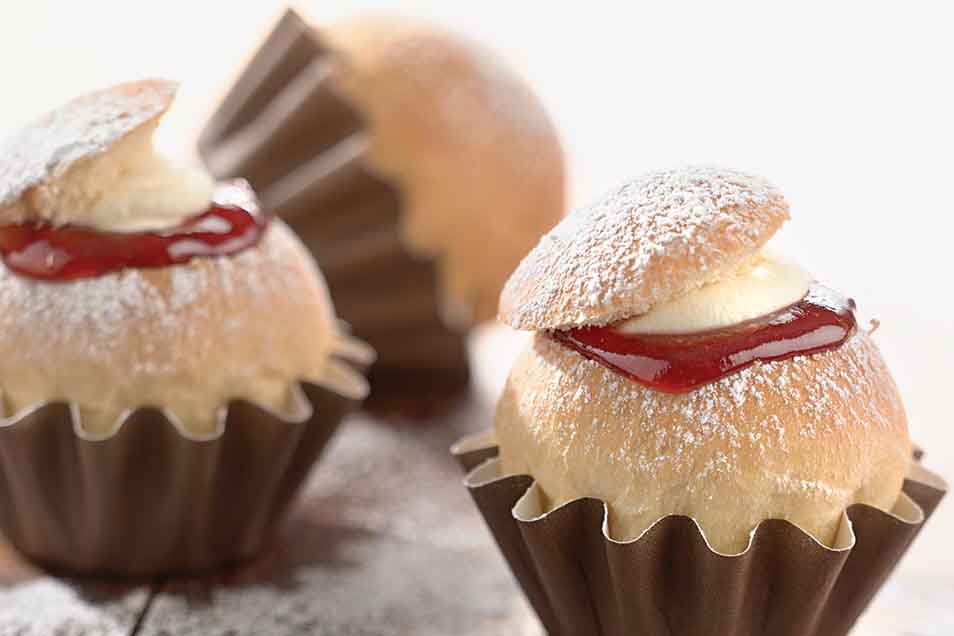 Fill small brioche with raspberry jam and Devon cream or lemon crème fraîche for a most elegant treat.
Ingredients
Dough
¾ cup cool water
2 large eggs, cold from the refrigerator
½ cup butter, at cool room temperature
2 tablespoons sugar
2 teaspoons instant yeast
1 ½ teaspoons salt
1/8 teaspoon Fiori di Sicilia or lemon oil
1 to 2 tablespoons lemon zest
4 cups King Arthur Unbleached All-Purpose Flour
Filling (optional)
1/2 cup whipped cream, Devon cream, or lemon crème fraiche
1/2 cup raspberry jam
Instructions
Mix and knead together all of the dough ingredients, by hand, mixer or bread machine, to make a soft, smooth dough. If kneading by hand, this will take awhile due to the amount of butter in the dough.

Allow the dough to rise, covered, for about 1 hour, or until it's quite puffy.

Divide the dough into 20 pieces (about 1 ¼ to 1 ½ ounces each) to make mini brioche; or 12 pieces to make larger individual brioche in muffin cups; or 2 pieces for large paper brioche pans.

Roll the dough into balls, and place into brioche papers or greased muffin cups.

Cover and allow to rise until doubled and puffy.

Towards the end of the rising time, preheat the oven to 350°F.

Bake the brioche for 14 to 18 minutes (for small brioche); 18 to 20 minutes (for muffin-sized brioche); or 20 to 25 minutes for two large brioche. The finished bread will be golden brown. Remove from the oven, and cool completely.

To fill small brioche, cut the tops off the cooled brioche. Fill with a teaspoonful of raspberry jam and whipped cream, Devon cream, or lemon crème fraîche. Place tops back on and dust with confectioners' sugar.
Reviews
This is the easiest brioche I've made and ready in a fraction of the time of other brioche recipes. While tasty, it is rather floury compared to recipes I've used from Mapie and the Bread Bible. Next time I think I will adjust to the measurements of Mapie, which produces a more buttery, rich bread and calls for 1/2 cup less flour (cake flour) and 1 tablespoon more butter.
These were easy to make. I made the dough in my Zo bread maker. They have a lovely delicate flavor. They are moist and freeze well. I had one from the freezer that was 3 weeks old and it was delicious. I sprinkled powdered sugar on top and gave them for a holiday gift along with homemade strawberry jam and devonshire cream. They were a HUGE hit! Great recipe.
Delicious, flaky and perfect! I'd never made brioche before and was impressed with how well they turned out!
I tried to make the muffin pan version, and well, not quite as pretty as I had imagined it. There was enough dough to fill up almost two pans... that resulted in big, dry, lacking taste yeasty bread/muffins. I did not try to make it with special paper cups so I can't say anything about this version of the recipe.