A customized print-friendly version of this recipe is available by clicking the "Print Recipe" button on this page.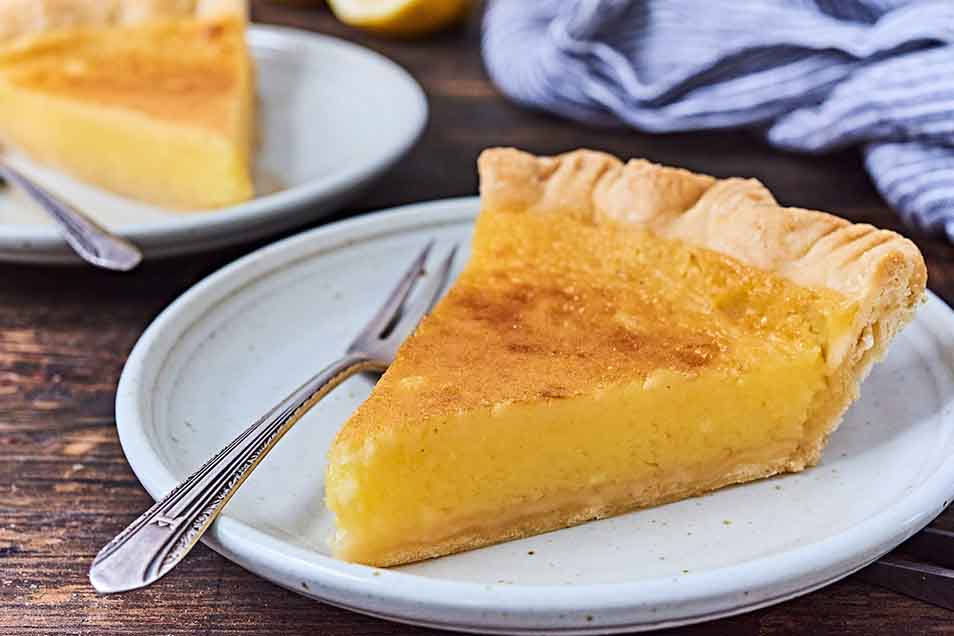 Chess pie? No one seems certain where the name for this type of pie comes from. A simple combination of eggs, sugar, and butter, with the tiniest bit of flour or cornmeal for thickening, chess pies appeared in print as early as the late 19th century. Whatever its provenance, this pie is perfect for those of you who love lemon, but don't like the somewhat "gluey" texture (or mile-high meringue) of a classic lemon meringue pie. This humble pie has no meringue to hide beneath; it's just lemon at its simple best.
Ingredients
Crust*
1 1/2 cups King Arthur Unbleached all-Purpose Flour or Pastry Flour Blend
1 tablespoon buttermilk powder, optional, for tenderness and flavor
1/4 teaspoon salt
1/4 teaspoon baking powder
1/4 cup vegetable shortening
1/4 cup cold butter
3 to 5 tablespoons ice water
*See "tips," below.
Filling
6 tablespoons butter, melted
1 2/3 cups sugar
3/4 cup fresh lemon juice; the juice from about 3 lemons
1/2 teaspoon salt
1 tablespoon cornmeal
1 1/2 tablespoons cornstarch
5 large eggs, whisked briefly to combine
Instructions
To make the crust: Whisk together all of the dry ingredients. Work in the shortening until it's well combined. Slice the butter into pats and add it to the flour mixture, working it in until it's unevenly crumbly, with some larger pieces of butter remaining.

Sprinkle 3 tablespoons of the water over the dough while tossing with a fork. Just as soon as the dough becomes cohesive (i.e., you can squeeze it into a ball easily), stop mixing; there should still be visible pieces of fat in the dough. Add up to 2 additional tablespoons water, if necessary, to make the dough come together.

Flatten the dough into a disk and wrap it in plastic wrap. Refrigerate for 30 minutes or longer; this resting period allows the flour to absorb the water and the gluten to relax, making the dough easier to roll out.

Flour your work surface and roll the dough into a 12" x 9" (approximately) rectangle. If it isn't holding together well, sprinkle it lightly with a couple of teaspoons of water. Fold the dough into thirds (like a letter), then fold it into thirds the opposite way, to form a rough square. Wrap it well and refrigerate again.

When you're "ready to roll," remove the dough from the fridge. Dough made with a combination of butter and shortening should rest for about 5 minutes at room temperature before rolling; dough made with all butter will need a 15-minute rest.

Roll the dough to a 12" to 13" circle, and settle it gently into a 9" pie pan; the pan shouldn't be over 1 1/2" deep. Flute or crimp the edge of the crust as desired. Place the crust in the refrigerator (no need to cover it) while you make the filling.

To make the filling: Stir together the melted butter and sugar, then mix in the remaining filling ingredients.

Whisk until well combined.

Pour the filling into the chilled pie shell.

Bake the pie on the bottom shelf of a preheated 375°F oven for 45 to 50 minutes, or until the center is set. The top should be golden brown.

Remove the pie from the oven and allow it to cool before cutting and serving.

Yield: one 9" pie, 8 to 10 servings.
Tips from our bakers
Want to try a different crust method, one that can potentially yield flakier pastry? Whisk together all of the dry ingredients, reserving a few tablespoons of the flour. Work in the shortening until it's well combined with the dry ingredients. Place the reserved flour on your work surface, and coat the butter with the flour. Use a rolling pin or the heel of your hand to flatten the butter to about 1/4" thick. Break the flour-coated butter into 1" pieces, and mix it into the dough, just until it's evenly distributed; some of it will break into smaller pieces. Sprinkle 3 tablespoons of the water over the dough while tossing with a fork; continue with the recipe as written.
Where does the name "chess" come from? Some food historians say it's a takeoff on "cheese," as in English cheese pies, as in American cheesecake — whose filing is of a consistency similar to chess pie. Others say chess refers to the chest in which pies used to be kept; due to the high degree of sugar, chess pies didn't need to be refrigerated (though in these days of heightened awareness of food safety, we do recommend refrigeration). One final theory holds that chess refers to the simplicity of the pie itself. "What kind of pie is that?" "Jes' pie." Chess pie.
Reviews
Wanted something sunny on this dreary rainy day and saw this recipe. Wow, great lemon taste! I didn't have any cornmeal so just left out but it was still delicious with a nice texture. My DH said he would give it 15 stars!
Though we live in the North, now (and Love it!), my husband is a good ole boy from the Deep South. I was thrilled to find a recipe for Chess pie (for him) and lots of lemon flavor (for me). I usually make lemon meringue using twice the lemon juice called for--but it's rare to get crust, filling AND meringue to all come out perfect. This pie was just right the first time. Thank you! Two thumbs up (mine and hubby's). P.S. The story I was told about the name of the pie is this: It was always served at very special dinner parties among the "gentry." After dinner, the gentlemen retired to the library to play chess and have their pie and coffee. Thus, it was first called "The Gentlemen's Chess Pie." Never heard where the ladies went or what they did, but I think it involved a lot of very fine sherry!
Wow! This is my perfect pie! I made this as an afterthought for thanksgiving, with 2 chocolate, 2 pumpkin, a caramel French crumb apple pie and a pumpkin cheesecake. The lemon chess pie was gone first. I also made a lemon and a lime chess pie for a Christmas party. What a hit. Thanks King Arthur!
I won first place in a pie contest on Labor Day using this wonderful recipe. I did add some lemon zest to the sugar and pulverized it in a food processor for several minutes and this added extra flavor to the filling. A dash of vanilla completed my alterations. I used KAF's no roll oil crust recipe. What a fabulous pie!
I cut the butter to 4tablespoons and added 1/4 cup heavy cream.
Ok, first I gotta fess up... I used a pre-made crust. (I was lazy today.) Even so, it was delicious! The lemon custard was just the right amount of tangy and it set up well. I used Meyer lemons and added in the zest from them too, and I think it worked out well. I wish I'd had a finer grind of cornmeal because it's a bit noticeable, but still good!
The pie smelled good, but is the temperature correct? The pie was overcooked after 35 minutes.

The temperature is correct, but your oven might be running a bit hot. Check it with an oven thermometer, and adjust the bake for next time. Happy baking! Laurie@KAF
This was my first time baking or eating chess pie and it is delicious! I used Meyer lemons, which are absolutely divine. If you are a lemon fan, you MUST try these! I also included the lemon zest, which disappeared into the cooked pie filling but added lovely flavor. I've also never tried a crust with baking powder in it, but this was tender, crisp, and had great flavor with the buttermilk powder. It did brown quickly, so as previous reviewers have said, you might have to cover with foil at the end. This is a quick and easy pie to make to get your lemon pie fix with no blind baking first. It won't be my last chess pie, that's for sure!
Delicious. Agree w/Mike that you should tent the crust edge. Rave reviews from guests.
be sure to tent the crust edges. they WILL burn at this temp...