A customized print-friendly version of this recipe is available by clicking the "Print Recipe" button on this page.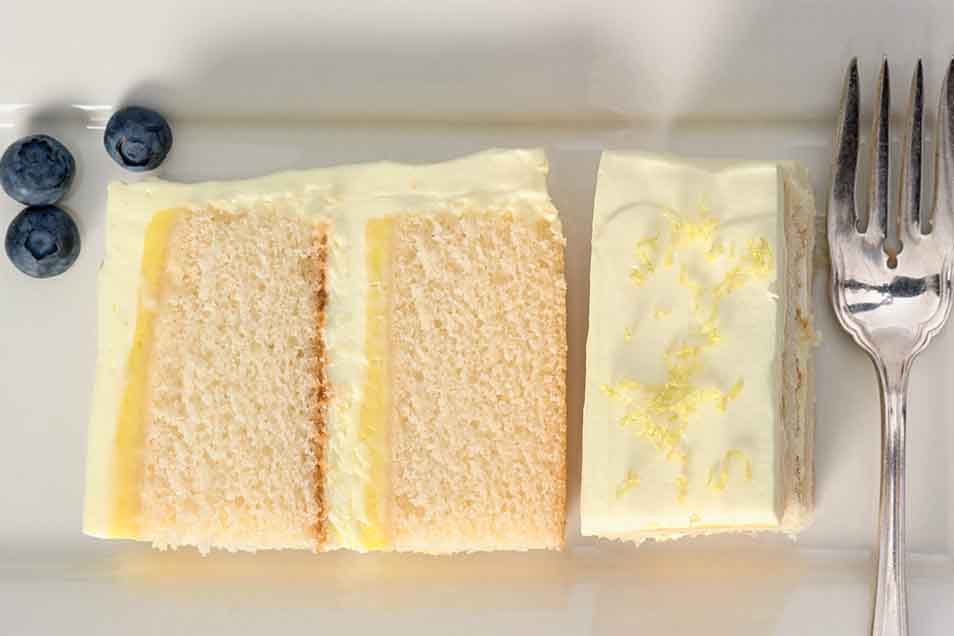 This moist, tender cake is layered with two types of filling: pastry cream, and rich, fluffy lemon cream.
Instructions
Preheat the oven to 350°F. Lightly grease and flour (or line with parchment) two 8" square pans, or two 9" round pans.

To make the cake: Beat the butter, sugar, and oil until the mixture lightens in color and texture, 2 to 3 minutes at medium speed.

Beat in the baking powder, salt, cake enhancer, and vanilla extract.

Add the egg whites and the whole egg, beating until the mixture is fluffy. Scrape the bottom and sides of the bowl.

Beat in the flour in three additions, alternating with the yogurt or milk. Scrape the bowl after each addition; the mixture should be fluffy when done.

Scoop the batter into the prepared pans. Wrap the pans in cake strips, if you have them, to prevent doming.

Bake the cakes for 32 to 37 minutes, until a cake tester or toothpick inserted into the center comes out clean.

Cool the cake in the pans for 10 minutes, then turn them onto a rack to cool completely.

To make the filling: Stir together the pastry cream mix and the milk until blended, about 1 minute, then beat until thick, about 2 to 3 minutes longer.

Stir the lemon curd into the prepared pastry cream until evenly blended.

Cover the lemon pastry cream, and refrigerate for 2 to 3 hours until firm.

To assemble the cake: Gently stir the filling to loosen it, then spread 1/2 cup of filling atop each cake layer; don't stack them yet. You'll have some filling left over.

Add 1/2 cup cream to the remaining filling, beating until smooth. Add the remaining 1 1/2 cups cream, beating until light and fluffy.

Spread a third of this lightened filling atop one layer. Place the second layer on top; spread the outside of the cake (top and sides) with the rest of the lightened filling. Chill for 2 hours before serving.
Tips from our bakers
For a homemade alternative to our pastry cream mix, prepare our recipe for Pastry Cream. Substitute 2/3 cup of this homemade pastry cream for the pastry cream mix and milk above.
Substitute homemade Easy Microwave Lemon Curd for the prepared lemon curd above, if desired.
Reviews
My family and close friends thought the cake was to die for. As I was having a larger group I decided to cut the 9 inch layers in half. In order to not get confused I placed the split layers on a cookie sheet lined with parchment paper to make it easier to assemble. I used the full recipes of homemade lemon curd, and a full recipe of rich pastry cream using 6 eggg yolks and 2 cups of half and half. I placed 1 cup of the lemon curd/pastry cream on each layer then 1 cup of the the lemon curd pastry cream combined with the whipping cream over the other layers. I had enough for completely frosting the cake. I love that you can make the lemon curd and pastry cream ahead and then bake the cake the morning of the day you are going to serve it. This will definitely be our Easter dessert this year. Thanks KAF for this great recipe idea.
This was a big hit at a birthday party! I made the pastry cream and lemon curd using those KAF recipes and they were delicious. The cake was a little more dense than I thought it would be given how fluffy the batter was, but of course no one knew that but me.
I've made the cake 4 times with different fillings and frostings. The cake has great texture and it tastes wonderful. However, it seems I always get a dip at the bottom of the cake. Any idea why?

We'd love to help you troubleshoot further, EM, but we're not quite sure what you mean by a dip at the bottom of the cake. Do you mean in the center? We'll need to hear a bit more about what kind of pan you're using, as well as your mixing method. Consider giving the Baker's Hotline a call at 855-371-BAKE (2253) so we can take a closer look at this together. Kindly, Kye@KAF
This is my first time making this cake and am just wondering if there is another "frosting" that would work and not be too sweet but would have a good lemon flavor?.

You bet, Jen. Check out our recipe for Lemon Whipped Cream for a light, cool, zesty treat. Annabelle@KAF
I made this cake for my daughter's graduation. The cake was firm, but moist, and sliced beautifully. Recommend you begin a day ahead and make the layers (wrap and freeze until ready to ice), lemon curd and pastry cream. I used Siggi's Lemon Triple Cream Yogurt in the batter and added whole milk to make up the difference. I did not use cake enhancer. I did not add any extra flavoring or syrup to the cake and it was moist. For the filling, I used Joy of Baking's Pastry Cream recipe for a nice, firm cream. I used Ina Garten's Lemon Curd recipe, which was absolutely delicious, but soft. Because of this, my icing was on the soft side. I made my cake in 8' round pans and was careful to watch that it didn't over-bake. The cake does not turn a golden color before it is done, so watch carefully. I divided the cake to make 4 layers. Because the icing was soft, I used skewers to hold it in place and re-froze immediately after icing. I moved the cake to the fridge a couple hours before dinner, then moved to the counter after dinner and let warm up before dessert. It was the perfect temperature and the icing didn't ooze. I decorated the cake with strawberries, blueberries, raspberries and candied lemon rinds. Beautiful presentation, moist delicious cake, and light tangy icing. Got rave reviews...thank you for a great recipe!
I used this recipe to make a wedding cake for a friend's wedding. It's beautifully close-grained and moist. I used a limoncello syrup to keep the cakes moist, split the layers and filled them with raspberry jam and buttercream, then frosted with fiore di Sicilia Italian meringue buttercream. Decorated with dried organic marigold, bachelor button, and rose petals, it was a big hit with guests.
The flavor was nice, not too sweet. My filling was a sloppy mess when cutting into the cake. I used a Williams Sonoma pastry cream recipe which yielded about a cup of cream. Maybe I needed more to firm it up. My husband said it tasted like Key Lime Pie. But it baked up like a pound cake rather than light and fluffy. I don't know what the problem is. I grew up using box cake mixes which are always light and fluffy, never heavy. I have tried to make cake recipes from scratch umpteen times, and they always seem dense and heavy like pound cake. I used cake four and searched for the special fine sugar. But it did not make any difference other than the crumb was finer. Why do my scratch cakes always turn out so heavy? I follow the directions to a tee!

Swapping from boxed cake mix to homemade can be a jarring switch, Lisa, because they really have different structures and finished textures. If you don't already, our biggest and first tip would be to measure your ingredients by weight rather than volume. All of our recipes can be viewed and printed in ounces or grams, and it's always accurate. Our free and friendly Baker's Hotline is here and ready to help find the appropriate recipe for what you're looking for at 855-371-BAKE (2253). Kindly, Annabelle@KAF
What a wonderful recipe. Easy to bake with your wonderful square pans. Love the light taste. Not too sugary or heavy. The lemon taste is very mellow.
My daughter and I made this cake for her 23rd birthday. What a hit! This is a delicious cake and was a big success with our family and friends. One of the guests at the party was a chef who said that the sponge cake was perfect and he was impressed that this was my first attempt at making one. We made the cake just as directed. Cake flour was used as we could not find cake enhancer. We also purchase cake strips, which I had never heard of before, and they worked just as advertised. Another factor in the success of the cake was my stand mixer, I think that it whipped a lot of needed air into the batter. I used Martha Stewart's recipe for the lemon curd - which worked very well, and the pastry cream - which did not. The pastry cream did not firm up but that did not hurt the outcome of the frosting at all because it was mixed with the very stiff lemon curd and then further whipped with the whipping cream which covered for the desired texture. When we make this cake again we will use the straight lemon curd as the first layer of the filling and around the sides because it will give a stronger lemon flavor, and do the second layers of frosting as per the recipe directions. Big shout out to the King Arthur Flour website! You have been my goto baking site for the last two years.
Best tasting cake recipe I've tried! The cake is tender, moist, and flavorful. The pastry cream is thick and rich. I added a spread of raspberry jam in the center. This is a recipe that won't disappoint!