A customized print-friendly version of this recipe is available by clicking the "Print Recipe" button on this page.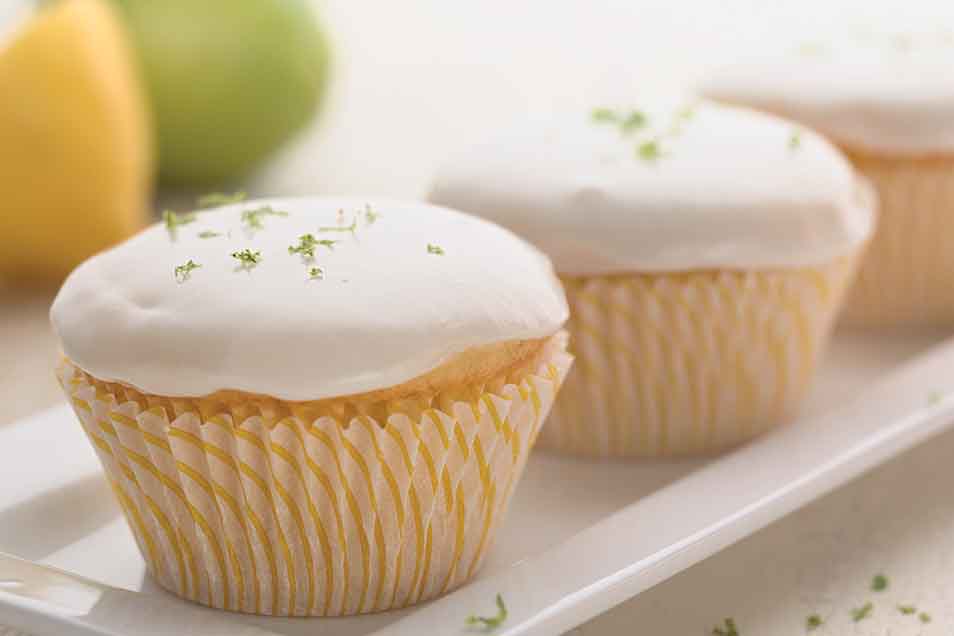 Bright and fresh, these cupcakes rely on lemon and lime for their tangy taste. Note that these are more European-style cake than American, which means they're a bit drier and denser than what you might be used to. But if you enjoy that style of cake — where frosting fill the richness quotient, with cake providing great flavor — then these cakes are for you
Ingredients
Cupcakes
6 tablespoons vegetable oil
3/4 cup granulated sugar
2 tablespoons lemon powder or lemon zest
1/2 teaspoon salt
1 tablespoon lime zest (grated lime peel)
1 tablespoon lime juice (juice from 1/2 lime)
2 large eggs, at room temperature
1 1/2 cups King Arthur Unbleached Cake Flour Blend or King Arthur Unbleached All-Purpose Flour
1 teaspoon baking powder
1/2 cup milk, at room temperature
Glaze
3 tablespoons melted butter
1 tablespoon lemon powder or lemon zest
1 tablespoon lime zest
1 1/2 cups confectioners' sugar, sifted
food coloring, optional
2 to 3 teaspoons water
grated lemon or lime peel (lemon or lime zest), for garnish
Instructions
To make the cupcakes: Preheat the oven to 375°F. Place cupcake liners in the 12 cups of a muffin pan. Position an oven rack in the middle of the oven.

Beat together the oil, sugar, lemon juice powder, salt, and lime zest until light in color, about 2 minutes at medium-high speed.

Beat in the lime juice; then the eggs, one at a time, until the mixture lightens in color, about 2 minutes at medium-high speed.

In a separate bowl, whisk together the flour and baking powder.

At low speed, add the flour mixture to the batter in three additions, alternating with two additions of the milk; mix until blended, about 30 seconds.

Scoop the batter into the prepared muffin pan, filling each cup about 2/3 full.

Bake until a cake tester inserted into the center of a cupcake comes out clean, 16 to 20 minutes; the cakes will remain quite pale.

Remove from the oven, and after 5 minutes transfer to a rack to cool.

To make the glaze: Whisk together the ingredients to make a smooth glaze about the consistency of molasses, adding additional liquid or confectioners' sugar as needed.

To glaze cupcakes: Dip cooled cupcakes into the glaze. Sprinkle with zest, if desired; the glaze sets up quickly, so be sure to sprinkle with zest right after dipping.

Yield: 12 cupcakes.
Reviews
Cupcakes had a good flavor, but texture was too dry for me. I'm used to homemade cakes (not mixes) and I like less sweet desserts, so I thought that meant I would like this "European" cupcake. I used cake flour and measured ingredients by the gram. I definitely want to use lemon-lime in another cupcake recipe because I do enjoy that combo of flavors. These weren't a dismal failure; my company enjoyed them, but they weren't the typical OMG WOW! I normally get with your recipes.
This recipe is crap the inside was raw and outside was crusty after 40 minutes in the oven at 375.The icing was to thin for a glaze and to thick for frosting it looked liked troll snot.the batter was so thick we had to scoop it with our hands to roll it into balls and toss it into the pan.would not recommend this recipe to anyone.I would rather real worms and dirt.discusting!!!!!!

We're sorry to hear you had such a disappointing experience with this recipe. It's our goal to ensure you have fantastic results when baking with our recipes and ingredients, so please consider giving the Baker's Hotline a call at 855-371-BAKE(2253) so one of our friendly and experienced bakers can help you troubleshoot further. Kindly, Kye@KAF
I should of read the recipe reviews before hand. The all purpose left it like a hard flat biscuit. I'm going to try it next with cake flour. Sugar was on the light side but the top made up for that.

We hope you consider making these cupcakes again using Cake Flour to see if you prefer the lighter texture. You'll also want to be sure to use a scale to measure your flour by weight or use the "fluff, sprinkle, sweep" method, which is another important key to achieving a tender consistency in your cupcakes. (The latter involves sprinkling the flour gently into your measuring cup one spoonful at a time before leveling off with a knife. This will help you measure light cups of flour that weigh about 4 1/4 ounces per cup.) I hope that helps and happy baking! Kye@KAF
Your recipes never fail to impress, however, the Lemon-Lime Cupcakes I prepared for a friend's birthday celebration did not make the grade and I was left to scramble with a package cake mix at the last hour. Using K-A all purpose unbleached flour makes this recipe very dense and dry and I believe this option should be removed as a substitute for cake flour. I will try it again with cake flour.
I wanted to make key lime cupcakes so I started with this recipe and replaced the lemon zest with lime zest and used key lime juice. It worked like a charm! I did use the cake flour. I was a little concerned about the texture when they first came out of the oven, it didn't seem cake-like, but once they cooled they were perfect cake texture! I gave them a key lime cookie filling and key lime buttercream frosting and I was delighted with the results. I've used this recipe before as written for lemon-lime and had an excellent experience with that also.
easy preperation. great flaver.
I made a gluten free version substituting 6 3/4 oz. of the K.A. gluten free flour blend for the flour and adding 1 tsp. of xanthan gum and a pinch of baking soda. I also didn't have lemons or limes so I subbed about 3/4 tsp. of lemon oil for the lemon and lime zest. They came out great!
This was my second time making this recipe - I love how refreshing the flavors are! The icing is a little too sweet for my taste, but since the cake isn't too sweet, it evens out. I used lime oil in place of the zest, added a little cake enhancer, and about 1/3 cup of lemony bits to the batter, which gave it some nice added color and pop. I can't seem to get the glaze the right consistency, so I just spread it on the cupcakes, and dusted with lemon zest. These ones a big hit!
I loved the flavor of these, but mine came out the texture of a Madeline, which is odd in a cupcake. Anyone have any suggestions as to what I did wrong?
Sorry to hear of the difficulty. I am not sure what caused this change in texture. We'd be happy to walk through this one with you. Just give us a call on the Baker's Hotline, 800-827-6836. Frank @ KAF.
I really wanted this to work since I've lots of lemons and limes on my trees. This just did not turn out to be light and moist like I had hoped.
Please feel free to email or call us to talk over the recipe and what might have gone wrong. Betsy@KAF