A customized print-friendly version of this recipe is available by clicking the "Print Recipe" button on this page.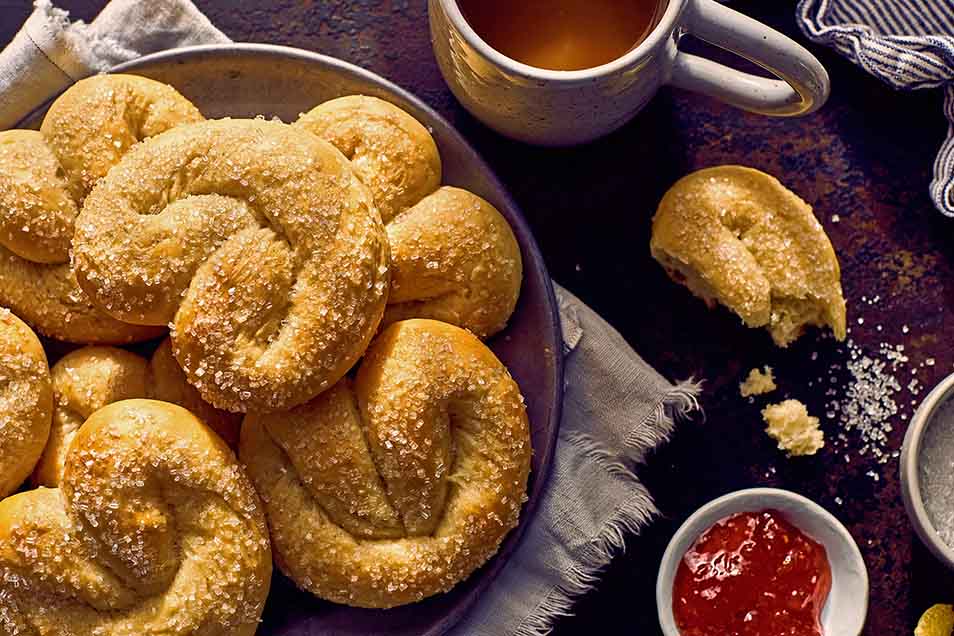 We originally printed a version of this recipe, Lemon Buns, in our May-June, 1996 Baking Sheet newsletter. Since then, we've amended it to use either lemon oil or Fiori di Sicilia flavor, an Italian citrus-vanilla flavoring that we use in place of vanilla in all kinds of treats, from sugar cookies to pound cake.

These are quintessential hot yeast buns -- but with an unexpected and refreshing jolt of citrus. The citrus essence elevates them beyond ordinary dinner rolls to something special: tea or breakfast rolls, perfect for spreading with homemade preserves (we recommend raspberry highly).

Tender and buttery, with a crunchy sugar crust, they're distinctly and assertively citrus, but not inherently sweet: a new and interesting concept in baked goods. Read our blog about these buns, with additional photos, at Flourish.
Ingredients
Dough
3/4 cup water
1/4 cup butter
1 large egg + 1 large egg yolk (reserve white for topping)
1/4 teaspoon lemon oil or 1/4 to 1/2 teaspoon Fiori di Sicilia
1 1/4 teaspoons salt
2 tablespoons sugar
2 tablespoons Baker's Special Dry Milk or nonfat dry milk
2 teaspoons instant yeast
Topping
1 egg white mixed with 1 tablespoon cold water
1/3 cup coarse white sparkling sugar or Swedish pearl sugar
Instructions
Combine all of the dough ingredients in a large mixing bowl and stir to form a cohesive dough.

Knead the dough, by hand, mixer, or bread machine, for 5 to 8 minutes, until it's smooth, soft and supple; avoid adding too much flour, as this will make the buns tough and dry. If you're using a stand mixer, knead for 2 minutes with the flat beater, then switch to the dough hook and knead for an additional 5 minutes.

Place the dough in a lightly greased bowl, cover the bowl with plastic wrap, and allow the dough to rise for about 1 1/2 hours, or until it's puffy, though it probably won't have doubled in bulk.

Transfer the dough to a lightly oiled work surface, and divide it into 16 pieces (about 1 1/2 ounces or 43g each).

To make round buns, simply round the pieces into balls. To make hearts or knots, see our illustrated blog post for complete instructions.

For soft-sided round buns, place them in a lightly greased 9" x 13" pan. For knots or hearts, space the shaped buns on two lightly greased or parchment-lined baking sheets.

Cover the buns, and allow them to rise for about 1 1/2 hours, or until they're nice and puffy; when you press a finger gently into a bun, the resulting indentation shouldn't spring back.

While the buns are rising, combine the egg white and water, and set aside. Preheat the oven to 350°F.

Brush the risen buns with the egg white mixture, and sprinkle with coarse or pearl sugar.

Bake the buns for 20 minutes, or until they're a light golden brown. Remove the buns from the oven, and transfer them to a rack to cool. Serve warm, or store in an airtight container (a plastic bag is fine) until ready to serve.
Tips from our bakers
Can you replace the lemon oil with grated lemon peel? Of course. Use the grated peel from 1 medium-to-large lemon.
Reviews
This recipe is so easy to follow, and these turned out so well. Everyone loved them, and they turned out beautifully. I followed the instructions exactly (I read some people added more lemon oil), and loved the lemony aroma of the dough, even before it baked. Perfectly balanced.
Just made two batches today. This recipe is a keeper.
These are really good with raspberry jam. The dough was a little sticky but after reading the reviews I did not add more flour and they turned out great. So good right out of the oven!
Made the heart shaped version for elderly neighbors on Valentine's Day. They loved them so much they just asked for them again when I asked what treat they'd like. Made the dough in the Zojirushi bread machine, and made the following changes: I upped the lemon oil to 1/2 tsp and added the zest of one lemon.
These little lemon love buns are a delicious accompaniment for chicken soup or just by themselves! I used lemon zest because I didn't have the oil, and while not overpowering, there is a bit of lemon flavor. The water I added was room temp and I was afraid that would not help the dough rise, but in this case it didn't matter (and the recipe does not call for warm 105 degree water). This will become something I make for home and bring to friends' houses for dinners.
These are ethereal and delicious. I added 1/2 tsp. lemon oil at the recommendation you made to another baker who didn't find them lemony enough. I also used about 90 grams of whole wheat flour as I don't like to bake with only white flour. I also added a tiny amount of citric acid. I like very lemony baked goods. The dough was VERY tacky and I had lots of difficulty forming it into rolls, but other bakers writing that you shouldn't add too much flour made me persevere. I should also say that the Craftsy course with Peter Reinhart (that you so generously directed me to and provided a discount for) gave me the confidence to deal with this sticky dough. They turned out wonderful. Thank you and thanks to all the bakers who write in.
I would appreciate a video so I am sure what the dough texture should look like.
I made these buns today and they turned out AWESOME! I made 2 batches, 1 with lemon oil, and 1 with Fiori di Sicilia . Both were equally good. Going to try lime oil and orange oil next!!!
I made these for the first time today. They turned out great! I used lemon zest in them and pearl sugar on top. The dough smelled wonderfully lemony while I was working with it. Taste wise, they're subtly lemony and the pearl sugar gives a great crunch with just enough sweet. Definitely a keeper recipe.
These rolls are awesome and so easy to make. I made 15 (instead of 16) round rolls just for easier fitting into 9 x 13 pan. The (grown) kids thought the Fiori di Sicilia citrus flavor rolls tasted more like dessert than dinner rolls so I decided to make them into peanut butter and strawberry jam sandwiches and they were probably one of the most delicious PBJ sandwiches ever.