A customized print-friendly version of this recipe is available by clicking the "Print Recipe" button on this page.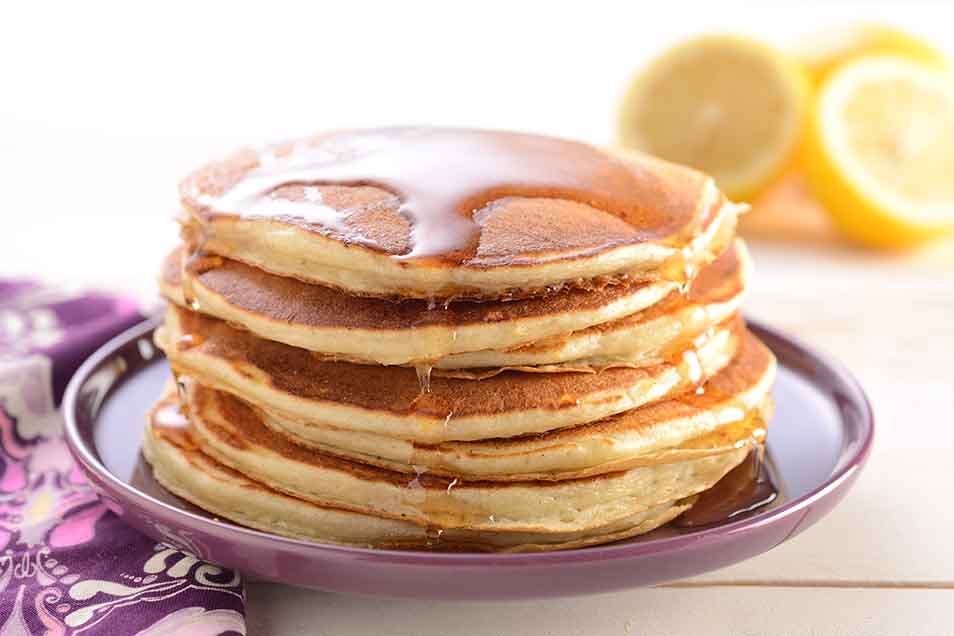 We love to make these light, eggy pancakes when berries are in season, as they're especially good garnished with fresh strawberries or blueberries, and served with a side of smoky bacon or sausage.

We offer two different toppings here: a simple honey butter, or a ricotta-vanilla sauce. Both are absolutely delightful, and the perfect complement for the lemony pancakes.
Ingredients
Honey Butter
3/4 cup soft butter
1/4 cup honey
Vanilla Sauce
1 cup ricotta cheese
1/2 cup confectioners' sugar
1 teaspoon vanilla extract
1/4 teaspoon salt
Instructions
In a medium-sized mixing bowl, beat together the egg yolks, buttermilk, sugar, and ricotta cheese.

Add the flour, baking soda, baking powder, lemon zest or lemon oil, nutmeg and salt, stirring to thoroughly combine.

In a separate bowl, beat the egg whites until stiff but not dry, and gently fold them into the batter, stirring till no streaks of white remain.

Heat a lightly greased griddle or skillet over medium heat until hot enough to immediately evaporate a drop of water; about 350°F if you have an electric griddle with a thermostat. Drop the batter, by quarter-cupfuls, onto the heated griddle. A muffin scoop works very well here. Use the back of the scoop (or a spoon) to gently spread the cakes into circles; the batter is a bit stiff, and might need some coaxing.

Cook for about 2 minutes on the first side; bubbles should rise and burst on the first side before you flip the pancakes over. Cook for about 1 1/2 minutes on the second side. They should be a very light golden brown when finished.

To serve with honey butter: Stir together the soft butter and honey till smooth.

To serve with vanilla sauce: Mix all of the ingredients until smooth in a small mixing bowl. For an ultra-smooth sauce, blend in a blender or food processor. Refrigerate until needed. Thin with 1 tablespoon milk or cream if sauce is too thick.

Serve hot pancakes with honey butter OR vanilla sauce.
Tips from our bakers
Can you use milk in place of buttermilk, or buttermilk powder in place of fresh buttermilk? Yes, and yes. Replace the buttermilk with milk, reducing the baking soda to 1/2 teaspoon. The flavor won't be quite as good, nor will the pancakes be quite as light-textured.To use buttermilk powder, whisk 1/2 cup buttermilk powder together with the rest of the dry ingredients. substitute 2 cups water for the buttermilk in the recipe.
If you wish, make the pancakes a day ahead, cool on a wire rack, then wrap tightly and refrigerate. To reheat, preheat your oven to 375°F, place the pancakes on a lightly greased baking sheet, and heat for 5 minutes.
To make honey butter in a smaller or larger quantity, simply remember this: two parts butter to 1 part honey, by weight. 1 tablespoon of butter weighs 1/2 ounce; 1 tablespoon of honey weighs 3/4 ounce.
Reviews
Love this recipe and these pancakes are perfection! I was reading a book and lemon pancakes kept coming up...I looked up this recipe - always King Arthur! And decided to make them since I love all of the ingredients. They are so delicious! I will keep them in rotation for breakfast lunch dinner entertaining...they are special and wonderful! thank you again king arthur!
These pancakes are absolutely wonderful! My son saw the recipe in the King Arthur catalog and we made the pancakes the very next morning for Sunday pancake day. They turned out fantastic, so yummy and lemony delicious. I've made them several times since. We like them with just a little butter and a sprinkle of powdered sugar. I haven't tried the vanilla sauce as yet, but I'm thinking I need to. Thank you King Arthur!
I made these using part-skim ricotta, and it turned out I only had one cup of buttermilk so I used a cup of skim milk with a tablespoon white vinegar to make up the rest. I also added a 1/4 tsp of cinnamon to the batter but couldn't really taste either it or the nutmeg. I used lemon zest from one lemon; I would use 2 lemons if you want to really amp up the lemon flavor - I found the Lemon Zephyr pancakes (the ones with oatmeal) to be more lemon-y. They were very good though and I LOVED the vanilla ricotta sauce, so much so that in the future I may make the Lemon Zephyr pancakes and top with the vanilla sauce from this recipe. This recipe does make a ton - I have about 8 leftover and I am experimenting with freezing them individually for weekday breakfasts.
Woke up with a craving for a good lemon pancake. My pantry was without ricotta and baking soda, so I substituted by using additional baking powder and regular milk-- my batter was a little thinner than recipe but the cakes were so light and tasty, kinda a cross between a crepe and pancake. So easy and delicious with the honey butter and fresh fruit. Not bad for a bit of winging it, so I'd say these are foolproof. Look forward to trying the standard recipe next time.
Made these pancakes this morning in a skillet, and they were perfection. Light, tender, and delectable. Thank you for the amazing recipe!
Made these pancakes this morning in a skillet, and they were perfection. Light, tender, and delectable. Thank you for the amazing recipe!
I followed the recipe exactly with no substitutions and was not pleased with the taste of the pancakes or the vanilla-Ricotta sauce. The pancakes were not very flavorful or light and I thought the sauce was a strange- tasting accompaniment.
The lightness of these pancakes relies on using egg whites, folded into the batter as well as using buttermilk instead of regular milk. A light hand when mixing is important for this recipe - both in mixing the buttermilk and dry ingredients or folding in the beaten egg whites. The sauce will be smoother if you use a blender or food processor. You can always call the Baker's Hotline directly to talk about recipe success or challenges at 802-649-3717. We're here to help! Irene @ KAF.
I don't go through milk quickly, which allows me to seek out recipes using buttermilk/sour milk on a regular basis. This one's a real keeper. It takes only a few extra minutes to whip up (owing to the egg whites), it's customizable in terms of added flavors, it takes to white whole wheat flour well, and it uses lots of sour milk! I love their egginess; they're delicious without being heavy, so they pair well with other foods. Thanks for another slam dunk, KAF!
I have a 3 year old who adores pancakes, so in the last couple years I have tried at least 15 recipes. This one is fabulous! I substituted dried buttermilk as directed in the recipe notes, and cottage cheese for the ricotta since that is what I had. Also, I opted to use Smucker's Simply Fruit Spread rather than the honey butter or vanilla sauce (less work), and it was so good I don't see myself ever doing differently. I cannot tell you how wonderful they were. Plus I feel good about the added protein from the extra egg and cottage cheese. Try them, you will not be disappointed! Thank you KAF!
Thank you for sharing your recipe alterations! What a delicious treat! Irene at KAF