A customized print-friendly version of this recipe is available by clicking the "Print Recipe" button on this page.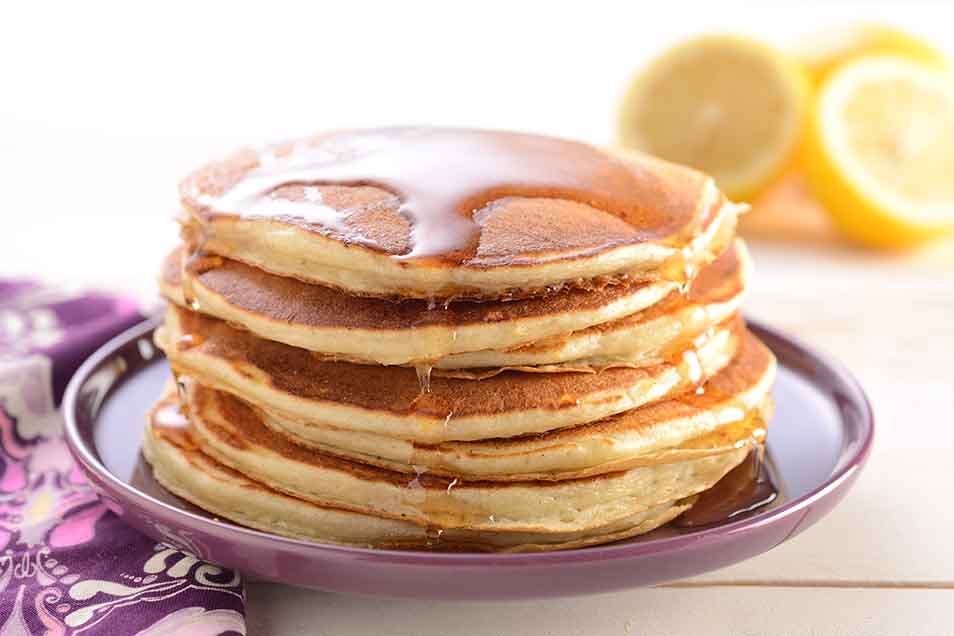 We love to make these light, eggy pancakes when berries are in season, as they're especially good garnished with fresh strawberries or blueberries, and served with a side of smoky bacon or sausage.

We offer two different toppings here: a simple honey butter, or a ricotta-vanilla sauce. Both are absolutely delightful, and the perfect complement for the lemony pancakes.
Ingredients
Honey Butter
3/4 cup soft butter
1/4 cup honey
Vanilla Sauce
1 cup ricotta cheese
1/2 cup confectioners' sugar
1 teaspoon vanilla extract
1/4 teaspoon salt
Instructions
In a medium-sized mixing bowl, beat together the egg yolks, buttermilk, sugar, and ricotta cheese.

Add the flour, baking soda, baking powder, lemon zest or lemon oil, nutmeg and salt, stirring to thoroughly combine.

In a separate bowl, beat the egg whites until stiff but not dry, and gently fold them into the batter, stirring till no streaks of white remain.

Heat a lightly greased griddle or skillet over medium heat until hot enough to immediately evaporate a drop of water; about 350°F if you have an electric griddle with a thermostat. Drop the batter, by quarter-cupfuls, onto the heated griddle. A muffin scoop works very well here. Use the back of the scoop (or a spoon) to gently spread the cakes into circles; the batter is a bit stiff, and might need some coaxing.

Cook for about 2 minutes on the first side; bubbles should rise and burst on the first side before you flip the pancakes over. Cook for about 1 1/2 minutes on the second side. They should be a very light golden brown when finished.

To serve with honey butter: Stir together the soft butter and honey till smooth.

To serve with vanilla sauce: Mix all of the ingredients until smooth in a small mixing bowl. For an ultra-smooth sauce, blend in a blender or food processor. Refrigerate until needed. Thin with 1 tablespoon milk or cream if sauce is too thick.

Serve hot pancakes with honey butter OR vanilla sauce.
Tips from our bakers
Can you use milk in place of buttermilk, or buttermilk powder in place of fresh buttermilk? Yes, and yes. Replace the buttermilk with milk, reducing the baking soda to 1/2 teaspoon. The flavor won't be quite as good, nor will the pancakes be quite as light-textured.To use buttermilk powder, whisk 1/2 cup buttermilk powder together with the rest of the dry ingredients. substitute 2 cups water for the buttermilk in the recipe.
If you wish, make the pancakes a day ahead, cool on a wire rack, then wrap tightly and refrigerate. To reheat, preheat your oven to 375°F, place the pancakes on a lightly greased baking sheet, and heat for 5 minutes.
To make honey butter in a smaller or larger quantity, simply remember this: two parts butter to 1 part honey, by weight. 1 tablespoon of butter weighs 1/2 ounce; 1 tablespoon of honey weighs 3/4 ounce.