A customized print-friendly version of this recipe is available by clicking the "Print Recipe" button on this page.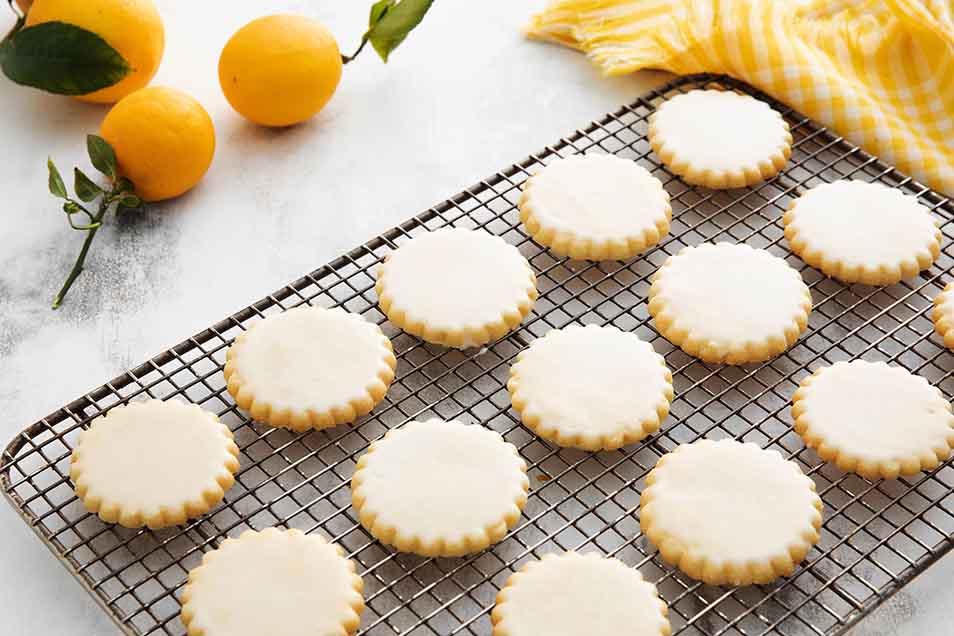 These tender, zesty cookies are delicate and light, and a delightful finish to a summer lunch or afternoon tea. They can be served without the glaze, but the glaze enhances the lemon flavor substantially.
Ingredients
Cookies
1 1/2 cups King Arthur Unbleached All-Purpose Flour
3/4 cup almond flour
3/4 cup confectioners' sugar
1/2 teaspoon salt; Fleur de Sel is especially nice in this recipe
2 tablespoons lemon powder*
7/8 cup (14 tablespoons) cold unsalted butter, diced
1 large egg white
grated rind (zest) of 1 lemon
*Or, for a less zesty cookie, substitute 1 tablespoon fresh lemon juice.
Glaze
1 tablespoon lemon juice
1/2 cup confectioners' sugar
coarse white sparkling sugar, for topping
Instructions
Using a food processor or mixer, combine the flour, almond flour, sugar, salt, and lemon powder.

Add the butter, and process or mix until the mixture is crumbly.

Add the egg white, lemon juice (if you're using it) and grated rind, and process or mix until the dough comes together.

Shape the dough into a disk, wrap it in plastic, and refrigerate for 1 hour or more.

Preheat the oven to 350°F.

Roll the chilled dough 1/4" thick.

Using fluted cookie cutters about 2 1/2" in diameter, cut out as many cookies as possible, re-rolling the dough as needed. Note: If at any time during this process the dough becomes sticky and hard to work with, simply refrigerate it for about 20 minutes, until firm.

Space the cookies 1/2" apart on lightly greased or parchment-lined baking sheets — you'll need a couple of pans.

Bake the cookies for 12 to 15 minutes, until their edges begin to brown. Remove them from the oven, and transfer them to a rack to cool.

For the glaze, stir together the lemon juice and confectioners' sugar until smooth.

Brush a thin layer of glaze onto the surface of each cookie; garnish with sparkling sugar, if desired.
Tips from our bakers
If you're making these cookies in the summer or a humid environment, adding an extra 2 tablespoons of flour to your dough may make the dough easier/less sticky to roll out.
Reviews
Very tasty cookie and I found the dough not too difficult to work with if refrigerated. However, I was disappointed in the baking time found in the directions. I don't understand why 12-15 minutes was suggested. I found mine were ready in 8-9 minutes. (My first pan was burnt at 10 minutes! Frustrating! Not to mention a waste of ingredients and time!!) The good news is that a second batch fared better. Still...a tasty cookie in the end!
I love sable and love these. I don't roll them out; instead, I gather the dough and make two logs, wrap them in plastic, and chill them. When they are fully chilled, I remove them, coat the outside with a beaten egg yolk, roll them in sanding sugar, and cut them into disks 1/3 to 1/2 inch in width. They come out tender and with the perfect crumb. You can even freeze the raw dough; just add one minute to the baking time. I also use an old Dorie Greenspan trick of massaging lemon zest into the sugar to give them extra lemon flavor.
Very disappointed in this recipe. Next time if I want lemon flavored cookies, I'll just add lemon extract to a sugar cookie recipe and call it good. In my opinion, I don't see where the ingredients in this recipe yield a result that much different. I used a 3" cookie cutter (as opposed to the 2 1/2" suggested) and got 18 cookies. The one bright spot is that I discovered glazing sugar which will now be my go to icing for cookies.

Debra, we're glad your baking experience had a silver lining: discovering glazing sugar! The addition of lemon juice powder as well as almond flour make these cookies unique; it's our hope that these ingredients help make the cookies both flavorful and tender. We're sorry the results didn't turn out as you hoped, but it sounds like you've got another idea about how to approach these cookies next time, which we hope pleases your taste buds moreso than this recipe. Kye@KAF
wont likely make again but nice flavor. in fl in summer, very hard to work with dough. i wonder if the cookies should be rolled out to one eighth of an inch. they looked kind of bloated when finished and lost much of their fluted edges. be very gentle when handling cookies out of the oven - very fragile.
This is the type of cookie I adore. I like it with deep lemon flavor so the lemon powder is a must. The dough is a little tricky to work with so I chilled a pan that I used under the dough. A few trips to the fridge is a key. Thanks KAF!
Love this recipe! So easy in the food processor. Good quality butter a must for best flavor in this recipe. I enhanced the lemon flavor by using the zest of 2 lemons and adding a few drops of fiori di sicilia. No lemon juice. Let the dough relax overnight and they rolled out very easily cold from the refrigerator. (After a few wacks with my rolling pin) Skipped the topping but sprinkled with vanilla sugar before baking. Baked JUST until golden around the edges. PERFECT!
I tried these at the KAF store in Norwich and immediately gathered the ingredients to make them. These are some of the best cookies I've ever made. My husband went wild over them.
These are awesome cookies! Lovely with tea :) Here's a few tricks I have developed that help with handling the dough: Put your pastry cloth (mine is from PC) in the freezer before you start making the dough. When rolling out the dough, I found using the the plastic wrap between the dough and roller very helpful. Finally, if you just don't feel like cookie cutters, cut the dough into squares. The products in the recipe from KAF make this easy. Enjoy!
OMG good! You do need to work fast...when the dough warms up, it's difficult to manage. A quick trip to the fridge solves that problem. These are easy to whip up and with the frosting...absolutely wonderful..crisp, light..delightful lemon flavor. I rolled out and cut into squares...much easier and no re-rolling. I could have eaten them all myself!!!