A customized print-friendly version of this recipe is available by clicking the "Print Recipe" button on this page.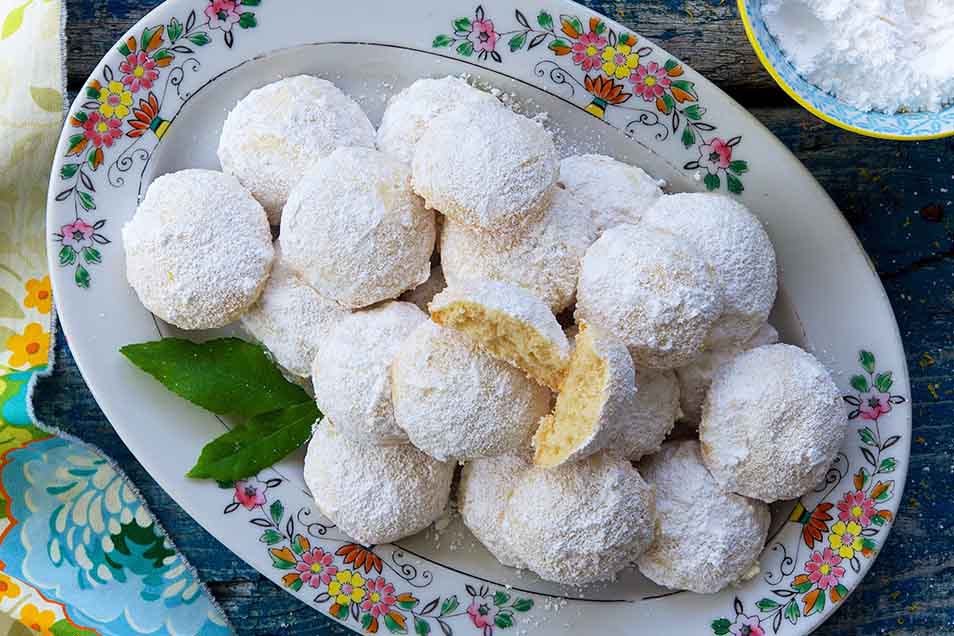 With a bit of sparkle, these buttery, tender cookies are sweet with one of nature's best gifts: bright lemon flavor in the cookie and its snowy coating. They're a delightful citrus riff on classic Wedding Cookies.
Ingredients
Cookies
16 tablespoons (1 cup) unsalted butter
1/4 teaspoon salt
1/2 cup confectioners' sugar
1/8 teaspoon lemon oil or 2 teaspoons grated lemon peel (zest)
Instructions
Preheat the oven to 350°F. Have on hand a rimmed, ungreased baking sheet.

To make the cookies: In a medium-sized bowl, beat together the butter and salt until soft and fluffy.

Mix in the confectioners' sugar and lemon oil or grated peel.

Add the flour, stirring until combined.

Scoop the dough into 1" balls; a teaspoon cookie scoop is a real time-saver, and your cookies will be nice and uniform. Place the balls on the baking sheet.

Bake the cookies for 12 to 15 minutes. They should be very light brown on the bottom, and feel set when lightly touched on top.

To make the coating: Sift the confectioners' sugar and lemon juice powder together into a shallow bowl.

Remove the cookies from the oven and let cool on the baking sheet for 3 minutes. When firm enough to handle but still warm, carefully roll the cookies in the coating.

Let the cookies cool completely, then add edible glitter (if desired) to the coating and re-roll in the sugar.

Store cookies in airtight containers for 1 week; freeze for longer storage.
Nutrition Information
Serving Size

1 cookie (13g)

Servings Per Batch

50 cookies
Amount Per Serving:
Calories

65

Calories from Fat

36

Total Fat

4g

Saturated Fat

2g

Trans Fat

0g

Cholesterol

10mg
Sodium

12mg

Total Carbohydrate

8g

Dietary Fiber

0g

Sugars

3g

Protein

1g
* The nutrition information provided for this recipe is determined by the ESHA Genesis R&D software program. Substituting any ingredients may change the posted nutrition information.
Reviews
Tweaked the recipe slightly as I didn't have lemon oil or zest. I used lemon flavoring in dough & some Country Time lemonade mix. Used the mix in coating as well. The cookies were amazing & sooooo easy to make! I got 59 cookies, and there weren't enough. Trying to figure out how to use chocolate in my next batch. Any ideas?

We're glad they were a hit, Pam! Try swapping out 1/3 cup of your flour with cocoa powder to give these cookies a chocolaty spin. Use a Dutch-processed cocoa powder and add a pinch of Espresso Powder to enhance the chocolate flavor as much as possible. Happy baking! Annabelle@KAF
I made these cookies last night. After reading the comments, I increased the lemon oil by 1/4 teaspoon. I measured the flour very carefully and the dough was still dry and crumbly, so I added another 2 tablespoons of softened butter, and that did the trick. I made mine slightly bigger, so I got only 40 cookies, and I baked them for 16 minutes. They turned out great. I brought some to work, and everyone enjoyed them very much. I will make these again.
I have made this recipe a few times and people love them. This time I am going to gluten free. I was thinking that I would use your gluten free mix in place of the flour. Would a one to one exchange work for this recipe? I was also hoping to make them vegan. How would I substitute coconut oil for the butter. Thank you!!

These can easily be made gluten-free by swapping the all-purpose flour for our Gluten-Free Measure for Measure Flour 1:1. To make them dairy free, we'd recommend using a vegan butter such as Earth Balance to achieve a similar texture and flavor to the original recipe. Happy baking! Annabelle@KAF
I love these cookies! I use lemon oil and double the amount of it, plus for the confectioners' sugar dusting on the warm cookies, I add a little bit of citric acid as well as the lemon oil to the sugar, in order to amp up the sour/sweet taste. Similarly to other bakers, recipe doesn't produce 50 cookies if I'm using a tsp cookie dough scoop, only about 30. One question -- how do you get these to be ball-shaped? they go on the cookie sheets as spheres but then as they bake, they flatten where they touch the parchment paper, so end up like a hemisphere instead, although they still have quite a bit of height. What could I do differently to get more ball-shaped snowballs?

Eve, as you can see in the recipe photo above, it's normal for the cookies to flatten slightly as they bake and to have flat bottoms. If you'd like to encourage a more round bottom, try chilling the cookies for 30 minutes before baking. (They'll still have a slightly flat bottom, but they should hold their shape better than if they were baked directly after scooping.) Happy baking! Kye@KAF
Recommend with reservation for those that want an actual lemon cookie... The cookie texture was good. However the flavor was too mild for me. I took the lemon oil to almost 3/4 teaspoon and then it tasted like a lemon cookie. Note that they have to be very small to get 50 cookies but I did it.
I've made these twice. The first time, I used a measuring tsp for exact tsp balls. The cookies came out round and small. I got 72 really cute little cookies. I didn't have lemon powder or lemon oil so I used 2 tsp lemon zest and a tsp lemon juice in both the dough, and another 2 tsp minced zest in the coating. I thought they were great and they were a hit at my work's Christmas Cookie exchange. This time, I made them exactly as written with the lemon oil, lemon powder and the "Teaspoon" cookie scoop (It is about 1.75 tsp). They came out flatter, a lot like the picture. They are much more lemony, but I think I like my first version better. I weigh all ingredients. I've been trained well by KAF, so I don't think that explains the change. I'm wondering how to get those cute round snowballs again. I do weigh my ingredients (KAF has trained my well), but I didn't add juice this time. Perhaps that is the difference?

Adding additional liquid to the dough would have caused them to spread more rather than stay in little domes. If you'd like them to hold their shape, try adding 1/4 cup additional flour and also chill the dough for at least 30 minutes before scooping. Happy baking! Kye@KAF
These tasted great, but I think I messed up somewhere along the line--the texture came out rather dry and crumbly. They are still delicious, but I guess I'm wondering how to achieve that "melt in your mouth" texture? Was my butter too soft or did I mix the dough too much?

Mary, the most common reason why baked goods turn out dry and crumbly is because too much flour is added to the dough. To ensure you're using the right amount, be sure you're either measuring your flour by weight using a scale, or gently fluffing and sprinkling the flour one spoonful at a time into the measuring cup. This will give you light cups of flour and produce dough that's soft, spreads slightly, and melts in your mouth once it has baked. Kye@KAF
Flavor was good. Added lemon extract and lemon oil. Also used a little yellow food coloring to give them some color. Only made 27 balls. Had to cook them a lot longer because they were still raw in the middle. Had a lot of sugar leftover. Couple small tweaks but they're awesome.
I have made these cookies several times and they were always a hit . I used this recipe to bake lime snowballs and they were very good. I omitted the lemon and added two tsp. of fresh grated lime zest and two tsp. of fresh lime juice. I used the lemon snowball recipe for the confectioners sugar to roll the cookies in using dried lime juice powder. they were very good.
I recommend this recipe because it is easy to make and the cookies are delicious. However, my cookies were flat, not balls even though I used the recommended scoop and followed the directions to a tee. I got significantly fewer cookies than indicated. The recipe indicates 50-60. I got 28. I didn't have much left over topping though probably because the cookies were flat and had more area to cover. couldn't roll them either, just kind of flipped them around. Still a delicious lemony treat and the lemon juice powder adds a delightful touch of tartness.

We're surprised to hear your yield was so drastically different, even when using the prescribed cookie scoop. It sounds like there may have been a measuring error with the flour, which would also explain why the cookies were quite flat. Next time try measuring your flour using a scale if possible, and see if the cookies hold their structure better. (Also be sure you're using King Arthur Flour brand all-purpose if you're not already doing so, as it has a high enough protein content to create a tender yet nicely risen cookie.) Good luck! Kye@KAF