A customized print-friendly version of this recipe is available by clicking the "Print Recipe" button on this page.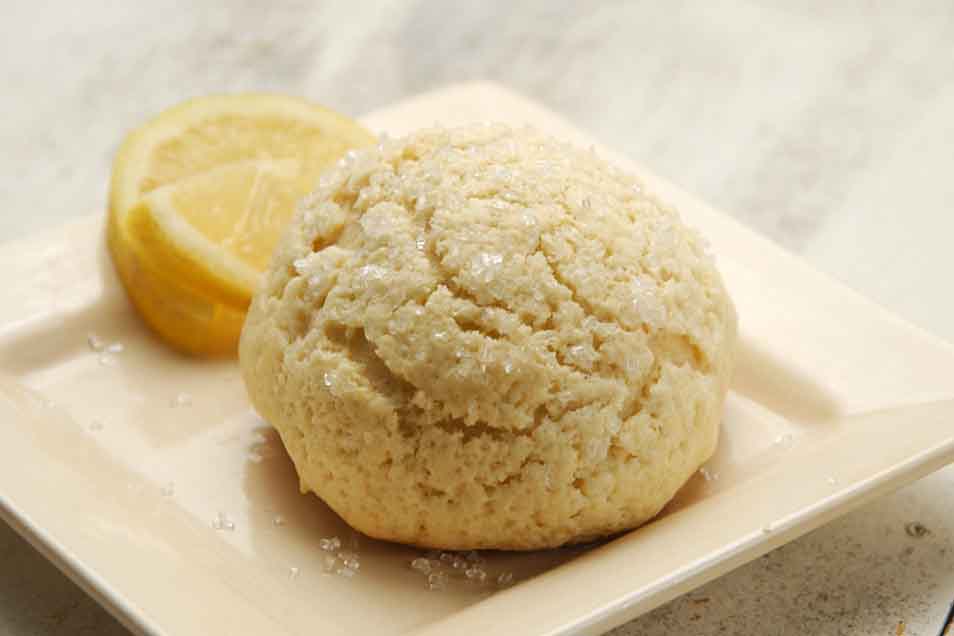 A light and airy sweet roll gets a crackly, crunchy topping of lemon sugar cookie dough before being baked to sweet perfection. Each bun is unique and adds a quirky note of whimsy to your breakfast bread basket.
Ingredients
Vanilla dough
3/4 cup lukewarm milk
4 tablespoons unsalted butter, melted
2 1/4 teaspoons instant yeast
1 14 teaspoons salt
1 teaspoon vanilla extract
1/4 cup granulated sugar
1 large egg
Instructions
Prepare the vanilla yeast dough by hand, machine or on the dough cycle of your bread machine. Allow the dough to rise for 60 minutes, or until it's nicely puffed.

Divide the risen dough into eight equal portions and shape into round buns. Place on a parchment-lined baking sheet. Set aside while you prepare the lemon crunch dough.

Preheat the oven to 350°F and combine the cake flour blend, sugar, butter, lemon powder (or zest) and baking powder in a small bowl until crumbly. Add the egg and enough cream or milk to make a soft, sticky cookie dough.

Dip your fingers in cold water and scoop up about 2 tablespoons of the lemon dough. Use your wet hands to mold it around one of the buns. The water will keep the dough from sticking to you, and help smooth out the lemon dough. If desired sprinkle the buns with coarse white sparking sugar.

Place the lemon dough coated buns on the baking sheet to rise, covered, for 25 to 30 minutes or until full and round. Bake for 25 to 30 minutes or until the bottom edges of the buns just begin to turn brown.

During the baking, the lemon dough will crinkle and crackle over the sweet dough. Each will be unique. Remove the buns form the oven and allow to cool for 15 minutes before serving.

Store the buns at room temperature in a plastic bread bag for up to 4 days. The crackle will soften over time, but is still delicious.