A customized print-friendly version of this recipe is available by clicking the "Print Recipe" button on this page.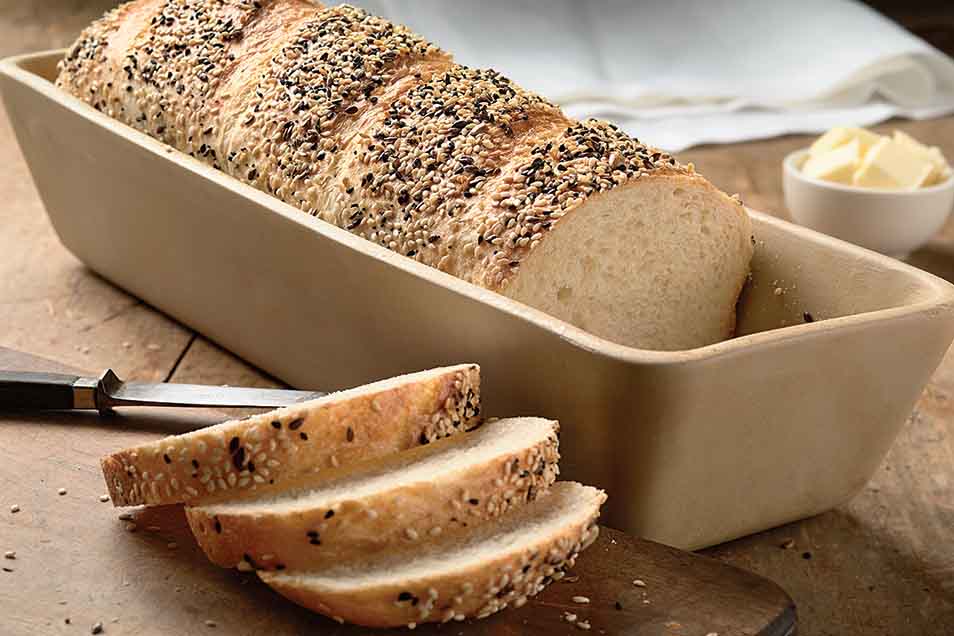 This light-textured loaf with crunchy crust is perfect to serve with soup or stew.
Ingredients
Bread
2 cups King Arthur Organic Bread Flour
1 cup semolina
1 cup plus 2 tablespoons lukewarm water
1 tablespoon garlic oil or olive oil
1 1/4 teaspoons salt
2 tablespoons Baker's Special Dry Milk or nonfat dry milk
1 1/2 teaspoons instant yeast
Topping
1 tablespoon Artisan Bread Topping or your favorite seed mixture
Instructions
Combine all of the bread ingredients, mixing and kneading to make a smooth, slightly sticky dough.

Transfer the dough to a lightly oiled bowl, cover the bowl with plastic wrap, and set it aside to rise for 1 hour; it should just about double in bulk.

Lightly grease the bottom part of a long covered stoneware baker, about 14 1/2" x 5". Sprinkle it with cornmeal or semolina.

Transfer the dough to a lightly greased work surface, and form it into a smooth 13" log.

Place the log in the pan, brush the top with water, and sprinkle with Artisan Bread Topping or your favorite seeds.

Cover the pan with its lid, and let the dough rise for 45 to 60 minutes. Check it occasionally to see where it's at; when ready to bake, it should have started to fill the pan side to side, and crowned about 1" over the rim.

Just before putting the loaf into the oven, slash the top several times. Hold your knife at a 45° angle to the dough's surface, and slice quickly and decisively, about 1/2" deep.

Place the pan in a cold oven, and set the oven temperature to 425°F. Bake the bread for 30 minutes, remove the lid from the pan, and bake an additional 5 to 10 minutes, or until the bread is golden brown and its interior temperature measures 190°F on an instant-read thermometer.

Remove the bread from the pan, and allow it to cool on a rack. Store any leftovers, wrapped in plastic, at room temperature.

Yield: about 12 servings.
Reviews
Perfect! Easy to make & super delicious. I was concerned about the bread sticking to the baker so I not only heavily greased the baker top AND bottom, but also covered the bottom with semolina. It came out with no heavy equipment involved! Yeah! Another KAF winner!!!
Yummy! Alas, no semolina in the house, or at the local market, so I did without. Turned out great! Double batch for my baker crock, which recommends a recipe w five cups of flour. Will make it again!
Disaster. Maybe it was the semolina flour. Rose nicely. When I slashes it, it deflated. Let it rise again. Greased and cornmealed bottom of clay baker. Stuck to sides. Had to pry it out. My first KAF failure, which makes me think it was me.

We've got a few tips that may help ensure your next attempt at this recipe gets better results. It's normal for your bread to deflate a bit after you slash the top, but please do this right before the bread goes in the oven- not before the second rise. As for the clay baker, be sure you are seasoning it properly between uses to prevent bread from sticking and to also impart a wonderful yeasty flavor to your baker. If you'd like more instructions on this, please call our Baker's Hotline at 855-371-2253. We hope you give this recipe another try! Kye@KAF
Delicious. Used garlic oil, which lent depth to the flavor. Love the Artisan Bread Topping!
This bread is great. The only thing I changed was to add some KAF Pizza Topping with the Artisan Bread Topping. Very good crumb, excellent light taste. It went really well with spaghetti and wine. I am at high altitude, so the bread did not rise as expected in my clay rectangular baker from KAF. Next time I will add some VWG, and that should take care of it.
Really easy. Really good. Just as described.
Try 10 stars! First, I mixed the dough and it ended up hard and dry and impossible to work. I looked at my flour and it said "semolina pasta flour". It was very grainy and I threw the dough out. So I made a second batch and used Durham in place of the semolina and it gave me a beautiful dough. The bread is perfect. I will use Durham from now on in this recipe. The only thing I will change is that by the time the top was browned nicely after the lid was removed, the bottom got a bit too brown. Next time I will remove the loaf from the clay baker and put it directly on the oven rack for the final browning.