A customized print-friendly version of this recipe is available by clicking the "Print Recipe" button on this page.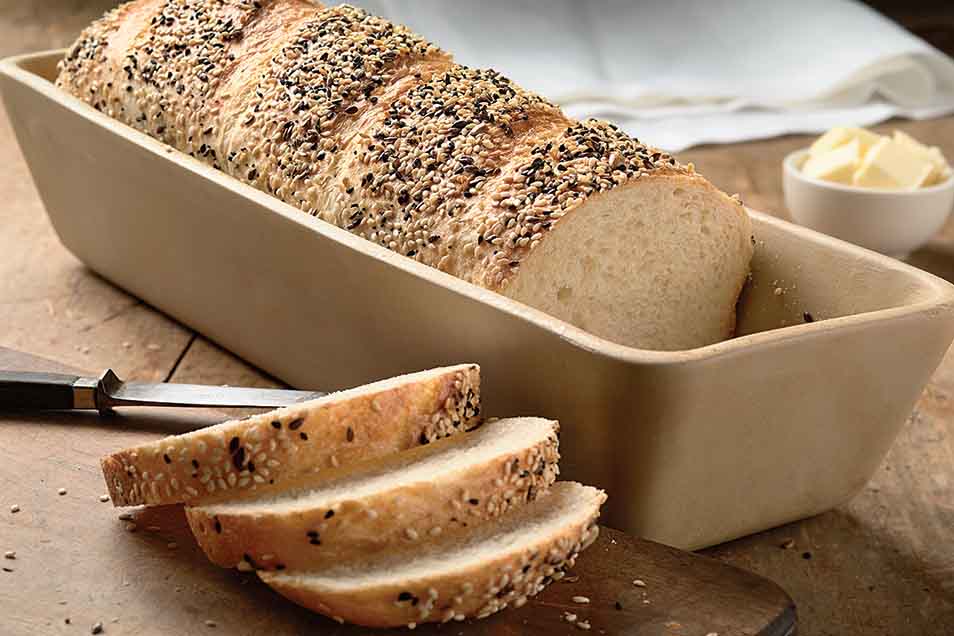 This light-textured loaf with crunchy crust is perfect to serve with soup or stew.
Ingredients
Bread
2 cups King Arthur Organic Bread Flour
1 cup semolina
1 cup plus 2 tablespoons lukewarm water
1 tablespoon garlic oil or olive oil
1 1/4 teaspoons salt
2 tablespoons Baker's Special Dry Milk or nonfat dry milk
1 1/2 teaspoons instant yeast
Topping
1 tablespoon Artisan Bread Topping or your favorite seed mixture
Instructions
Combine all of the bread ingredients, mixing and kneading to make a smooth, slightly sticky dough.

Transfer the dough to a lightly oiled bowl, cover the bowl with plastic wrap, and set it aside to rise for 1 hour; it should just about double in bulk.

Lightly grease the bottom part of a long covered stoneware baker, about 14 1/2" x 5". Sprinkle it with cornmeal or semolina.

Transfer the dough to a lightly greased work surface, and form it into a smooth 13" log.

Place the log in the pan, brush the top with water, and sprinkle with Artisan Bread Topping or your favorite seeds.

Cover the pan with its lid, and let the dough rise for 45 to 60 minutes. Check it occasionally to see where it's at; when ready to bake, it should have started to fill the pan side to side, and crowned about 1" over the rim.

Just before putting the loaf into the oven, slash the top several times. Hold your knife at a 45° angle to the dough's surface, and slice quickly and decisively, about 1/2" deep.

Place the pan in a cold oven, and set the oven temperature to 425°F. Bake the bread for 30 minutes, remove the lid from the pan, and bake an additional 5 to 10 minutes, or until the bread is golden brown and its interior temperature measures 190°F on an instant-read thermometer.

Remove the bread from the pan, and allow it to cool on a rack. Store any leftovers, wrapped in plastic, at room temperature.

Yield: about 12 servings.
Tips from our bakers
To bake this loaf in a glazed long covered baker, double the ingredients and bake the bread for 35 minutes with the lid on, and 5 to 15 minutes with the lid off.
This loaf is the perfect candidate for garlic bread. Simply prepare the "topping for garlic bread" found in this recipe, slather it onto thick slices of the seed bread, arrange the slices on a baking sheet, and toast them at 400 for 5 minutes until just becoming golden.