A customized print-friendly version of this recipe is available by clicking the "Print Recipe" button on this page.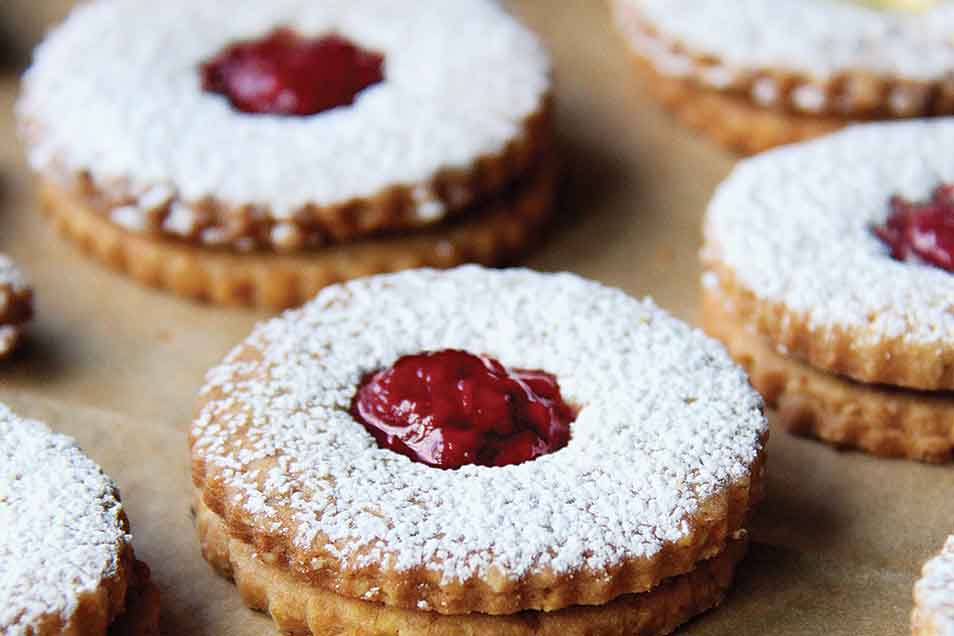 Nothing could be more festive on the holiday table than a tray of these, buttery, confectioners' sugar-dusted, jam-packed cookies, created by blogger Alexandra Stafford at Alexandra's Kitchen. The hint of lemon in the dough nicely complements any number of fillings, from raspberry jam to lemon curd.
Ingredients
3/4 cup unsalted butter
1/2 cup sugar
grated rind (zest) of 1 lemon, or 1 teaspoon ground cinnamon
1 large egg yolk
1 teaspoon vanilla extract
3/4 cup almond flour
1/4 teaspoon fine sea salt
raspberry jam for filling
confectioners' sugar or glazing sugar, for dusting
Instructions
To make the dough: Beat the butter, sugar, and zest until light and fluffy, scraping the bowl as needed, about 3 minutes. Add the yolk and vanilla and beat until combined.

Meanwhile, whisk together the flour, almond flour, and salt. Add the flour mixture to the egg mixture and mix until just combined. Don't over-beat.

Divide the dough in half, and pat each half into a disc. Wrap in plastic wrap, and refrigerate until firm, about 1 hour.

To assemble: On a lightly floured surface, roll one disc of dough out about 1/4"-thick. Using a 2 1/2" round cookie cutter, cut out cookies. Transfer rounds to a parchment-lined baking sheet. Gather the scrap dough, roll, and repeat. Place the cut cookies (you should have 12 cookies) in the refrigerator for 30 minutes.

Preheat the oven to 350°F.

While the first half of cookies is chilling, cut 12 rounds from the remaining dough. Once you've transferred these cookies to a baking sheet, use your smallest cookie cutter or the end of a round piping tip to make a peekaboo cutout in the center of each. Place cookies in the refrigerator for 30 minutes to chill.

To bake: Bake all of the cookies for 8 to 10 minutes, or until the edges are just beginning to turn brown. Let them cool for 5 minutes on the pan, then transfer to a rack to cool completely.

To fill the cookies: Place the cookies with the holes in them on a cookie sheet and sift confectioners' sugar over the top. Turn the remaining cookies flat side up and spoon 1/2 teaspoon of jam into the center, spreading it slightly. Top with the sugar-dusted cookies.
Nutrition Information
Serving Size

1 cookie, 19g

Servings Per Batch

24 cookies
Amount Per Serving:
Calories

85

Calories from Fat

45

Total Fat

5g

Saturated Fat

3g

Trans Fat

0g

Cholesterol

15mg
Sodium

17mg

Total Carbohydrate

9g

Dietary Fiber

0g

Sugars

6g

Protein

1g
* The nutrition information provided for this recipe is determined by the ESHA Genesis R&D software program. Substituting any ingredients may change the posted nutrition information.
Reviews
I wish I had read the other reviews before starting this. I followed the recipe exactly and like everyone else, I had the WORST problem rolling the dough. I tried everything and it stuck to rolling pin, parchment paper, silicone mat,etc. I was near tears. It took me hours to make 12 cookies! Yes they tasted good but definitely not worth the work.

We're so sorry to hear that this recipe left you feeling so frustrated, Linda. If we can help pick out a different cookie recipe for you, please give our Baker's Hotline a call at 855-371-BAKE (2253). Kindly, Annabelle@KAF
I made this for the first time today. I adapted a bit because I had a lot of almond flour and doubled the recipe... didn't have a second lemon to zest and instead used one and cinnamon (as this was an alternative option anyway!). The dough does get warm VERY quickly, and the next time I make these I will divide the dough in 4 (even if I don't double) and use smaller dough balls. THE BEST WAY TO ROLL THIS DOUGH... between two pieces of parchment paper. I have done this for years with sugar cookie dough and after the first messy attempt even after refrigerating for over an hour... it was a must! I would roll it between the paper, set it in the fridge for about 20 minutes and cut quickly because the circle would come right up with the cutter and slide right onto the parchment lined cookie sheet. I would put the cookie sheet back into the fridge until the sheet was full and then put in the oven. The last group was smaller cutouts but I didn't do the extra fridge time and the cookies got over brown... but not awful. I will not skip that step again as these took hours to make with all of the fridge time... don't want a wasted effort or ingredients!
I needed 48 cookies, so I quadrupled the recipe. Mistake! One quarter of the dough gave me nearly 25 sandwich cookies! Who only gets 12 out of this? Are they supposed to be moon sized or something? But hey, that's better than not getting enough. The dough does heat up quickly, but I worked with it in small batches (1 to 2 re-rollings' worth at a time) and it worked fine. The flavor is really great, and they're just the right crispness. I used a mix of lemon zest and cinnamon, which turned out delicious: the lemon hits first, followed by a cinnamon zing aftertaste.
I didn't have the same problems with the dough that other commenters have had. Yes, it's a very sticky dough, but I kept it in the fridge, and put it back in every time it warmed up. I also put it in the fridge between rolling it out and cutting the cookies. The cookies came out well - very light and buttery and flaky. They don't really taste at all of almonds, which was a slight disappointment, but still yummy! I had quite a small Linzer cutter, doubled the recipe because I wanted to get more than 12, but I think I'd have been fine with just the one batch; I made double the recipe, got 34 sandwiches out of it, and still have a large lump of dough in the freezer left over.
I LOVE linzer cookies so I was excited to try the recipe. They taste amazing but as some of the other users stated .. the dough is very hard to work with. My daughter and I were making them together and had to stop her from helping cutting out the shapes. We tried flour and plastic wrap but still difficult. These taste amazing regardless
I'm an experience baker and this dough is very hard to cut clean shapes out of. Rested in fridge for 24 hrs and still heats up too quickly. Delicious cookie but not worth the trouble.

Hi, Ash. We're very sorry to hear that this well-loved recipe gave you some trouble. If we can help troubleshoot or pick out a recipe that better fits your tastes, please give our Baker's Hotline a call at 855-371-BAKE (2253). Kindly, Morgan@KAF
These are the MOST delicious linzer cookies ever. I used hazelnut flour instead of almond flour and WOW! The dough is super delicate and needs to be very cold in order to roll out. I rolled out the dough between two sheets of plastic wrap dusted with flour and it made the rolling a lot easier. The flavor of the finished product was worth the extra time it takes to make these due to always having to put the scraps in the fridge to re-chiil. The only problem I encountered is the cookie starts out nice and crisp but the next morning the cookies got really soft and completely lost its crispness. (stored in air tight container) . Any suggestions on keeping them crisp?

Hi Jeffrey! There are a couple things that could have caused the cookies to get soft overnight. The cookies might have just needed a minute or two longer in the oven to get them nice crispy or they could have still been a tad warm when they were put in the container. Happy baking! Morgan@KAF
I love how these cookies taste. The lemon zest combined with the raspberry is a great combination. I did have a little bit of a problem when baking these that maybe someone can help sort out...the cookies didn't quite keep their shape. I made star cut-outs with lintzer cookie cutters and when baked the stars changed into more of a pentagon shape. Also, the cookies with the peekaboo middle baked closed. I can see the shape indent where the peekaboo window had been, but it baked closed. This was my first time ever baking these, so perhaps I did something wrong. However, they taste fantastic, mine just weren't as perfected looking.
I am a sometime baker who loves linzer tarts I was baking them for an aunt who also loves linzer tarts, I followed the recipe using the lemon zest and rasberry jam These are so delicious! read all the blogs and recommendations and cold cold cold is the answer to success I especially liked the tip someone wrote in about chilling the cake pan I used a rectangular cookie tray (two ) they refrigerated with the dough and this made rolling the dough with flour easy I will be baking them for a school bake sale fingers crossed I have succes again the yield is 12 sandwiches I did not have a cookie cutter so measured some cups to get the round cookie and used a pastry bag top for the cut out! Perfect! I did order a linzer tart cookie cutter set for the future as I will be making these again and again I filled them at serving time and left my aunt the other cookies to freeze and fill as she would like. We both enjoyed them immensly! The almond flour gives it a great taste and consistency.. Any tips for doubling recipes or is making seperate batches the way to go to ensure consistency? Thank you King Arthur Flour!

Hi Eva! We think making a double batch will be just fine, but if you're at all concerned, you can always do a test batch to see if you enjoy the texture in the finished cookies. Happy baking! Annabelle@KAF
Love these cookies! Have to be careful when rolling out the dough. It must be kept cold at all times. My one question - the recipe states yield of 24 cookies. Does this mean 24 single cookies, 12 sandwiches or 24 sandwiches, 48 cookies?

Hi Marie. This recipe will make 24 individual cookies, or 12 sandwiches if you roll it on the thicker side. Rolling the dough thinly can produce between 18 and 24 sandwiches depending on how crispy you want them to be. The thinner they are, the crispier they'll be. Happy baking! Annabelle@KAF