A customized print-friendly version of this recipe is available by clicking the "Print Recipe" button on this page.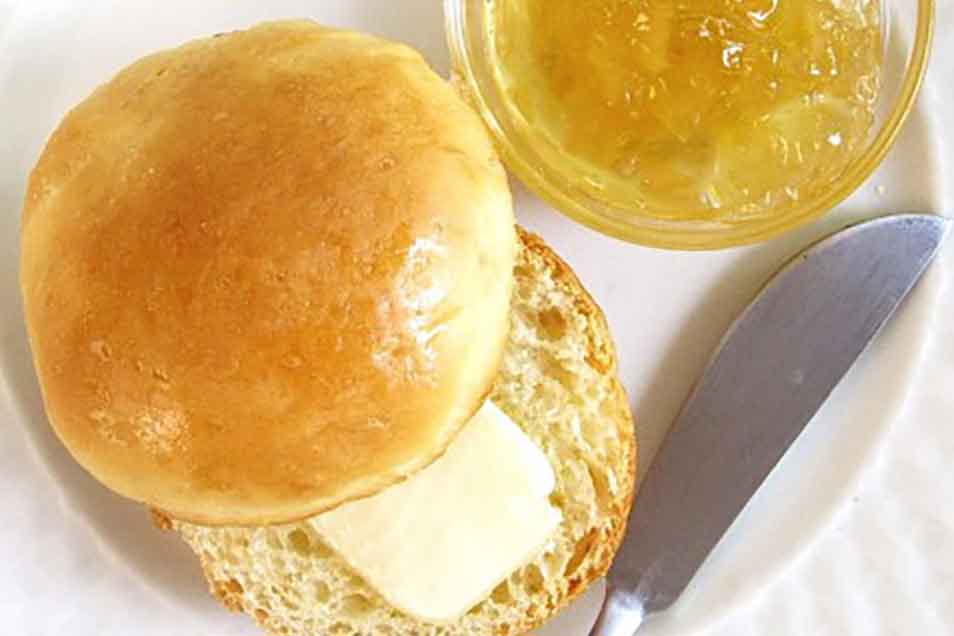 These light, airy rolls, with a hint of sweetness, are a nice change from toast at breakfast or brunch. While the classic Sally Lunn bread is usually baked in one large round, we prefer to dollop the soft dough into a muffin pan, for easy individual servings.
Instructions
Combine the milk, butter, and sugar in a microwave-safe measuring cup or bowl, or in a saucepan. Heat to lukewarm, stirring to soften/melt the butter. Pour the mixture into a mixing bowl, and let it cool until it's below 120°F, about 15 minutes.

Add the lemon or vanilla, salt, 2 cups of the flour, the eggs, and yeast.

Beat the mixture on medium speed for about 3 minutes; if you're using a bread machine, program the machine for dough or manual, and mix for several minutes, until everything is well combined.

Add the remaining flour to the mixture and beat for about 3 minutes, until it becomes a soft, cohesive dough. Note: This is a very sticky, wet dough; it's too sticky to knead, so has to be beaten to develop its gluten.

Cover the dough and allow it to rise for 45 to 60 minutes, or until almost doubled in bulk. If you're using the dough cycle of a bread machine, simply let the machine complete its cycle.

Lightly grease the cups of two standard muffin pans (24 cups total). If you don't have two muffin pans (or want to make a loaf, in addition to rolls), lightly grease one muffin pan, plus a 6" soufflé dish or other round, bakeable dish or small loaf pan.

Divide the dough among 18 cups of the muffin pans, filling each a bit more than half full. If you're using one muffin pan, add dough to each cup then shape the remainder into a loaf, and place it in the small pan of your choice.

Cover the pans, and let the rolls rise for 45 to 60 minutes, until they're noticeably puffy. Towards the end of the rising time, preheat the oven to 350°F.

Bake the rolls until they're golden brown and a digital thermometer inserted into the center of one reads at least 190°F, about 15 minutes. If you're making a loaf as well as rolls, bake the loaf for about 25 to 30 minutes, tenting it with aluminum foil after 15 minutes to prevent over-browning.

Remove the rolls from the oven, and turn them out of the pan onto a rack. Brush with melted butter, if desired. Wrap completely cooled rolls airtight, and store at room temperature for several days; freeze for longer storage.

Serve rolls with butter and jam, at breakfast or brunch; or as part of an afternoon "high tea."

Yield: 18 rolls; or 12 rolls and 1 small loaf.
Tips from our bakers
Sally Lunn had its origins in either France or England, depending on which story you believe. One legend has it that Sally Lunn, a Huguenot (French Protestant), left her native land to settle in England's West Country, where she sold her rich, buttery cakes in the streets of Bath. The other tale says that Sally Lunn is actually a corruption of the French soleil lune, sun and moon, and refers to the bread's golden color and round shape. Most sources seem to accept the latter story, though the former is undoubtedly more romantic (which is probably why it came about; why not add a little romance to life whenever you can?)