A customized print-friendly version of this recipe is available by clicking the "Print Recipe" button on this page.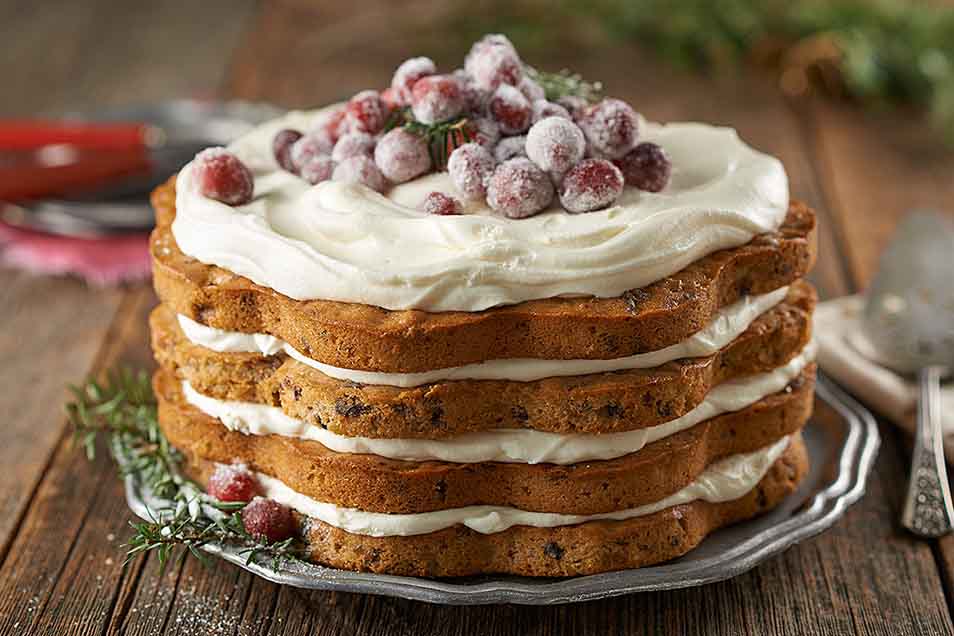 If fruitcake doesn't necessarily conjure up thoughts of a frosted four-layer cake, this recipe is designed to change your mind. Dense, moist, fruit-studded cakes are sandwiched between layers of light, fluffy, delicately sweetened frosting for a combination that's as impressive to view as it is to eat.
Ingredients
Cake
12 tablespoons (3/4 cup) unsalted butter, at cool room temperature, 65°F to 68°F
1 1/2 cups granulated sugar
1 1/2 teaspoons baking powder
3/4 teaspoon salt
4 teaspoons Yuletide Cheer Spice, or 1 1/2 teaspoons grated orange rind (zest), 3/4 teaspoon cardamom, 1/2 teaspoon coriander, 3/8 teaspoon mace, 1/8 teaspoon allspice, and 1/8 teaspoon nutmeg
3 large eggs
2 3/4 cups King Arthur Unbleached Cake Flour or King Arthur Unbleached All-Purpose Flour
3/4 cup milk
1 1/2 cups diced pecans or walnuts, optional
brandy, rum, or liquor of your choice; for soaking, optional
Frosting
1 cup cream cheese, at room temperature
1/2 cup Baker's Special Sugar or granulated sugar
2 cups heavy cream
Sugared cranberries, optional
1/2 cup water
3/4 to 1 cup granulated sugar, divided
1/2 to 1 cup fresh or frozen cranberries, washed and dried
Instructions
To prepare the fruit: Combine the dried fruit with liquid in a bowl. Cover and set aside to soak overnight. Too impatient to wait until tomorrow? Microwave everything for 1 minute (or until it's very hot), cover, and let rest 1 hour.

To prepare the cake: Preheat the oven to 325°F. Grease two celebration cake pans or two 8" round cake pans.

In a large bowl, beat together the butter, sugar, baking powder, salt, and spice.

Beat in the eggs one at time, scraping the sides and bottom of the bowl after each addition.

Weigh your flour; you'll find its weight by toggling to "ounces" at the top of the ingredient section above. Or measure it by gently spooning it into a cup, then sweeping off any excess. Stir the flour into the batter alternately with the milk, starting and ending with the flour, scraping the bowl as needed.

Add the undrained fruit and the nuts, mixing until evenly incorporated.

Spoon one-fourth of the batter into each prepared pan, filling them almost full if using the celebration pans or 3/4" deep if using round cake pans. If you have a scale, dividing the batter evenly among the pans is simple math.

Bake the cakes for 25 to 30 minutes until the cakes are lightly golden brown all over; a cake tester inserted into the center will come out clean.

Remove the cakes from the oven, let them cool for 5 minutes, then turn them out onto a rack.

Brush the warm cakes with brandy or the liquor of your choice if desired, for added flavor. If you have a squeeze bottle, it's easy to apply the alcohol that way. Allow to cool completely while the remaining layers bake.

Bake two more cakes with the remaining batter, following the directions above.

To make the frosting: Whip the cream cheese with the sugar until light and fluffy.

Add the heavy cream and whip until firm peaks form.

To assemble the cake: Place one cake layer on a serving plate and top with a little less than one-fourth of the frosting. Add another cake layer and repeat the process, topping the final layer with the remaining frosting.

Refrigerate the cake until you're ready to serve, up to overnight.

To make the sugared cranberries: The day before you want to serve the cake, combine the water and 1/2 cup of the sugar in a small saucepan set over medium heat. Bring the mixture just to a simmer, stirring to dissolve the sugar. Remove from the heat.

Add the cranberries to the pot, cover, and place in the refrigerator for 8 hours, or overnight.

Pour the cranberries with the syrup through a strainer, reserving the syrup if desired for another use.

Toss the cranberries with the remaining sugar, and transfer them to a parchment-lined baking sheet or cooling rack to dry for 1 to 2 hours.

Just before serving, garnish the cake with sugared cranberries, if desired, or seasonal fresh or dried fruits or nuts.

Refrigerate any leftovers, well wrapped, for several days.
Reviews
I wanted to make a show stopper cake this Christmas Eve and stumbled upon this recipe. I've always been a big fan a traditional fruitcakes, but I never baked one before. This cake is absolutely delicious! Fruitcake lovers and non-fruitcake lovers both enjoyed this cake. The cake is very moist, packed full of flavor, and the cream-cheese frosting elevates the cake to a whole new level! This recipe is definitively a keeper! Though I might rename it as the "Engagement Cake", as I got engaged later that night. I like to think that this cake helped seal the deal. :)

Wow Sarah, we didn't know this cake had matchmaking powers! Congratulations to both you and your intended, and we wish you many happy years of baking together! Kat@KAF
I made the cake of the fruitcake so I cannot review the frosting but I didn't have any issues with stickage (coconut pan spray) and I baked in a combo of the little house pan (makes tiny houses and takes about 20min) and mini loaf pans (add lots of extra time). Now I'm not a fruitcake girl, but I tried this with the Yule fruit blen soaked in St Germaine liqueur for about 12 hours and made the rest of the batter as directed. I had a light cake and a flavorful but not overwhelming cake. I will bake again (still debating about soaking the sponge in more st Germaine).
I bought the fruitcake bundle and made the cake for our Christmas party. Not sure why the squeeze bottle was included, but I wanted the pans. Like at least one other baker, I had a lot of trouble getting the cake out of the pans intact. The layers didn't disintegrate, but they did stick, even though I greased the pans more heavily the second time. Fortunately, the frosting covered the cracks and other imperfections. That aside, though, I thought the cake was a success. I decorated it with whole frozen strawberries & raspberries; the red-on-white effect was very pretty. I really appreciated that the frosting isn't very sweet; I'd even cut the sugar further next time. Between that and the scalloped pans, it was a pretty cake that our guests really enjoyed. When I asked someone, 'Would you like to take some with you?' the answer was always an enthusiastic, 'Yes, please!'

Hi Maureen, we're glad to hear your fruitcake was lofty, layered, and ultimately delicious! We're glad you pointed out that the recipe instructions don't specify when or how to use the squeeze bottle. It's a very handy tool when it comes to applying the brandy/soaking syrup (in step 10). You can also achieve a similar result using a pastry brush, but it's often easier and more efficient to apply it with a squeeze bottle. We've asked our Recipe Team to make this clearer in the instructions. You can use to apply any kind of soaking syrup to cakes and quick breads. Happy baking! Kye@KAF
What a delicious alternative to traditional fruit cake. I added dried apricots as only change to receipe. I greased pans well but first two cakes would not come out of pans. I even put in freezer but still stuck. I was able to finally remove from pans but had to piece parts together. Wrapped in plastic wrap overnight with hopes of sticking together. The second two layers I lined pans with parchment and greased pans and reduced cooking time a few minutes. I did just a circle of parchment, did not outline scallops of pan but this was enough for perfect release. Frosting was absolutely wonderful. Next time I will refrigerate a few hours before putting cake together so frosting between layers can be more even. Will definitely make again next Christmas.
I baked this recipe this morning and planned to take it to a neighbors party. However despite the fact that the recipe was followed and the pans were well greased the cake fell apart when taken out of the pans. The crumbs taste great . Naeedless to say Iwas unable to bring it to the party. Has anyone else had this problem?

We're sad to hear that crumbly appearance didn't match the great flavor in this cake, Deborah. It sounds like there was either a little too much flour in the batter, or it was slightly over-baked. Either of those things would cause the final cakes to be crumbly and fall apart. For ideal measurement accuracy, we recommend fluffing the flour with a whisk or spoon, sprinkling it into the measuring cup, and scraping off the excess. We hope the next one is both delicious AND beautiful! Annabelle@KAF
Very very good! Highly recommended! Delicious as a dessert and also with a cup of coffee or tea for breakfast.
This cake is amazing. I made it gluten free with your new GF flour blend Measure For Measure. I used 1 egg, 3 Tbls applesauce and a starch egg (thank you for that recipe!). Also added the Fiori di Sicilia flavoring. And candied cherries. Baked it in 3 9" round pans and the layers were the perfect height. I candied the cranberries in a simple syrup then let chill. I added a drop of orange oil to the remaining syrup and candied walnut halves. Then rolled the cranberries and walnuts in sugar. The cream cheese whipped cream is the perfect addition. The cake is moist, flavorful and decadent. I will be making this again this holiday season.