A customized print-friendly version of this recipe is available by clicking the "Print Recipe" button on this page.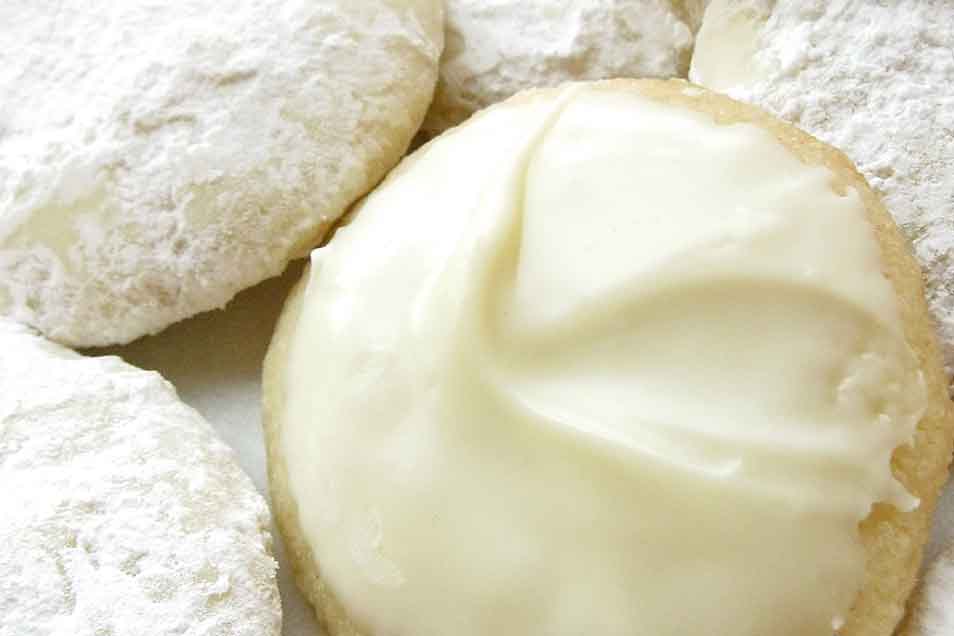 Lovely, luscious lime cookies are perfect for you citrus lovers. Coat them in sugar, as pictured; or add white chocolate chips, or a slather of white chocolate icing.
Ingredients
Cookies
1/2 cup (4 ounces) softened butter
1/2 cup confectioners' sugar or glazing sugar
grated rind of 1 large or 2 smaller limes
1/2 teaspoon lime oil
1/2 teaspoon salt
*Reduce salt to 1/4 teaspoon if you're using salted butter.
Topping
3/4 cup confectioners' sugar or glazing sugar
Instructions
Line a baking sheet with parchment paper.

Mix together the butter, sugar, grated lime rind, lime oil, and salt; there's no need to beat at high speed, just mix together.

Mix in the flour. Cover the dough, and refrigerate for about 1 hour, or as long as overnight. Just before baking, preheat the oven to 325°F.

Remove the dough from the fridge, and scoop teaspoonfuls onto the baking sheet, 1 1/2" apart.

Bake the cookies for 12 to 14 minutes, until set and lightly brown around the edges.

Remove from the oven, and let cool for 10 minutes.

Put the sugar in a 1-gallon zip-top bag.

Add 5 or 6 warm cookies at a time, and shake gently till they're coated. The sugar may get a bit sticky; that's OK.

Transfer the cookies to a rack to cool, then coat the completely cooled cookies in the sugar again.
Tips from our bakers
For white chocolate icing, melt 2/3 cup (4 ounces) white chocolate chips or chopped white chocolate; a microwave works well here. Stir chocolate until it's smooth, then spread it on the cooled cookies.
Reviews
I only have regular AP flour, so someone at the help line said to follow the weight measurement (4.25 oz) rather than the measured (1 cup). The dough was very flakey and had to be hand packed into the small scoop. Baked flat, with many spreading very thin (looked like too much butter in those). After making a double recipe, I should have had 50 cookies, but I only got 30. They tasted good, even without any sugar or icing at the end.

Very curious results indeed! Hmm... well, the crumbly dough could be due to the dry air we've been experiencing. In the winter, sometimes a recipe just really needs a little drizzle of water to pull things together. We wanted to confirm that the dough was refrigerated before scooping, as that step helps prevent the extreme spreading you mentioned. As for the yield difference, it's possible that the scoop you used was a bit larger than the one in our test kitchen. Some additional experimentation may be needed! Annabelle@KAF
very easy to make. Out of the fridge, the dough is very flaky but stayed together when shaped into a ball. i used a mini cookie scoop and it worked well. It took the maximum amount of time to bake and they never browned around the edges. I wish the recipe made more.
i noticed the time 20 mins hands on and 18 mins cook time DO NOt add up to 1 hr and 15 mins whats up w/ that? bad math? otherwise delicious. very summery.
These didn't turn out well. They spread, so they were less like little tea cookies. And whole sugar in the bag, adding the cookies thing at the end - turned out not so good. I am an experienced baker, and this just didn't turn out so great. I might try again, but I would absolutely leave out the powdered sugar at the end.
Sorry to hear of your disappointment. Give us a call on the baker's hotline and we'll be happy to help troubleshoot! 1-800-827-6836. ~Mel
Very fast and easy to make. They turn out moist inside and with perfect lime tanginess.
wonderful goodies! I suggest that you double the recipe......about a dozen magically disappear within minutes! Also, I used KAF lime juice powder (about a tablespoon per cup of confectioners' sugar), in the coating. I substituted KAF non-melting sugar for the confectioners....seems to stay on and coat the cookies better. Another great recipe in my KAF recipe box......thank you!
Made a double batch of these for book club, they were awesome! A huge hit. Will be making these again. They didn't last long.
WOW and DOUBLE WOW. I tried these for the first time today and was astonished by the chewy texture and zippy flavor. I couldn't even wait until the second toss in the powdered sugar :) Totally worth the purchase of the less common ingredients!
I made two batches of these wonderful cookies. I love the flavor for summer and they are so easy to make.