A customized print-friendly version of this recipe is available by clicking the "Print Recipe" button on this page.
Lyle's Golden Pecan Mini Pies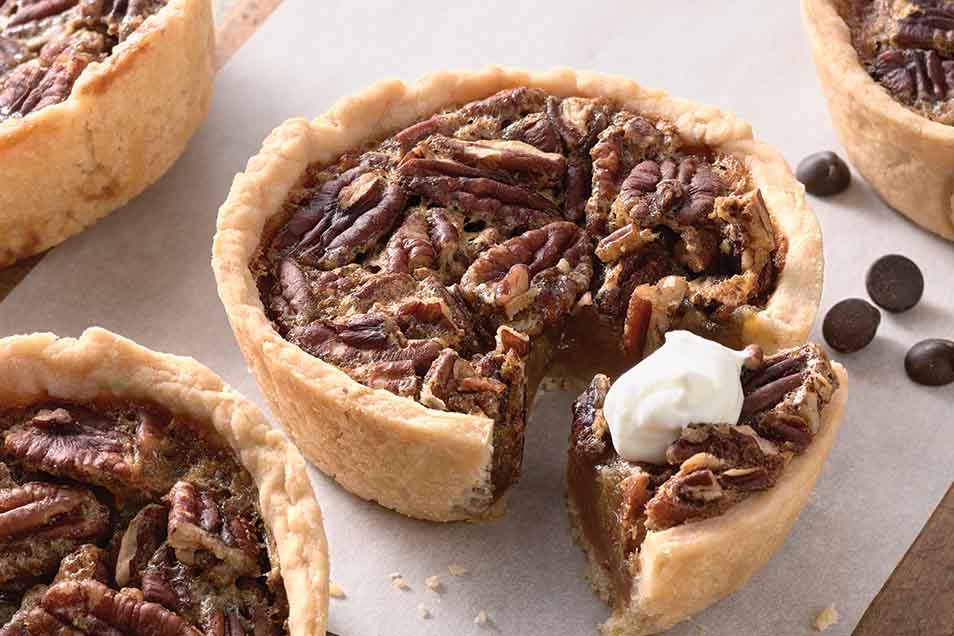 Lyle's Golden Syrup lets the flavor of the pecans shine through in this miniature version of a favorite holiday treat.
Ingredients
Crust
your favorite recipe for a single crust pie, dough chilled*
*If you don't have a favorite, here's a good single-crust recipe.
Filling
3 large eggs
¾ cup Lyle's Golden Syrup
1 cup sugar
3 tablespoons melted butter
1/2 teaspoon salt
1 teaspoon vanilla extract or 4 drops butter-rum, butter-pecan, or vanilla-butternut flavor
1 ½ cups pecan halves, or coarsely chopped pecans
Instructions
Preheat the oven to 400°F, and place a large baking sheet on the bottom rack.

Roll out the crust to ¼" thickness. Cut the crust into 6" circles using a pastry cutter, and press each circle into the cup of a hamburger bun pan. If you don't have a 6" round pastry cutter divide your dough into 6 equal pieces and roll out each individual piece into a 6" or larger, ¼"-thick round. Press them into the hamburger bun cups.

Refrigerate the pan until the filling is ready.

In a medium-sized mixing bowl, beat together the eggs, syrup, sugar, melted butter, salt, and flavoring.

Pour 1/3 cup of filling into each of the cups. Divide the pecans evenly among the cups, sprinkling them over the filling.

Place the hamburger bun pan on the heated sheet pan, and bake for 15 minutes; then reduce the oven temperature to 300°F and bake for another 20 minutes.

Remove both pans from the oven, and cool the mini pies completely in the pan before removing them and serving.

Yield: 6 mini pies.
Tips from our bakers
Don't have a hamburger bun pan? Try baking these in a jumbo muffin pan; or standard muffin pan. The pastry rounds you cut will be smaller; measure the bottom of the cup plus its sides, and add all together for an approximate size. For instance, for a standard muffin cup that measures 2" across the bottom and 1 1/2" deep, add 2" + 1 1/2" + 1 1/2" to get 5". That's the diameter of your pastry round. The baking time may vary depending on the pan you use.
To make a chocolate-y version of these mini pies, reduce the quantity of pecans to 1 cup, and divide 1 cup of semisweet chocolate chips evenly among the cups, sprinkling into the bottom of each dough-lined cup.
Reviews
I love this recipe - extra special with Lyle's syrup but I think there is an error.
recipe worked out beautifully - very happy how would you recommend to store the cooked pies if you are making them ion advance?

If you need to store it from more than a couple of days, you can wrap and freeze a pecan pie for 2-3 weeks well. Kindly, Annabelle@KAF
Without a doubt, the best pecan pie recipe ever. I did change the crust recipe which made it better than perfect. Used almost frozen butter and 1 1/2 tablespoons of vodka to the liquid. Heaven! 6+ stars.
After using Lyle's Golden Syrup, I'll never use anything else for pecan pie. The pies were perfect and delicious. I served them with French Vanilla ice cream. My family loved them.
I made these mini pies for Thanksgiving. Not only were they easy to make, they were really yummy!! Everyone loved them. There was just the right amount of sweetness to them without being sickeningly sweet. I am planning on making them in the small round bake and give pans and giving them as gifts for Christmas along with some other goodies. Thanks for another great recipe!!
Absolutely a fabulous pecan pie recipe. I ordered the pan and prepared these mini pies for a dinner party. Rave reviews for a delicious dessert.
WOW! This is by far the best pecan pie recipe I have tried. The mini pies came out perfect. The crust, filling and texture were a big hit as well as the size due to the recommended burger bun pan. Thanks
I made this in a mini tart pan that makes twelve tarts. I used a 3-inch cutter for the dough. I cooked it for 10 min at the higher temp, and then 15 at the lower temp. I was nervous when I looked in the oven and saw they had puffed up into a dome over the crust, but the dome fell as they cooled. I "taste tested" it on my husband who claims he doesn't particularly like pecan pie and he thought they were delicious. I have enough filling left to do another 12 today (I think).