A customized print-friendly version of this recipe is available by clicking the "Print Recipe" button on this page.
Lyle's Golden Pecan Mini Pies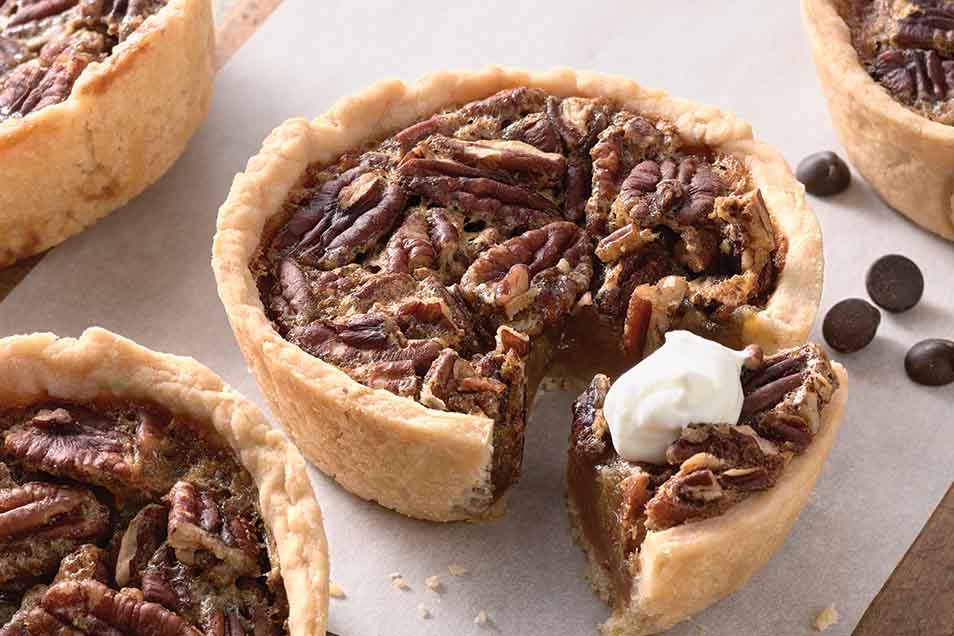 Lyle's Golden Syrup lets the flavor of the pecans shine through in this miniature version of a favorite holiday treat.
Ingredients
Crust
your favorite recipe for a single crust pie, dough chilled*
*If you don't have a favorite, here's a good single-crust recipe.
Filling
3 large eggs
¾ cup Lyle's Golden Syrup
1 cup sugar
3 tablespoons melted butter
1/2 teaspoon salt
1 teaspoon vanilla extract or 4 drops butter-rum, butter-pecan, or vanilla-butternut flavor
1 ½ cups pecan halves, or coarsely chopped pecans
Instructions
Preheat the oven to 400°F, and place a large baking sheet on the bottom rack.

Roll out the crust to ¼" thickness. Cut the crust into 6" circles using a pastry cutter, and press each circle into the cup of a hamburger bun pan. If you don't have a 6" round pastry cutter divide your dough into 6 equal pieces and roll out each individual piece into a 6" or larger, ¼"-thick round. Press them into the hamburger bun cups.

Refrigerate the pan until the filling is ready.

In a medium-sized mixing bowl, beat together the eggs, syrup, sugar, melted butter, salt, and flavoring.

Pour 1/3 cup of filling into each of the cups. Divide the pecans evenly among the cups, sprinkling them over the filling.

Place the hamburger bun pan on the heated sheet pan, and bake for 15 minutes; then reduce the oven temperature to 300°F and bake for another 20 minutes.

Remove both pans from the oven, and cool the mini pies completely in the pan before removing them and serving.

Yield: 6 mini pies.
Tips from our bakers
Don't have a hamburger bun pan? Try baking these in a jumbo muffin pan; or standard muffin pan. The pastry rounds you cut will be smaller; measure the bottom of the cup plus its sides, and add all together for an approximate size. For instance, for a standard muffin cup that measures 2" across the bottom and 1 1/2" deep, add 2" + 1 1/2" + 1 1/2" to get 5". That's the diameter of your pastry round. The baking time may vary depending on the pan you use.
To make a chocolate-y version of these mini pies, reduce the quantity of pecans to 1 cup, and divide 1 cup of semisweet chocolate chips evenly among the cups, sprinkling into the bottom of each dough-lined cup.