A customized print-friendly version of this recipe is available by clicking the "Print Recipe" button on this page.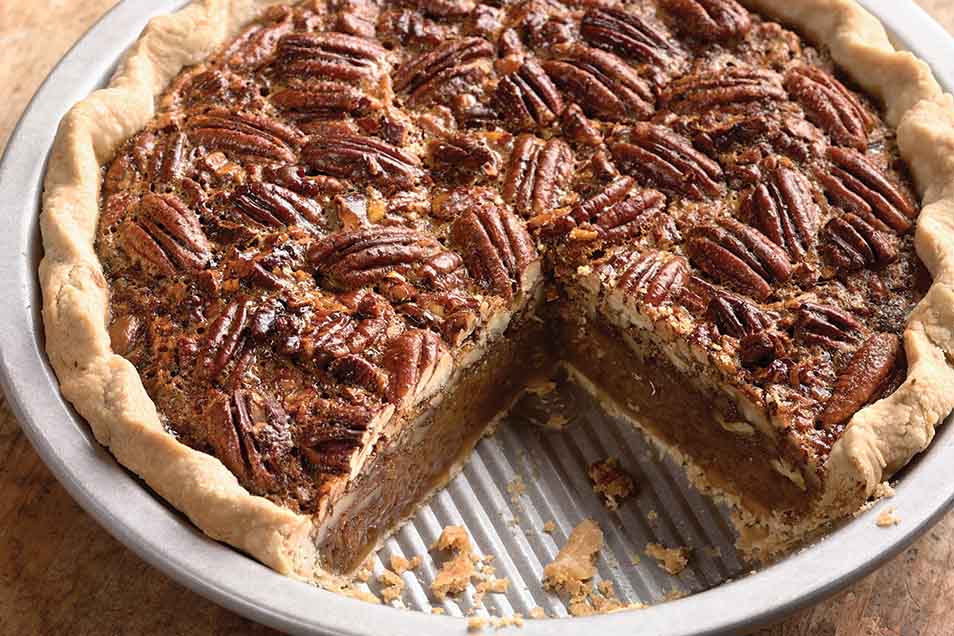 This slight twist on pecan pie is more subtly flavored than those made with dark corn syrup. Lyle's Golden Syrup lets the flavor of the pecans shine through. And butter-rum, butter-pecan, or vanilla butternut flavor brings this old favorite to new heights.
Ingredients
Crust
your favorite 9" single pie crust recipe, pressed into a 9" pie pan
Filling
4 large eggs
3/4 cup Lyle's Golden Syrup
1 cup sugar
3 tablespoons melted butter
1/2 teaspoon salt
1 teaspoon vanilla extract or 4 drops butter-rum, butter-pecan, or vanilla butternut flavor
1 1/2 cups pecan halves, or coarsely chopped pecans
Instructions
Preheat the oven to 400°F. Roll your crust, and fit it into a 9" pie pan. Chill, uncovered, while you prepare the filling.

In a medium-sized mixing bowl, beat together the eggs, syrup, sugar, melted butter, salt, and flavoring.

Stir in the pecans, and pour the mixture into the unbaked pie shell.

Bake the pie for 15 minutes, then reduce the oven heat to 300°F and bake for an additional 40 to 435 minutes, or until the edges have puffed and the center seems a bit wobbly, but not liquid.

Remove the pie from the oven, and cool completely at room temperature before slicing. If not serving soon, refrigerate till ready to serve.

If desired, warm individual slices briefly in the microwave before serving.
Nutrition Information
Serving Size

123

Servings Per Batch

10
Amount Per Serving:
Calories

490

Calories from Fat

260

Total Fat

29g

Saturated Fat

9g

Trans Fat

0g

Cholesterol

100mg
Sodium

260mg

Total Carbohydrate

57g

Dietary Fiber

2g

Sugars

42g

Protein

6g
* The nutrition information provided for this recipe is determined by the ESHA Genesis R&D software program. Substituting any ingredients may change the posted nutrition information.
Tips from our bakers
This is a firm, easily sliceable pie. For a softer pie, use 3 eggs.
If you set your pie pan on a baking sheet, for easier transportation into and out of the oven, you may need to increase your baking time slightly.
Reviews
The 300 degree temperature must be a mistake. The filling was not cooked at that temperature. Please correct it.

We're truly sorry to hear about your disappointing results using this pecan pie recipe, fellow baker. We take customer feedback seriously and want to ensure you can rely on our recipes to produce fantastic results. We've asked our Test Kitchen team to take a closer look at some of the variables that might be causing bakers to get inconsistent results in the filling at home. We'll be sure to update the recipe if we find that different bake times or temperature produce favorable results. Kindly, Kye@KAF
As mentioned by others the bake is inconsistent. I have made it twice. The first time it was fairly firm but still juicy. The second time was a bust. The top was perfect but the inside when sliced after cooling was completely liquid. Baked according to directions. Instead of plain white sugar I used an organic sugar and wonder if that could have made any difference.

We're sorry to hear about your inconsistent results, Rhonda, as we understand that can be frustrating when trying to make a recipe just right. Our advice is to use the exact same ingredients, pan, baking method that turned out well the first time. It's very possible that the change in sugar caused the liquidy filling. You can also always tent the pie with foil if it's getting brown and continue to bake it for another 5-10 minutes to ensure the filling is fully set. We hope this helps make your next pecan pie perfect. Kye@KAF
Not enough nuts. I baked it a second time with double. It was very tasty.

Even though the original wasn't the hit we hope for, Paul, we're glad to hear that you found an adaptation that better fits your tastes. Happy baking! Mollie@KAF
Made this recipe in a metal pie tin , only change was to reduce the temp to 325 degrees not 300. It was puffed and done at 35 minutes. The texture was just what I expected from a pecan pie and it was delicious . I love the Lyles syrup flavor.
I've baked this pie successfully twice, and it was delicious. The second time I couldn't find Lyle's and had to substitute a different cane syrup, but it was still wonderful. It set fine for me, though I did have to bake it longer, probably because I have a glass pie pan. I covered the edges to keep them from hardening on top while the center went from liquid to just wobbly. It may not have been perfect, but no one seemed to mind, because it didn't last long! I've been encouraged to make 2 this Christmas.
By far, this is the worst pecan pie recipe I've ever used. Pie was left in the over for a full 15 minutes longer than the baking time, but the filling never solidified. It was embarrassing to slice into this pie at my Thanksgiving table. No one could eat it, since it would not stay together. Do not use this recipe.

Uh oh, Clare, it sounds like something went really wrong here! Our first guess would be that it may have something to do with the kind of pie pan you're using (glass and ceramic don't retain heat as efficiently as metal, for example), but we'd love to talk with you more to figure out what happened. Please give our free Baker's Hotline a call at 855-371-BAKE so we can troubleshoot together. Mollie@KAF
I'm amazed that KA hasn't fixed this recipe. IMine was the consistency of boiled maple syrup. Very off putting. I won't make this again.

Sue, we're surprised to hear your pie never set up. We're wondering if you made any substitutions or used a different kind of golden syrup. we love using Lyle's in the recipe as it creates a velvety, almost custard-like texture. The pie should still look a bit jiggly in the center when you take it out of the oven; the pie will set up as it cools and when it chills. Hope that helps! Kye@KAF
I was very disappointed in this recipe overall. I would never have believed that a pecan pie could turn out this badly! The oven times are clearly out of sync, with the detailed instructions indicating a maximum combined oven time of 45 - 50 minutes (15 at 400 degrees and 30 - 35 at 300 degrees), while the box to the right indicates total cooking time as being 55 - 60 minutes. Apparently the box time is closer to correct, which poses a major problem as it's difficult to tell when a pecan pie will set up, is it wiggly or just plain watery, and putting it back in after it has cooled doesn't really help firm the pie and only overtoasts the pecans. The filling was still very watery even after considerable extra time in the oven, I ran it an additional 30 minutes at 350 trying to save it. It would have been helpful too if there had been a note to pre-bake the crust on this. Finally, other websites have noted that a pie with Golden Syrup should have no more than a pinch of salt added because the syrup has its own salty flavor, therefore my underbaked, syrup bottomed pie is also unbearably salty.

Thanks for pointing out this discrepancy in bake time, NHE, and for taking the time to share your feedback. We're sorry for the confusion and to hear that you had such a poor experience with this recipe. We have adjusted the time in the summary box to match that in the recipe instructions themselves (45-50 minutes), as this is the correct time. Keep in mind that many ovens run a bit warm or cool, so exact baking time can vary a bit. Pecan pie can typically be judged done when the pie puffs a little in the center (it's normal for it to sink some when cooling) and appears mostly set (though there may still be a little jiggle in the very center). Please feel free to give us a call at 855-371-BAKE if we can be of any further help. Mollie@KAF
I made this recipe this week and it was delicious but I had problems with the consistency. I think the culprit could be overlooked or the quantity of eggs. I've only made pecan pie a few times. The filling wasn't smooth - it looked almost like silica gel or caviar. It didn't have that pecan pie smoothness. I used 4 eggs since that's what the recipe called for. Like other reviewers, I did leave it in the oven about 12 minutes longer than stated because it seemed too runny. Any thoughts on the consistency issue?

Pecan pie is essentially a custard. The extra time in the oven most likely caused the egg proteins in the custard to overcook and tighten, so the characteristic smoothness of the filling was lost. When a pie is removed from the oven, it doesn't stop baking immediately, and will continue to cook slightly as it cools down, so it was probably overbaked. Next time, please pull the pie when the center is still jiggly and it will set up as it cools and then you chill it. Happy baking! Laurie@KAF
it was fairly easy to make. it looks like it shouldn't work as, the filling starts out so liquidy, however turned out delicious. we ate most of it between 3 of us.