A customized print-friendly version of this recipe is available by clicking the "Print Recipe" button on this page.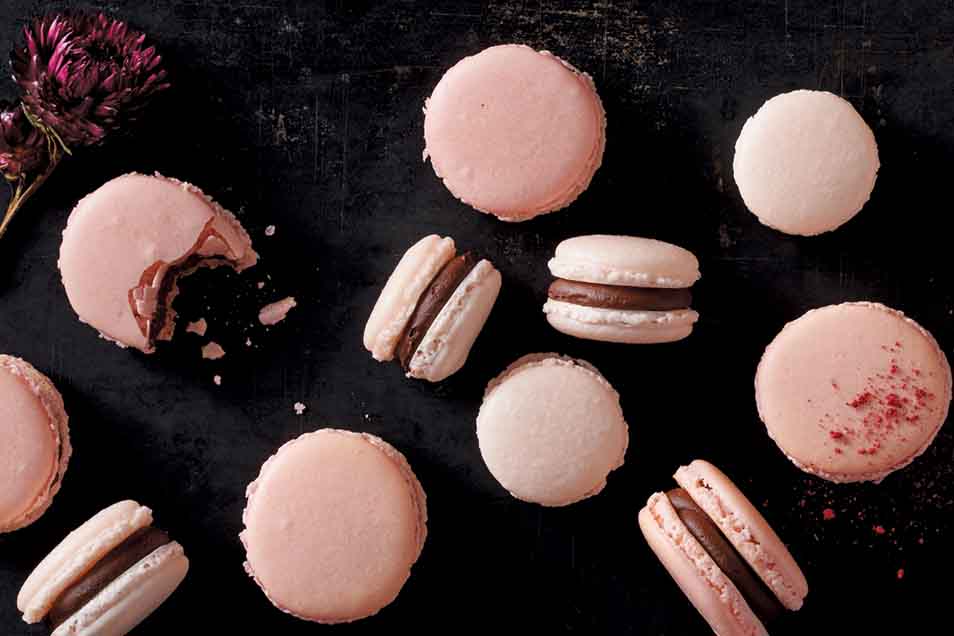 That's macarons, as in light-as-air French almond cookies — don't confuse these with our American-style coconut macaroons. Sandwiched around your favorite filling (jam, icing, ganache... Nutella?), these make a pretty, elegant dessert.
Ingredients
1 1/2 cups almond flour, sprinkled lightly into a dry measuring cup and leveled with a straight edge (if measuring by volume)
1 cup confectioners' sugar
3 large egg whites
pinch of salt
pinch of cream of tartar or Bakewell Cream
1/2 cup + 2 tablespoons granulated sugar
3 tablespoons + 1 teaspoon water
Instructions
Process the almond flour and the confectioners' sugar in a food processor for 20 seconds. Sift to remove any large pieces and to aerate the mixture.

Separate the eggs and put the whites in the bowl you'll use to whip them. Don't start whipping yet, but add a pinch each of salt and cream of tartar (or Bakewell Cream).

Combine the water and granulated sugar in a small saucepan. Stir over medium heat until the sugar dissolves, then bring to a rapid boil.

Boil for 2 minutes; the temperature of the syrup should reach between 235°F and 240°F. Take the syrup off the heat. Immediately start whipping the egg whites, using an electric mixer. When they hold a curved peak on the end of the beater, stop, grab the pan of hot syrup, resume beating, and pour the syrup steadily into the whites as you beat.

Continue beating until the meringue is smooth, glossy, and forms soft peaks.

Fold in the almond flour/sugar until everything is evenly combined, then start stirring. This will thin the mixture. Stir until the batter runs in ribbons that disappear back into the mass in 10 to 20 seconds. Test frequently, and stop stirring when you reach this point.

Use a teaspoon cookie scoop or a pastry bag to deposit a generous teaspoon-sized round blob of batter onto a parchment-covered baking sheet. The cookie should flatten out, rather than remain in a tall blob. If it doesn't spread, stir the batter some more; your goal is a disc-like, fairly flat cookie.

Repeat with the remainder of the batter. Since the cookies won't spread as they bake, you can position them fairly close together.

Allow to rest in a dry place with good air circulation (a counter top is fine) until you can gently touch the tops and come away with a clean finger, about 2 hours. Towards the end of the resting time, preheat the oven to 275°F.

Bake the cookies for 25 to 30 minutes, till firm on the top.

Remove them from the oven, and cool completely on sheet. Use a thin spatula to carefully separate them from the parchment or foil.

Spread half the cookies with jam, ganache, frosting, nut butter, or any combination of fillings your heart desires. Top with the remaining cookies.

Yield: 20 to 22 filled cookies.
Tips from our bakers
With a plethora of different recipes and techniques available, making macarons can be somewhat finicky. We found that this method, which includes making an easy sugar syrup, gives very consistent results. Parchment or non-stick foil are a necessity.
If you're using a scoop rather than piping, we found that turning the full scoop so that the open side is parallel to the parchment before releasing the batter makes a rounder cookie than if the batter is deposited from the side.
To fill macarons with dark chocolate, try this recipe for Chocolate Ganache; use the greater amount of chocolate called for.
Reviews
I measured all of the ingredients in grams and followed the directions exactly. The first batch didn't turn out well at all. No feet, hollow, cracked. The second batch I made the following adjustments (just FYI, it's 100 here in the NE and humid as all get out and I can't get my house cooler than 78 or so) I aged my egg whites. I separated three egg whites into a small glass bowl and put them in the fridge over night. In the AM I took them out and let them warm up a bit before I started. Also, when it came time to beat the egg whites, I used only 90 grams of whites. I folded in the almond flour/sugar mixture gently but did not do the stirring part. In retrospect, I could have stirred a little bit or been a little more vigorous when folding. The batter was still pretty thick and didn't spread at all when I piped it. I let them sit at room temp for only 30 minutes at which point they were pretty dry on the outside. I cooked them at about 285* for 25 minutes. They had FEET and were a great texture. No hollow or cracked ones in the bunch. They were a little large and not as flat as I would like but I'm very pleased with this second try and these adjustments. I am a very experienced baker and this is one of those recipes that you just have to try and feel your way around. Reading about it just won't work! I am ready to try batch 3 in the AM, this time with a little more stirring.
I tried a different macaron recipe, also with Italian meringue, which turned out poorly. I tried this recipe the next day and they baked up beautifully! This recipe is definitely a winner, the proportions are just right. I did weigh my ingredients instead of measuring, I was glad to see both options offered in the ingredients list. I did double the baking sheets under the macarons. That had helped with the bad batch from another recipe, and didn't hurt here. I also used a bit of batter to sort of glue the parchment down at each corner of the baking sheet. I tried a silicone mat, but it was a flimsy cheap one which buckled as the cookies baked so they ended up with taller "feet" on one side than the other. But parchment worked great! I also let them rest over two hours, since I was baking other stuff in the meantime. These looked and tasted like bakery macarons, and were the hit of my tea party. Thanks for a great recipe!
I made these today. This is my first time making macarons (though at least I have made a ton of meringue). I do have a question. I want to use these tomorrow, should I wait to fill them? I would also like to mention to others to wait the full 2 hours. I baked mine in 2 batches (partly because I forgot my pizza stone was in the oven on the bottom rack and I didn't want to take it out). The first batch I started 25 min early because I thought they were done resting. They taste delicious but are all cracked. The second batch all came out perfect, other then time the only difference is they are on a silpat.
Would I be able to replace the almond flour with all purpose?

We worry that would wind up being a waste of ingredients, as almond flour is the primary ingredient in macarons and behaves very differently from all-purpose flour. One thing you could try would be to use a different nut flour, such as hazelnut flour or pecan flour. We think this could be more successful, though it isn't something we've tested. Annabelle@KAF
Just a question: can I make these 2-3 days ahead, cool, fill, wrap in plastic and refrigerate?

Macarons are like baguettes: they are best eaten as soon as possible after they're baked. If you wait 2 to 3 days to eat them, they'll be soggy and lose their slightly crisp exterior. You're welcome to try storing the shells separately in an airtight container for a day or two before filling if you must bake ahead. Good luck! Kye@KAF
My 14 year old daughter made these today. Neither one of us had made them before. Great instructions! Very delicious and they look beautiful (also added green food coloring as today is St Patrick's Day). The only question we had was knowing if they finished product is the right consistency - they were somewhat gooey/chewy in the middle and crispy on top. Not sure if we should have baked them longer as I haven't eaten these from a bakery before so nothing to compare them too. A link to filling options would be helpful.
These turned out really well. They were the perfect consistency. I tried another recipe before with different techniques, but they turned out chewy. These were light and had that perfect outer shell.
First time ever making macarons. Just made this recipe yesterday and they came out delicious. They were fun to make and not very difficult at all. They were crisp on the outside and chewy in the middle, they even had feet. One problem was they were a bit too puffy. They had more of a rounded top instead of a smooth disc-like flat top. I think it had something to do with the mixing into the meringue; I either mixed it too much or not enough, not sure which. Or possibly they meringue was too stiff. My family loved them and I will make them again, soon.
Mine came out too dry. I might try baking them for a shorter time next time. Otherwise they tasted good.

The most common reason why macarons turn out dry is because they're overbaked. If your oven is using a convection setting, try turning the oven temperature down by 25 degrees next time. Regardless, try checking for doneness a few minutes earlier next time so ensure the macarons have that slight chew left in their centers. Good luck, and keep at it! Kye@KAF
There were so many times I thought I messed up. The whites didn't seem so whip up right and I couldn't check the temperature of the sugar mixture accurately and after combining them, I was left with a gooey batter I can't even call soft peak. Even so, I decided to continue, and they're probably the best attempt I've ever made at macarons. A couple things if they're helpful to anyone: 1.) I noticed it helped my macarons did not brown as much when I reduced the oven temperature by 25 degrees or so. 2.) Really take the time to wait til it's not sticky on the outside. I had two pans on different sides of the kitchen and I guess the humidity with the two sides were so different that one tray took 2 hours to firm and the other tray took 3 hours. I put in a batch I was impatient to wait for and they all cracked. It definitely makes a difference to wait! 3.) I don't know what I was doing wrong, but it definitely did not take me about 2 minutes for the sugar to reach the desired temperature. It definitely took me more like 5 or so. Other than that, great recipe with great results!! Still mystified by the science of how hot sugar does magic to the meringue.