A customized print-friendly version of this recipe is available by clicking the "Print Recipe" button on this page.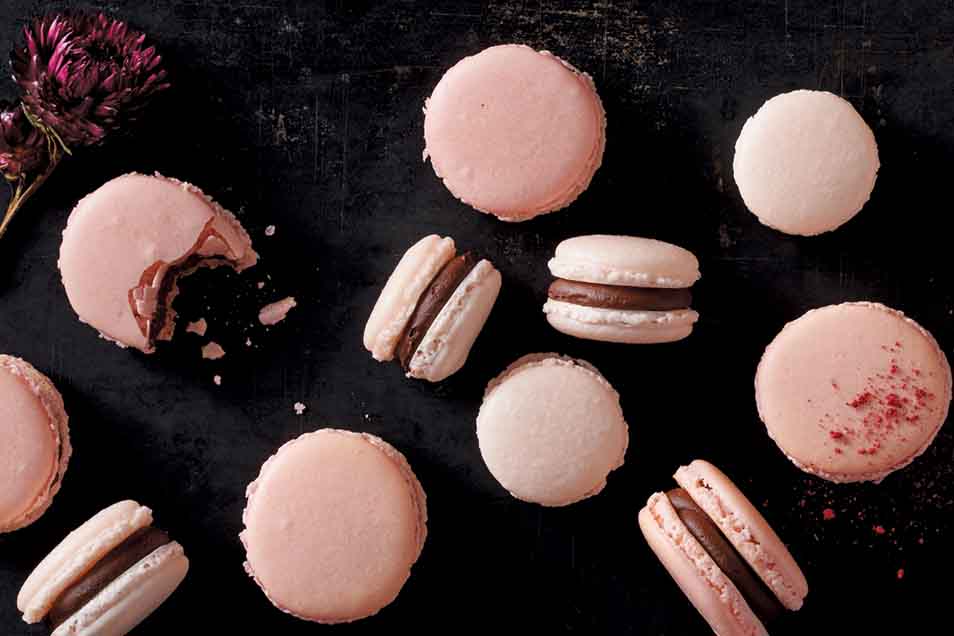 That's macarons, as in light-as-air French almond cookies — don't confuse these with our American-style coconut macaroons. Sandwiched around your favorite filling (jam, icing, ganache... Nutella?), these make a pretty, elegant dessert.
Ingredients
1 1/2 cups almond flour, sprinkled lightly into a dry measuring cup and leveled with a straight edge (if measuring by volume)
1 cup confectioners' sugar
3 large egg whites
pinch of salt
pinch of cream of tartar or Bakewell Cream
1/2 cup + 2 tablespoons granulated sugar
3 tablespoons + 1 teaspoon water
Instructions
Process the almond flour and the confectioners' sugar in a food processor for 20 seconds. Sift to remove any large pieces and to aerate the mixture.

Separate the eggs and put the whites in the bowl you'll use to whip them. Don't start whipping yet, but add a pinch each of salt and cream of tartar (or Bakewell Cream).

Combine the water and granulated sugar in a small saucepan. Stir over medium heat until the sugar dissolves, then bring to a rapid boil.

Boil for 2 minutes; the temperature of the syrup should reach between 235°F and 240°F. Take the syrup off the heat. Immediately start whipping the egg whites, using an electric mixer. When they hold a curved peak on the end of the beater, stop, grab the pan of hot syrup, resume beating, and pour the syrup steadily into the whites as you beat.

Continue beating until the meringue is smooth, glossy, and forms soft peaks.

Fold in the almond flour/sugar until everything is evenly combined, then start stirring. This will thin the mixture. Stir until the batter runs in ribbons that disappear back into the mass in 10 to 20 seconds. Test frequently, and stop stirring when you reach this point.

Use a teaspoon cookie scoop or a pastry bag to deposit a generous teaspoon-sized round blob of batter onto a parchment-covered baking sheet. The cookie should flatten out, rather than remain in a tall blob. If it doesn't spread, stir the batter some more; your goal is a disc-like, fairly flat cookie.

Repeat with the remainder of the batter. Since the cookies won't spread as they bake, you can position them fairly close together.

Allow to rest in a dry place with good air circulation (a counter top is fine) until you can gently touch the tops and come away with a clean finger, about 2 hours. Towards the end of the resting time, preheat the oven to 275°F.

Bake the cookies for 25 to 30 minutes, till firm on the top.

Remove them from the oven, and cool completely on sheet. Use a thin spatula to carefully separate them from the parchment or foil.

Spread half the cookies with jam, ganache, frosting, nut butter, or any combination of fillings your heart desires. Top with the remaining cookies.

Yield: 20 to 22 filled cookies.
Tips from our bakers
With a plethora of different recipes and techniques available, making macarons can be somewhat finicky. We found that this method, which includes making an easy sugar syrup, gives very consistent results. Parchment or non-stick foil are a necessity.
If you're using a scoop rather than piping, we found that turning the full scoop so that the open side is parallel to the parchment before releasing the batter makes a rounder cookie than if the batter is deposited from the side.
To fill macarons with dark chocolate, try this recipe for Chocolate Ganache; use the greater amount of chocolate called for.
Reviews
I live at higher altitude, and constantly have issues with hollow shells. As soon as the shells hit the thinner mountain air, the meringue collapses. But this recipe has saved my Macarons (and my sanity)! I need to tweak my oven temp just a bit and for some reason, my tops were not as smooth as usual (I always sift 3-4 times!), but the cookie was crisp on the outside and light and chewy on the inside. I will pay more attention during the macaronage stage to ensure that the dry ingredients are well-incorporated into the meringue- maybe that's why my tops were a little bumpy since I know it wasn't for a lack of sifting. But "yay!" for no hollows!
For a first attempt, these turned out really well! At least, the first batch did- first batch got the feet, have smooth tops, and a good texture, but the second batch cracked and puffed at the top- those were on a metal cookie sheet though, not a stone? Piping was also rather difficult for an amateur baker- definitely going to try the cookie scoop method next.
Made macarons with my 12 year granddaughter for Valentines Day. They are wonderful. Batter was a little too thin so we will mix less next time. The photo shows pink macarons so we were disappointed that the recipe did not indicate how and when to color. I wanted to puree and strain some raspberries but was afraid to thin the batter. How can we add flavor? We did add KAF gel food coloring to the beaten egg whites so we had color but no flavor. Recipe was very easy to follow. Granddaughter had lots of experience baking with me and is quite good with pastry bag. She has mastered niche de Noel, baked Alaska and other complex recipes so was up for this challenge. We'll try again soon!

Hi there, Barbara! We're so glad to hear that you and your granddaughter enjoyed making these together! The shell of this cookie traditionally has a very mild almond flavor (from the almond flour) and the filling is where your flavor comes from. We'd suggest adding your color of choice at the end when you're about halfway through folding in the almond flour and sugar. We hope this helps and happy baking! Morgan@KAF
This was my first attempt at making macarons (and I've never actually even tasted one). I'm pretty pleased with how they turned out. I followed the instructions on the blog -- and I got feet! I'm not sure they're quite perfect. Some of the shells are kind of hollow and the top tends to crumble when you bite into them., but not bad for a first attempt! I will definitely try again.
For someone who is allergic to nuts but has made this cookie for others, I feel like there is a void in my life not being able to partake in the scrumptious looking desert!! I am too nervous to mess with a recipe that everyone likes, but can rice flour be substituted for the almond??

We hate to be the bearers of bad news, fellow baker, but a nut-free macaron has yet to be successful. Making regular meringues (See our recipe for Angel Kisses) and flattening them can give you a similar shape. Then add a filling and you'll have a lovely macaron-inspired treat that's still delicious and infinitely less finicky than actual macarons. Annabelle@KAF
Where to start. I had so many issues. The recipe makes such a small amount of syrup it was hard to get it out of the pan. The instructions say to get the syrup to tempature, take it off the heat, and then start mixing the egg white. The first time I tried to make the recipe I followed the instructions and by the time I went to pour the sugar syrup into the egg whites it was too thick and wouldn't mix with the egg whites. The second attempt I whipped the egg whites first and then made the syrup and they mixed together okay, but once I mixed in the flour and powdered sugar the batter was way too thick. I think the recipe proportions are off.

We're so sorry to hear that this recipe gave you some trouble, fellow baker. If we can help troubleshoot and walk through the recipe, please give our Baker's Hotline a call at 855-371-BAKE (2253). Kindly, Annabelle@KAF
I was a bit sceptical about this recipe because it's relatively simple compared to the Pierre Herme recipe I've used for years. I was not disappointed and will definitely use this recipe again - achieved some of the nicest feet on the macaron shells I've ever had. I added about 5 grams of freeze dried raspberry powder with the almond and icing sugar mixture which gave the macaron shells a nice flavour. Only other changes I would recommend - after the shells are piped, bang the pan on the counter a couple of times, I only needed to rest (dry out) the macaron shells for approx 20 min before baking, and I baked at 340 degrees for 8 min, opened the oven door, then baked for 2 more min, opened the door again, and then baked for 2 more min (12 min total).
First time making macarons and they came out perfectly. Excellent taste and texture. The recipe was well written and easy to follow.
I attempted this recipe knowing that macaron's are very difficult. I did my best to do everything precisely, weighed my ingredients, took temps of the syrup etc. The batter seemed the right consistency (ribbon stage), but the tops of my macaron's never dried! I left them out for over 2 hours but they were still wet. I ended up baking them out of frustration, but obviously they didnt have feet. Not really sure what went wrong, any ideas?

It's really tough to say, Julia! Macarons are notoriously finicky and you can get tops that fail to dry just from the ambient moisture in the air on a rainy day. We've heard lots of DIY solutions, including using a hair dryer on them! Without more details it's really hard to be specific, but we'd encourage you to call our Baker's Hotline at 855-371-BAKE (2253). Our team can then help you dig into the details of your process and see if we can't get your macarons setting up the way you want them. Happy baking! Kat@KAF
I have never made macarons before, and nailed it the first time! I did add a tiny bit more water to my sugar syrup because I don't own a small sized pot, and added a time bit of almost extra and some natural food coloring- would edit the way I flavored them next time, but I got feet and perfect macrons on the first try- go KAF!