A customized print-friendly version of this recipe is available by clicking the "Print Recipe" button on this page.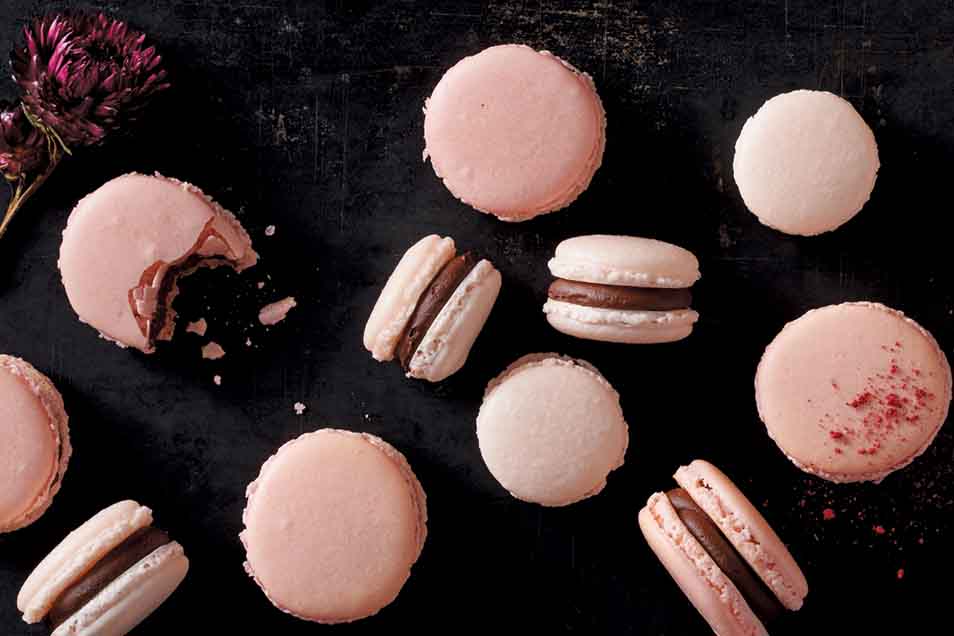 That's macarons, as in light-as-air French almond cookies — don't confuse these with our American-style coconut macaroons. Sandwiched around your favorite filling (jam, icing, ganache... Nutella?), these make a pretty, elegant dessert.
Ingredients
1 1/2 cups almond flour, sprinkled lightly into a dry measuring cup and leveled with a straight edge (if measuring by volume)
1 cup confectioners' sugar
3 large egg whites
pinch of salt
pinch of cream of tartar or Bakewell Cream
1/2 cup + 2 tablespoons granulated sugar
3 tablespoons + 1 teaspoon water
Instructions
Process the almond flour and the confectioners' sugar in a food processor for 20 seconds. Sift to remove any large pieces and to aerate the mixture.

Separate the eggs and put the whites in the bowl you'll use to whip them. Don't start whipping yet, but add a pinch each of salt and cream of tartar (or Bakewell Cream).

Combine the water and granulated sugar in a small saucepan. Stir over medium heat until the sugar dissolves, then bring to a rapid boil.

Boil for 2 minutes; the temperature of the syrup should reach between 235°F and 240°F. Take the syrup off the heat. Immediately start whipping the egg whites, using an electric mixer. When they hold a curved peak on the end of the beater, stop, grab the pan of hot syrup, resume beating, and pour the syrup steadily into the whites as you beat.

Continue beating until the meringue is smooth, glossy, and forms soft peaks.

Fold in the almond flour/sugar until everything is evenly combined, then start stirring. This will thin the mixture. Stir until the batter runs in ribbons that disappear back into the mass in 10 to 20 seconds. Test frequently, and stop stirring when you reach this point.

Use a teaspoon cookie scoop or a pastry bag to deposit a generous teaspoon-sized round blob of batter onto a parchment-covered baking sheet. The cookie should flatten out, rather than remain in a tall blob. If it doesn't spread, stir the batter some more; your goal is a disc-like, fairly flat cookie.

Repeat with the remainder of the batter. Since the cookies won't spread as they bake, you can position them fairly close together.

Allow to rest in a dry place with good air circulation (a counter top is fine) until you can gently touch the tops and come away with a clean finger, about 2 hours. Towards the end of the resting time, preheat the oven to 275°F.

Bake the cookies for 25 to 30 minutes, till firm on the top.

Remove them from the oven, and cool completely on sheet. Use a thin spatula to carefully separate them from the parchment or foil.

Spread half the cookies with jam, ganache, frosting, nut butter, or any combination of fillings your heart desires. Top with the remaining cookies.

Yield: 20 to 22 filled cookies.
Tips from our bakers
With a plethora of different recipes and techniques available, making macarons can be somewhat finicky. We found that this method, which includes making an easy sugar syrup, gives very consistent results. Parchment or non-stick foil are a necessity.
If you're using a scoop rather than piping, we found that turning the full scoop so that the open side is parallel to the parchment before releasing the batter makes a rounder cookie than if the batter is deposited from the side.
To fill macarons with dark chocolate, try this recipe for Chocolate Ganache; use the greater amount of chocolate called for.