A customized print-friendly version of this recipe is available by clicking the "Print Recipe" button on this page.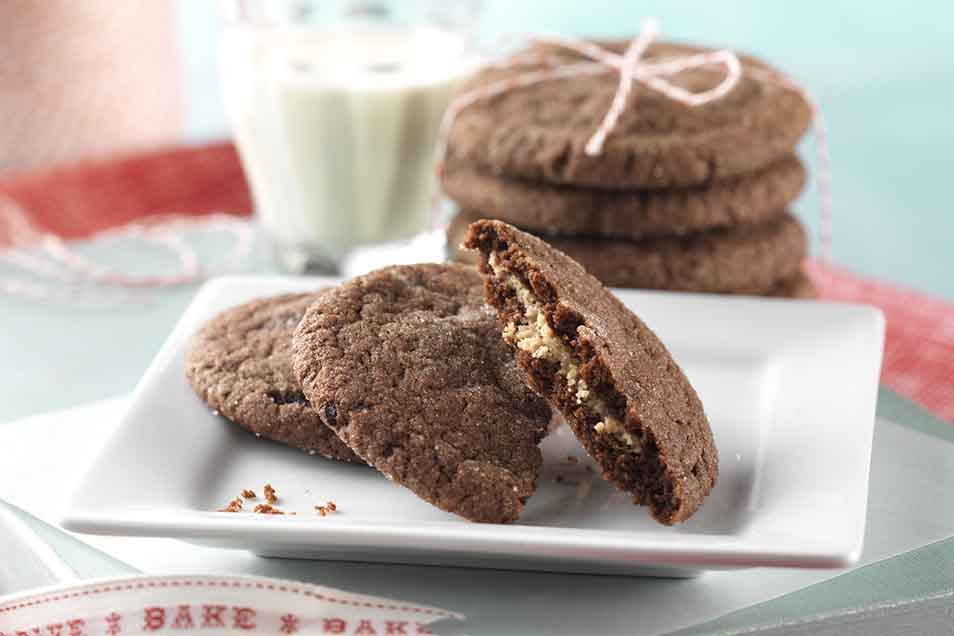 Reminiscent of a chocolate peanut butter cup candy (or a buckeye, if you're into homemade candies), this recipe is one that's been making the rounds for years. We guarantee these will disappear in a snap, whatever the audience: from hungry kids after a soccer game, to your co-workers gathered around the office coffeepot!
Ingredients
Chocolate Dough
1 1/2 cups King Arthur Unbleached All-Purpose Flour
1/2 cup cocoa powder, unsweetened baking cocoa or Dutch-process cocoa
1/2 teaspoon baking soda
1/4 teaspoon salt
1/2 cup granulated sugar (plus extra for dredging)
1/2 cup brown sugar
1/2 cup (8 tablespoons) unsalted butter, softened
1/4 cup smooth peanut butter
1 teaspoon vanilla extract
1 large egg
Peanut butter filling
3/4 cup peanut butter, crunchy or smooth, your choice
3/4 cup confectioners' sugar
Instructions
Preheat the oven to 375°F. Lightly grease (or line with parchment) two baking sheets.

To make the dough: In a medium-sized bowl, whisk together the flour, cocoa, baking soda and salt.

In another medium-sized mixing bowl, beat together the sugars, butter, and peanut butter until light and fluffy. Add the vanilla and the egg, beating to combine, then

stir in the dry ingredients, blending well.

To make the filling: In a small bowl, stir together the peanut butter and confectioners' sugar until smooth.

With floured hands or a teaspoon scoop, roll the filling into 26 one-inch balls.

To shape the cookies: Scoop 1 tablespoon of the dough (a lump about the size of a walnut), make an indentation in the center with your finger and place one of the peanut butter balls into the indentation.

Bring the cookie dough up and over the filling, pressing the edges together cover the center;

roll the cookie in the palms of your hand to smooth it out. Repeat with the remaining dough and filling.

Roll each rounded cookie in granulated sugar, and place on the prepared baking sheets, leaving about 2 inches between cookies.

Grease the bottom of a drinking glass, and use it to flatten each cookie to about 1/2-inch thick.

Bake the cookies for 7 to 9 minutes, or until they're set and you can smell chocolate. Remove them from the oven, and cool on a rack.
Nutrition Information
Serving Size

1 cookie

Servings Per Batch

26
Amount Per Serving:
Calories

167

Calories from Fat

79

Total Fat

9g

Saturated Fat

3g

Trans Fat

0g

Cholesterol

18mg
Sodium

98mg

Total Carbohydrate

20g

Dietary Fiber

1

Sugars

12g

Protein

4g
* The nutrition information provided for this recipe is determined by the ESHA Genesis R&D software program. Substituting any ingredients may change the posted nutrition information.
Tips from our bakers
The most reliable way to make sure you have equal amounts of filling and chocolate dough is to use a cookie scoop. Our teaspoon scoop yields exactly 26 fillings when scooped with the dough level across the top. Our tablespoon scoop when filled level will yield exactly 26 chocolate blobs of dough to match.
If you're doubling this recipe, add an extra egg to the chocolate dough.
If you're making this dough ahead of time, add an 2 tablespoons of milk to the chocolate dough. It tends to dry out as it sits, and the extra moisture will keep the outside dough from cracking as you form the cookies.
Reviews
Original recipe was very high in sugar so here were my alterations which worked fantastically well! I made the peanut butter balls first, using 1/2c of nut butter (I did a mix of peanut and almond) 1/4c icing sugar and 1/4c cornstarch. They needed warming in the microwave to mix fully then were rolled into small balls (marble sized) then refrigerated. For the dough I only did 1c of flour, added in 1/2c almond meal. Also I only used a total of 3/4c sugar. I omitted the peanut butter from the dough as I didn't have enough left. I also didn't roll them in sugar before baking (didn't see the point). I still had more peanut filling than cookies and they came out perfectly, sweet enough to be a treat but not sickly sweet, good nut flavour and perfect amount of chocolate. They were crunchy yet chewy and although they were nicer with a drink they certainly didn't need extra moisture with them. Will definitely bake again and may even work our how to make them even healthier :)
These are excellent and easy to prepare. I made the peanut butter filling first and then didn't have enough peanut butter to make the dough, so I used almond butter instead and the dough was fabulous. Would be fun to make with kids. Thanks for another great recipe, KAF!!!
Another winner! I found the recipe worked perfectly. I did add the milk and I found if I worked the ball of chocolate a bit in my hand right before I inserted the peanut butter, the chocolate was easier to work with.
Another winner! I found the recipe worked perfectly. I did add the milk and I found if I worked the ball of chocolate a bit in my hand right before I inserted the peanut butter, the chocolate was easier to work with.
I've made these a number of times and finally found a way that works for me. Use the teaspoon scoop to plop the peanut butter filling on a cookie sheet or piece of parchment and then put them in the freezer while you make the cookie dough. It's SO much easier to wrap the chocolate cookie dough around the frozen filling. When I tried making them before I'd end up with a marbled chocolate peanut butter mess (but still a very tasty mess!).
*Love* these, and apparently so does the boyfriend who came in the kitchen, took one bite, didn't say a word and walked out with 5 cookies. At 5,200' altitude I added 2 tbsp flour, 1 tbsp milk, and subtracted 1 tbsp cocoa and about 1 tbsp of the white sugar, 375 degrees at 8 minutes was just right. Made 24 since I don't have a scoop and it was easy to roll the dough in cylinders then cut in half, half, half, thirds to get equal amounts. They didn't spread much in the pan so next time I'll put more on each. Thanks for the great recipe!
This is such a fun recipe to make with a kid! Mine was 4.5yo when we made them the first time. It's just like playing with play dough, except you get to eat yummy cookies at the end. Smushing the dough with a glass was a fun step, too. Now he is 6 and they are still fun to make. And a lot less work than roll-out cookies that need decorating and baking.
I bake a lot of cookies, and only very rarely adopt a new recipe into my repertoire. These make the cut! I followed the recipe exactly as written, but did add one tablespoon of light cream to the wet ingredients. We don't have the cookie scoops, so my daughter and I weighed the dough: 5 g for the peanut butter centers, and 25 g for each cookie. Perfect!! And we had a lot of fun making them--they're challenging without being picky. I will make these again and again (and might try a nutella center, and maybe one of salted caramel . . . ).
I'm wary of fussy cookies, but these were remarkably easy. No trouble at all with the dough cracking even using white whole-wheat flour, albeit I made them on a warm and humid day. What worked well for me was rolling the dough into a small ball (I don't have cookie scoops), using my thumb and the palm of my hand to make a little "nest" to hold the filling, and then bringing the edges of the nest up over the filling and rolling the whole thing into a ball again. Time-consuming, but not at all frustrating. I was able to make 35 slightly smaller, tidily enclosed cookies this way. I'm not a chocolate-and-peanut butter fiend, but the friend for whom I made them as a special treat raved. Considering how much I love the friend, the necessary effort was well-spent.
Followed recipe and added the milk as others recommended. Cookies turned out excellent with the soft peanut butter center sandwiched in the soft chocolate cookie. A definite keeper of a recipe and will be making these again! Thanks KAF!