A customized print-friendly version of this recipe is available by clicking the "Print Recipe" button on this page.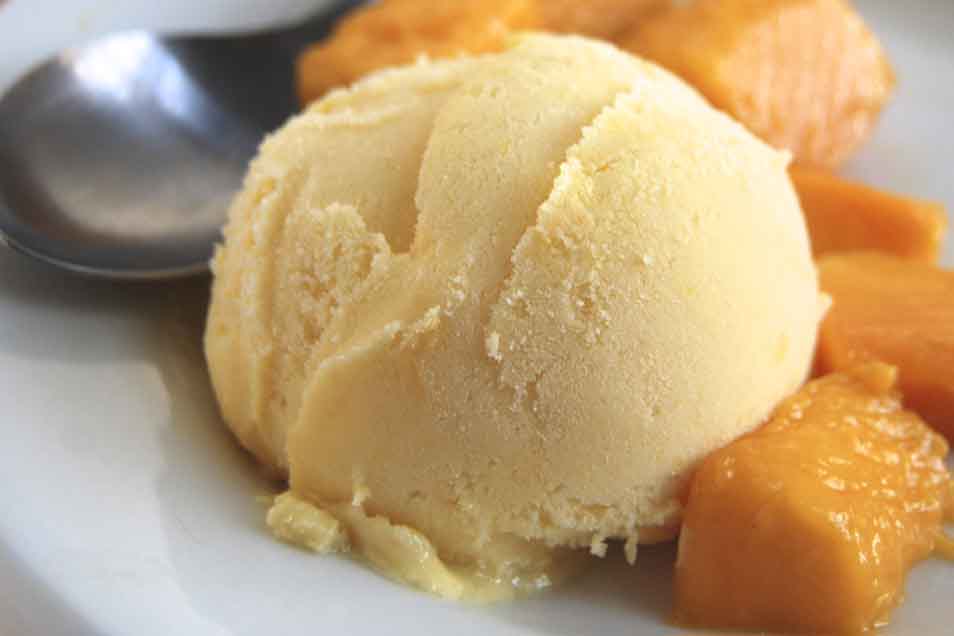 While not as satiny smooth as fine gelato from an upscale ice cream shop, this homemade version of Italy's signature ice cream is absolutely delicious. Surprisingly, although it seems rich, it's much lower in fat than American ice cream. Make it with fat-free half & half, and it will be lower still — an ideal choice for those counting calories and missing their high-fat traditional ice cream.
Ingredients
about 5 cups coarsely chopped fresh mango, or frozen mango chunks
2 tablespoons freshly squeezed lemon or lime juice
1 2/3 cups half & half; fat-free is fine
1/3 cup sugar
1/4 cup nonfat dry milk powder or granules*
1/8 teaspoon salt
2 large egg yolks
3 tablespoons vodka, Cointreau, or Grand Marnier, optional; for texture
*Baker's Special Dry Milk is NOT a good choice here, as it doesn't readily dissolve in liquid; save it for your bread-baking.
Instructions
To prepare the mango: If you're using frozen mango chunks, defrost them — at room temperature, or in the microwave.

Purée the mango and lemon or lime juice in a food processor or blender until nearly smooth; a few small bits can remain.

To make the custard: In a saucepan, whisk together 1 cup of the half & half; the sugar, nonfat dry milk, and salt. Set the remaining half & half aside; you'll add it later.

Cook over medium heat, stirring frequently, until the mixture begins to simmer.

While the milk/sugar mixture is heating, put the 2 egg yolks in a bowl, and whisk to combine.

Gradually pour the hot mixture into the bowl with the egg yolks, whisking as you pour. Stir to combine, then transfer the egg yolk mixture back to the saucepan.

Stir the custard over medium-low heat for a couple of minutes, until it thickens a bit; it should be about as thick as heavy cream.

Remove from the heat, and stir in the remaining 2/3 cup half & half. Don't worry, we didn't forget the vodka or liqueur; you won't use it until you freeze the gelato.

Stir the mango mixture and custard together in a bowl. Cover and refrigerate until thoroughly chilled; overnight is best. Make sure the canister of your ice cream maker is in the freezer, too.

At least 4 hours before you want to serve the gelato, pour it into the freezer bowl of an ice cream maker, turn on the machine, and let it work for about 20 minutes, or until the gelato is thick enough to mound on a spoon without dripping. Towards the end of the time, add the alcohol, if you're using it. Make sure it's thoroughly combined with the gelato; remove the machine's plastic dasher and stir the gelato with a spatula, if necessary.

Transfer the soft gelato to an airtight container, and place in your refrigerator's freezer compartment for 3 to 4 hours, until it's as hard as you like. If you haven't added the alcohol, let it sit at room temperature for about 20 minutes before serving, or until it's soft enough to scoop.

Yield: about 1 quart gelato.
Tips from our bakers
We highly recommend using liqueur or vodka in this recipe; the alcohol prevents the gelato from freezing into a rock-hard mass, keeping it beautifully scoopable. If you don't use alcohol, plan to remove the gelato from the freezer 20 minutes or so before serving, so it can soften.