A customized print-friendly version of this recipe is available by clicking the "Print Recipe" button on this page.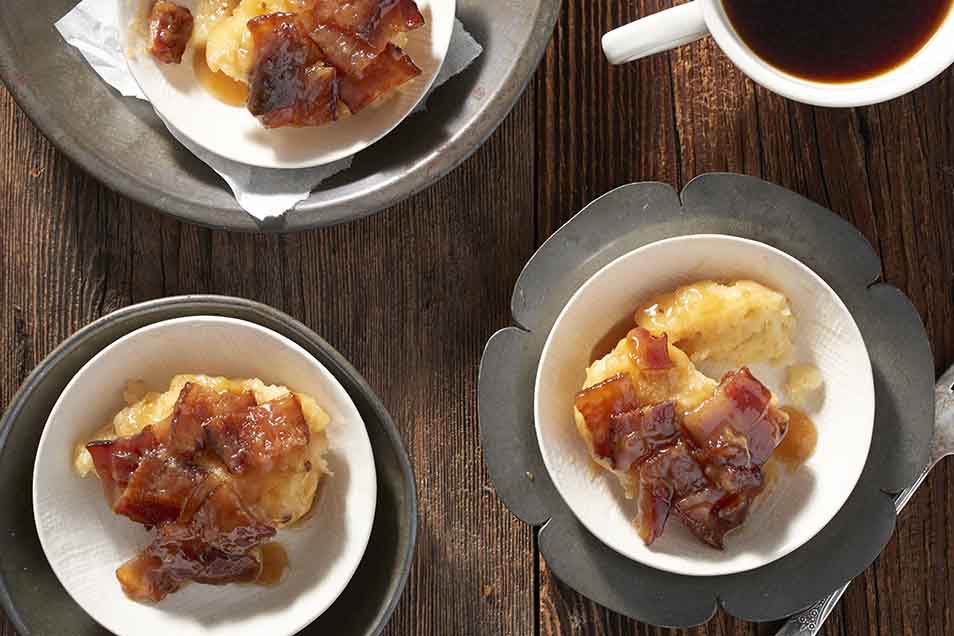 Here's one of the easiest, tastiest "sticky buns" you'll ever enjoy. Simple biscuit dough is dropped atop a sweet/salty maple-bacon-brown sugar syrup. Once baked, the biscuits are turned out of the pan upside down, so the sticky topping drips down their sides. Trust us; this is a breakfast treat you'll find yourself making over and over again.
Ingredients
Syrup
1/2 pound bacon, cooked until medium-brown
1/3 cup brown sugar
1/4 cup maple syrup
2 tablespoons melted butter
Biscuits
2 teaspoons Bakewell Cream*
1 teaspoon baking soda
1/2 teaspoon salt
1/4 cup (4 tablespoons) cold butter
1 cup cold milk or cold buttermilk
*If you don't have Bakewell Cream, substitute 2 teaspoons baking powder and omit the baking soda.
Instructions
Preheat the oven to 475°F. Lightly grease an 8" square or 9" round pan; whichever size you choose, make sure it's at least 2" deep, to prevent any boil-over.

Syrup: Chop the cooked bacon into 1/2" pieces. Combine the bacon with the remaining syrup ingredients, stirring until well combined. Spread in the bottom of the prepared pan.

Biscuits: Whisk the dry ingredients together in a bowl.

Work in the butter until the mixture is crumbly; some larger, pea-sized pieces of butter may remain intact.

Add the milk or buttermilk, stirring to make a sticky dough.

Drop the dough in heaping tablespoonfuls atop the syrup in the pan. A tablespoon cookie scoop, slightly overfilled, works well here.

Bake the biscuits for 10 minutes. Turn the oven off, and leave them in the oven for an additional 5 to 10 minutes, until they're golden brown.

Remove the biscuits from the oven, and immediately turn the pan over onto a serving plate. Lift off the pan, and scrape any syrup left in the pan onto the biscuits. Pull biscuits apart to serve.

Yield: 16 small biscuits.
Tips from our bakers
Note: This recipe has gone through various incarnations along the way to its current version. It started with a thick, gooey topping; was cut back to something less gooey; and now has edged up towards its original proportions of sugar, syrup, and butter. For a less "over the top" topping, use 1/4 cup brown sugar; 2 tablespoons King Arthur Unbleached All-Purpose Flour; 3 tablespoons maple syrup, and 2 tablespoons melted butter.