A customized print-friendly version of this recipe is available by clicking the "Print Recipe" button on this page.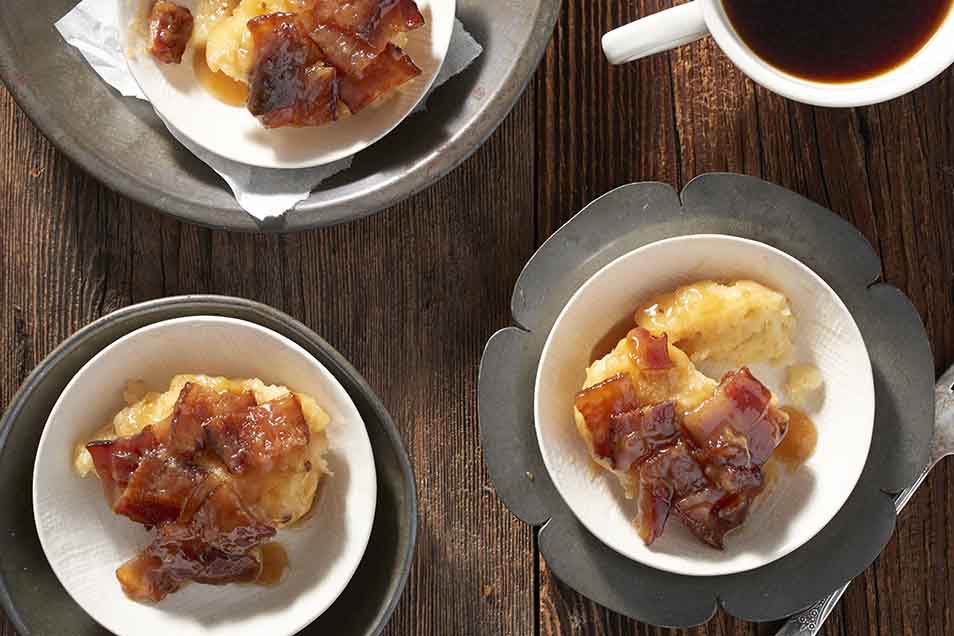 Here's one of the easiest, tastiest "sticky buns" you'll ever enjoy. Simple biscuit dough is dropped atop a sweet/salty maple-bacon-brown sugar syrup. Once baked, the biscuits are turned out of the pan upside down, so the sticky topping drips down their sides. Trust us; this is a breakfast treat you'll find yourself making over and over again.
Ingredients
Syrup
1/2 pound bacon, cooked until medium-brown
1/3 cup brown sugar
1/4 cup maple syrup
2 tablespoons melted butter
Biscuits
2 teaspoons Bakewell Cream*
1 teaspoon baking soda
1/2 teaspoon salt
1/4 cup (4 tablespoons) cold butter
1 cup cold milk or cold buttermilk
*If you don't have Bakewell Cream, substitute 2 teaspoons baking powder and omit the baking soda.
Instructions
Preheat the oven to 475°F. Lightly grease an 8" square or 9" round pan; whichever size you choose, make sure it's at least 2" deep, to prevent any boil-over.

Syrup: Chop the cooked bacon into 1/2" pieces. Combine the bacon with the remaining syrup ingredients, stirring until well combined. Spread in the bottom of the prepared pan.

Biscuits: Whisk the dry ingredients together in a bowl.

Work in the butter until the mixture is crumbly; some larger, pea-sized pieces of butter may remain intact.

Add the milk or buttermilk, stirring to make a sticky dough.

Drop the dough in heaping tablespoonfuls atop the syrup in the pan. A tablespoon cookie scoop, slightly overfilled, works well here.

Bake the biscuits for 10 minutes. Turn the oven off, and leave them in the oven for an additional 5 to 10 minutes, until they're golden brown.

Remove the biscuits from the oven, and immediately turn the pan over onto a serving plate. Lift off the pan, and scrape any syrup left in the pan onto the biscuits. Pull biscuits apart to serve.

Yield: 16 small biscuits.
Tips from our bakers
Note: This recipe has gone through various incarnations along the way to its current version. It started with a thick, gooey topping; was cut back to something less gooey; and now has edged up towards its original proportions of sugar, syrup, and butter. For a less "over the top" topping, use 1/4 cup brown sugar; 2 tablespoons King Arthur Unbleached All-Purpose Flour; 3 tablespoons maple syrup, and 2 tablespoons melted butter.
Reviews
I made these with veggie bacon and twice the amount of syrup mixture (completely omitting the flour) for brunch, and they were spectacular. This is a fantastic and easy brunch dish, and so pretty! I only wish that I could post a photo.

We're so glad to hear that you enjoyed this recipe! We'd love to see a photo of your bake — you can share it with us either on Facebook, or Instagram or you can email it to us at customercare(at)kingarthurflour(dot)com. Happy baking! Morgan@KAF
I followed the directions for the syrup but it did not "drip" over the biscuits when turned out. The syrup did not materialize at all. The biscuits on top, were very good; they just had a sweet, cakey, bacon bottom. I don't think I will make it again. My dad did like it. I used the KAF 8x8 pan - nothing sticks.

Hi Roseann! We're glad this was enjoyed by your dad. We're sorry to hear that the syrup gave you some trouble. We'd love the chance to talk through the recipe with you, so we encourage you to reach out to our free and friendly Baker's Hotline staff to help troubleshoot at 855-371-BAKE (2253). Kindly, Annabelle@KAF
I agree with the other posters (should have read the comments first), the syrup was too thick and hardened to candy as soon as I turned it onto the plate. I baked according to directions but biscuits were chewy (under-baked?) not flakey. I will try this recipe again and omit the flour in the syrup and add some crushed pineapple and bake longer at lower temp.
To much flour in the syrup, it would not top the biscuits as it should, and stuck to the pan. Second try I left the Flour out of the syrup and that led to the third batch because the second batch was gone before I got any. Syrup was great with the less sweet biscuits.

It sounds like you might have scooped your flour directly from the bag, which compacts it into the measuring cup and results in too much being added to the recipe. To ensure you're using the right amount, we recommend checking out the "Measuring Standards," link next to the ingredients header above. You'll see that either measuring your flour by weight using a scale, or fluffing and sprinkling the flour into your measuring cup are the best ways to ensure your recipe turns out perfectly. Kye@KAF
Topping with only 1 T four hardened instantly! Hard to eat ajs couldn't spread over the top! Cooked as directed, 475 for 10 min then left in oven for 8 more. Nicely browned. Not very flavorful! Needs butter or jam perhaps! I'll try again without any flour in topping. I'll also add more milk. I used whole milk. My bacon was cooked perfectly. I wished I had just eaten it and not used for this!

Hi Sue, we're sorry to hear your Maple-Bacon Biscuit bake didn't turn out quite as you were hoping it would. It sounds like something may have gone awry with the measuring of ingredients (there should be 1/4 cup of flour added to the syrup topping). We'd love to hear more about your process so we can remedy what went awry. Consider giving our Baker's Hotline a call at 855-371-BAKE(2253) so we can help ensure your next batch is a success. Kye@KAF
I made the recipe using the lighter version of topping. I only used 1 tablespoon of flour in topping and might decrease more next time. Otherwise I weight the dry ingredients and following recipe exactly. My 14 year gave it a thumbs up! That is huge! I know what I will be making next sleepover.
WARNING: Do not make a half of this recipe! After all, what can you do for only two people? Well, of course, the fact that the "sauce" baked up to practically hard candy is because I had not thought the whole thing through. Obviously, half the sauce recipe will not bake the same as the complete recipe. Probably, the entire recipe would have been saucy and enticing...half the recipe is not. I think that I will need divine intervention to clean the pan up!

We're sorry to hear the half batch version of this recipe gave you so much trouble, Shirley. You're right in thinking that half the amount of sauce requires a different cooking time than the full batch, which should be accounted for. We hope that you invite some friends over and decide to give the full version a try soon. We think you'll like the sweet and savory combination of flavors. As for that pan, soaking with hot water will be your friend. Good luck! Kye@KAF
Delicious! I made it for Father's Day, used a little less bacon and added pecans using the light version of the topping. My husband loved it!!! Definitely making again. YUMMY!
I agree with several other reviews, next time I will decrease the flour in the syrup recipe, it was very thick and I would have enjoyed the syrup to biscuit ratio to be more even, half the biscuit was just a tasty biscuit that I felt needed butter or jam with it. I always try recipes as written the first time, personal taste makes most baked goods requiring some adjustments. I used a cookie scoop as recommended and had 16 equal biscuits in a 9" pan. I left in the turned off oven 10 minutes.
Made this on a snowy morning, and the family loved it. The topping was thick, so next time I'll follow some advice posted by others and cut down the flour. Definitely will make again!!