A customized print-friendly version of this recipe is available by clicking the "Print Recipe" button on this page.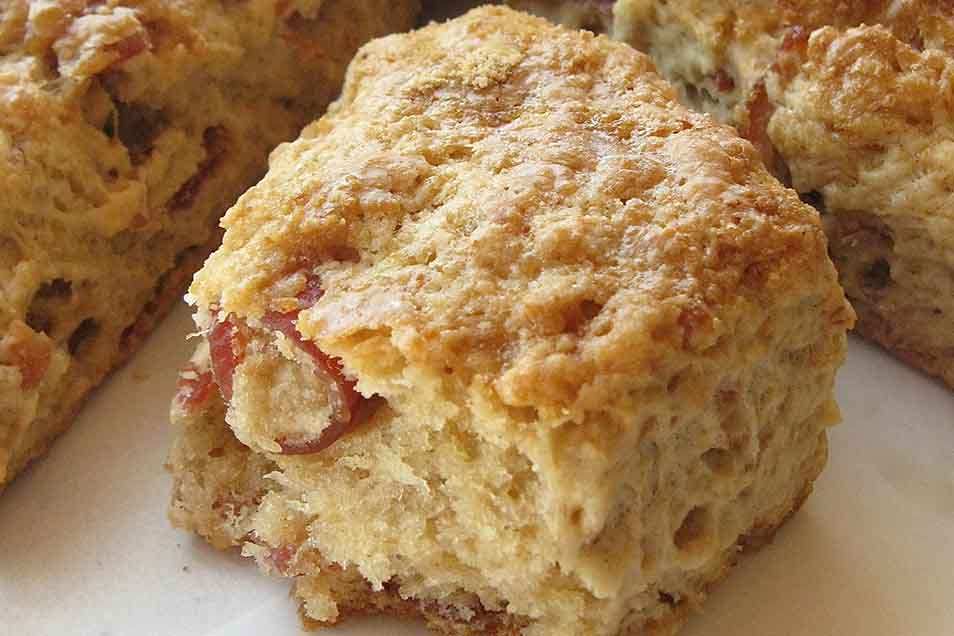 Maple-cured bacon (or ham) are breakfast regulars. So adding a bit of salty breakfast meat to your maple-flavored scones is a natural. A shower of maple sugar on top enhances the sweet/salty effect.
Ingredients
Scones
1 tablespoon baking powder
1/2 teaspoon baking soda
1 teaspoon salt
3 tablespoons granulated sugar or maple sugar
1/2 cup cold butter, cut in pats
1 large egg
1/2 cup cold milk
1/2 teaspoon maple flavor, optional
2 cups diced cooked bacon or ham, in 1/4" to 1/2" bits
Topping
1 tablespoon milk or cream
2 tablespoons maple sugar
Instructions
In a medium-sized bowl, combine the flour, baking powder, baking soda, salt, and sugar.

Add the butter, working it in till the mixture is crumbly.

Whisk together the egg, milk, and maple flavor. Add this to the dry ingredients, along with the bacon or ham. Mix just till everything is evenly moistened.

Transfer the dough to a piece of parchment or a lightly floured work surface. Pat and roll it into a 9" x 9" square, about 5/8" thick.

Cut the dough into nine 3" squares. Then cut each square into two triangular wedges, to make a total of 18 scones.

Place the scones on a lightly greased or parchment-lined baking sheet, and put them in the freezer for 30 minutes. While the scones are chilling, preheat your oven to 425°F.

Brush the chilled scones with milk or cream, and sprinkle with additional maple sugar, if desired.

Bake the chilled scones for 18 to 20 minutes, or until they're a medium- to deep-golden brown.

Remove the scones from the oven, and cool them on a rack briefly. Serve warm — with maple syrup, if desired.

Yield: 18 scones.
Tips from our bakers
Want to save time? Brush the square of dough with milk and sprinkle with maple sugar before cutting out the scones. You won't get as much coverage down the sides, but it's certainly efficient.
Reviews
Used some leftover Christmas ham from the freezer and KAF maple flavoring, halved recipe so I'd be sure we liked the flavors. I didn't have any KAF Maple Sugar so used half and half and turbinado sugar sprinkled on top. I have used the maple sugar in the past and need to order more - it's delicious in baked goods and would be amazing on these scones. I didn't find these dry, as per some other reviews, but I use the sprinkle into measuring cup and level with a knife method to measure flour, I don't scoop it (learned that from a cooking show years ago). I will probably make again with white wheat flour, so it'll make a more filling breakfast, and will increase milk a bit, as white wheat can be a bit dry (absorbs more liquid).
I halved this recipe and it was great, but a little dry. Great savory flavor but once you pour on the maple syrup, it kicks into another gear. My family insists that I put this into the permanent breakfast rotation. Use a good maple syrup, like Two Pigs Farm. It makes a big difference.
Made them again today. The two cups of bacon is about a pound. Therefore, I don't think you need to add salt to the dough.
If you like sweet and savory this recipe is for you. Instead of maple flavor, I used maple syrup. Used heavy cream in place of milk. Also, mixed the cream and maple sugar to make a glaze I spread on the scones before baking. Excellent recipe!
I've been craving maple bacon scones since my local coffee shop stopped making them, so I tried this recipe. First I threw a pound of bacon in the oven, I find it much easier to make a lot of bacon this way. While that was cooking, I assembled the co-stars in this bacon masterpiece. I, too, used full-on heavy cream for these bad boys. I integrated the 1/2 cup into my mixture which still looked crumbly. So what did I do? Threw in a lil more cream, no big deal! How much maple did I put in? I dunno, a splash? All I know is I could smell it before I baked it, which maybe people should consider when they're deciding how mapley they want their maple. Again, no big deal to add more! I baked these lil guys with brushed cream on top and more sugar and they came out toasty golden brown. The texture was slightly crumbly but when I chewed it, oh boy! Buttery meltyness with crunchy, salty little bacon crunches. The only thing I might do next time is add some maple to the cream I brush on top, just for fun! I'm gonna go have another scone...
I love maple bacon scones. When I make scones of any type I replace the milk with heavy cream (not so healthy) but the scones always come out great. I always find adding a little extra cream makes the dough less crumbly.
The batter was crumbly. I had to add more milk. The texture of the finished scones were still not right. I doubled the maple sugar and still couldn't taste the maple flavor. I still like the idea of the recipe, so I'm going to try to completely rework it. If I come up with a satisfactory result, I'll post it.
I glad you decided to add more liquid to the recipe. I often find this the case too and add more moisture. This is completely fine to do. It may be the flour is quite dry now that we are in the colder months or the way your are measuring it. Please go to our Recipe page. Near the bottom under the heading Online baking resources, you will see How to measure flour. There is a great video there! Elisabeth
I made these for a company breakfast potluck. I followed the recipe exactly and I have to agree with the other comments about the scones being a bit dry. Next time I make these I will likely use a bit more milk in the dough. I brushed mine with cream and dusted with maple sugar. I would suggest being somewhat generous with the maple sugar on top. I was pretty conservative with mine since maple sugar is sweeter than normal sugar and I can barely taste the maple in my scones. Despite the dryness they are certainly delicious and I will definitely make them again with those small modifications.
Made these for breakfast over the weekend. They were a sure hit with the family, they have been asking for more! I used 12 oz of center cut bacon and thought it was enough bacon, I could probably use less but the amount depends on personal tastes. I also used 3/4 cup of maple flav-r-bites (soaked in milk for 20 min prior to adding them to the dough) and it boosted the flavor of maple and made these scones taste like pancakes soaked in maple syrup with bacon but all in one non-messy bite. I brushed cream on scones before baking and sprinkled them with sugar, nice presentation, but sugar was not necessary for me. Overall these were amazing! Thank you, King Arthur bakers, for all your hard work and wonderful recipes!
What time is breakfast? We'll be right down! Thanks for sharing your delicious recipe variation - happy family is the best blue ribbon of all! Irene @ KAF
wonderful taste! I simply loved it!!