A customized print-friendly version of this recipe is available by clicking the "Print Recipe" button on this page.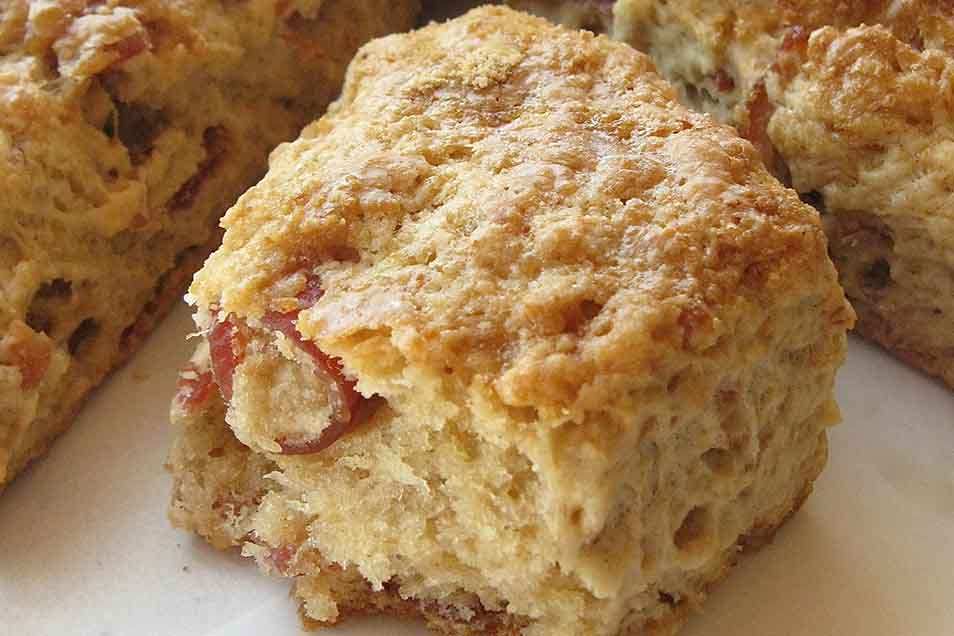 Maple-cured bacon (or ham) are breakfast regulars. So adding a bit of salty breakfast meat to your maple-flavored scones is a natural. A shower of maple sugar on top enhances the sweet/salty effect.
Ingredients
Scones
1 tablespoon baking powder
1/2 teaspoon baking soda
1 teaspoon salt
3 tablespoons granulated sugar or maple sugar
1/2 cup cold butter, cut in pats
1 large egg
1/2 cup cold milk
1/2 teaspoon maple flavor, optional
2 cups diced cooked bacon or ham, in 1/4" to 1/2" bits
Topping
1 tablespoon milk or cream
2 tablespoons maple sugar
Instructions
In a medium-sized bowl, combine the flour, baking powder, baking soda, salt, and sugar.

Add the butter, working it in till the mixture is crumbly.

Whisk together the egg, milk, and maple flavor. Add this to the dry ingredients, along with the bacon or ham. Mix just till everything is evenly moistened.

Transfer the dough to a piece of parchment or a lightly floured work surface. Pat and roll it into a 9" x 9" square, about 5/8" thick.

Cut the dough into nine 3" squares. Then cut each square into two triangular wedges, to make a total of 18 scones.

Place the scones on a lightly greased or parchment-lined baking sheet, and put them in the freezer for 30 minutes. While the scones are chilling, preheat your oven to 425°F.

Brush the chilled scones with milk or cream, and sprinkle with additional maple sugar, if desired.

Bake the chilled scones for 18 to 20 minutes, or until they're a medium- to deep-golden brown.

Remove the scones from the oven, and cool them on a rack briefly. Serve warm — with maple syrup, if desired.

Yield: 18 scones.
Tips from our bakers
Want to save time? Brush the square of dough with milk and sprinkle with maple sugar before cutting out the scones. You won't get as much coverage down the sides, but it's certainly efficient.