A customized print-friendly version of this recipe is available by clicking the "Print Recipe" button on this page.
Maple-Bacon Yeast Waffles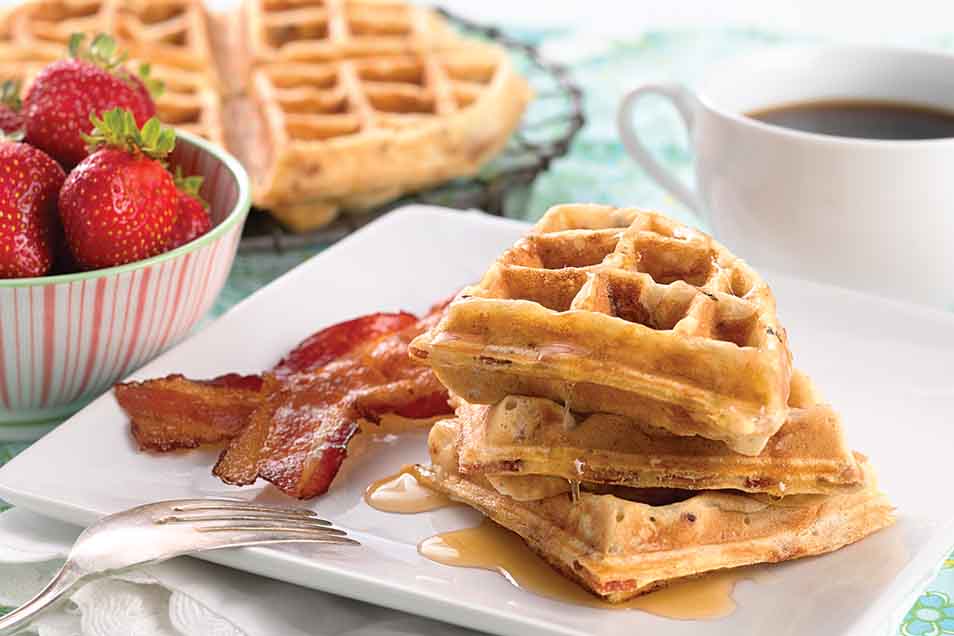 These waffles are inspired by the sweet/salty craze that foodies everywhere are embracing. We think they're best served with pools of melting butter and a generous drizzle of maple syrup.
Ingredients
1 1/2 cups lukewarm milk
6 tablespoons melted butter
3/4 teaspoon salt
2 to 3 tablespoons maple syrup
1/4 teaspoon maple flavor, optional, for enhanced maple taste
2 large eggs
2 tablespoons sugar
1 1/2 teaspoons instant yeast
1/2 pound bacon, cooked, cooled, and crumbled (about 1 cup)
Instructions
Combine all the ingredients except the bacon in a large bowl, leaving room for expansion. Stir to combine; the mixture won't be perfectly smooth.

Cover with plastic wrap, and let rest at room temperature for 1 hour; the mixture will begin to bubble. You can cook the waffles at this point, or refrigerate the batter overnight to cook waffles the next day.

Preheat your waffle iron, and spray it with non-stick vegetable oil spray. Gently fold the bacon into the batter.

Pour 2/3 to 3/4 cup batter (or the amount recommended by the manufacturer) onto the center of the iron. Close the lid, and bake for the recommended amount of time, until the waffle is golden brown.

Serve immediately, or keep warm in a 200°F oven while you cook the remaining waffles. Serve with butter and maple syrup.

Yield: about five 7" round waffles.
Reviews
This is my family's favorite recipe for waffles. They love it.
I like the base waffle recipe-we are yeast waffle fans since not all of us like sweet at breakfast and those of us that do can dress the waffle up to suit our tastes. The bacon was not memorable-every once in a while there'd be a bite to remind you about it but otherwise didn't really notice it. Might up the maple flavor next time too. I doubled the recipe and got 6 Belgian sized waffles.
if anything, I thought these might be too sweet from looking at the recipe, but I was intrigued so we gave it a try - disappointed though, rather bland, not much of either maple or bacon flavor (although great aroma!) and the texture was not good. We greatly prefer the "best waffles ever" recipe from KAF - much better flavor and texture! But it was fun to try these, but not a keeper at our house!
I was very surprised that we didn't care much for this recipe. What's not to like about maple and bacon? Apparently, we don't like them in waffles. The texture was good, though.
Crowd pleaser. Although the waffles weren't crispy as I expected, still went over well. Although I think there's room for improvement, my guests would say otherwise!
For a crispier waffle, replace the butter with oil. I guarantee you will notice a difference. ~Amy