A customized print-friendly version of this recipe is available by clicking the "Print Recipe" button on this page.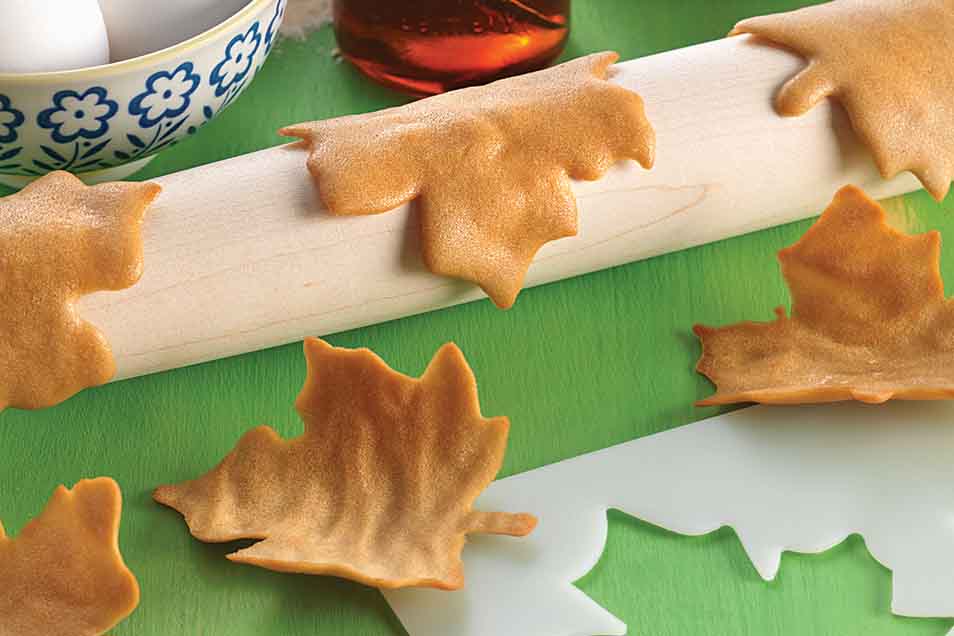 Thin, crisp, and wonderfully maple-y, these cookies are totally addictive; it's hard to eat just one!
Instructions
Preheat the oven to 350°F. Grease one or two baking sheets, or line with parchment paper.

Whisk together the egg whites, sugar, and salt until foamy.

Whisk in the maple syrup, butter, and flavors until incorporated.

Add the flour and whisk until smooth.

To use a maple leaf cookie stencil: Place the stencil on one of the baking sheets. Spread an even layer of batter into each of the individual leaf patterns; you'll need about 1 teaspoon per leaf, more or less (the less batter, the crisper the cookies).

Remove the stencil, and bake the cookies for 7 to 9 minutes.

To shape the finished cookies: Have a rolling pin at your side. As soon as the cookies come out of the oven, drape them over the rolling pin, and allow them to cool until set, about 1 minute. Remove the curled cookies from the pin, and cool completely on a rack.

To leave cookies flat, simply transfer the hot cookies on parchment directly to a cooling rack.

Yield: 35 to 50 cookies, depending on size.
Tips from our bakers
If you don't have a stencil, you can make these cookies freeform by dropping heaping teaspoons of batter onto the prepared baking sheets, spacing them about 3" apart. Spread the batter in a circular motion until you have a very thin, even layer for each cookie. Bake the cookies for 7 to 9 minutes.
If the cookies become too crisp before you have a chance to mold them, simply put them back in the oven for 30 seconds, until they becomes pliable again.
The inspiration for these cookies was a combination of a Fine Cooking magazine recipe, and our desire to venture into the realm of a light, crisp, wafer-like cookie known as a tuile. The recipe features a number of the great maple products we offer, but feel free to adjust according to how much you like maple. For a cookie that only subtly hints at its maple origins, substitute brown sugar for the maple sugar, and omit the maple flavor.
Reviews
These were easy to come together but I wish they were crispier. Following the original recipie, these came out more spongy/ chewy than crisp.
I just made these cookies today and have to say I enjoyed that they were easy to make and the batter came together quickly. I wish they had more maple flavor, but then I only used the 1/8 tsp maple flavor and regular brown sugar, so maybe next time I just need to splurge on the maple sugar. Since I've never used a stencil before, I found that part to be a little difficult, but overcame that difficulty by using a spatula to spread the batter over them. The cookies came out a bit cakey, almost chewy for me, but that probably is due to the amount of batter I used as the edges, where the batter thins out, are crisp. I've never used a stencil or food coloring before and this time did both. So my cookies are green-turning-brown (by mixing green and plain batter), orange and amber. My last batch, I took the mix of batter colors from around the edges of each cut out and just wiped it into the middle, leading to wonderful just-changing-colors cookies. I also curled them by folding some edges under a wire of the cooling rack since not all leaves curl the same way. I'd post a picture if I could.
These are like pancakes already infused with syrup--delicious! I don't have the maple stencils, I don't have the maple sugar, and these still were wonderful! I used a teaspoon to put the dough on the parchment and spread it out with the spoon. Added maybe a little extra maple flavor to counter the plain sugar. Easy to do and definitely worth making again. Next time I'll use the yolks to make pastry cream and build a maple napolean!