A customized print-friendly version of this recipe is available by clicking the "Print Recipe" button on this page.
Maple Mustard Chicken Salad Sandwiches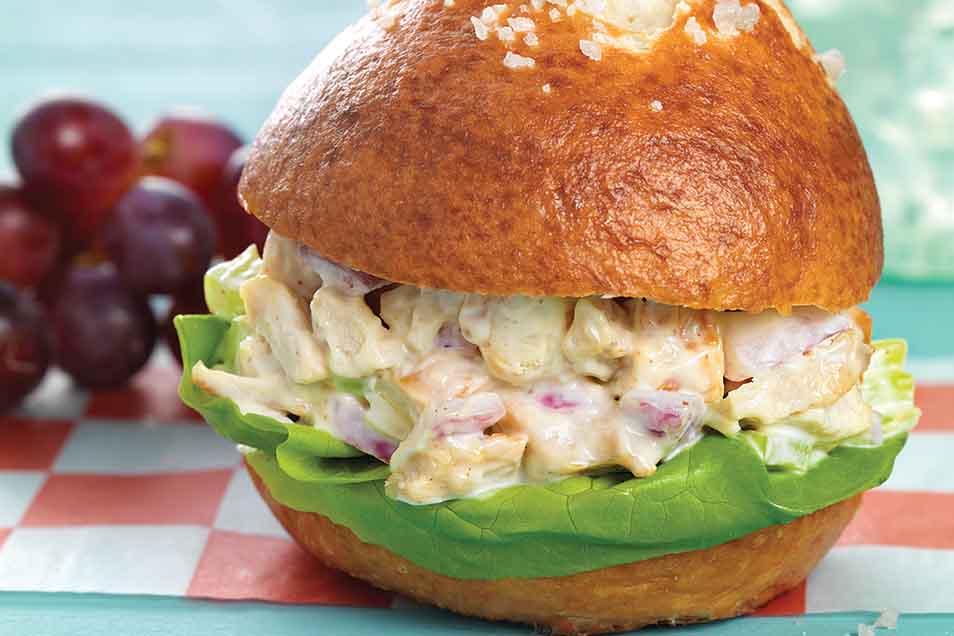 We've added a slight flavor twist to our chicken salad to complement our newest favorite sandwich bun — one inspired by soft pretzels.
Ingredients
Filling
4 ½ cups cooked, diced chicken meat
3/4 cup chopped red onion
3/4 cup diced celery (1 to 2 stalks)
3/4 cup mayonnaise
2 tablespoons Dijon-style mustard
3/4 teaspoon salt
1/4 teaspoon pepper
1 tablespoon maple syrup
Instructions
To make the filling: Combine all the ingredients in a large bowl, and mix until everything is evenly incorporated.

Slice each pretzel bun in half horizontally.

Place a leaf of lettuce on the cut side of the bottom half, then top with a generous scoop (1/3 to 1/2 cup is a good amount) of chicken salad.

Top with the remaining bun half, cut-side-down.

Enjoy as is, or with your favorite sandwich side.

Yield: 10 sandwiches.
Reviews
Mmmmmmm... This was very good! Great recipe!
This is now my go-to chicken salad recipe. I like to use Grade B maple syrup as I can detect a more pronounced maple flavor in the salad.
Absolutely delicious! I make chicken salad often and was a little reluctant to change my usual recipe. Boy, was I glad I did. Followed the recipe and served it on the pretzel buns made from this website. So good!
This was a winner. Prepared night before and all my guests for lunch were very happy with it. Recipes given out.
This is delicious-the pretzel bun pushes it to another level! I bought 2 rotisserie chickens at my deli which made it very easy. I added sweet pickles-just because I love them.
I generally do not like maple in anything, but oh man! This recipe is killer! and on the pretzel bun! outstanding!! I can't say enough about this recipe, seriously, it is very tasty. My family took it for their lunches the next day.
I made this on a whim. I had roasted 2 Beer-Can chickens over the weekend, so that my husband would have plenty of chicken for the week. He's a really impatient eater and food has to be pre-prepared because when he's hungry, he's really hungry RIGHT NOW. I wanted to have something other than just roast chicken available for him. This is fantastic and he's already asked me to make it again! I followed the recipe exactly except for the celery. I had celery in the fridge but it didn't look crisp and appetizing, so I subbed 1-1/2 tsp celery seed for the flavor. Ladies, your husbands will like this!!