A customized print-friendly version of this recipe is available by clicking the "Print Recipe" button on this page.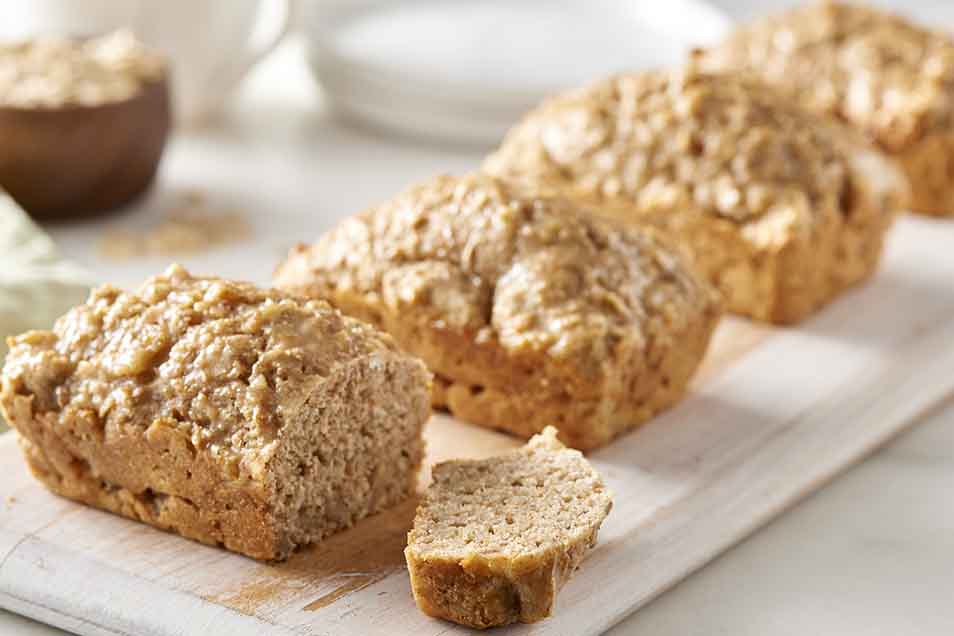 We love traditional Irish soda bread as much as any Irish native — and these baking soda-leavened, buttermilk-moistened loaves lend themselves very well indeed to adaptation! Here's our latest version featuring Vermont's favorite springtime crop: maple.

Thanks to feedback from you, our readers, as of 2/5/2019, we've made some edits to this recipe since it was first published - please see the details in 'baker's tips,' below.
Ingredients
1 1/2 cups boiling water
1 cup thick rolled oats (not old-fashioned or instant/quick oats)*
2 1/2 cups Irish-Style Flour or King Arthur White Whole Wheat Flour
1/2 cup buttermilk powder*
1 teaspoon baking powder
1/2 teaspoon baking soda
1 teaspoon salt
5 tablespoons melted unsalted butter
1/3 cup maple syrup
*see tips below
Instructions
Bring a pot of water to a boil (you'll want more water than what's called for, as you'll lose some to evaporation).

Put the oats in a heat-safe bowl or large measuring cup and pour 1 1/2 cups (340g) of the boiling water over the oats. Set aside to allow the oats to soak for at least 30 minutes.

Preheat the oven to 350°F. Lightly grease an 8 1/2" x 4 1/2" loaf pan, the eight wells of a mini loaf pan, or the 12 wells of a standard muffin pan.

Weigh your flour; you'll find its weight by toggling to ounces or grams at the top of the ingredient section above. Or measure it by gently spooning it into a cup, then sweeping off any excess.

In a large mixing bowl, whisk together the flour, buttermilk powder, baking powder, baking soda, and salt.

In a separate bowl or measuring cup combine the melted butter and maple syrup.

Set aside 1 1/2 tablespoons (21g), then add the remaining butter/syrup to the dry ingredients along with the oat-water mixture.

Stir everything together until stiff and shaggy looking. Note: If you've used white whole wheat flour, the batter will be fairly stiff, so it's beneficial to add an extra 2 to 4 tablespoons (28 to 57g) water for optimal rise and texture.

Scoop the thick batter into the prepared pan, distributing it evenly among the wells of the mini loaf pan or muffin pan, if using.

Bake the bread until a toothpick inserted about 1/2" into the top of the loaf comes out clean, or with a few moist crumbs clinging to it, about 50 to 55 minutes for the full-sized loaf, 20 to 25 minutes for the mini loaves, or 18 to 22 minutes for the muffins. A digital thermometer inserted into the center of the loaf will register between 190°F and 200°F.

Remove the bread from the oven and immediately brush the top with the remaining maple syrup-butter mixture, letting it soak into the bread.

After 5 minutes turn the bread out onto a rack to cool. Wait until the bread cools completely before slicing.

Store airtight at room temperature for several days; freeze for longer storage.
Tips from our bakers
This recipe calls for thick rolled oats which are available from our website and from other specialty flour producers in the grocery store. Regular old-fashioned rolled oats will absorb more of the hot water during the soaking period and contribute to a much thicker soda bread batter as a result. To substitute old-fashioned rolled oats for the thick, soak the oats as directed in 1 1/2 cups (340g) boiling water. Add 1/4 cup (57g) extra water to the soaked oats just before mixing them into the dry ingredients with the melted butter and maple syrup mixture.
The buttermilk powder improves the rise and finished texture of the soda bread. If you don't have it, we recommend adding 1 tablespoon vinegar to the liquid ingredients.