A customized print-friendly version of this recipe is available by clicking the "Print Recipe" button on this page.
Maple Pound Cake with Maple-Rum Glaze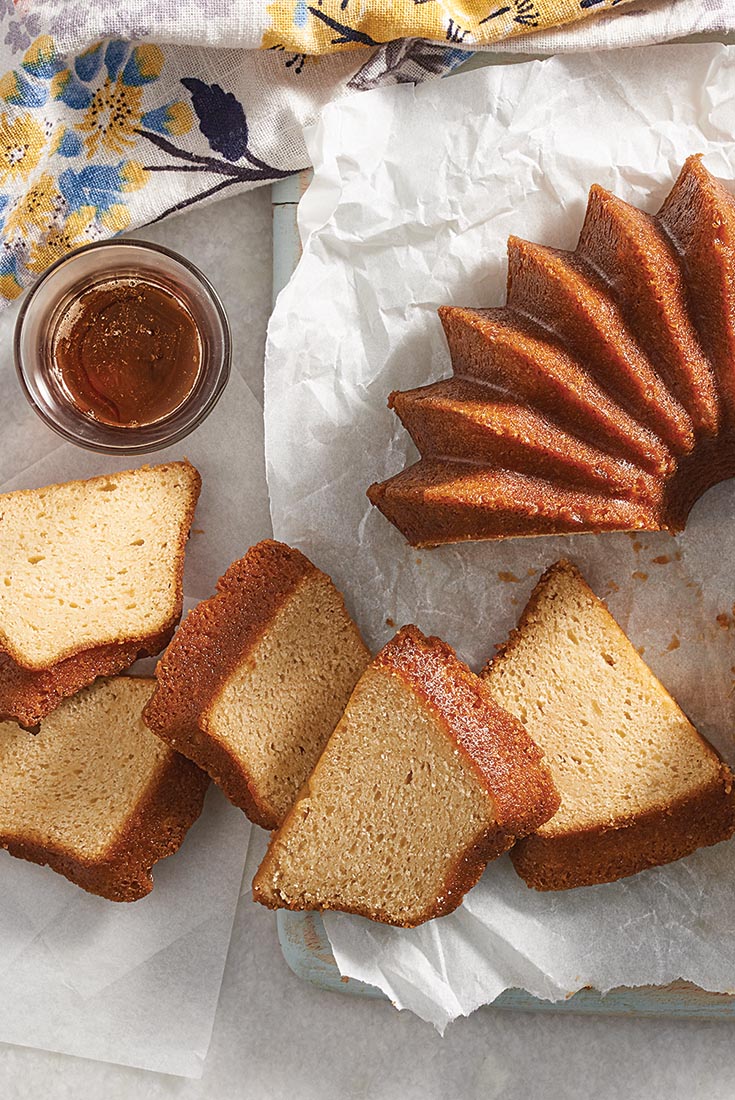 This buttery, moist, tender cake highlights the natural affinity maple and rum have for one another. Neither flavor overpowers, so each has its chance to shine in every bite. What's not to love about a cake that's like eating pancakes slathered in butter and drenched in maple syrup and rum?
Ingredients
Cake
1 teaspoon baking powder
1/4 teaspoon baking soda
1 teaspoon salt
3/4 cup (12 tablespoons) unsalted butter, softened
2/3 cup light brown sugar, packed
2 large eggs
1/2 cup maple syrup
1 cup sour cream
1 teaspoon vanilla extract
1/4 teaspoon maple flavor; optional, for enhanced maple flavor
Glaze
2 tablespoons unsalted butter
1/4 cup maple syrup
1/4 cup dark rum or water
Instructions
Preheat the oven to 350°F. Lightly grease a 9- or 10-cup bundt-style pan.

In a medium bowl, combine the flour, baking powder, baking soda, and salt.

In a separate bowl, beat together the butter and brown sugar until light and fluffy.

Add the eggs one at a time, beating for a minute or two and scraping the sides and bottom of the bowl between additions. Mix in the maple syrup.

Add half the flour mixture, followed by the sour cream, vanilla, and maple flavor, and finally the remaining flour mixture. Mix until just combined, scraping the sides and bottom of the bowl between each addition.

Scoop the batter into the prepared pan, and bake for 45 to 50 minutes, until a cake tester or toothpick inserted in the center comes out clean.

Allow the cake to cool for 10 minutes in the pan, then turn it out onto a serving plate.

While the cake is cooling combine the glaze ingredients in a medium saucepan. Bring the glaze to a rapid boil, then reduce to a simmer and cook for about 5 to 8 minutes, until it thickens to a syrupy consistency. Remove the pan from the heat.

Brush the hot glaze over the warm cake. Allow the cake to cool completely before serving.

Store, unsliced, at room temperature for several days; freeze for longer storage.
Reviews
I made a three times of this recipe and it gave me two half sheets at about an inch deep. It was great!
I made this - it was easy - and then took it to my dentists office. They thought I had outdone myself on this one (I bake for them every time I go in for a cleaning). Even the dentist came in while I was getting a cleaning to give me a thumbs up and say the best I had done yet. Thank you so much for a great recipe. Will definitely make this again.
Nice maple flavor, but not a pound cakemore of a basic Bundt cake with maple flavor.
My kitchen smelled heavenly all day after making this wonderful cake! Using the maple flavor made a big difference in the finished product, as did the rum in the glaze. I worried that the rum would be too strong, but I don't think many people who ate it even noticed the rum. This recipe works well in a detailed bundt pan (I used the Nordic Ware fleur de lis) and it released easily and cleanly. I sprayed my pan well with with baking spray right before adding the batter. I will absolutely make this recipe again - it is perfect for fall!
Wonderful Cake; everyone loved it. I used the topping from the Maple Walnut Brownies instead of the one listed with the recipe.
Excellent flavor. Lovely way to use a Bundt pan. I did have trouble with the glaze at first; I made this when it was first published & at that time, the recipe didn't say to boil the glaze--I didn't know any better & so I just mixed it up & brushed it on, & then wondered why the non-dissolved sugar looked so bad . . . called KAF; thanks for editing the recipe to say "heat it" for glaze newbies like me! Looking forward to making this again the right way this summer, for a guest who likes cake but not (buttercream) frostings.
We loved this cake, and I plan to use it from now on in place of the one from Cake Bible. That recipe is also good, but is fussier, and makes a more delicate layer cake that then seems naked without frosting. I much prefer this sturdier, but still tender cake with lots of maple flavor. Mine stuck quite a lot, but I was out of crisco and used butter and flour. This combo usually works for me, but I think this cake needs crisco or spray. I also used maple sugar in place of the brown sugar; it's an extravagance, but I think it's worth it! We didn't glaze it this time and although I don't think it needs the glaze, I'll probably make it next time. As others have said, this cake is a lot like eating pancakes with real maple syrup. Delicious! Just be sure to prep that bundt pan well!
I didn't have cake flour, just all-purpose... It came out so moist and fluffy, I can't imagine using cake flour!! My husband thought I was going for angel-food cake, not pound! We still loved it! I also didn't have any maple flavor... getting that!!!
Yum! We love this cake. Very light and delicate. Lots of wonderful maple and butter flavor without being overly sweet (didn't use the rum in the glaze). I'm glad I let it sit in the pan for 15 minutes before turning it out. Will definitely make again, though I might try all purpose flour just to see how the texture turns out.
Extremely tender--agree with other bakers who dispute it being a true "pound" cake--best-SMELLING cake while baking I've ever made, perfuming the whole house with maply perfume! I could've baked it easily in the smaller of my two Bundt pans and yes it does shrink rapidly away from the sides of the pan after removing it from the oven. WARNING: wait LONGER than 10 minutes to remove from pan! Against my better instincts, I tried too soon--whoops! Horizontal shearing! That's what powdered sugar is for, of course--just made it "snow" over the glaze on top of the "reassembled" cake. I also studded the top with decorative pecan halves--which tasted so great with the cake that I will definitely add some very finely chopped or ground pecans next time! The glaze with rum was wonderful, although a cake this tender gets a bit 'stressed" trying to absorb it all.