A customized print-friendly version of this recipe is available by clicking the "Print Recipe" button on this page.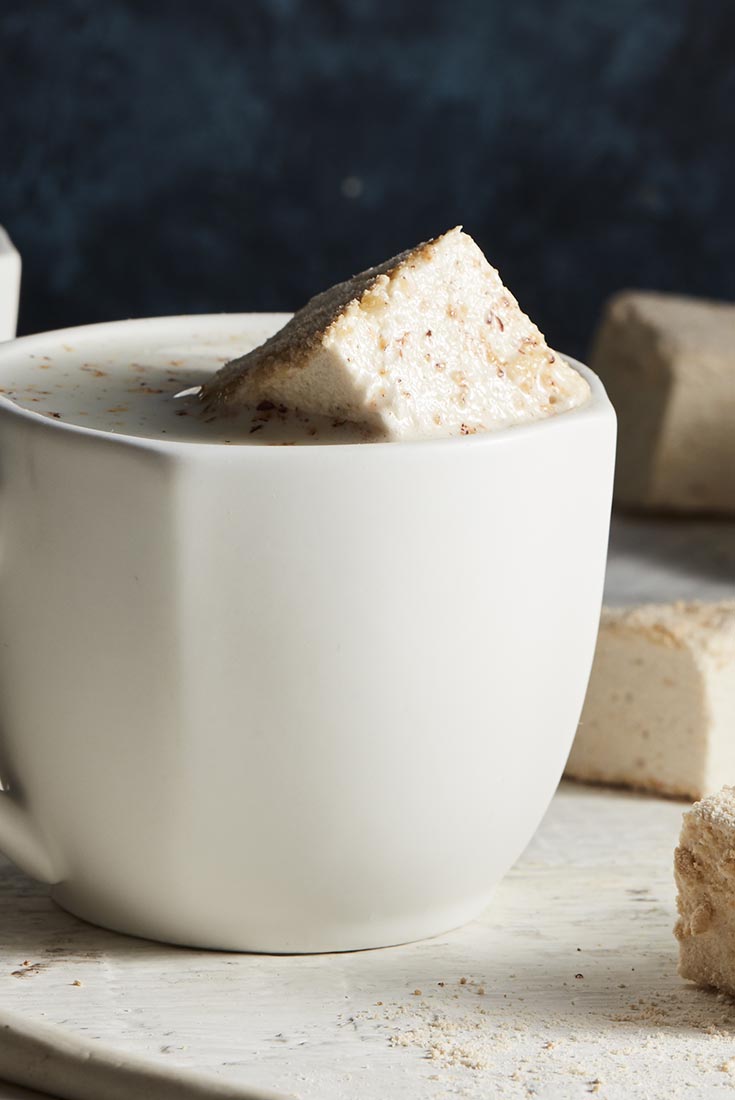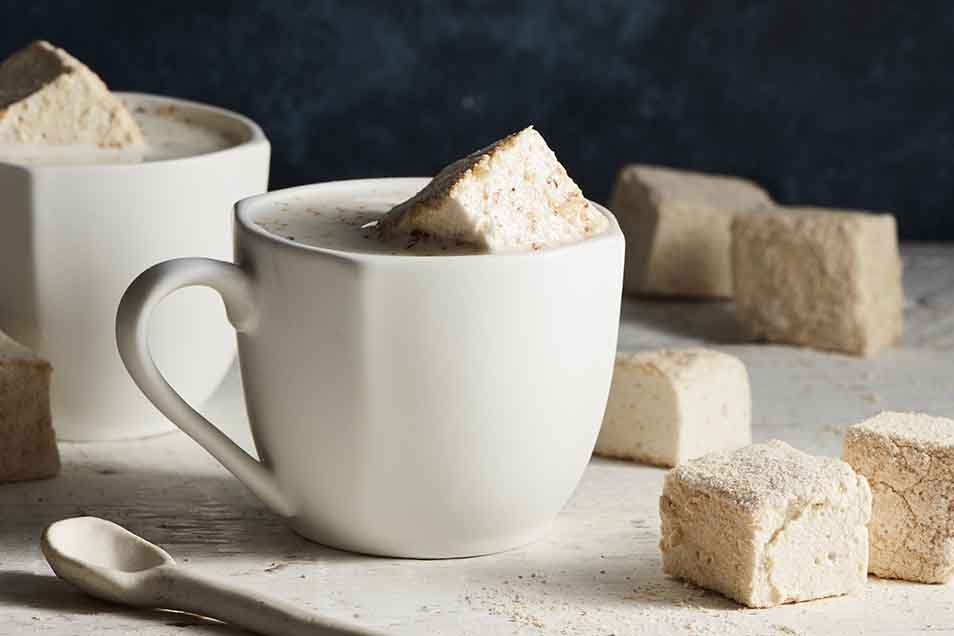 This recipe came to us from a little handout from the N.H. Maple Producers Assn., Inc. that dates back to 1966-1967. The pamphlet, aptly named "N.H. Maple Syrup - Its Care and Use" includes an assortment of maple-themed recipes, one of which was these marshmallows, made with maple syrup and dusted with maple sugar. We instantly fell in love with these airy puffs of maple deliciousness as well as with the simplicity of making them. This recipe first appeared in the Fall/Holiday 2014 issue of The Baking Sheet, Vol. XXV No. 5
Instructions
To make the marshmallows: Combine the gelatin and cold water, cover, and soak until the gelatin has softened and is no longer grainy, about 5 to 10 minutes.

Mix the maple syrup, maple flavor, and salt in a medium saucepan.

Cook slowly until the mixture reaches soft-ball stage (235°-240°F).

Remove from the heat and add the gelatin solution.

Transfer the mixture to an extra-large mixing bowl and beat with the whisk attachment of an electric mixer for 12 to 15 minutes, until the mixture holds its shape by standing in a peak.

To make the coating: Combine the confectioners' and maple sugars in a small bowl. Sprinkle liberally into the bottom of an 8" square pan.

Spread the marshmallow mixture evenly into the pan, using your wet fingers to smooth the surface.

Sprinkle more coating on top.

When the marshmallow has set, cut it into squares and roll each square in the remaining sugar to completely coat the outside.

Store marshmallows in an airtight container in a cool, dry place.

Yield: 16 to 36 marshmallows, depending on size.
Reviews
Just to clarify, my advice to use more than 2 drops of maple flavoring and to taste it before spreading so you can be sure it meets the needs of each individual baker's palate is based on used Boyajian natural maple flavoring purchased from King Arthur. Despite the fact that it is a wonderfully strong flavoring, with just 2 drops no one who sampled the marshmallow could tell it apart from just plain marshmallow! I just wish I had tasted it so I could have added more. (And in case it helps anyone: as stated on the 1 oz dropper listing, they don't fit Boyajian bottles. I just rinse the dropper thoroughly after each use.)
I was beyond excited to try my very first marshmallow recipe and have it be maple. I followed the directions very carefully as this was a whole new thing for me. I decided to hold off on opening a new, expensive bag of maple sugar until I was sure it wasn't going to be a waste. I followed the other reviewer's advice and used conf sugar and cornstarch under the marshmallow. I carefully used a dropper to add exactly 2 drops of Natural Maple Flavoring. The maple whipped up just as the recipe promised. After all, KAF recipes are known for being successful! My lesson learned: I should have tasted the marshmallow before spreading it in the pan. I hesitate to use much flavoring, but if you make this recipe, I strongly recommend using more than 2 drops. . My final product is yummy. It just isn't very maple-y. I found a reviewer on the flavoring page that said maple flavor tends to dissipate at high temps. That makes total sense to me with this and many other previous maple experiences. The marshmallows were fantastic in hot chocolate from the recipe on the ABC'S of Cocoa blog, and they were equally enjoyable just being eaten as snacks. But next time for me, I will add more flavoring TO TASTE!

Hi Suzanne, the maple flavor that we used to develop this recipe is made by Boyajian, which is a professional quality and very concentrated. If you use another kind of flavoring or extract, you'll want to use more and as you suggested, adjust to taste. Happy baking! Kye@KAF
Just an addition to my prior post. Don't be put off by the dusting of maple sugar. If you don't have it, don't fret. I used equal parts of cornstarch and confectioner sugar to dust the marshmallows. They won't have that golden dusty look like in the picture, but they will taste just as wonderful.
Oh my my! These are quite delicious. An adult flavor marshmallow that are very addicting. Can't wait to try this again with a little bourbon added. In all seriousness, children will enjoy these as well. The maple syrup makes them a special treat. Can't help but think of Elf's quote: " We elves try to stick to the four main food groups: candy, candy cane, candy corn and syrup!" Elf would love these.