A customized print-friendly version of this recipe is available by clicking the "Print Recipe" button on this page.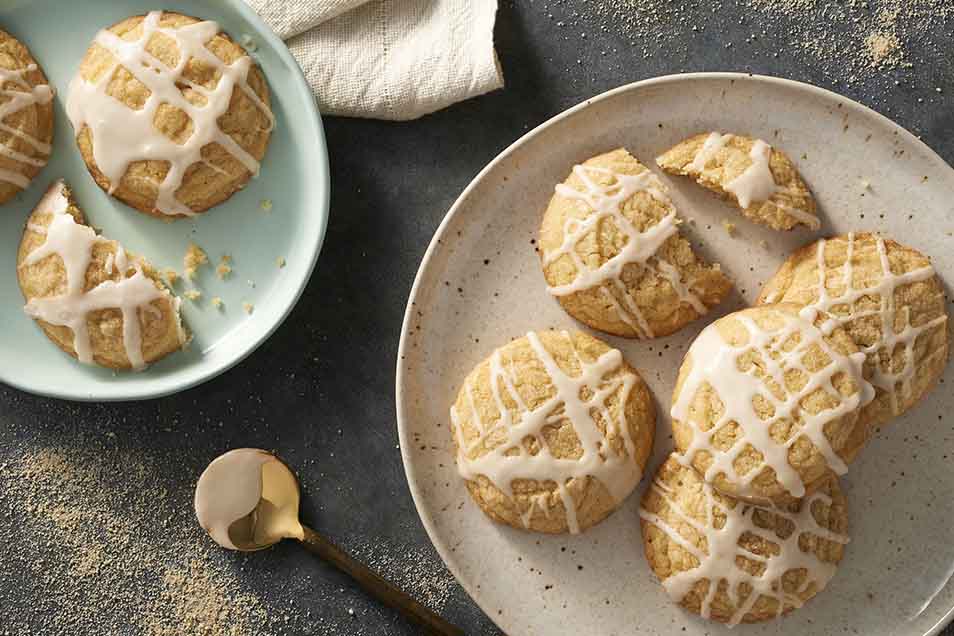 A clever reworking of a the classic Snickerdoodle, this inspired maple rendition complements apple cider, warm or cold.
Ingredients
1 cup (16 tablespoons) unsalted butter OR a combination of half butter and half vegetable shortening
1 cup pure maple sugar
1/2 cup granulated sugar
2 teaspoons cream of tartar
1 teaspoon salt
2 large eggs
1/2 teaspoon maple flavor
1/2 teaspoon baking soda
2 3/4 cups King Arthur Unbleached All-Purpose Flour
Topping
2 tablespoons pure maple sugar
2 tablespoons granulated sugar
Maple Glaze (optional)
1 1/2 cups confectioners' or glazing sugar
2 tablespoons maple syrup
2 to 3 tablespoons heavy cream
1/4 teaspoon maple flavor
Instructions
To make the dough: In a large mixing bowl, beat together the butter, sugars, cream of tartar, and salt until fluffy.

Add the eggs, one at a time, scraping between additions. Beat in the maple flavoring.

In a separate bowl, whisk together the baking soda, and flour. Add the flour mixture to the egg mixture and beat until blended.

Refrigerate the dough for about 30 minutes, to stiffen it and make it easier to shape.

Preheat the oven to 400°F. Lightly grease or line two baking sheets with parchment.

To make the topping: Combine the sugars in a small bowl or in a large plastic bag.

Drop the dough by the rounded tablespoonful into the sugar, gently shake the pan (or bag) to coat the balls, then roll them in your hands until they're smooth and round.

Place the cookies on parchment-lined or lightly greased baking sheets, about 1 1/2" apart.

Bake the cookies for 10 to 12 minutes, or until they're a very light, golden brown.

Remove them from the oven, and after 5 minutes transfer them to a rack to cool.

To make the glaze: Mix together the glaze ingredients to make a spreadable frosting.

Smooth a thin layer over the cookies, or drizzle for a nice-looking effect.

Let the glaze dry for several hours before packing the cookies in airtight containers. Store for 1 week, or freeze for up to a month.
Nutrition Information
Serving Size

1 glazed cookie, 31g

Servings Per Batch

36
Amount Per Serving:
Calories

126 cal

Calories from Fat

Total Fat

6g

Saturated Fat

Trans Fat

Cholesterol

25mg
Sodium

138mg

Total Carbohydrate

6g

Dietary Fiber

Sugars

12g

Protein

1g
* The nutrition information provided for this recipe is determined by the ESHA Genesis R&D software program. Substituting any ingredients may change the posted nutrition information.
Tips from our bakers
Reader Donna Green sent us the following recipe via e-mail. She writes, "My fiance is very fond of maple-flavored things, so I've come up with a maple version of an old classic cookie. I thought you might like the recipe. They're a variation of Snickerdoodles, so I call them Mapledoodles."
Reviews
These cookies are super yummy! The dough came together wonderfully and I shaped them and then put them in the fridge. I was worried they would spread out a lot because of the picture but they didn't. I only rolled them in white sugar because I ran out of maple and it was still flavourful. I ended up baking for 8 minutes for the perfect browning.
Is there anyone else out there that sees a recipe in the catalog, orders ingredients, and then forgets what you ordered them for? Hats off to the marketing folks, cause I have to admit this was the case with my maple sugar. Cleaning out pantry, found the maple sugar, and searched for probable recipes. These cookies were OK, but I don't think this was the recipe I was looking for. For a rather pricey ingredient, was hoping for more maple flavor.
I wish I could give these cookies 10 stars! They are so good. And they are fast and easy -- except for the availability of maple sugar..... but they were so good that I ordered twice as much. And the cookies are loved by the people I gave them to. Everyone wonders how I made such a unique, special taste and they ask for more. This is now one of my very favorite recipes. Thank you, King Arthur.
These cookies are very good, but they had to grow on me. I used half shortening and half butter. I did find that the mixture of maple sugar and granulated sugar melted into the cookie, and I couldn't even tell they had been rolled in sugar, so I'm not sure if this step is even necessary. I left them unglazed, however I think a glaze would be really good. The imitation maple flavoring I used had a very strong fragrance that almost seemed overpowering while mixing and baking, but the flavor of the cookies is just right. They had a beautiful crackly top and even after 5 days in the cookie jar, they are still fresh.
These cookies are okay, but by no means great. Even my husband, a native Vermonter and lover of all things maple, was underwhelmed.
I've made these several times and people enjoy them. They make a nice addition to my Christmas cookie plates. Since I make Snickerdoodles with half butter and half shortening, that's how I make these. The only comment I have is about rolling them in the sugar. The maple seems to stick better than the white sugar. My little dish of sugar keeps getting paler & paler, and I have to keep adding in more maple. I haven't tried them with the glaze.
These were fabulous! I usually only like chocolate cookies but this recipe caught my eye. I am going to have to buy maple sugar by the pound now. Love them!
Am surprised more people have not tried this recipe. These are excellent cookies. I've had people who say they don't like maple flavoring tell me they love these cookies. Their color is a pretty golden brown. I highly recommend them. It's worth to splurge on ingredients sometimes; in this case, the maple sugar. BTW, I use half-butter and half-shortening, and bake them at 375 degrees on a parchment-lined sheet for 10 minutes.
What a fabulous recipe! They were addicting!
This is in my top five favorite cookie recipes of all time.